The Frigiliana Beaches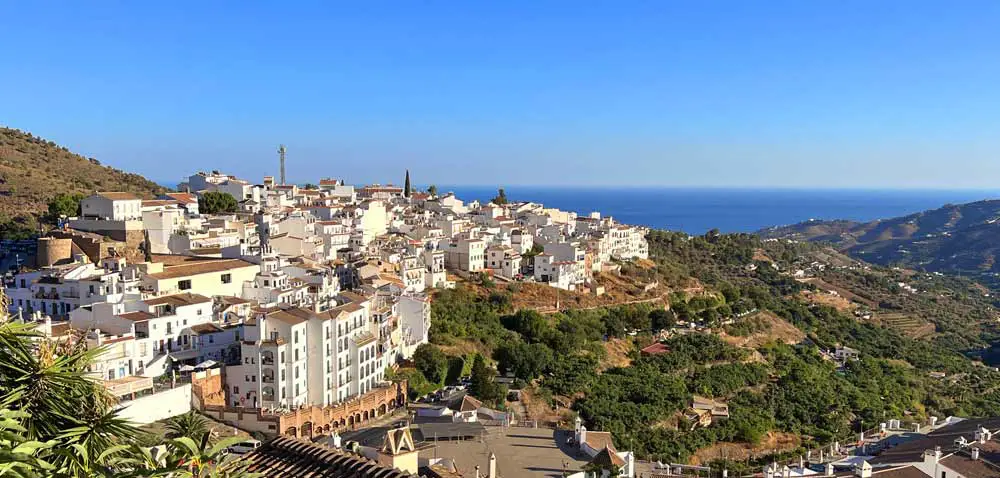 Frigiliana doesn't really have its own beaches... it's a beautiful hilltop village after all. But the town is lucky enough to be just 6 kilometers inland from the Mediterranean coast. The coastal town of
Nerja
, famous for its
beautiful beaches
, is just a short drive away, making it easy for anyone visiting
Frigiliana
to enjoy a wonderful beach outing and some adventurous water activities during their stay.
😻 Keep reading to learn more about the best nearby Frigiliana beaches.
---
A Day Trip from Frigiliana to the Nearby Beaches
Located on the eastern edge of the Costa del Sol, the charming village of Frigiliana is the perfect starting point for a day trip to some of Andalucia's most idyllic beaches. Its enviable location offers easy access to three stunning coastal areas, each with its own unique appeal. From the lively, well-maintained
Blue Flag beaches of Nerja
, to the unspoiled natural beauty of the
Maro Nature Reserve
, to the tropical allure of the
Costa Tropical
, there is a beach to suit every taste.
There are also a wide range of water activities available to you, including kayaking through the nature reserve, paddle boarding or coastal cruises... all of which promise a day of sun-drenched fun and relaxation.
So get ready to be amazed by the beautiful Frigiliana beaches and the stunning coastal scenery that Andalucia has to offer.
---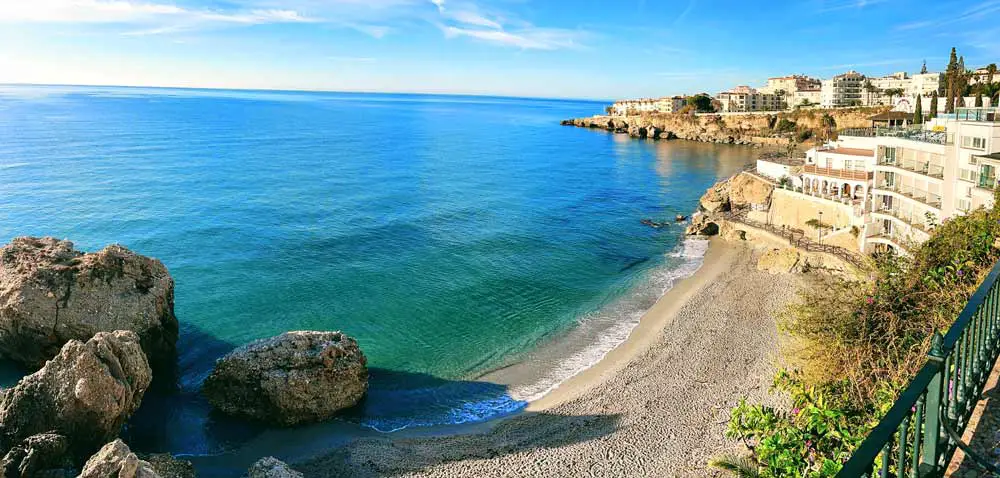 ** Frigiliana Beaches - Playa El Salon, Nerja
Nerja, a picturesque coastal town just a short drive from Frigiliana (10-15 minutes), is a beach lover's paradise. It is home to 10 beautiful beaches, each with its own unique appeal and charm.
Considered the jewel in Nerja's crown, Burriana Beach is the largest and most lively of them all. This vast stretch of golden sand is lined with bustling chiringuitos (beach bars) where you can enjoy fresh seafood paella and sip on chilled tinto de verano while basking in the warm Andalusian sun. It's a great place for families, with plenty of water sports on offer, from paddleboarding to kayaking.
A little quieter, Torrecilla Beach is another popular spot. It's a haven for those who prefer a quiet day at the beach. It's also a fantastic place for snorkeling, with clear turquoise waters teeming with marine life.
If you prefer a smaller, more intimate beach experience, the coves of Carabeo and Calahonda offer a quiet retreat. These picturesque coves, nestled beneath the dramatic cliffs of the Balcon de Europa, offer a quieter, more secluded setting.
Each of these Frigiliana beaches has something unique to offer. Spend a day, or several, exploring the beautiful Nerja coastline, and find your favorite spot to soak up the Spanish sun.
Here are TEN wide sandy beaches in Nerja:
---
2
Beaches of the Maro Nature Reserve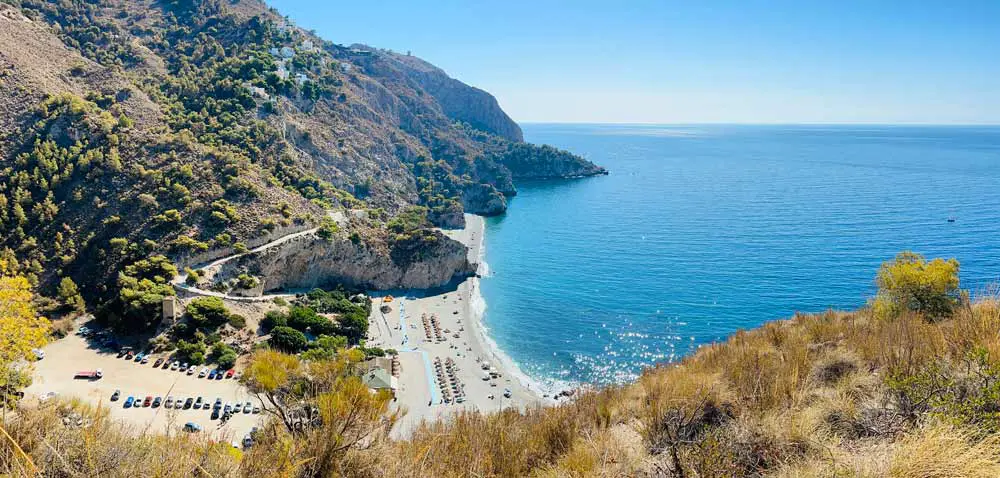 ** Beaches Near Frigiliana - Playa Cantarriján, La Herradura
Just a stone's throw from Frigiliana (15 minutes), the Maro Nature Reserve is an unspoiled paradise where nature meets the sea. This protected stretch of coastline is renowned for its astonishing beauty and environmental significance, making it a must-visit for beachgoers looking for something truly special.
The beaches of the Maro Nature Reserve are a world away from the bustling resorts further along the Costa del Sol. Here you'll find tranquil coves, crystal clear waters and dramatic cliffs that provide a unique backdrop for a day by the sea. The beaches here have remained largely untouched by modern development, preserving their natural beauty and charm.
The most famous beach in the reserve is Playa de Maro. Often considered one of the most beautiful beaches in Spain, this secluded cove is surrounded by steep cliffs and lush vegetation. It's the perfect spot for a quiet day at the beach, just a short drive from Frigiliana.
For those who love snorkeling or diving, the beaches within the Maro Nature Reserve are an absolute dream. The waters here are part of a protected marine reserve and they are home to an incredible variety of marine life. From colorful fish to fascinating underwater caves, there's a whole world waiting to be discovered beneath the surface.
But the Maro Nature Reserve isn't just about the beach. The area is also crisscrossed with hiking trails that offer stunning views of the Mediterranean and the chance to spot local wildlife. After a morning on the beach, why not take a leisurely stroll through the surrounding cliffs?
There are EIGHT gorgeous beaches to explore in the Maro Cerro Gordo Reserve:
---
3
The Costa Tropical Beaches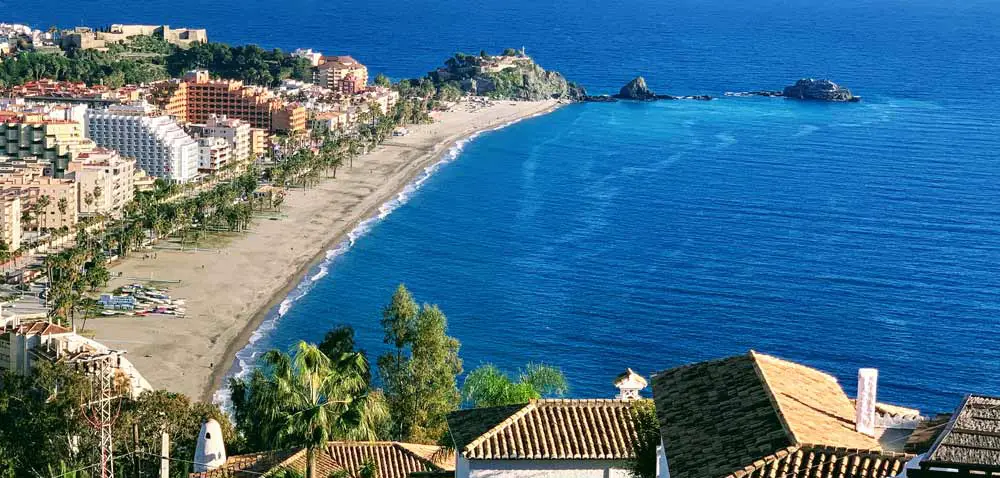 ** Beaches Near Frigiliana - Playa San Cristobal, Almuñécar
Venture a little further east from Frigiliana and you'll discover the enchanting Costa Tropical (20-25 minutes). This sun-drenched stretch of coastline is a hidden gem that has managed to fly under the tourist radar, making it an excellent choice for beachgoers in search of tranquility and authenticity.
With a name like the Costa Tropical, it's no surprise that the region is known for its subtropical climate, fertile valleys and exotic fruits. But it's the beaches that are the real attractions here. From secluded coves to wide stretches of pristine, untouched beaches, the Costa Tropical has something for everyone.
Almuñécar is one of the main towns on the Costa Tropical and boasts an impressive 19 kilometers of coastline. The beaches here range from bustling, family-friendly destinations like Playa Puerta del Mar to quieter, more secluded options like Playa Cotobro. The historic charm of the old town, with its Moorish castle, adds to its charm.
Further along the coast, Salobreña is another beach town worth exploring. This whitewashed town perched on a hill overlooking the sea is postcard perfect, and its beaches are equally appealing. Playa de la Guardia is a local favorite, known for its crystal clear waters and views of the town's imposing castle.
For those willing to venture off the beaten path, the unspoiled beaches of La Rábita or La Mamola offer a taste of authentic Andalusian coastal life. Here you'll find locals rather than tourists, and seafood restaurants serving the catch of the day straight from the sea.
Whether you're looking for peace and quiet, water sports or just a beautiful spot to soak up the sun, the beaches of the Costa Tropical offer a variety of options. A day trip from Frigiliana to this lesser known stretch of Andalusian coastline promises to be an unforgettable experience.
The most beautiful beaches of the Costa Tropical are:
---
Beach Activities: Kayaking, Boating, and More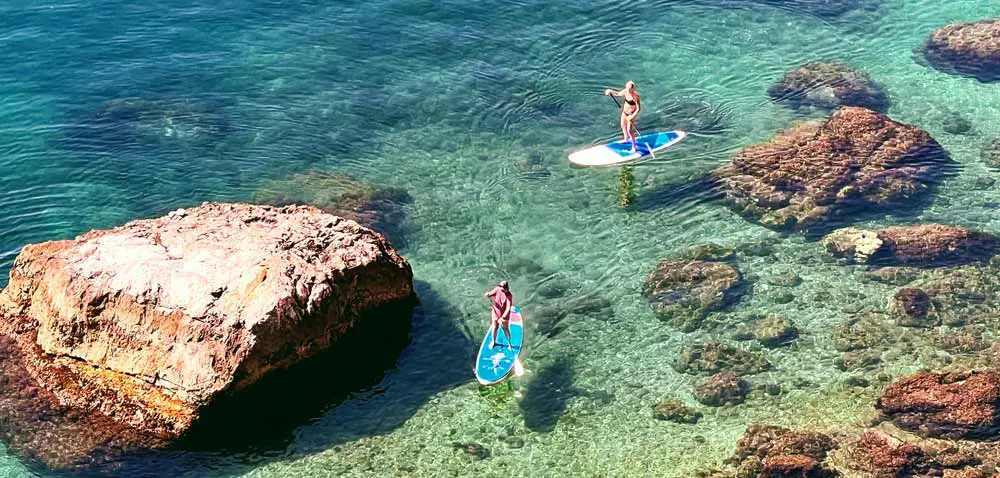 ** Padel Boarding Near Frigiliana, Playa La Herradura
Frigiliana's proximity to the stunning Costa del Sol and Costa Tropical isn't just about basking in the sun and enjoying the soft sand under your feet. The azure Mediterranean Sea beckons for adventure... with opportunities to explore by kayak, boat or even a sightseeing cruise.
A must-do activity is to go on a kayaking expedition from either La Herradura Beach or Playa Burriana in Nerja. These guided kayaking tours offer a unique perspective of the spectacular coastline as you paddle through sparkling waters flanked by rugged cliffs and lush vegetation. Along the way, you'll pass hidden coves, spot fascinating marine life and marvel at the breathtaking beauty of the Maro Nature Reserve. This experience is available to beginners and experienced kayakers alike, and the guides will ensure that your trip is both safe and enjoyable.
For those who prefer a more high powered method of exploration, consider renting a boat. The Marina del Este in La Herradura offer boat rentals, with no license required, making this a great opportunity to captain your own vessel. Navigate the calm seas at your own pace, drop anchor in secluded spots for a swim, or simply enjoy the pleasures of the open water.
For a more relaxed experience, consider taking a sightseeing cruise. These cruises allow you to sit back, relax and take in the scenic views while learning about the region's history and natural beauty. Some cruises even include a stop for swimming or snorkeling.
---
Frigiliana ➜ How to Arrive & Directions
Frigiliana is easily accessible. It is located about
56 km (35 miles)
east of Málaga and approximately
106 km (66 miles)
southwest of Granada. It can be reached by car or bus, with frequent connections from the nearby town of Nerja. The drive from Málaga takes around 50 minutes, while from Granada, it takes 1 hour and 15 minutes.
To Frigiliana ➜ by Car
Renting a car is another option for exploring the surrounding areas of Frigiliana. Parking is available at the bottom of the village and along the road.
---
Driving Directions to Frigiliana:
From Málaga: Follow the E-15/A-7 in an easterly direction. Take the 933 exit and follow the MA-5105 to Frigiliana.

From Granada: Follow the GR-30, A-44 and E-15/A-7 south. Take the 933 exit and follow the MA-5105 to Frigiliana.
---
Check out!:
You will find the
cheapest
most reliable
car rentals
in Spain here!
To Frigiliana ➜ by Bus
Buses run from both Málaga and Granada to the coastal areas, but getting a bus from Málaga is much easier. You can take a bus to Nerja and then change to a local line that will take you up into the hills to Frigiliana. Buy tickets online
💡
Affiliate Disclosure:
  Please be aware that some links on this site are affiliate links, which means that we might receive a small commission ☕ if you click a link and make a booking. This helps us to keep the site running and will NOT affect the price you pay in any way... ❤️ 🙏 🙏 ➜
How does this work?
---