Frigiliana Markets & Shopping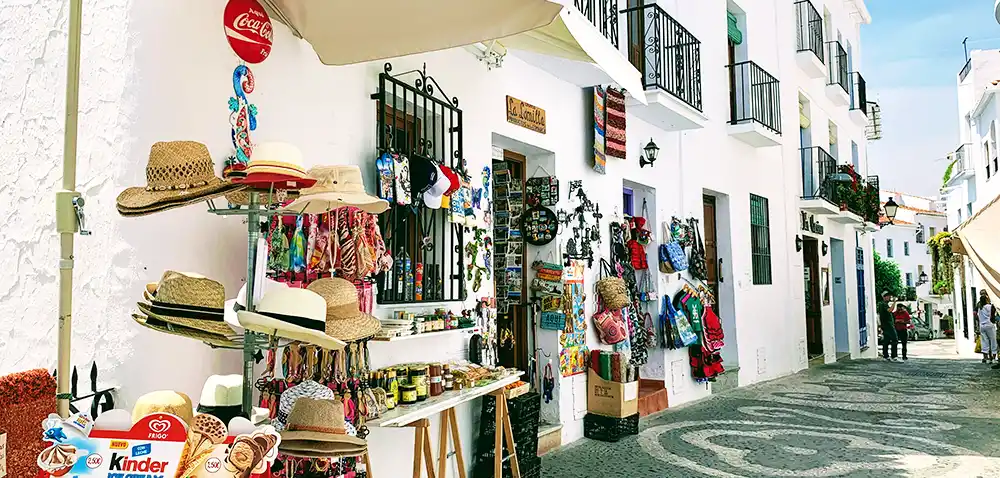 Frigiliana, a charming Andalucian village nestled in the hills of the Costa del Sol, offers a shopping experience as varied and colorful as its sun-drenched landscape. From the traditional Spanish Thursday market to modern boutiques and specialty stores, here's a guide to shopping in and around the village of Frigiliana.
---
The Local Frigiliana Market
Every Thursday the streets of Frigiliana come alive with the hustle and bustle of the local market. Stalls overflowing with dried fruits, spices, local cheeses and honey create a visual feast that is hard to resist. You'll also find an array of hand-made items, from jewelry to textiles and pottery. There is also a nice selection of clothing, bags and accessories.

** The Frigiliana Market
If this is your first time in Spain, a visit to the weekly market is a must! Markets are an integral part of Spanish culture (and have been for centuries)... their origins date back to the Middle Ages! Even the smallest Spanish village has a daily or weekly market.
Historically, they have been the heart of daily life in Spanish cities, towns and villages, and are a focal point for both shopping and socializing.
---
At the Frigiliana market you will find a wide variety of products, including:
Local delicacies: You will find regional cheeses, olives, spices for popular Spanish dishes such as paella and gambas pil pil, and other delicious treats.
Craft items: Browse handmade crafts, pottery, textiles and leather goods that make for unique souvenirs or gifts.
Clothing and accessories: Discover trendy and affordable clothing, shoes, bags and accessories in a variety of styles.
Household items: Pick up practical items for your home, such as kitchenware, linens and decorative items.
Fresh produce: You will sometimes find seasonal fruits, vegetables, and locally grown herbs, but these items are mostly found in the larger Nerja market on Tuesdays.


** Dried Fruits & Spices at the Frigiliana Market
---
When and Where is the weekly Frigiliana market?
The weekly market in Frigiliana takes place every Thursday morning. It starts promptly at
10:00
and lasts until
14:00
.
The market is easy to find because Frigiliana is so small, it is located in the Plaza de las Tres Culturas. Walk down to the bottom of the old town of Frigiliana, cross the street, and you will find the stalls set up on top of the municipal parking lot. It is opposite the Hotel Villa Frigiliana and next to a row of restaurants with a large terrace. After a little shopping, you can sit down for a coffee and churros and enjoy the wonderful sea views.
The Frigiliana Market
Thursdays from 10 – 2 pm
Location:
Plaza de las Tres Culturas - Frigiliana, Málaga
---
If you happen to miss the Frigiliana Market while you're in town, don't worry, there are several other similar markets you can try!
Market Days in Frigiliana & Surrounding Villages:
| | |
| --- | --- |
| Monday | Torrox Pueblo – Torrox Costa – Marbella |
| Tuesday | Nerja – Motril – Salobreña – Fuengirola |
| Wednesday | Algarrobo Costa – Rincón de la Victoria – Estepona – Mijas Costa |
| Thursday | Frigiliana ❣️ – Torre del Mar – Vélez Málaga – Torremolinos |
| Friday | Motril – Almuñécar – La Herradura – La Cala del Moral – Salobreña – Benalmádena |
| Saturday | La Caleta de Vélez – Cómpeta – Puerto Banús – Mijas Costa – Fuengirola |
| Sunday | Nerja – Benagalbón – Malaga |
---
The Nerja Markets:
The other markets closest to Frigiliana are the Nerja markets, which are held every Tuesday and Sunday morning from 8:00 to 14:00 in the Almijara urbanization outside of town.
Both markets are much larger than the one in Frigiliana with over 50 open air stalls selling clothes, hats, shoes, leather goods, handbags, fruit and vegetables, sweets, cakes and much more...
We also highly recommend a visit to Nerja and the Nerja Caves while you're in town. It's a beautiful coastal village and the caves are world famous. Frigiliana ➜ Nerja: 14 min (7 km)
The Nerja Markets
Food & Spice Market:  Tuesdays from 10 – 2 pm
The Rastro (flea market / antiques):  Sundays from 10 – 2 pm
Location: Calle Cisne, Almijara II, 29780 Nerja, Málaga


** Clothing & Bag Accessories at the Frigiliana Market
---
Frigiliana Market ➜ How to Arrive & Directions
To the Frigiliana Market ➜ by Foot
Because the village is so small, the best way to get to the market is to walk. From anywhere in Frigiliana you can get to the market area in about 5 minutes... follow these walking directions from Calle Real. (680 meters)

** Walking to the Frigiliana Market
---
Frigiliana Markets ➜ Parking
Parking in Frigiliana can be limited, especially during peak tourist seasons, due to the narrow streets and traditional layout of the town. But, you can find some designated parking spaces on the outskirts of town where you can leave your car and explore the area on foot.
If you're willing to pay, there is a very convenient parking garage right at the entrance to the town. The Frigiliana market takes place just above it.
---
Shopping in the Frigiliana Old Town: What to Expect

** Shopping Street in Frigiliana
Another shopping option in Frigiliana is to stroll through the the narrow, winding streets of the old town, where you will find a number of charming boutiques. They sell everything from traditional Spanish pottery and leather goods to contemporary fashion and accessories. These boutiques offer a great mix of classic and more modern items... you should have no problem finding something lovely to take home 😉... as long as your suitcase can hold it all!
---
Art Galleries in Frigiliana's Old Town


** Art Gallery in Frigiliana
Frigiliana's historic quarter is also home to a nice selection of art galleries that showcase the work of local and regional artists. These galleries feature a variety of art styles including paintings, prints, sculptures, and ceramics. Take your time and enjoy these unique pieces of art as you explore the narrow streets of the historic area.
---
Shop for Locally Produced Goodies
Frigiliana is known for its locally produced wines and molasses, and you'll find several small shops selling these and other local delicacies. These specialty shops offer a wonderful opportunity to sample the flavors of Frigiliana and take home a taste of Andalucia. From the sweet Moscatel wine 🍷 to the rich, dark syrup known as miel de caña, these local products make the perfect souvenir or gift.
---
Shopping in Nearby Nerja: From Beachwear to Boho Chic
Just a short drive from Frigiliana is the coastal town of Nerja, which offers a much wider range of shopping options. You'll find everything from beachwear and souvenir shops to boho-chic boutiques and high street fashion on its bustling streets. Nerja is also home to several larger chain stores like Women'secret, Primor, Desigual and Springfield.
Nerja is also a great place to do your grocery shopping as it has a number of large well known grocery chains like Mercadona, Supersol, Aldi and Lidl.


** More Shopping Streets in Frigiliana
---
Grocery Stores in Frigiliana
In Frigiliana, grocery stores tend to be small and family-owned due to the size of the town and the fact that Frigiliana's narrow, winding streets are more conducive to smaller, boutique-style shops than large chain supermarkets. However, you will find a few small, well-stocked grocery stores with fresh produce, local and international foods, and other daily essentials.
For the larger chain supermarkets with parking and delivery services go to the nearby towns of Nerja or Torrox.
---
Big Shopping Centers in Granada and Malaga
For some serious retail therapy, head to the larger cities of
Granada
and
Malaga
, each about an hour's drive from Frigiliana. These cities are home to wonderful shopping options like the Nevada Shopping Mall in Granada (the largest shopping mall in Spain) and El Ingenio Shopping Mall (22 min away in Velez Malaga) and Plaza Mayor (huge outlet mall) along the Costa del Sol.
These malls offer a wider variety of shops, from international fashion chains and home goods stores to electronics stores and more. After a day of shopping you can relax in one of the many restaurants or catch a movie in the local cinema.


** Shopping in Frigiliana - Local Wines & Miel de Caña

Who are we?
An American expat with over 20 years of experience living and traveling in Spain, specifically in Malaga and Granada. Darsey is a seasoned explorer of Andalucia. Drawing from decades of immersive experience, she offers deep insights into this enchanting region of Spain, including off-the-beaten path destinations, the best places to stay, and the top bucket list activities to try!
More...
Want to Save on your Next Trip?
Save money on your next trip with our favorite travel websites!
Find the Cheapest Hotels:
The Largest Selection of Villas & Apartments:
Cheapest, Most Reliable Car Rentals:
Best Bus & Train Fares:
Huge Selection of the BEST Tours & Activities
Discount Tickets to Museums & Attractions

See our Full List of Travel Deals & Site Recommendations Here.
💡
Affiliate Disclosure:
  Please be aware that some links on this site are affiliate links, which means that we might receive a small commission ☕ if you click a link and make a booking. This helps us to keep the site running and will NOT affect the price you pay in any way... ❤️ 🙏 🙏 ➜
How does this work?
---