Bike Rentals & Tours in Almuñécar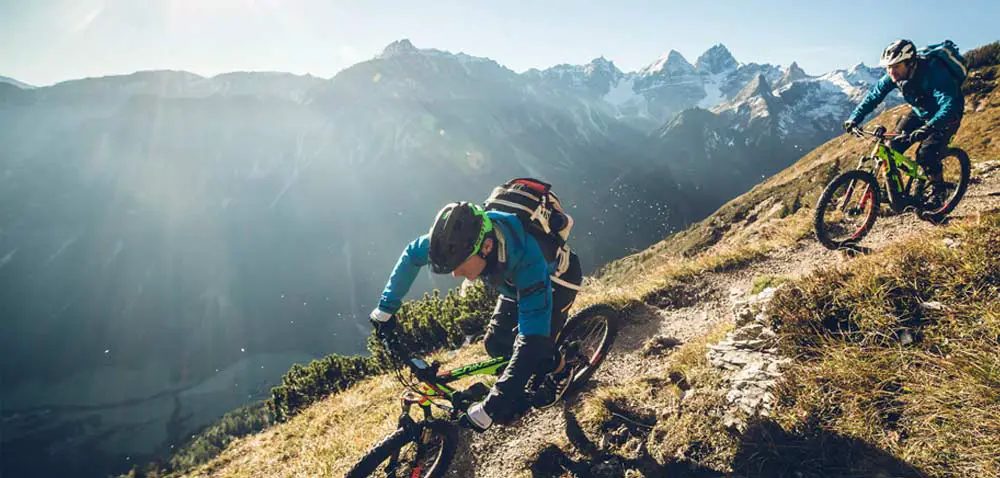 ** Mountain Bike Tours - Sierra Nevada
💡
Affiliate Disclosure:
  Please be aware that some links on this site are affiliate links, which means that we might receive a small commission ☕ if you click a link and make a booking. This helps us to keep the site running and will NOT affect the price you pay in any way... ❤️ 🙏 🙏 ➜
How does this work?
---
Cycling in the Costa Tropical is a great activity and can be modified for beginners or advanced cyclists, depending on the routes you take. Generally, the area is very hilly and mountainous behind Almuñécar and you can often find extreme cyclists heading up into
Jete
for a very challenging ride.
Beginners tend to stick to the shoreline as it is long and flat and makes for a very leisurely and scenic ride, plus it's a great way to get around during the summer months as traffic increases and parking becomes hard to find.
---
Best Leisurely Biking Areas...
Almuñécar & La Herradura:
The area around Almuñécar is rather mountainous but the village itself is flat. You can easily bike around town to see the sites and there is a fantastic coastal promenade that runs from
Playa Muerto
and
Playa Cotobro
, past the Penon, to the end of
Playa Velilla
(8 km). You will find numerous restaurants and sites along the way.
Salobreña: In the last two years the town of Salobreña has extended its coastal promenade which now runs from Playa Guardia to Playa Punta del Rio (5 km), almost to Motril. The entire area under the Salobreña castle has also been converted into a great biking area.
Motril: Motril also has a great coastal road that is flat, long, and scenic. You can continue from Salobreña and bike past Playa Granada and Playa Poniente to the Port of Motril (6 km).
---
Top Moderate to Advanced Biking Routes
If you are athletic and looking for a more challenging ride, then head into the hills behind Almuñécar. This area is visually stunning but very steep. The Costa Tropical is known for being a favorite spot for professional cyclists practicing for the
Tour de France
because the terrain is so similar.
See a full list of Almunecar Biking Routes here.
Three routes we recommend are:
Moderate:
Advanced:
---
The Best Biking Group Tours / Bike Rentals
Thinking of seeing the cities of Malaga or Granada, or exploring the Sierra Nevada? Why not do it by bike! Fabulous group tours are available that the whole family will enjoy!
Some tours/rentals can be booked directly from this page, otherwise, you can contact the company directly for more information.
Costa Tropical Area ➜ Sierra Nevada | Malaga City | Granada City
---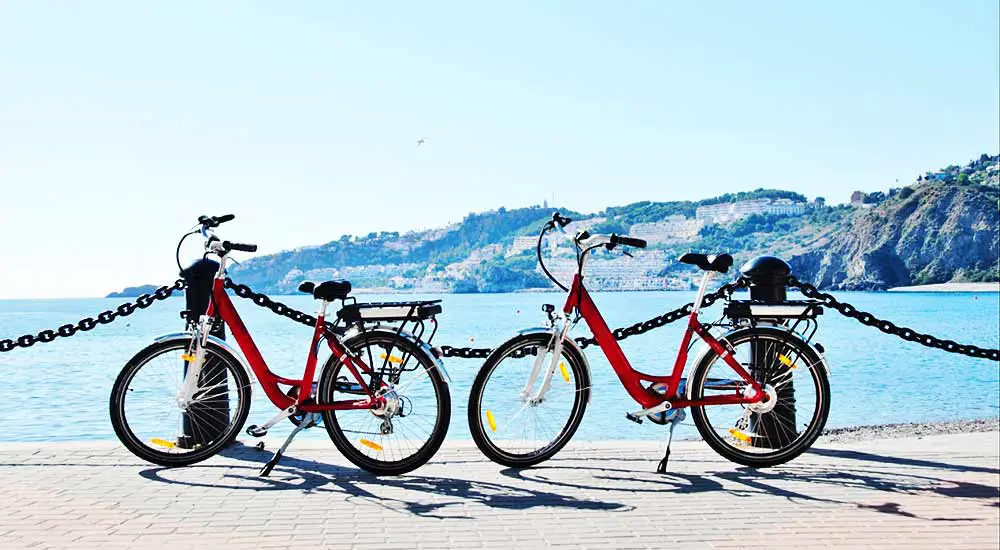 ** Almuñécar Bike Rentals with Ebike Spain
Bike Rental Companies - The Top 4
The following companies offer bike rentals and repair services in the Costa Tropical. Electric Bikes and bicycle delivery are available where noted.
COSTA TROPICAL CYCLING


49+ Reviews (TripAdvisor)
Address: Av. Costa del Sol, 34, 18690 Almuñécar, Granada
Phone: +34 634 38 28 48
Website: www.costatropicalcycling.com
Email: info@costatropicalcycling.com
Services: Cycling trips and adventures, guided tours, bike rentals including mountain bikes, road bikes, city bikes, and e-bikes - Costa Tropical Cycling does it all!
Electric Bikes: Yes!
NEXT LEVEL CYCLING


64+ Reviews (TripAdvisor)
Phone: +34 657 300 550 / 657 300 549
Website: https://www.nextlevelcycling.org/
Email: info@nextlevelcycling.org
Rental Form: http://form.jotformeu.com/form/50996148963370
Delivery: Available on Request
Services: Bike Rentals, Biking Holidays, Guided Rides, Day Trips
Book Securely with Viator:

CYCLE ALMUNECAR / CYCLE MALAGA


166+ Reviews (TripAdvisor)
Phone: +34 637 028 873
Mobile: +34 618 360 290
Website: https://www.cyclealmunecar.com
Email: info@cyclenerja.com
Contact / Rental Form: https://cyclealmunecar.com/contact-us/
Services: Bike Rental with delivery and collection services in Almuñécar, La Herradura, Marina del Este, Salobreña, and the surrounding areas (delivery is free subject to a minimum order of 100€).
Deliveries and collections are offered 7 days a week! (Sundays will be extra)
Cycle Almuñécar is part of the very popular Cycle Malaga company. Their other sites include: cyclemalaga.com, cycletorredelmar.com, and cyclenerja.com
X-BIKE - NERJA


226+ Reviews (TripAdvisor)
Phone: +34 951 258 972
Mobile: +34 622 004 742
Website: https://www.xbikenerja.com/
Email: xbikenerja@gmail.com
Services: Bike Rental Services: Electric MTB bikes, Electric Urban Bikes, MTB bikes (Carbon-Aluminium-Full Suspension), Urban Bikes, Road Bikes (Carbon-Aluminium). All bikes are new models from 2017 & HIGH QUALITY.
Guided Tours: For all types of bikes and all skill levels, alone or in groups.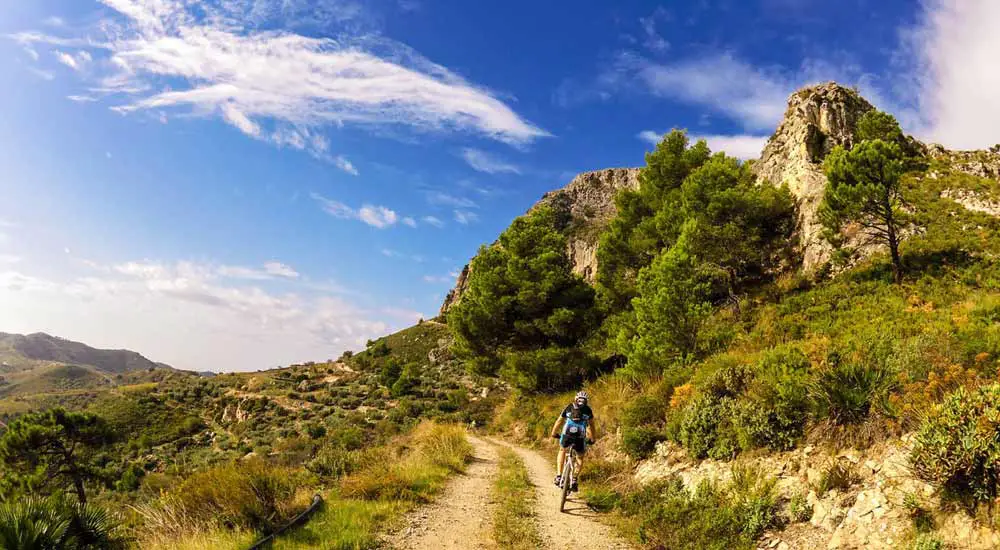 ** Take a Tour with Next Level Cycling
---
The Via Verde
We can't put together a page on cycling and not mention the
Via Verde
in Malaga. It's about 2-hours by car but it's one of the best biking trails in Andalucia, so well worth the trip.
The route is 38 km long and is an award-winning hiking / bicycling trail along an old abandoned rail line that once connected the villages of Olvera and Puerto Serrano.
If you are interested, we have more information on the Via Verde on our Olvera page. The village of Olvera is one of Spain's most beautiful "white villages" and also worth a visit.
TOP BIKE RENTALS / TOURS - VIA VERDE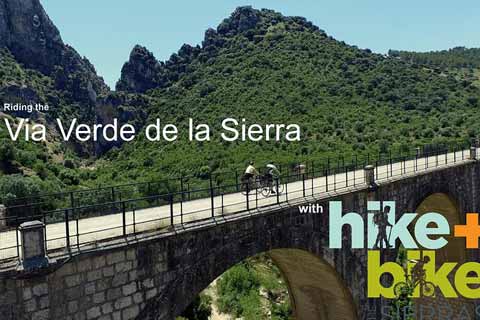 TOP VIA VERDE HOTELS
Casa Vagón Vía Verde de la Sierra - Very neat hotel that is built into a set of old railway cars along the route.
Hotel Estación Vía Verde - A two-star hotel along the Via Verde route that was converted from an old railway station.
---
Smaller Bike Shops & Repair
BERBIKES
Address: C/Torresquevedo nº5 Bajo, 18690 Almuñécar, Spain
Website: https://www.facebook.com/Berbikes-Bicicletas
Services: Bike Rentals, Sales, Parts, and Equipment
REPUESTOS ALMUÑECAR BICICLETAS
Address: CL, TETUAN, 19 EDIF. MINERVA, BAJO 1 18690 Almuñécar, Spain
Phone: +34 958 63 09 46
Website: https://www.facebook.com/Repuestos-Almunecar
Email: repualmu@hotmail.com
Services: Bicycle Repair Service, Bicycle Shop, Mountain Biking Shop
E-BIKE CENTER ALMUNECAR
Address: Avenida de Juan Carlos I nº 2 windsports Store, 18690, Almuñécar Spain
Phone: +34 619 87 30 07 / 653 82 46 96

MIRANDA BIKE SHOP - MOTRIL
Address: c/pedro Vitoria n°7 18600 Motril, Spain
Phone: +34 985 60 82 97
Website: http://www.mirandabike.com/
Contact: http://www.mirandabike.com/contacto/
& info@mirandabike.com
Services: Bike Shop and Repair
BICICLETAS BULL BIKES - MOTRIL
Address: Motril: C/ Londres (Frente Alcampo)
Phone: +34 958 97 72 23
Website: http://www.bullbikes.com
Email: info@bullbikes.com
Services: Bike Rentals, Sales, Parts, and Equipment

Who are we?
An American expat with over 20 years of experience living and traveling in Spain, specifically in Malaga and Granada. Darsey is a seasoned explorer of Andalucia. Drawing from decades of immersive experience, she offers deep insights into this enchanting region of Spain, including off-the-beaten path destinations, the best places to stay, and the top bucket list activities to try!
More...
Want to Save on your Next Trip?
Save money on your next trip with our favorite travel websites!
Find the Cheapest Hotels:
The Largest Selection of Villas & Apartments:
Cheapest, Most Reliable Car Rentals:
Best Bus & Train Fares:
Huge Selection of the BEST Tours & Activities
Discount Tickets to Museums & Attractions

See our Full List of Travel Deals & Site Recommendations Here.
SPORTS & OUTDOOR ACTIVITIES