El Torcal de Antequera
Top 2021 Guide!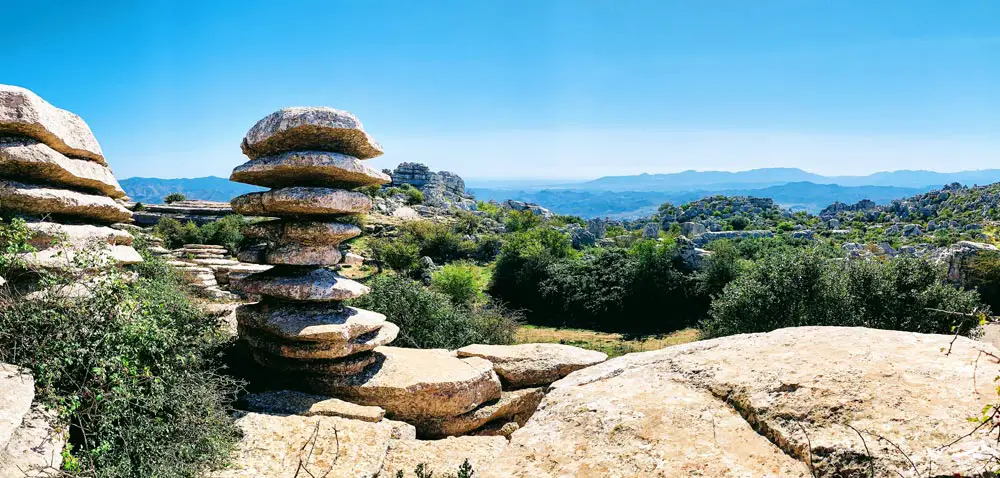 *Affiliate Disclosure: Some links on this site are affiliate links, this means we may receive a small commission for any booking (which we greatly appreciate). This will not affect the price you pay in any way!
---
El Torcal de Antequera National Park - 10 Things You Should Know!
If you are visiting Andalucia and love to hike, you can't miss
El Torcal de Antequera
! It's a crazy cool natural monument with superb hiking and incredible views. It's not far from the famous white village of Ronda (102 km) and Malaga (47 km).
The terrain looks like something out of an alien planet with oddly shaped rocks that seem to have been stacked on top of one another and just left there. This is one of those "once in a lifetime" experiences as this type of natural formation only exists in a few places on earth.
---
Check out the nearby White villages:
Grazalema
-
Olvera
-
Setenil de las Bodegas
-
Zahara de la Sierra
---
Where is El Torcal de Antequera?
El Torcal is in the Province of Malaga about 1 hour north of the capital city (also called Malaga). It's also 25 minutes south of another popular destination, the town of Antequera (from which it derives its name).
Just a thought: (and we highly recommend...) - If you are thinking of visiting the famous "pueblos blancos" of Andalucia, which is a string of gorgeous white villages that runs through both the Malaga and Cadiz provinces, El Torcal is not too far. It's a little over an hour from the village of Olvera (one of the prettiest white villages).
There are also numerous tour groups that travel from Malaga for the day. If you don't have a car, this is a great option. More on this below in "Recommended Tours".
---
---
1. A Little Jurassic History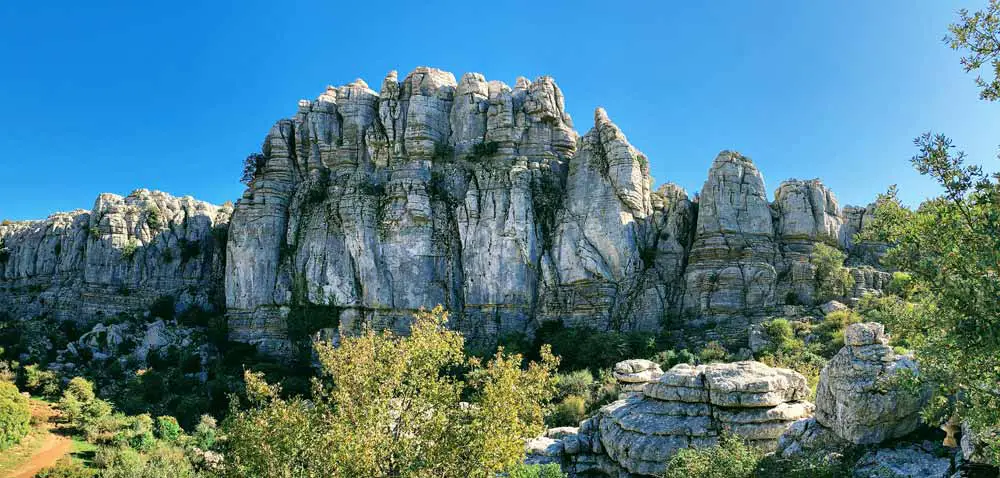 One of the coolest things about El Torcal de Antequera is knowing that the entire area used to be underwater and this is why it looks the way it does today. Of course, this was over a million years ago... things have changed A LOT since then.
The history of this area dates back to the Jurassic period when limestone covered the sea floors. Over the last one million years, changes on earth (earthquakes, etc.) have pushed the seabed up to an elevation of over 1300 meters, which is how this fantastical limestone mountain range was created.
2. It's a Karstic What???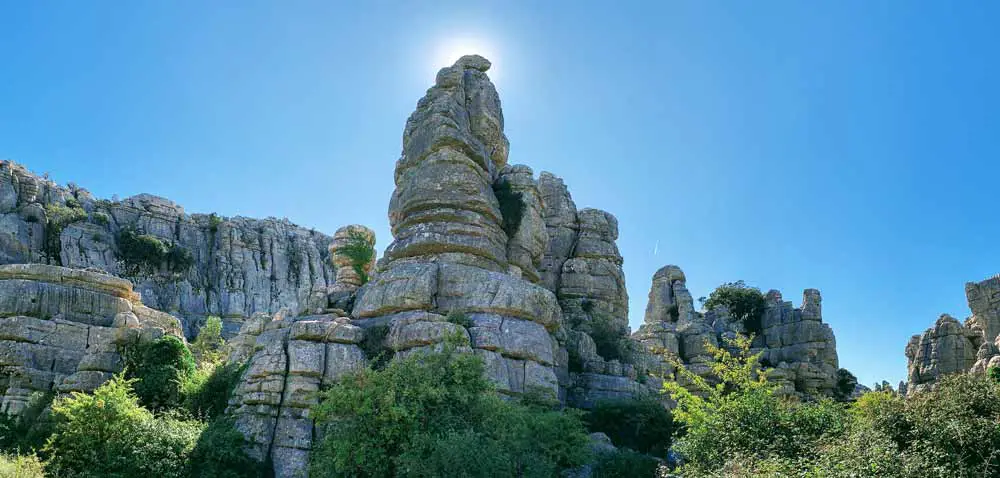 It's called a Karstic landscape... I know, I had never heard of it before either.
Ever since the El Torcal Mountain Range was created; the rains and ice melts have created fractures in the limestone (because the limestone is so soft) that have gradually degraded and eroded it over time.... thus, forming these very peculiar shapes that we see today.
If you want to get technical... they call this process "karstification".
A walk around the park will reveal many unique shapes and formations, some of which resemble and have been named after well-known objects.
See if you can find these: The Sphinx, The Jug, The Camel and The Screw
---
TOURIST INFORMATION
El Torcal de Antequera - Alto Visitor Centre - +34 902 525 100
Paraje Natural Torcal de Antequera, s/n
Carretera de acceso al Torcal Alto km 3,7
Antequera (29200-Málaga)
Tel.: +34 902 525 100
+34 951 042 100 or
+34 670 944 642
Opening hours (every day of the week):
10:00 - 5:00 (November to March)
10:00 - 7:00 (April to October)
Closed: December 25, January 1 and 6.
Tourist Office of Antequera - 952 70 25 05
Address: Calle Encarnación, 4A, 29200 Antequera, Málaga
Hours:
Open ⋅ Closes 9:30 AM - 7:00 PM
Sunday 10:00 - 2:00
---
3. It's A World Heritage Site!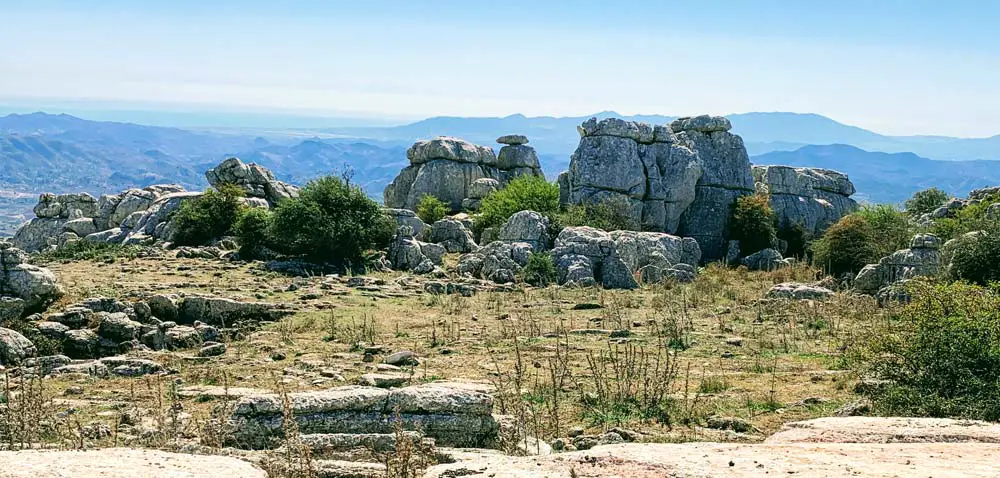 Is it just me or does the formation above look a little like Stonehenge? Ok, Ok, moving on... ;-)
The El Torcal de Antequera "Karstic" landscape is the most impressive of its kind in Europe and because it is so unique it was declared a "World Heritage Site" by UNESCO in 2016. It is referred to as the "Antequera Dolmens Site Ensemble" which is comprised of three cultural monuments and two natural ones, all in or around the town of Antequera. This means, you can easily see them all while you're here!
The Ensemble Monuments are: the "Dolmen of Menga", the "Dolmen of Viera", Tholos of El Romeral, Peña de los Enamorados and El Torcal de Antequera. All of these sites are worth seeing and just a 30-minutes' drive from El Torcal National Park. More about the other sites below...
Advertisement
---
4. The Hikes – Yellow, Green And Orange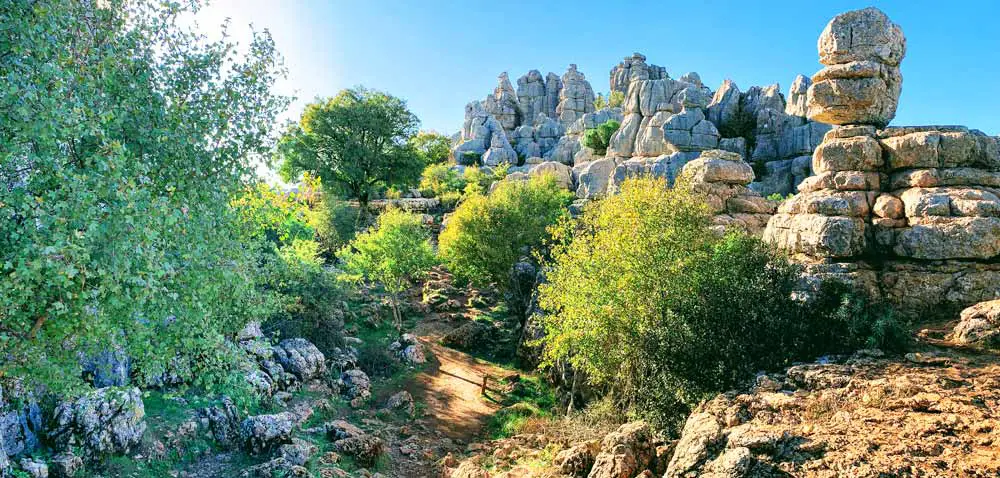 Hiking El Torcal de Antequera is fantastic, you are surrounded with the most amazing natural effects that I have ever seen. Look how the rock above is just balancing up there!!
The hikes themselves are not difficult, they are mostly flat and the paths well defined. There are a FEW ups and downs but nothing too strenuous. One does need to be careful of the rocky, uneven ground in parts.
There are three different hikes you can take while in El Torcal de Antequera park, all are well-marked, AND, all hiking is FREE!
TRAILS:
1. Yellow Trail - This is the trail that we did. It is 2 hours long and about 3 km in distance. The trail starts and ends in the parking lot of the visitor's center, it's a loop and easily followed. The trail is marked as medium difficulty. We absolutely loved it and if you have the time, I HIGHLY recommend doing it.
2. Green Trail - The Green Trail is a shorter version of the Yellow Trail. It basically follows the same path, starts and ends in the same location, but half-way through the hike, it winds back around and heads home. This trail is quick and easy. It will only take you about 45 minutes at 1.5 km long. If you're looking for a quick hike this one would be perfect, you still get to see all the best parts of the park.
3. Orange Trail - The Orange Trail is the most intense hike in the park. It starts further down the mountain where the El Torcal de Antequera entrance is located and will take you at least 4 hours to complete (Back and forth). The trail is 3.6 km one way. It basically goes from the main entrance to the visitor's center and back again. You WILL get to see many more of the unique rock formations on this hike.
---
If you are planning on staying in the area, or visiting the town of Antequera, we recommend the hotels below:
TOP HOTELS
Parador de Antequera - If given a choice we always stay at a Parador in Spain. They are usually in the best locations and of very high quality. The Antequera Parador is a quite modern hotel overlooking the Peña de los Enamorados and surrounding countryside. It has an outdoor pool, huge terrace and wonderful restaurant.
Finca Eslava - The four-star Finca Eslava is a renovated 18th-century manor house located on the outskirts of Antequera. It has a large garden, circuit spa, indoor / outdoor pool and paddle / tennis courts.
Hotel Convento La Magdalena - We stayed at this beautifully renovated convent that features vaulted ceilings, wooden beams and traditional terracotta floors. It has an indoor pool / spa and the restaurant is fabulous! Photo Below...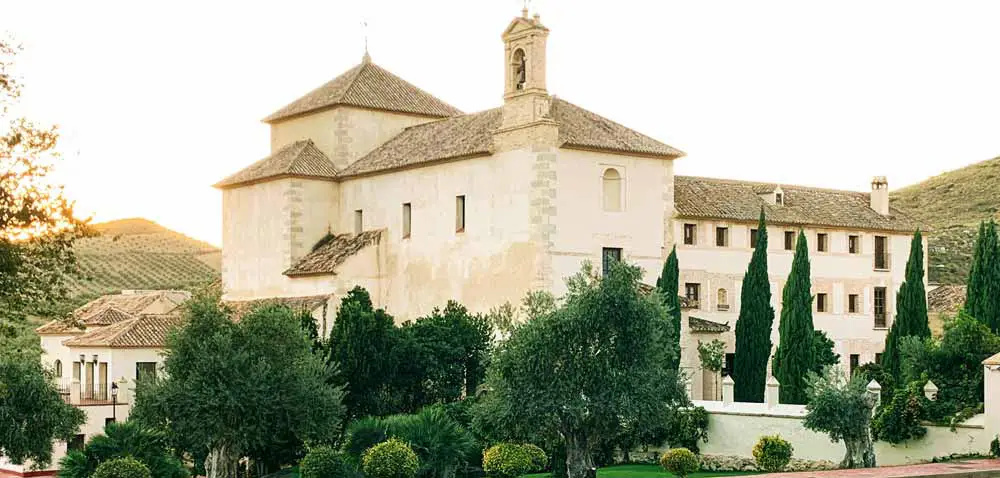 ---
---
RECOMMENDED RESTAURANTS
El Torcal de Antequera Alto Cafe - Located in the visitor's Center, take in the beautiful views of the surrounding Karstic landscape while enjoying traditional local dishes. A VERY SIMPLE CAFE
---
5. Guided Tours Are Available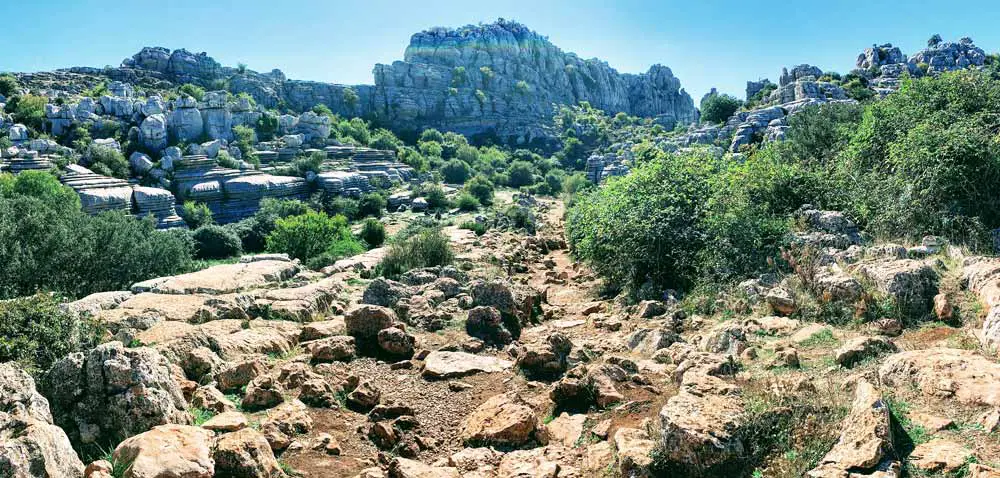 If you are interested in seeing more of the park and some of the "behind-the-scenes" areas, there are other routes and tours available to you.
If you are kind-of science-y, there is a guided Red Route that takes you to see the ammonites (extinct marine mollusk animals) as well as the Karstic Labyrinth.
These tours are not offered daily so you will have to book in advance, all routes / tours, dates and costs can be found below:
Special Tours:
Route of the 5 senses
Route of the Ammonites
The Old Red Route
The Millennial Labyrinth
---
RECOMMENDED TOURS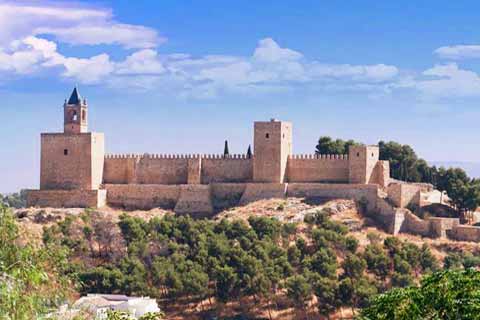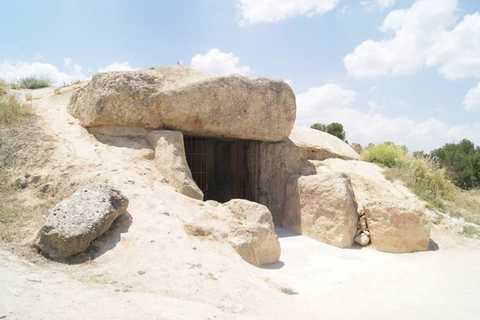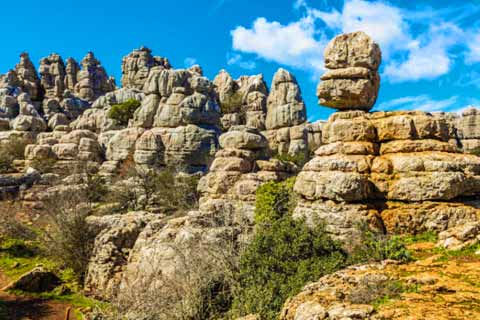 Advertisement
---
6. You Can Just Drive Through Too!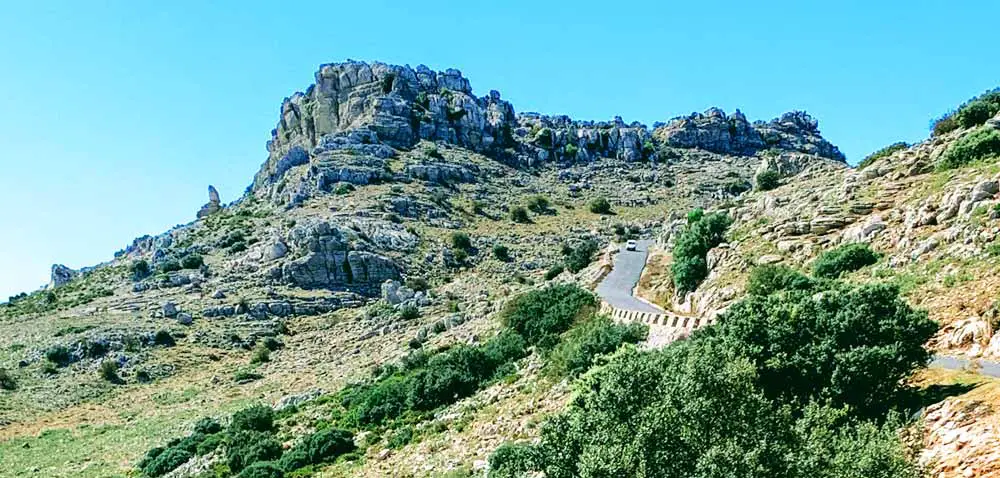 If you're short on time or just not into hiking, don't let it keep you from seeing this magnificent place! You could just do a drive-by!!
There is a great road that will take you from the entrance all the way up to the visitor's center with amazing scenery along the way. Many people pull over in places to enjoy the views and take a short walk around.
It will only take you about 15-minutes to drive to the visitor's center where you can grab a quick bite to eat at the cafe or check out the views from the miradors next to the center.
---
7. Amazing Flora & Fauna

One of the things I loved the most about visiting El Torcal de Antequera was the wildlife. There is a plethora of important plants, flowers and trees that grow there (that you don't see in other places) but what I loved the MOST were the GOATS! Or wild Iberian Ibex that is....
As you walk through the park, keep an eye out above. Ibex are very shy creatures but there are MANY sitting high on the rocks watching you as you hike through. (a little creepy huh...)
AND, I don't know if this is always the case, but as we were hiking through, we passed two large bulls with their families.... this was quite the site in the middle of this rocky jungle.
Advertisement
---
8. It Has Beautiful Miradors with Spectacular Views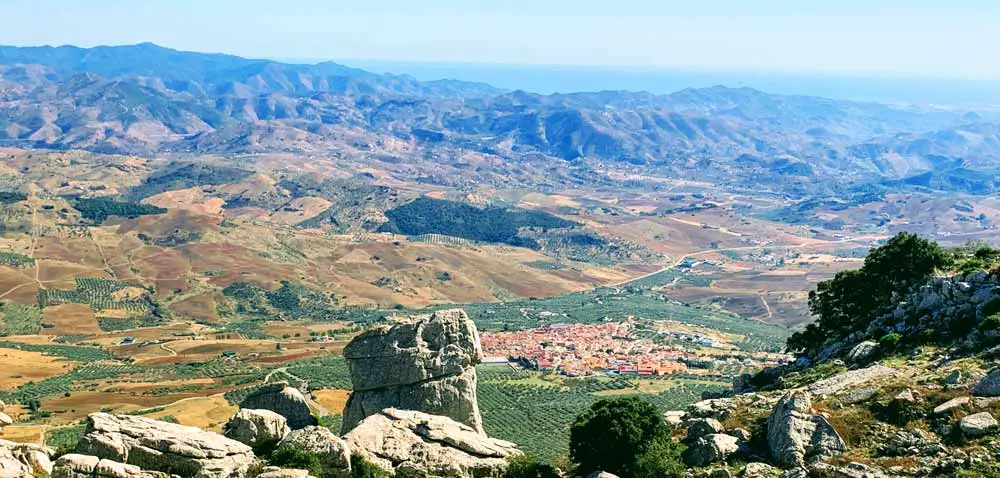 There are numerous miradors around the park that are worth visiting. The views of the surrounding landscape are gorgeous. You can see the Peña de los Enamorados (another World Heritage Site) in the distance as well as the town of Antequera. The small town of Villanueva de la Concepcion can also be seen below.
The photo above shows the isolated town of Villanueva de la Concepcion just below El Torcal de Antequera.
---
9. The visitor's Center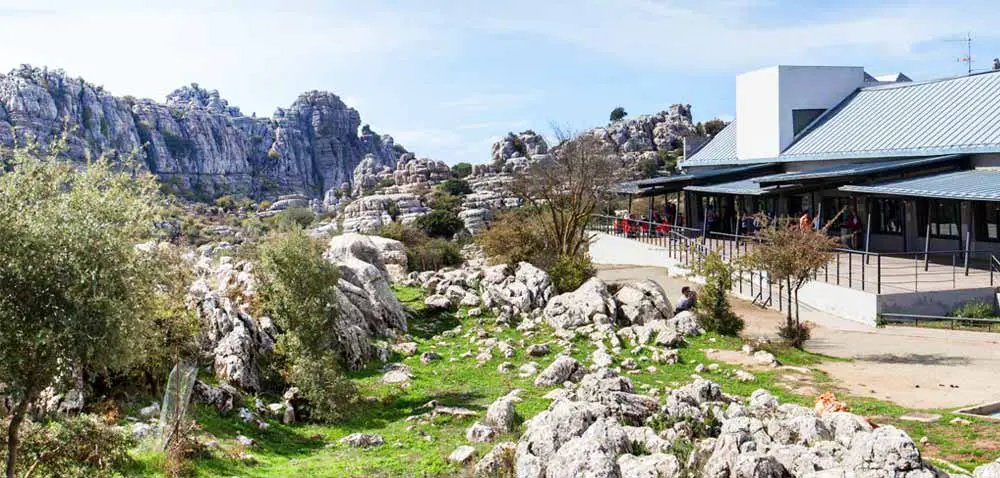 El Torcal de Antequera has a nice, modern looking Visitor Center that is free to visit and has all the following amenities: an interpretive area, multipurpose room, guide service, observatory, souvenir shop, restaurant, toilets and parking.
It is opened every day of the week.
Both the Green and Yellow Hiking Routes start and end at this center.
---
10. It Has An Interpretation Area And An Astronomy Center
Also, free to visit is the
Interpretation Area
that is located inside the visitor's center. It is a very hands on area that explains in great detail all about the different aspects of El Torcal; How it was formed, the karst landscape, the wildlife, vegetation and the parks history.
The Astronomical Observatory has activities open to the public throughout the year, as well as activities specifically designed for schools, or tourist groups.
---
11. El Torcal Alto Cafe
After all that hiking, luckily
El Torcal de Antequera
has a place to eat! The Torcal Alto Cafe is simple but good. It's located in a gorgeous setting with beautiful views while you rest and enjoy a good meal (or glass of wine...).
The menu has all your basic sandwiches and salads but also a selection of local traditional food found in Antequera... all made with local ingredients.
The kitchen closes at 4:00!
Read El Torcal de Antequera Alto Cafe Reviews
---
12. There Is So Much To See Around El Torcal de Antequera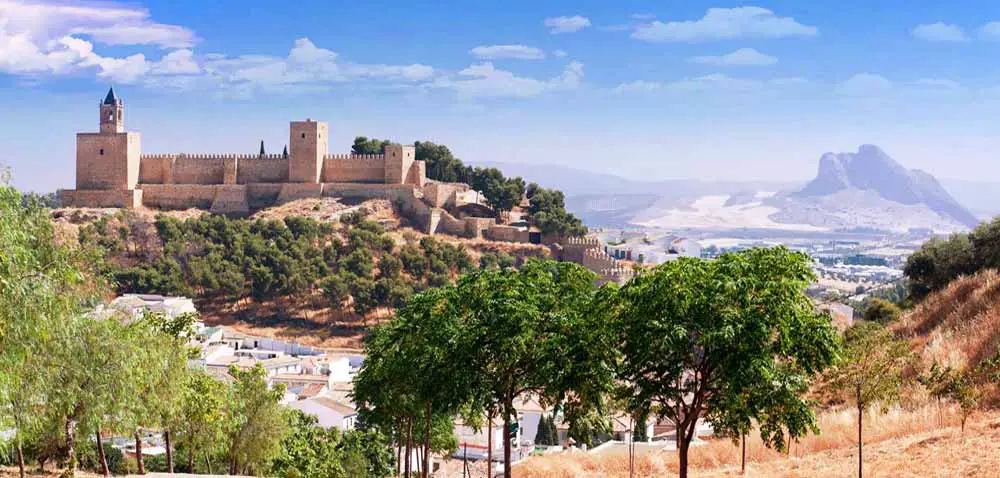 In the photo above you see the town of Antequera and the historical site of Peña de los Enamorados in the distance.
This whole area is a dream and there are tons of interesting things you can see nearby. Like I said above, El Torcal de Antequera has been designated as a World Heritage Site along with 4 other sites in and around Antequera. Some of the top things to see and do around the El Torcal park are:
---
The Dolmenes
"Dolmen of Menga"

- The Menga Dolmen is an ancient tomb and is the largest in Europe. Its largest mysteriously upright stone weighs more than 4 times the heaviest stone at the Stonehenge site.

"Dolmen of Viera"

- Another medieval tomb in Antequera

Tholos of El Romeral

- A false cupola tomb that was built facing south towards the El Torcal de Antequera Mountain range. The sunlight during the summer solstice shines directly into the tomb.

This tour takes you to all three...
---
Peña de los Enamorados
- A huge rock formation just outside Antequera, the name translates to "Lovers Rock" or it's also known as "The Lovers Leap Rock". The Legend has it that two lovers jumped from the rock together so as not to be captured by their pursuers and torn apart.
Visit The City of Antequera - A beautiful Medieval city with ancient burial mounds, dolmens, Roman baths, a Moorish Castle, Gothic churches and much more for you to explore...
Archidona - Another nearby village with another Moorish Castle.
Villanueva de la Concepcion - A small town in the foothills of the El Torcal de Antequera park.
Lobo park - The kids will love this site... A wildlife park near Antequera where you can see and learn about four different species of wolves.
Advertisement
---
Other Important Information You Should Know About El Torcal de Antequera
1. Recommendations on What to Bring to El Torcal:
Hiking Boots
Plenty of Water and Snacks
Warm clothing during cooler months, raincoat or windbreaker
Cap and sun protection
---
2. A Few General Rules:
The park is FREE
Opening hours (every day of the week):
10:00 - 5:00 (November to March)
10:00 - 7:00 (April to October)
Closed: December 25, January 1 and 6.
El Torcal has 2 short wheelchair accessible paths: the "Mirador de las Ventanillas" trail (100 meters) and the "Tornillo Natural Monument" (400 meters)
Baby Backpacks can be rented at the visitor's center
Pets ARE allowed but MUST be on a leash at all times
Parking Caravans overnight is NOT allowed
---
3. El Torcal is Near the Famous Villages on the "Ruta de los Pueblos Blancos"
Only about 1 hour and 20 minutes to the west of
El Torcal de Antequera
is the town of
Olvera
, one of the famous towns in the "Ruta de los Pueblos Blancos" (White Villages Route).
From there you can drive on to visit some of the other towns like, Grazalema, Zahara de la Sierra and Setenil de las Bodegas. Most of these are located in the Sierra de Grazalema which is another huge national park with spectacular scenery around every corner.
---
4. Distances to Other Important Towns:
Larger Cities / Towns
Malaga 47 km / 1 hour
Cádiz 217 km / 2 hrs 50 min
Sevilla 174 km / 2 hrs 5 min
Ronda 102 km / 1 hr 35 min
Other Smaller White Villages
Jerez de la Frontera 186 km / 2 hrs 35 min
Antequera 15 km / 26 min
Archidona 41 km / 45 min
Olvera 89 km / 1 hr 25 min
Villanueva de la Concepcion 9 km / 17 min

Advertisement
---
5. When is the Best Time to Come
During the months of April, May and October you are most likely to experience good weather with pleasant average temperatures that fall between 20 degrees Celsius (68°F) and 25 degrees Celsius (77°F).
On average, the warmest month(s) are July and August, with July being the hottest.
The months of January, February, March, April, August, September and October have a high chance of precipitation, with November being the wettest.
On average, the coolest month is January.
June is the driest month.
---
6. How To Arrive
From Antequera
: El Torcal is 15 km South on the A7075 on the right-hand side of the road before the town of Villanueva de la Concepcion.
From Málaga: Head 20km North on the A45 to "km 148" and the village of Casabermeja, then head west on the A7075 to Villanueva de la Concepcion. From Villanueva de la Concepcion follow signs to "El Torcal", it is only 3 km further on the left.
There is no public transport to El Torcal de Antequera...
---
---
7. Parking
There is a large parking area next to the visitor center, but spaces are limited. When the lot is full, access to private vehicles will be closed. This would mean that you have to park in the lower parking area next to the entrance and hike in. A sign will be posted if the lot is full.
---
I think that's all you need to know for an amazing hiking day in the El Torcal National Park! I hope you have as good a time as we had! Have a safe trip!! ;-)