Canyoning in Granada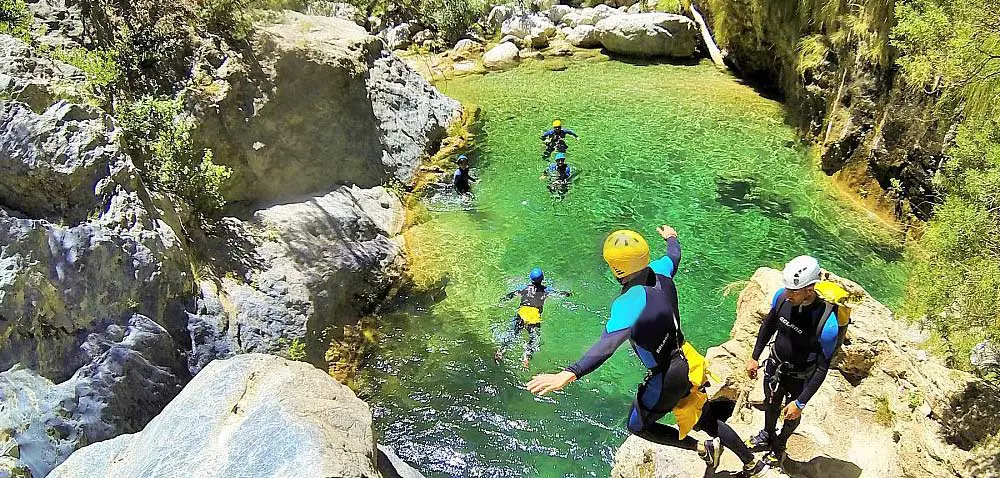 💡
Affiliate Disclosure:
  Please be aware that some links on this site are affiliate links, which means that we might receive a small commission ☕ if you click a link and make a booking. This helps us to keep the site running and will NOT affect the price you pay in any way... ❤️ 🙏 🙏 ➜
How does this work?
---
Heading into the mountains behind the Costa Tropical with their deep valleys, steep gorges, rivers, and waterfalls you will soon discover amazing destinations that are perfect for the more extreme sports activities like canyoning and descent, rafting, bungee jumping, and more...
Canyoning in Granada has become a very popular sport over the last 5 - 10 years and several adventure companies specialize in canyoning tours from both the coastal areas and the city of Granada.
These companies will provide you with transportation to and from the canyoning sites, all the necessary equipment, and deliver an adventure that you will not soon forget...
---
What is Canyoning You Ask?
Canyoning or descent (Barranquismo in Spanish) is basically a combination of repelling, climbing, jumping, sliding, and splashing down a river gorge.
There are various levels of canyoning from extreme/professional where more advanced knowledge of repelling and mountain climbing is necessary, to a more beginner level where the idea is to splash and jump your way down the river.
The adventure companies that cater to this sport offer tours for all skill levels and frequent various sites that also vary in degree of difficulty. Most of the companies also offer easier descents for families with children.
---
---
Two Canyoning Excursions We Recommend:
1
Canyoning in Andalucia: Rio Verde Canyon



Tour Description
Canyoning in Granada
Take to the most impressive canyon in Andalucia, Rio Verde Canyon, for 5-hour adventure. Learn to descend the canyon safely with the assistance of your knowledgeable guide and take a nice swim. Try a jump or slide. Relax in the beautiful forest while taking rest. Round-trip transfer service by a private, air-conditioned vehicle is included....   Show full description


Stars:
4.7
  |  
Reviews: 142   |  
---
2
Canyoning Adventure Rio Verde in Granada



Tour Description
Canyoning in Granada
Canyoning is a very fun activity, with a touch of adrenaline and adventure, we work as safely as possible, with small groups, ideal for families or groups of friends, in a more private and personalized way. Always at the end of our activities we share a picnic lunch with a toast to celebrate....   Show full description


Stars:
5
  |  
Reviews: 78   |  
---
Granada Canyoning - Frequently Asked Questions...
1. Are there any physical requirements for Canyoning?
Jumping, repelling, and sliding down the rocks can be a bit strenuous. Make sure that you are in good physical condition to take part in canyoning and descent.
2. What should we wear while canyoning?
The most important item to wear is comfortable shoes. You must wear shoes that you can get wet and that will give you support in the water. Also, bring a change of clothes for afterward as you will get completely soaked.
3. Should we bring anything additional?
We have a great article about a day in the Rio Verde or
Junta de Los Rios
canyon, it includes a list of all the items you should bring...
4. Do you need to know how to swim?
Knowing how to swim is not required BUT canyoning is an all-day event... in the water. Although the water is not deep, it's important to feel comfortable in this environment. Life jackets will be provided to those that request them.
5. How long does the Rio Verde descent take?
This depends on the package you purchase. There are full-day descents that take from 8-9 hours total, although this includes transportation to the site and a bit of instruction beforehand. The half-day tours are usually between 3.5 - 4 hours.
6. What is the intensity of the river (Rio Verde)?
The water flow in the Rio Verde is slow to still. There are places where the water runs over the rocks into falls but you will also find many still pools for swimming. There are no rapids or fast flows to worry about.
7. Is transportation included?
In most of the tours, transportation to the site is included. Most of the companies will bring you to the site from the coast (La Herradura) or the city of Granada. They also have a meeting place outside the park if you would like to meet them. They will then drive you down the uneven roads in a 4X4 to where your descent will begin. Arrangements can be made with the individual companies.
8. Are there any age limits?
There are age limits for some of the more intense descents but most of the companies provide descents that are designed specifically with families in mind. The family tours are good for kids from 8 to 13 years of age.
9. When is the best time for Canyoning in Rio Verde?
Normally, the weather in the Costa Tropical and Otivar is warm enough for canyoning from March until the end of October.
10. What does the excursion/tour price include?
Canyoning Equipment: Neoprene, Helmet, Harness, Ropes
Accident Insurance
Qualified Guide
Transportation to the Site
First Aid Kit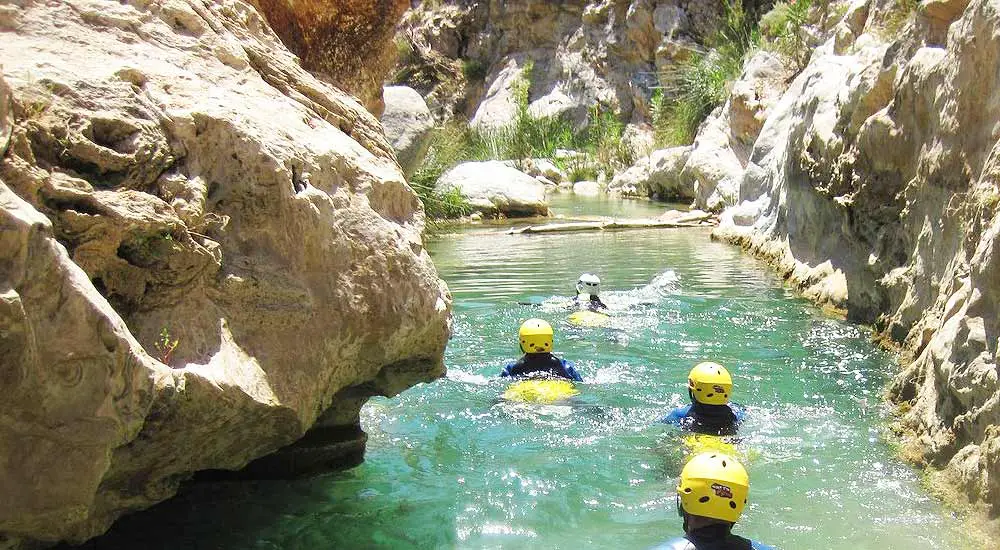 ** Canyoning in the Rio Verde
---
Top 5 Sites in Granada for Canyoning
Although numerous locations in Granada are popular for canyoning and descent, the Rio Verde is currently the most popular site and the one we will cover the most in this article.
That being said, the province of Granada is full of picture-perfect locations.. with its soaring mountains and deep craggy ravines... that are perfect for adventure seekers. Here are Granada's top 5 canyoning sites...
1. The Rio Verde - Otivar
Located in the Natural Park of the
Sierra de la Almijara, Tejeda and Alhama
, just minutes from the small village of
Otivar
, is the most visually stunning canyoning site on our list. The Rio Verde is a virtual paradise with clear turquoise pools and waterfalls tucked into a rocky ravine that is connected by swinging bridges and hiking trails.
The descent in Rio Verde will take you 8-9 hours total for the full-day and between 3.5 - 4 hours for a half-day.
2. Río Lentegí
Very close to the Costa Tropical and just 10 minutes past the
village of Lentejí
you will find the river by the same name. This site is a little more technical than the others with a repelling descent of more than 20 meters but is still suitable for all levels.
Located just outside the Natural Park, Río Lentegí is in close proximity to the Rio Verde and shares many of the same physical characteristics. For those desiring a weekend of hiking, jumping, and splashing, these two sites would complement each other nicely.
3. Barranco del Poqueira
This overall area is exquisite and highly recommended. The Barranco del Poqueira site is located high in the Sierra Nevada Mountains (Spain's highest) and very close to the region of
La Alpujarra
.
The waters from Spain's highest peak, Mount Mulhacen, feed into this river and gorge and have created deep ravines that are perfect for repelling. Because of the steepness of this area and the faster flow of water, this site is recommended for advanced beginners and expert canyoners.
4. Río Trevélez
Sitting in the middle of the beautiful Alpujarras is the gorge of the Río Trevélez, it can be accessed from the villages of
Órgiva
or Busquistar. The Río Trevélez is recommended for advanced and expert canyoners because of its unique conditions.
One of the prettiest canyoning areas on our list, Río Trevélez, is also one of the most complicated. The water in this area takes on a reddish color from the abundance of iron in the earth which makes visibility more difficult and water flow is relatively high... flooding is also common.
5. Río Bermejo
Another course that is recommended for advanced and expert repellers is the Río Bermejo which again is located in the Sierra Nevada Natural Park and close to the two Alpujarra villages of
Capileira
and Portugos.
This ravine, located higher up in the Sierra, is short but steep and great for technical repelling.
---
Granada Canyoning - Average Prices
CANYONING IN GRANADA - PRICES BY COMPANY
| | | | |
| --- | --- | --- | --- |
|   | Vivak | SaltaRíos | MARAE |
| Half-Day | 3-4 Hours | 3.5 Hours | 4 Hours |
| Half Day Price | €45 | €45 | €65 |
| Group Price | €35 (12+) | - | €60 (6+) |
| Full-Day | 7-8 Hours | 7.5 Hours | 6 Hours |
| Full Day Price | €60 | €70 | €80 |
| Group Price | €50 (12+) | - | €75 (6+) |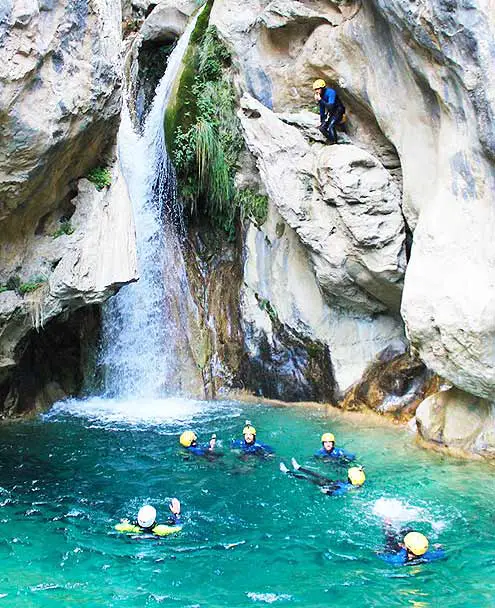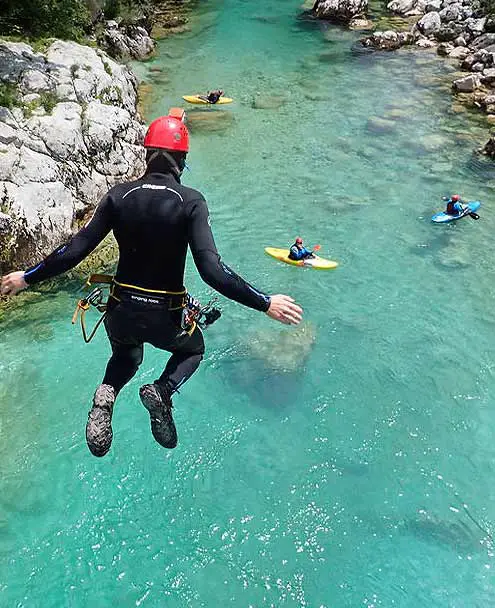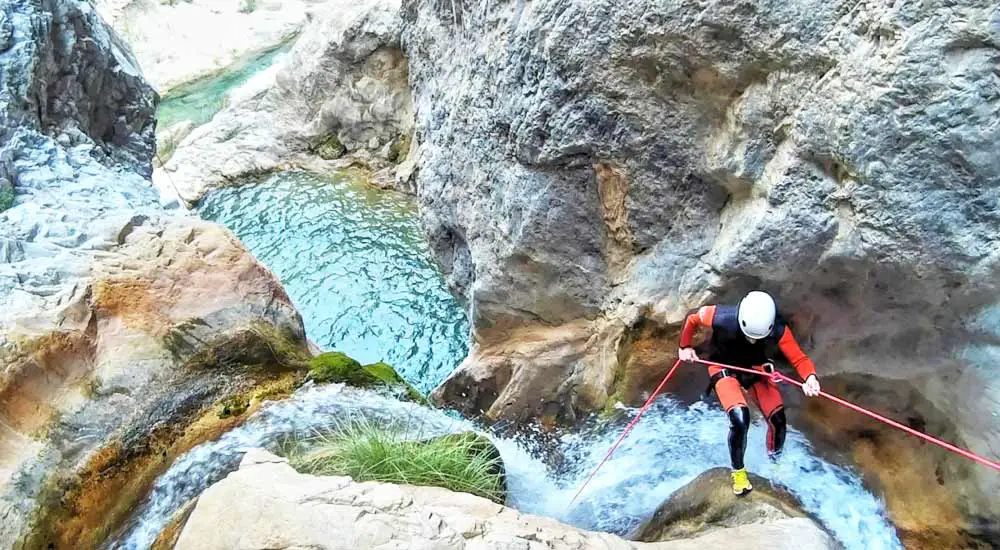 ** Canyoning in Granada - Junta de los Rios
---
The TOP Canyoning / Adventure Companies
Because Granada's mountainous natural parks are the perfect place for outdoor adventure activities, many companies cater to these types of sport. Many are located in Granada city and provide transportation to the different zones, while others are located closer to the coast and the riverbeds themselves.
Below you will find a list of the top adventure companies in Granada with contact information and available services. Tours can be booked online with a few as well...
---
Vivak Nature offers canyoning in the Rio Verde for beginners in the heart of the Sierra de la Almijara, including descents, slides, and jumps (some up to 14 meters).
No previous experience in canyoning is necessary, they will teach you everything you need to know to experience a safe and fun canyoning tour.
Recommended Tours:
VIVAK NATURE - ADVENTURE COMPANY
Address: Offers transportation from Granada, or can meet outside the park and drive you down.
Phone: +34 685 099 697
Website: https://www.vivak.es/
Reservations: reservas@vivak.es
Email: admin@vivak.es
Additional Tours / Services: Canyoning, Multi-Adventure (Zip Line, Handrails, Suspension Bridges), Rock Climbing, Caving, Rafting, Bungee jumping ➜ See All VIVAK Tours & Book Online!
Languages Spoken: Spanish, English, French, and Italian
---
Another Adventure company operating in Granada that focuses on water adventure sports like canyoning, rafting, and canoeing as well as rock climbing and multi-adventure tours.
RAFTING SALTARÍOS- ADVENTURE COMPANY
WhatsApp: +34 696 110 807
Email: info@saltarios.com
Website: https://www.saltarios.com
Additional Tours / Services: Canyoning, Multi-Adventure, Rock Climbing, Rafting, Kayaking / Canoeing ➜ See All SALTARÍOS Tours & Book Online!
Languages Spoken: Spanish and English
---
MARAE is an adventure company based along the coast in La Herradura that offers kayaking and paddleboard excursions as well as canyoning tours. They will take you into the Sierra de la Almijara, Tejeda, and Alhama mountains and provide an adventure you won't forget!
MARAE - ADVENTURE COMPANY
Address: Paseo Andres Segovia 44, 18697 La Herradura, Granada
Phone: +34 657 730 030
Website: https://marae.eu
Contact Form: https://www.marae.eu/contacto-marae/
Additional Services: Paintball, Quad Tour, Canyoning, Hiking, Kayak Tours, Mountain Bike Tours, Paddle, and Paddle Yoga ➜ See All MARAE Tours & Book Online!
Languages Spoken: Spanish and English
---
Educare Aventura is a tourism company operating in Nerja since 2000. Their Canyoning Tour is 8 hours leaving from Nerja and 45 euros per person. They also offer the following tours:
Kayaking along the Nerja and Maro cliffs, Paddle Surfing along the Nerja and Maro cliffs, 4x4 routes along the Sierra Almijara National Park, Mountain biking through the Montes de Málaga National Park, Trekking El Torcal, Horseback riding in the Montes de Málaga, and Canyoning descent in the Rio Verde Ravine (Otivar-Granada).
Recommended Tours:
EDUCARE AVENTURA! - ADVENTURE COMPANY
Address: Camino de Burriana, Local 2, Fase 2, Playa de Burriana, Nerja, Malaga
Phone: +34 676 685 827 / 600 620 054
Reservations: +34 952 039 026
Website: https://educare-aventura.com
Contact Form:https://nimoaventura.com/contact-us/
Email: kayak@educare-aventura.com
Additional Services: Canyoning, Hiking, Mountain Biking, Horseback Riding, 4x4 Routes
Languages Spoken: Spanish and English
---
4. Nimo Aventura
NIMO AVENTURA! - ADVENTURE COMPANY
Phone: +34 601 631 833
Website: https://www.nimoaventura.com/
Contact Form:https://nimoaventura.com/contact-us/
Email: info@nimoaventura.com
Additional Services: Kayak, Barranco (Cliff Jumping), Parapente, Paintball, Scooter Rentals, and Hiking
---
5. Barranquismo Rio Verde
BARRANQUISMO RIO VERDE - ADVENTURE COMPANY
Address: Calle Lavadero de Las Tablas, Nº 32, 4º. Granada, España
WhatsApp: +34 660 080 565
Website: https://www.barranquismorioverde.com
Email: info@barranquismorioverde.com
---
8. Totally Sorted Sports
This company is located in La Herradura and will provide an entire holiday package including accommodations or you can choose standalone activities to join.
TOTALLY SORTED SPORTS - ADVENTURE COMPANY
Address: Paseo Andres Segovia 44, 18697 La Herradura, Granada
Phone: +34 958 883 143 / 627 713 897
Website: https://www.totallysortedsports.co.uk
Availability and Prices https://www.totallysortedsports.co.uk/contact-us/
Additional Services: Canyoning, Hiking, Almunecar Tour, Buggy Safari, Catamaran, Horseback Riding, and Skiing in the Sierra Nevada
Languages Spoken: English
---
---
---
SPORTS & OUTDOOR ACTIVITIES