46 Things to Do in Estepona Spain
Estepona
, a picturesque coastal town on Spain's sun-drenched Costa del Sol, is a unique blend of traditional Andalusian charm and high-end beach resorts and amenities. Framed by the majestic Sierra Bermeja mountains, it is best known for its beautiful sandy beaches, thriving marina, and picturesque old town filled with colorful flowers and whitewashed houses.
Top attractions include the Iglesia de Los Remedios, the "Route of the Murals" (beautiful paintings adorning the town's houses and buildings), the scenic Paseo Maritimo promenade with stunning sea views, and the Orchid House with the world's largest domed orchidarium.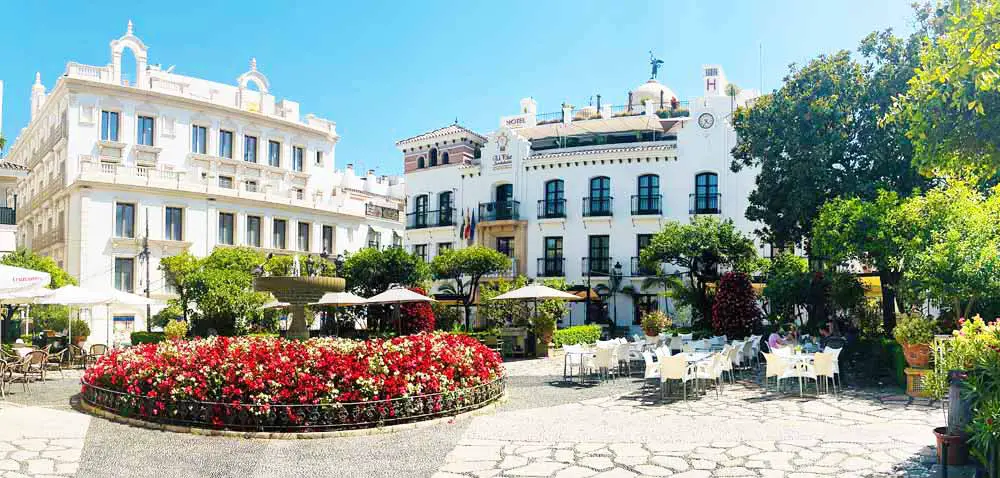 ** Plaza de las Flores - Estepona, Spain
In this Ultimate Guide to Estepona, we will detail the top 46 things to do in Estepona, whether in the old town, along the popular coastal areas, or on the outskirts of town in the nearby mountains and surrounding areas. From visiting the vibrant Plaza de las Flores... to taking part in dolphin watching excursions and sunset sailing tours... Estepona has a lot to offer, enough to keep you happily entertained on your next holiday on the Costa del Sol.
So... for an unforgettable experience in one of the most popular villages on the Malaga coast, here is all you need to know about Estepona...
---
Estepona Spain ➜ The Ultimate Guide 2023!
---
Where is the Village of Estepona?
Estepona
, renowned for its beaches (which stretch along some 21 km of coastline), is nestled between two famous coasts - the Costa del Sol (Malaga) and the Costa de la Luz (Cadiz).
It is the western most village on the Costa del Sol, and lies about halfway between Málaga and the rock of Gibraltar... slightly to the west of Marbella (another popular town on the Costa del Sol). It sits directly on the Mediterranean sea... giving it a wonderful maritime climate.
The three largest cities near Estepona are Málaga, Cádiz and Granada.
Malaga, which is the capital of the province where Estepona is located, is approximately 85 kilometers to the east. And Granada, while not directly on the coast, is situated northeast of Estepona, around 200 kilometers away. It's inland from its pretty coast, the Costa Tropical.
Cádiz is just a 1 hour and 35 minute drive going west.
---
Distances Between Cities and Estepona Spain
| | | |
| --- | --- | --- |
| From | To | Distance |
| Málaga | Estepona, Spain | 1 hr |
| Marbella | Estepona, Spain | 35 min |
| Cádiz | Estepona, Spain | 1 hr 35 min |
| Sevilla | Estepona, Spain | 2 hr 25 min |
| Granada | Estepona, Spain | 2 hr 20 min |
| Mijas | Estepona, Spain | 45 min |
| Ronda | Estepona, Spain | 1 h 5 min |
| Costa Tropical | Estepona, Spain | 1 h 45 min |
---
Why is Estepona the "Garden of the Costa del Sol"?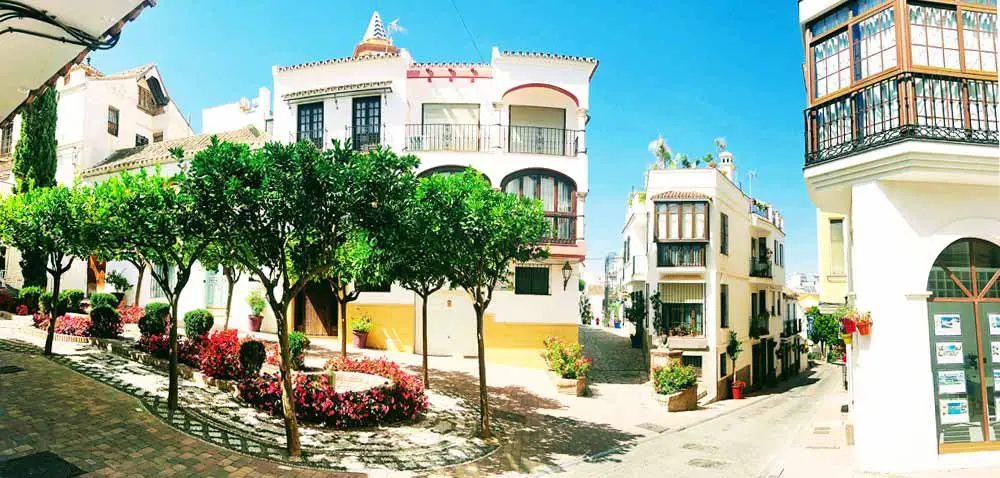 ** Colorful Streets - Estepona, Spain
There are three main reasons why Estepona has been recognized as the "Garden of the Costa del Sol".
The first reason is for it's flowers 🌷, flowers 🌺 and more flowers! 🌻 Estepona takes great pride in its floral displays and they adorn every inch of town, including it's streets, parks, and beautiful plazas. You can expect to see vibrant bougainvillea covering the walls and colorful geraniums, cacti and succulents exploding from pots throughout the village.
Second, Estepona is known for its many parks and gardens, like the Orchid House, where a vast collection of orchids thrive, the Parque El Calvario, a picturesque park with walking paths and beautiful landscaping, and the seaside prominade with gardens and palms lining the beaches.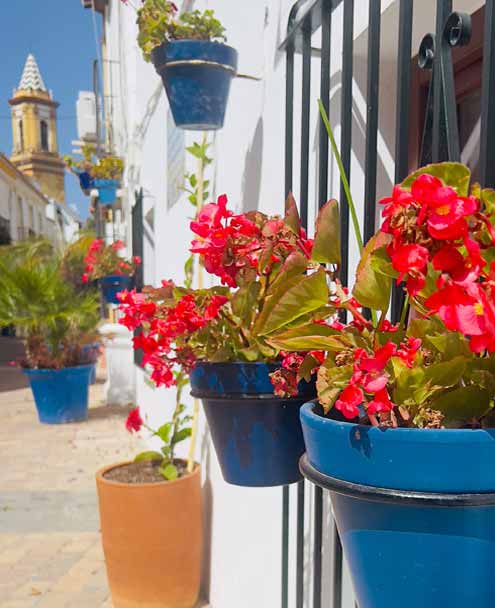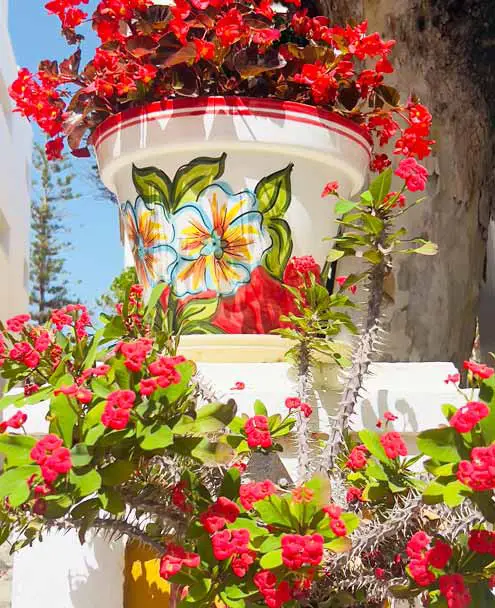 ** Flowers and Cacti Spilling from Pots - Estepona, Spain
And third, in recent years Estepona has launched numerous campaigns to preserve its natural environment, such as tree planting initiatives and the creation of expanded natural areas to promote biodiversity... all of which have contributed to its well-deserved reputation as the "garden" 💐 of the Costa del Sol.
---
What is Estepona Known for?
Estepona has recieved a lot of recognition over the years for its charm, beauty, and quality of life and while it may not appear on every famous list, here are a few things that make Estepona stand out...
Quality of Life: Estepona has been ranked as one of the top places to live in Spain! 👍🏼 Its excellent climate, amenities, healthcare services, and overall quality of life have made it a much desired destination for both residents and visitors alike.
Costa del Sol: As part of the renowned Costa del Sol, Estepona is a prime tourist destination. The area is known for its beautiful sandy beaches, golf courses, resorts, and vibrant coastal lifestyle.
The Golden Mile: This opulent area is one of the most famous and desirable locations on the Costa del Sol, offering a combination of luxury, natural beauty, and Andalusian charm. It runs from Marbella to Estepona.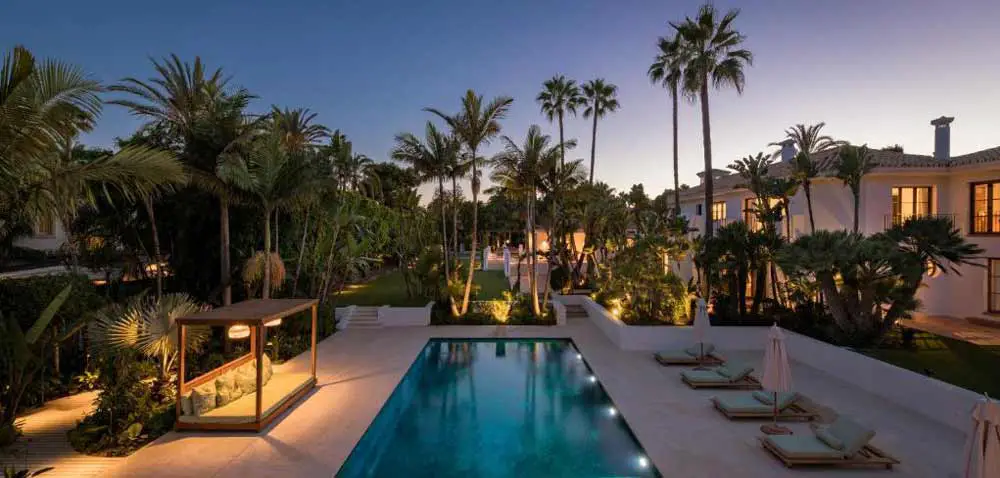 ** Villa along the Golden Mile - Estepona, Spain
---
What is the New "Golden Mile" in Estepona?
The term
"Golden Mile"
originally referred to the prestigious stretch of coastline in Marbella, extending about 5 kilometers from the western edge of Marbella to
Puerto Banús
(marina).
However, due to the increasing popularity and development of the Costa del Sol, the area has been broadened in recent years to include Estepona. The new "Golden Mile" now often refers to the entire stretch of coastline from Marbella to Estepona.
---
This new "Golden Mile" features:
Luxury Living: From the upscale residences of Marbella to the beachfront properties in Estepona, this stretch offers luxurious living options, including villas, estates, and high-end apartment complexes.
Upscale Amenities: It boasts an impressive array of upscale amenities, including world-class restaurants, high-end boutiques, nightclubs, and prestigious hotels.
Stunning Scenery: The area offers beautiful views of the Mediterranean Sea, idyllic sandy beaches, and lush landscapes, making it a desirable area for both living and vacationing.
Historical and Cultural Attractions: Along this stretch, you can find historical landmarks like the Arab Castle in Marbella (Murallas del Castillo) and cultural attractions like Estepona's charming old town.
Sports and Recreation: With renowned golf courses, marinas like Puerto Banús, and various other sporting facilities, this extended "Golden Mile" is a haven for outdoor lovers 💘.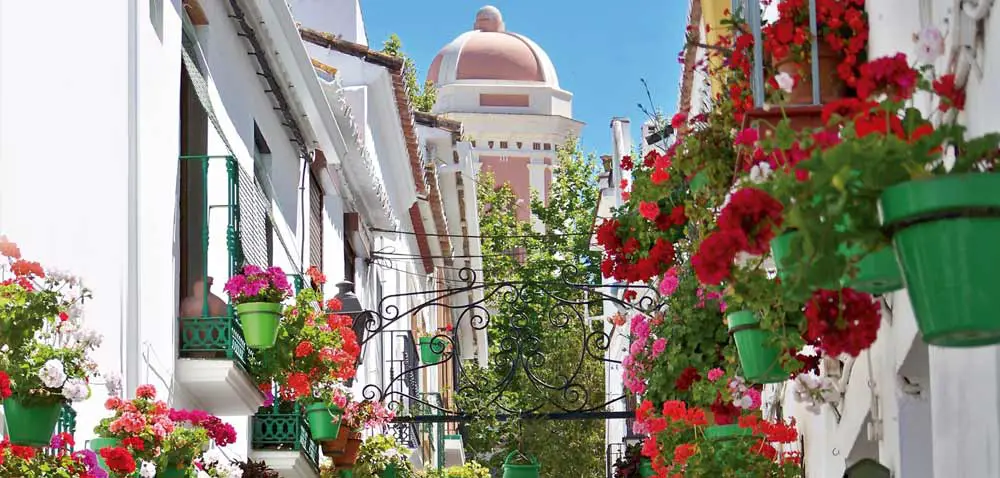 ** Calle Cruz- Estepona, Spain
---
Estepona Spain ➜ History
The history of Estepona spans thousands of years and has been influenced by the Phoenicians, Romans and Moors. Traces of prehistoric human settlements, like the
Dolmenes de Corominas
, have been discovered nearby and can be explored during your visit.
Estepona's location on the coast attracted the Phoenicians and Romans, who established settlements and left many important archaeological remains, for example, the Roman Baths of Guadalmina in Marbella.
Moorish rule from the 8th to the 15th centuries left its mark on the town's architecture and culture, with the Torre del Reloj being a notable remnant of this period. After the Reconquista in 1485, Estepona became part of the Crown of Castile, marking the beginning of its development into the vibrant resort town it is today.
---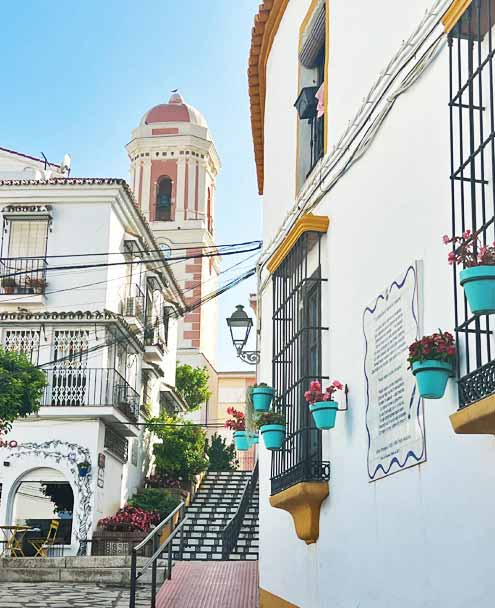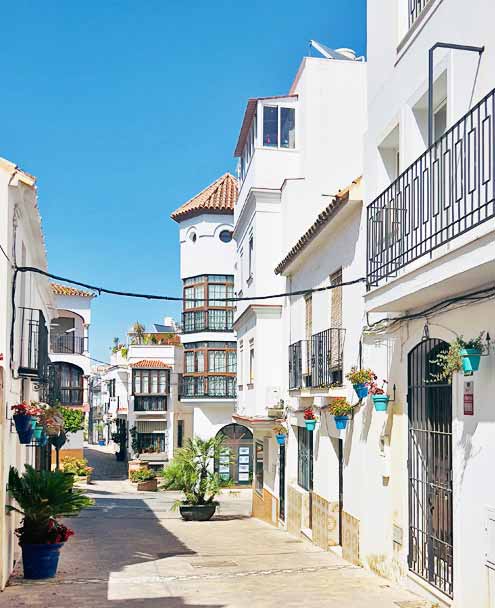 ** Beautiful Details in Estepona, Spain
---
Best Accommodation in Estepona Spain!
Estepona is known for a wide range of accommodations, from luxury five star resorts and beachfront hotels to charming guest houses and self-catering apartments, most offering amazing views of the Mediterranean Sea.
The area is especially known for its high-end holiday rental properties...
---
Estepona Hostels & Low-Cost Options
Most of the hostels in Estepona are centrally located within the town's historical center and near the beaches and top sights... making them a great option for travelers on a budget.
One such option is the Veranera Hostel, an adults-only accommodation with a shared lounge, swimming pool, a terrace and a bar. The property is about 500 meters from La Rada Beach.
---
Estepona's Old Town Hotels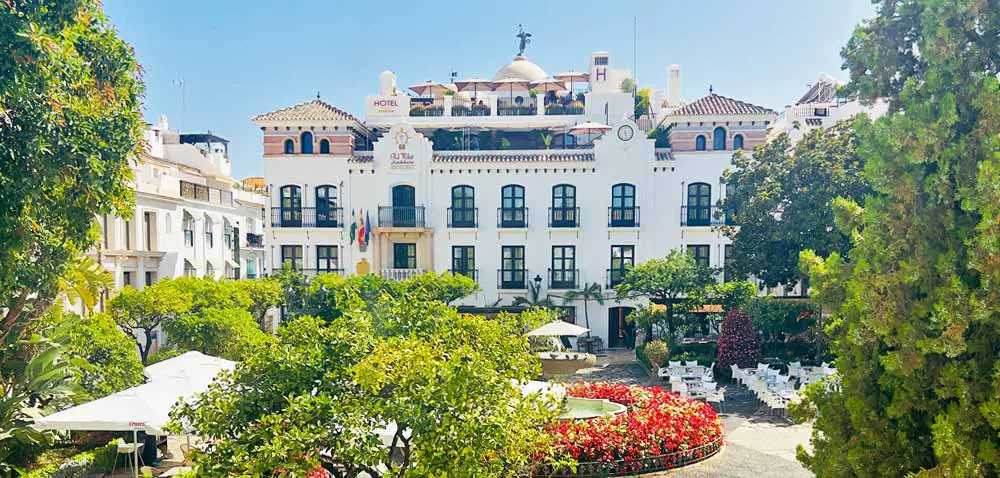 ** Hotel Silken El Pilar Andalucia - Estepona, Spain
There are several charming hotels located in or near the old town of Estepona, close to the Plaza de las Flores... known for its picturesque setting and relaxing atmosphere. These properties typically offer a blend of modern comforts and traditional Andalusian charm, allowing you to fully immerse yourself in Estepona's old town while still enjoying convenient access to the beaches and other nearby sights.
Our favorite option in the old town is the Silken El Pilar Andalucia, a cozy boutique hotel located in the Plaza de las Flores with a terrace, restaurant and bar. La Rada beach is only 300 meters away.
---
Estepona's Top Two Luxury Hotels
Two of the most luxurious hotels in Estepona are the
Kempinski Hotel Bahía
and the
Las Dunas Grand Luxury
. Both of these hotels offer luxury accommodations with a range of high-end amenities, exceptional service and stunning sea views, making them popular with those looking for a little more opulence on their next beach vacation in Estepona.
Kempinski Hotel Bahía: This 5-star beachfront hotel is set in fabulous landscaped gardens. It has 4 swimming pools, a spa and wellness center, uninterrupted sea views, and is the perfect place to relax and unwind.
Las Dunas Grand Luxury: Just a 15-minute drive from Puerto Banus and Marbella and a 10-minute drive from the center of Estepona, this health-focused luxury hotel is located right on the beach. It offers gourmet cuisine, personalized health and wellness programs, beautifully decorated rooms and suites, a state-of-the-art spa, and an outdoor pool with stunning sea views.
We also recommend one more amazing hotel just outside of Estepona in the countryside. The Anantara Villa Padierna Palace Benahavís Resort was designed like a Tuscan palace, it features a spa, Roman Amphitheater, and a luxurious beach club.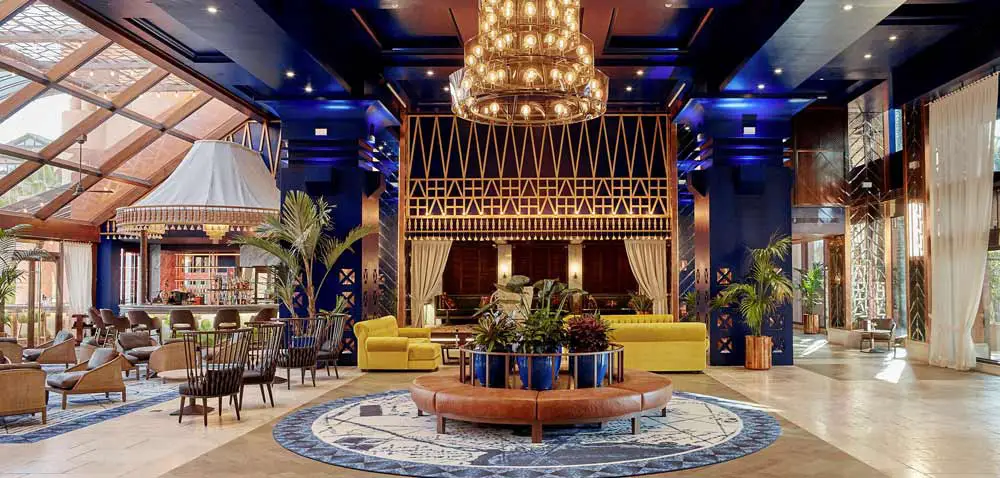 ** Estepona Hotels - Kempinski Hotel Bahía
---
The TOP 46 Things to Do in Estepona Spain!
Estepona is an extremely popular destination, especially during the summer! And for that reason you will find no end to interesting things to see and do... from exploring the old town and Botanical Gardens, to exciting outdoor adventures such as the Jeep Eco Tours through the Sierra de las Nieves or Dolphin Watching tours along the coast...
Let's start with a selection of the TOP THINGS TO DO IN ESTEPONA (old town) ...
---
1
Explore The Winding Streets of Estepona
The old town of Estepona is a well-preserved and vibrant area with a real authentic Spanish feel. Walking through its narrow, flower-filled streets you will discover quaint plazas, traditional tapas bars, and small artisan shops and boutiques.
One of the things that sets Estepona's old town apart is its commitment to preserving its authentic Andalusian charm. Every building, every street, every corner has been meticulously preserved, with whitewashed houses glistening in the sun and balconies adorned with geraniums, bougainvillea and sweet jasmine creating an enticing display of color.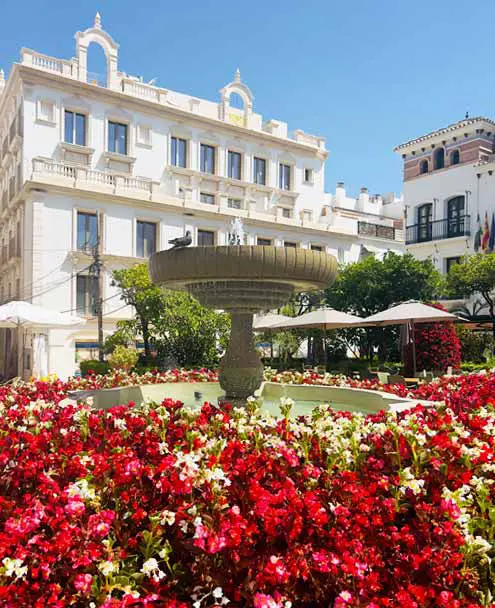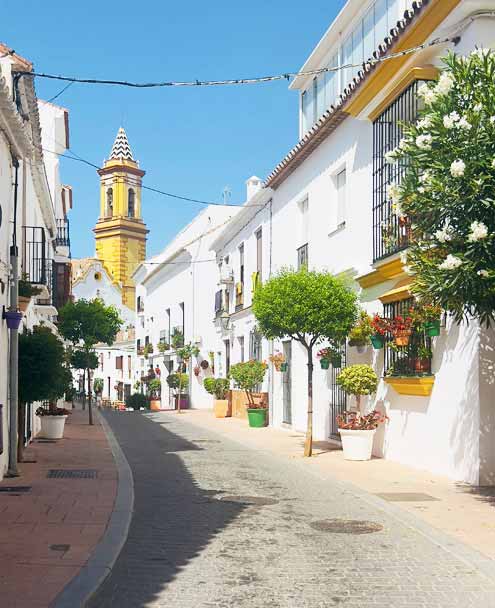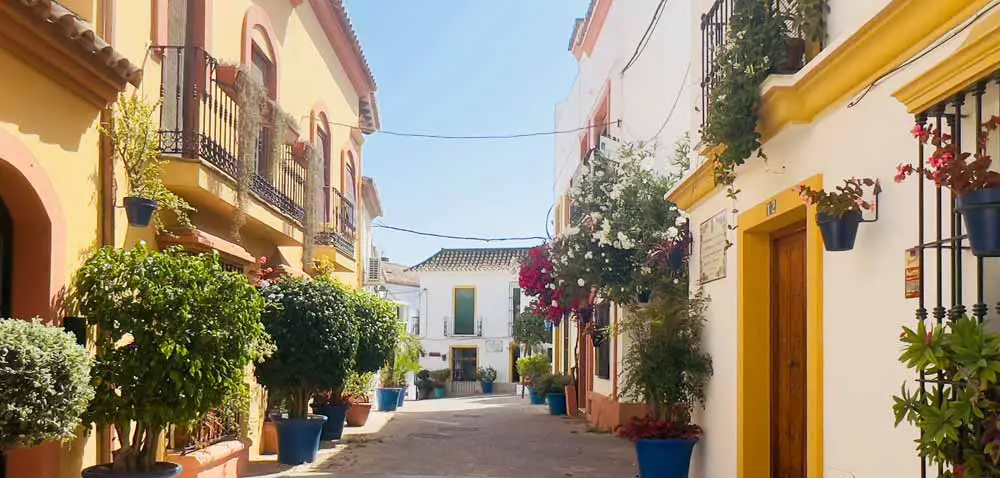 ** Village Streets of Estepona, Spain
In fact, Estepona has taken a very unique approach to beautifying the city. The "Ruta de Murales Artísticos" is a good example, where building facades have been transformed into magnificent paintings, adding an artistic touch to its traditional streets.
But, just like any other Spanish village, Estepona hums with the rhythm of local life. There's an undeniable sense of community here. The plazas often become the scene of spontaneous social gatherings, where locals share stories under the shade of orange trees... and children play around the ancient fountains.
---
We recommend a free walking tour of Estepona, these tours operate on a 'pay-what-you-want' basis, which means you tip the guide based on your satisfaction with the tour. A walking tour is a fantastic way to really appreciate the history and beauty of the village.
---
2
Take a Street Art Tour in Estepona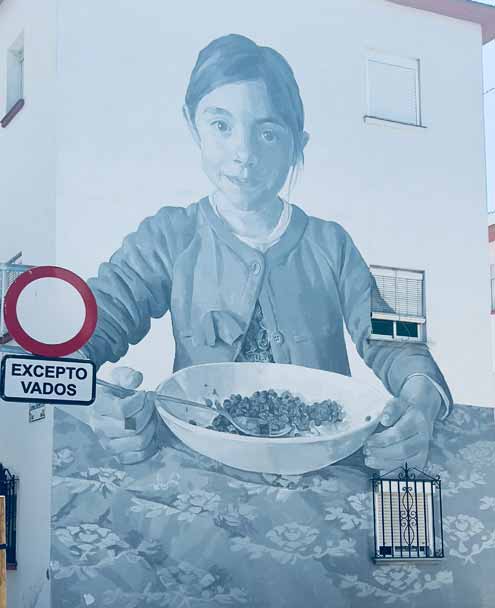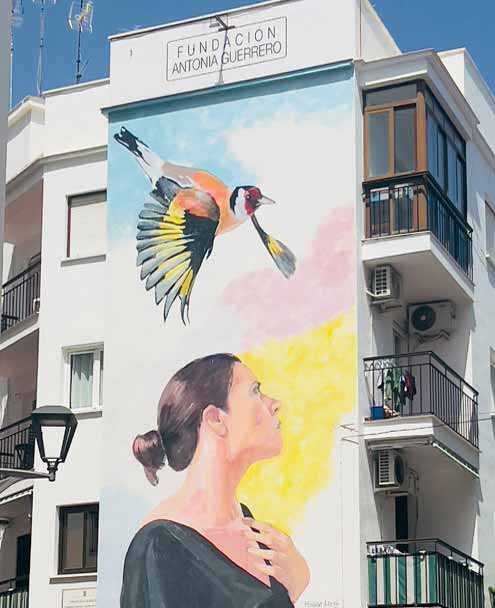 ** Ruta de Murales Artísticos - Estepona, Spain
As we mentioned, Estepona has embraced the arts in a truly unique way...turning the small town into a veritable open-air museum. Keep an eye out for these creative works as you stroll through the old town...
The murals: Estepona's 'Ruta de Murales Artísticos' or Artistic Mural Route is one of the city's most outstanding features. The buildings have become the canvas for massive and intricate murals. More than 50 of these eye-catching works of art adorn the facades of the city, each telling its own unique story.

These murals were created by many different artists and often depict themes related to Estepona's culture, history and natural beauty.

The sculptures: Estepona is also dotted with numerous sculptures and statues. From traditional figures such as the Niña en la Fuente to more contemporary installations. See if you can spot a series of life-size statues scattered throughout the town, depicting ordinary people going about their daily lives.
Poetry plaques: Perhaps one of the most delightful artistic features of Estepona is a series of poetry plaques known as 'La Ruta de la Poesía'. These plaques are placed throughout the old town and feature poems by world-renowned poets. Take a moment to stop from time to time and enjoy the verses etched into the walls of Estepona's pretty houses.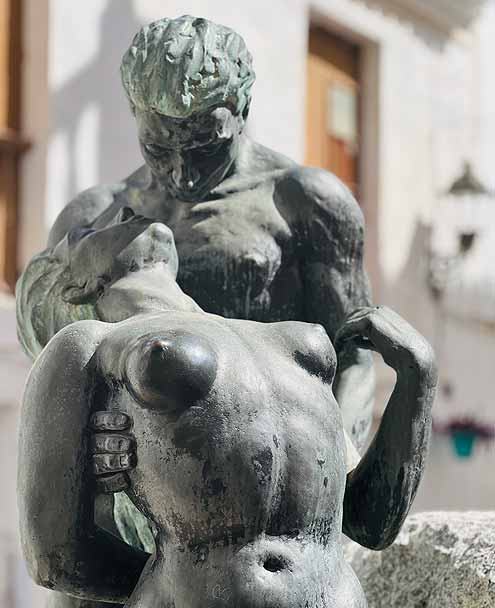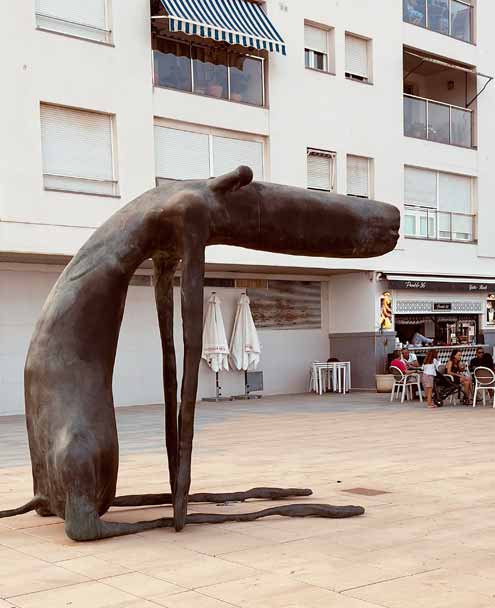 ** Old Town Sculptures - Estepona, Spain
---
3
Visit the Clock Tower (Torre del Reloj)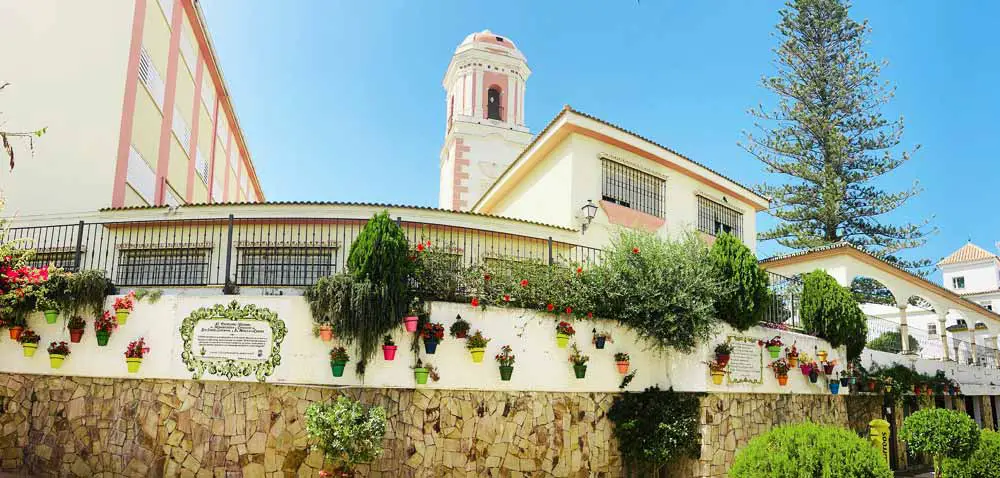 ** Torre del Reloj - Estepona, Spain
The Torre del Reloj, or Clock Tower, is one of the most important historical monuments in the old town of Estepona. It was originally part of a church built in the 15th century, and today is the only remaining part. The rest of the church was destroyed in a devastating earthquake in 1755. After its destruction, it was decided to rebuild the church in a new location. This new church, La Iglesia de los Remedios, can be visited today just a few blocks away.
The remaining clock tower is located in the beautiful "Torre del Reloj Plaza", which is always bustling with activity and hosts many outdoor concerts and festivals throughout the year. It can be seen from all over Estepona, rising above the rooftops and serving as a guide into the heart of the village.
---
4
Tour the Botanical Gardens and Orchid House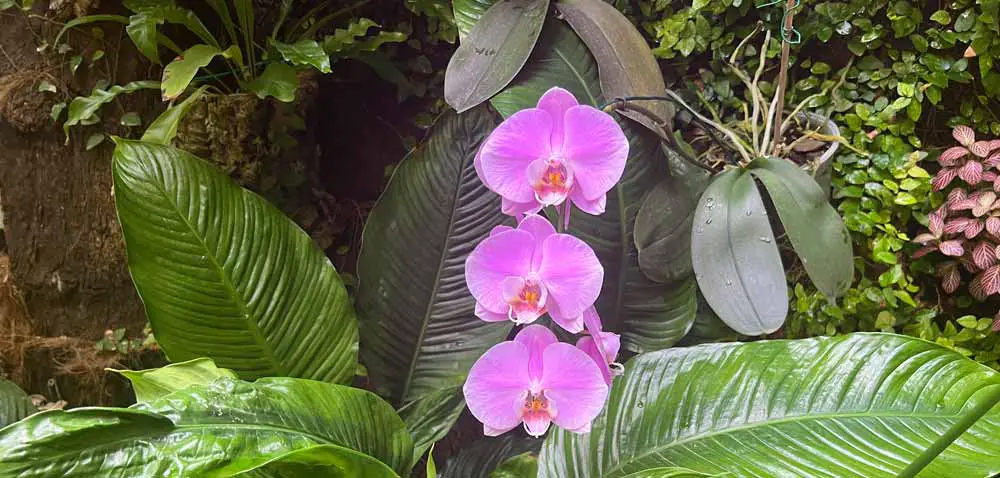 ** Orchid from the Estepona Orchid House
Estepona's Botanical Garden and Orchid House is a beautiful green oasis in the heart of the city, with an impressive collection of over 5,000 plant species spread over 16,230 square meters.
A standout feature is the world's largest domed orchidarium, which houses an impressive array of over 1,300 varieties of orchids.
Inside, a 50-foot waterfall cascades through lush greenery, creating a stunning visual display and a soothing space. More than just a feast for the eyes, the garden offers you the opportunity to learn more about the natural world and the evolution of these beautiful orchids. The Orchid House is a must see in Estepona...
---
5
Relax in the Plaza de las Flores – Main Square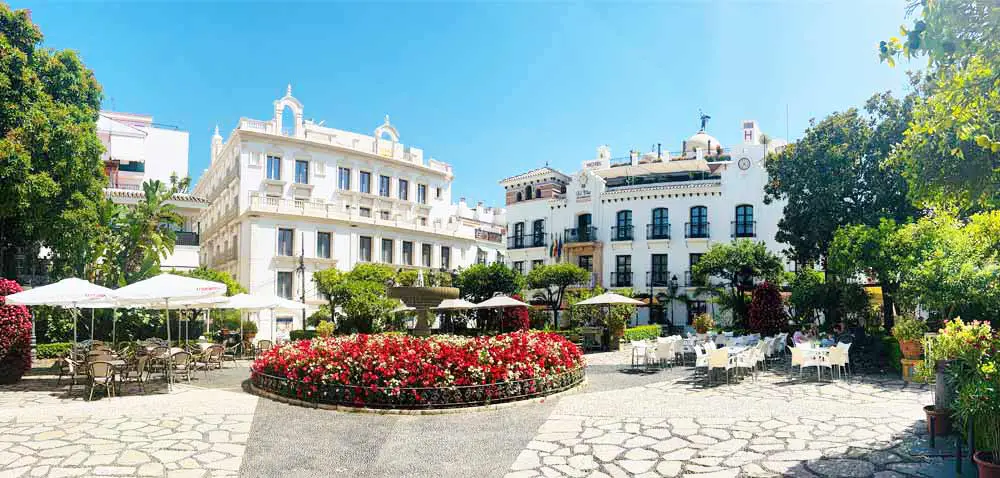 ** Plaza de las Flores - Estepona, Spain
Plaza de las Flores is a beautiful and inviting space in the heart of Estepona. This charming square, lined with cafes and shops, is a wonderful place to take a break and watch the world go by.
At its heart is a beautifully crafted fountain, often a playground for the local birds, surrounded by an explosion of bright red and white flowers. The square comes alive with the sounds of children playing and people laughing as they share a meal with family and friends... all adding to a lively atmosphere.
Surrounded by colorful plants, trees and flowers, the aptly named Plaza de las Flores is a wonderful place to sit and relax after a tour of the old town.
An excellent lunch spot in the Plaza is "La Casa del Rey", a traditional restaurant serving a selection of fine Spanish wines and tapas.
---
6
Visit the Casa de las Tejerinas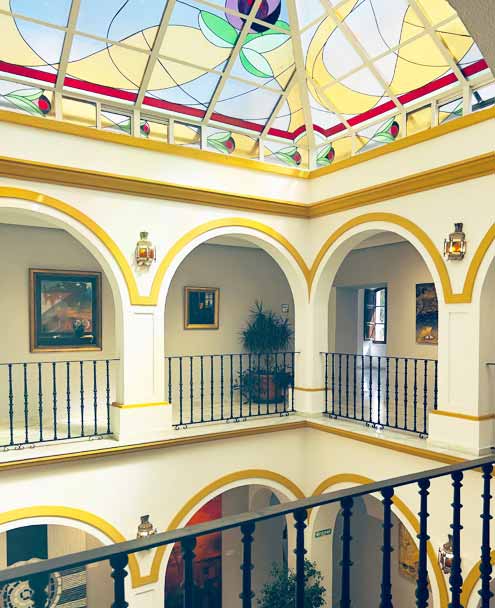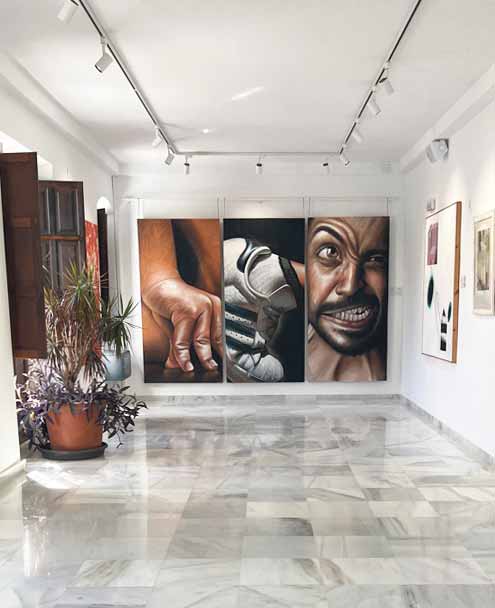 ** Details of Casa de las Tejerinas - Estepona, Spain
The Casa de las Tejerinas, located in Estepona's Plaza de las Flores, is an important historical landmark. It was originally owned by the Tejerina sisters in the 18th century, but upon their death it was donated to the town of Estepona.
The building is notable for its beautiful Andalusian architecture and today serves as Estepona's main tourist office. It is also home to the Provincial Art Museum, which features rotating exhibits of local and regional art, making it an interesting place to visit for art lovers.
---
Oficina de Turismo de Estepona:
Hours:
Monday to Friday: 9:00h - 14:30h
Saturdays: 10:00h - 14:00h
---
7
Visit the Estepona Ethnographic Museum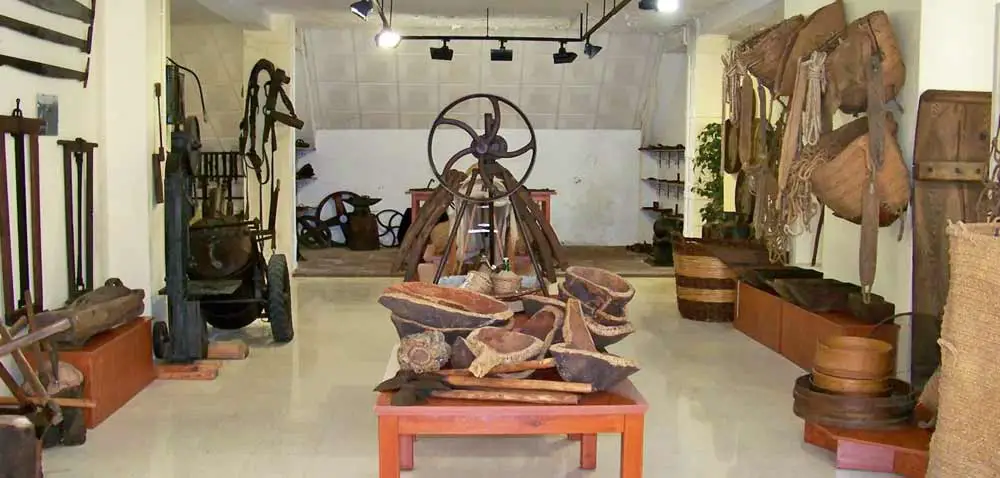 ** Estepona Ethnographic Museum
Estepona is also home to the Museo Etnográfico, or Ethnographic Museum. It is located in the "Plaza de Blas Infante" in a beautifully restored building that was once the home of an 18th century merchant. The museum is dedicated to teaching the traditional customs, practices and way of life of the early inhabitants of Estepona. It has an extensive collection of objects related to agriculture, fishing and domestic life.
Many of the exhibits are interactive, allowing you to experience Estepona's past in a hands-on way. The aim of the museum is to make history accessible and interesting to everyone, including children.
---
8
Try a Tapa in the Estepona Old Town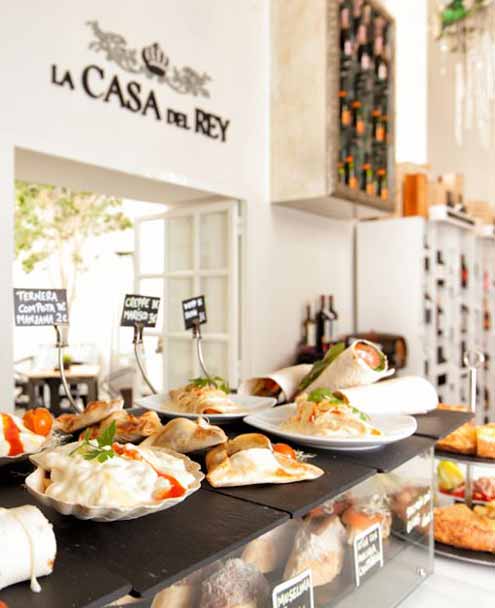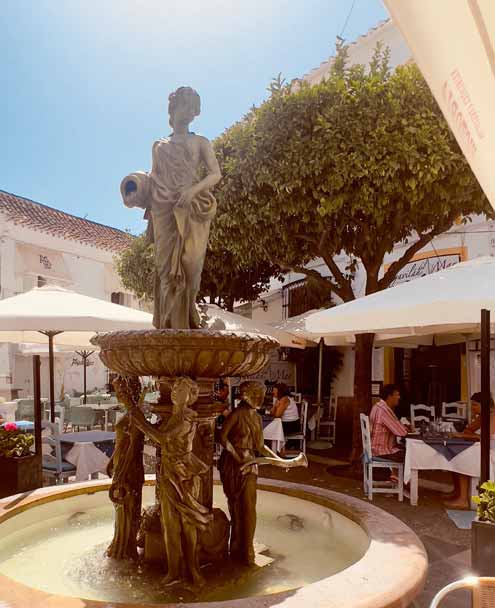 ** La Casa del Rey & Pretty Plaza - Estepona, Spain
As a coastal town, Estepona is known for its fresh seafood dishes. While you're here, take some time to enjoy some of the local favorites. Here are our recommendations:
Espetos de Sardinas: A classic Estepona dish that you'll find all over the Costa del Sol. Sardines are skewered on sugar cane sticks and grilled over a wood fire, usually served with a sprinkling of sea salt and a squeeze of fresh lemon. They're a delicious, healthy, and quintessential Andalusian treat.
Gambas Pil-Pil: Sizzling prawns in hot olive oil with garlic, chili, and sometimes a splash of sherry. It's usually served with fresh bread to soak up the flavorful oil. Our favorite!
Paella Marinera: A seafood version of Spain's famous paella. It's a saffron-infused rice dish cooked with a variety of seafood, including shrimp, mussels, clams, and squid.
Pescado Frito: A classic dish on the Andalusian coast, pescado frito, or fried fish, is a must-try. Typically, a variety of small fish are lightly breaded and fried until crispy. It's perfect for a light lunch or a beachside snack.
Gazpacho: This traditional Spanish soup is a refreshing dish, especially in the warmer months. Made with ripe tomatoes, cucumbers, peppers, olive oil and bread, gazpacho is a tasty and healthy option.
---
9
Visit the remains of the San Luis Castle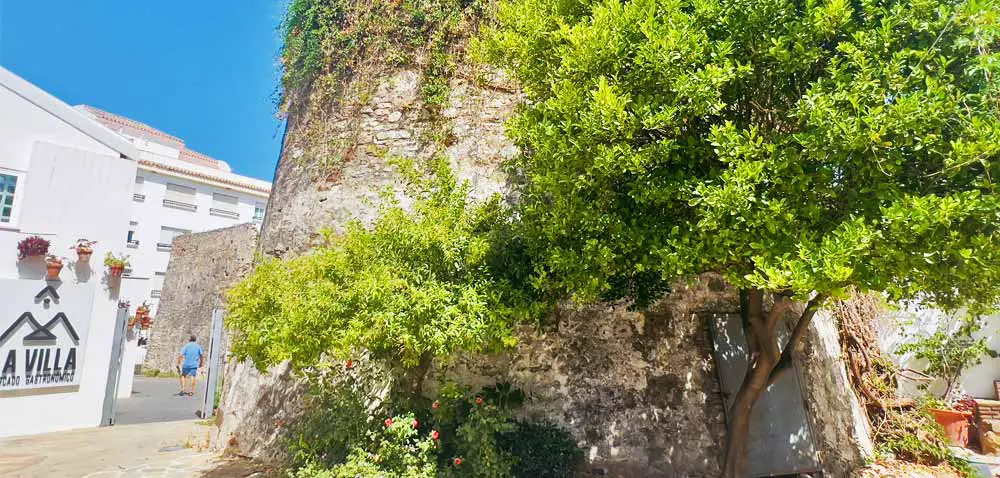 ** San Luis Castle - Estepona, Spain
The Castillo de San Luis is located in the old part of the city and was built in the late 15th century by Queen Isabella and King Ferdinand as part of their strategy to fortify the coast after the reconquest of Spain. It was a key fortification that helped defend Estepona from pirate attacks.
The castle was built in the typical style of the time, with a rectangular layout, large stone walls and square towers at the corners. Today, only parts of the original walls and one of the towers remain.
---
10
Visit the Estepona Archaeological Museum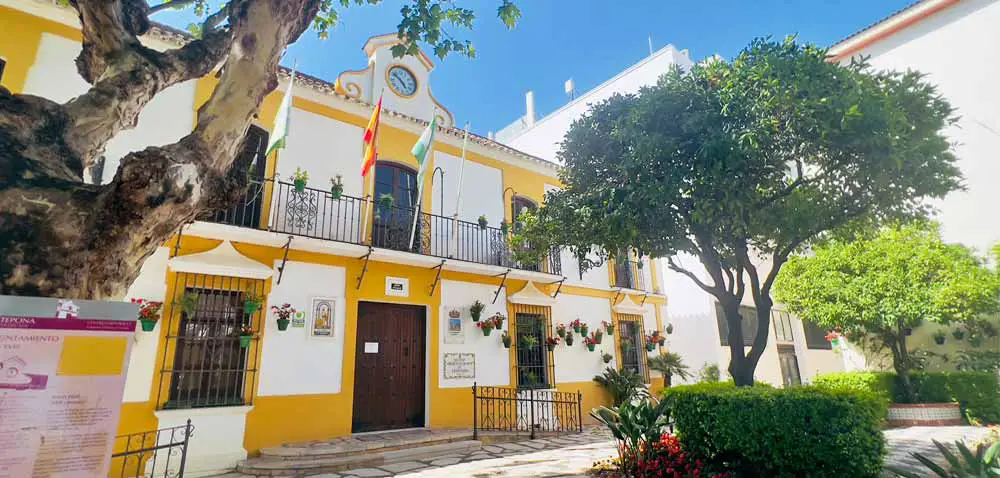 ** Estepona Archaeological Museum
The Archaeological Museum, also known as the Museo Arqueológico, is a fascinating place to visit to learn more about the history of Estepona. It's located in the "Casa del Aljibe", a 19th century building built over an ancient Muslim well.
The Archaeological Museum boasts a number of exhibits that display artifacts unearthed in and around Estepona. From Roman ceramics and Phoenician jewelry to Moorish remains, the exhibits span several millennia. One of the most remarkable pieces is a 5,000-year-old statue of the "Venus of Estepona".
---
11
Tour the Antonio Ordonez Bullfighting Museum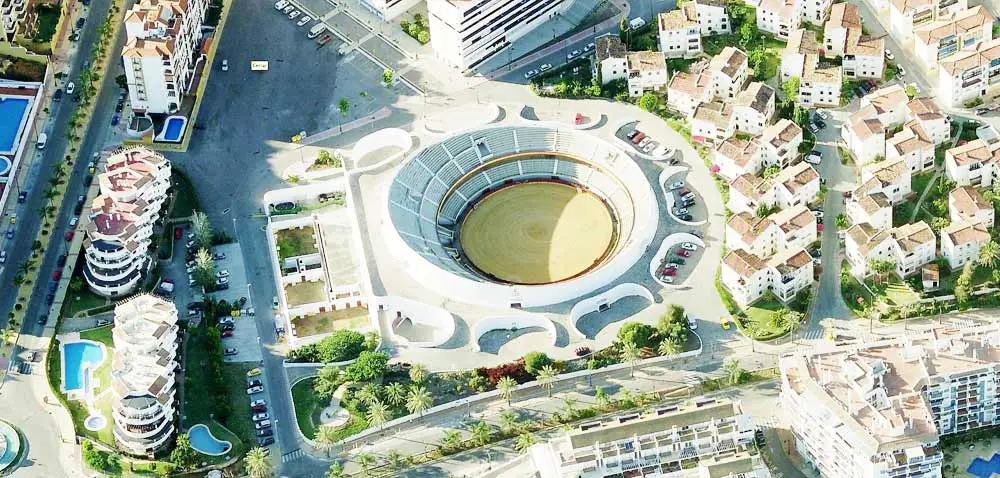 ** Estepona Bull Rink - Ariel View
Built in 1972, Estepona's bullring, or Plaza de Toros, is known for its asymmetrical design... which gives it a rather unusual and distinctive look. It was designed by Juan Mora Urbano and is a modern addition to the town's more traditional Spanish architecture.
The bullring is located near the Estepona marina and is within easy walking distance of both the town center and the beach. Inside the bullring you will find the Antonio Ordonez Bullfighting Museum, named after one of Spain's most famous bullfighters. The museum's exhibits trace the history of bullfighting in Estepona and include costumes, photographs and other bullfighting memorabilia.
Take a look and learn more about this controversial but deeply rooted Spanish tradition.
---
12
Peek inside the 'Los Remedios Church'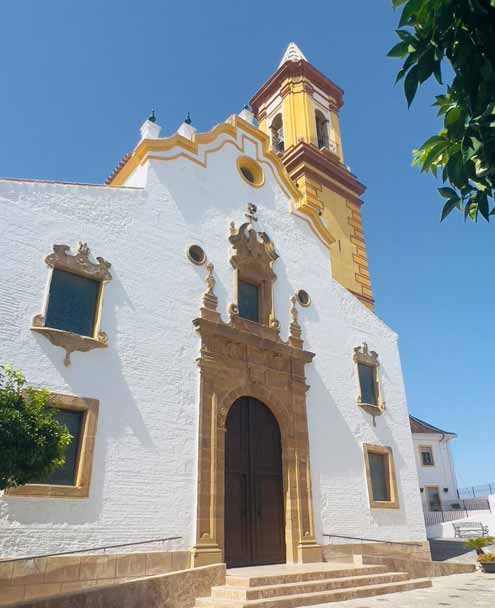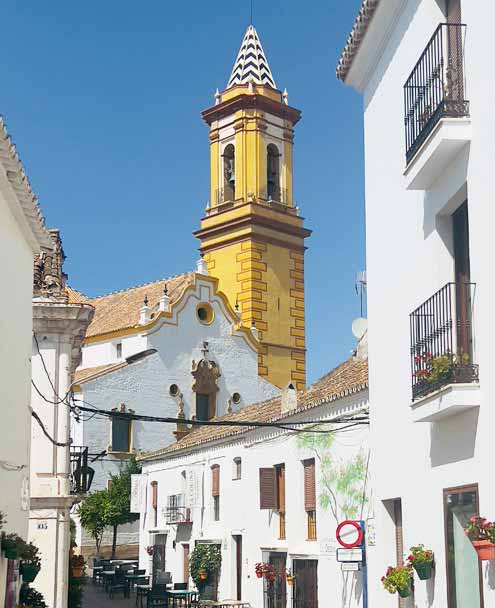 ** Nuestra Señora de Los Remedios - Estepona, Spain
The church of Nuestra Señora de Los Remedios was built in the 18th century, originally as part of a Franciscan convent. It is a blend of architectural styles, mostly Baroque, and one of its most notable features is the beautifully decorated blue and white tiled bell tower, a prominent feature of Estepona's skyline.
The church is dedicated to the Virgen de Los Remedios, the patron saint of Estepona, and houses a venerated statue of the Virgin (believed to have miraculous powers). During the first week of May, the church is the site of many celebrations and a small procession carries the statue of the Virgin through the streets of the town.
---
13
Visit the Fresh food market in Estepona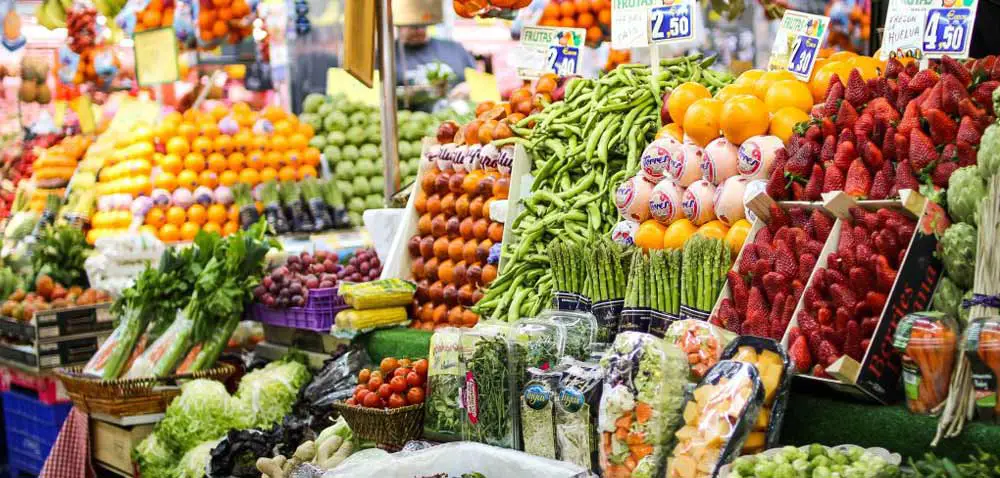 ** Fresh Produce in Estepona Market
The daily market in Estepona, like many in the region, offers a wide variety of fresh produce, from locally grown fruits and vegetables to fish caught in the nearby Mediterranean Sea. These markets are an integral part of Spanish culture, including Estepona, and offer a wonderful window into the day-to-day lives of the local people.
Take a stroll through the market and you will find delicious regional specialties like local cheeses, olives, Iberian ham and wines from the surrounding area. You can also find traditional Andalusian foods, including various tapas ingredients, and even locally made sweets like "turrón" and "polvorones".
---
14
Check out the Remains of a Roman Tower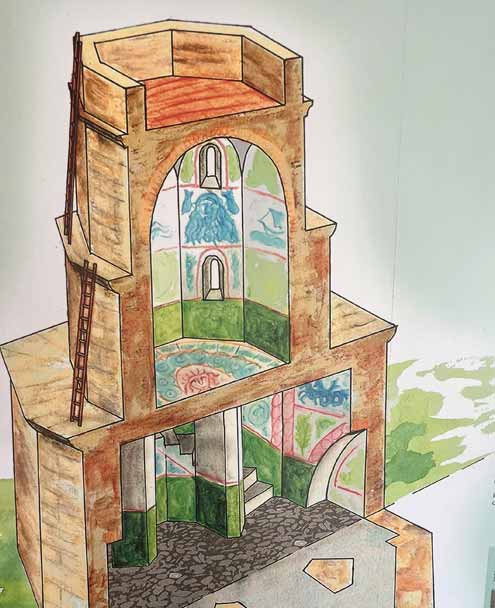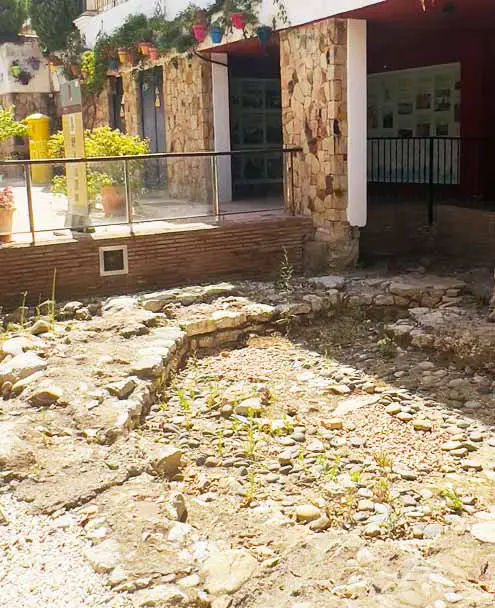 ** Remains of a Roman Tower - Estepona, Spain
In the center of the old town of Estepona, the remains of a Roman tower from the 4th century have been discovered. It was part of the crypt of a mausoleum used during the Roman period and is an important find as it shows that the Romans were a major presence in the area.
This tower used a type of construction known as "opus incertum", which was common during the Roman period. The technique involves the use of irregularly cut stones that are fitted together without a regular pattern, a characteristic that is clearly visible in the remains of the tower. The area around the tower has become a rich source of archaeological finds, which can be found in the Estepona Museum, including ceramics, tools and coins.
---
Estepona Spain ➜ TOP Coastal Sights!
Now that you've explored Estepona's historic old town, it's time to hit the beach...
Estepona boasts over 20 kilometers of beautiful coastline with several high quality Blue Flag beaches and the Paseo Marítimo, or promenade, that runs along much of the coast. It's a popular place for walking, cycling or just enjoying the views of the Mediterranean Sea. Here are the TOP THINGS TO DO in Estepona... along the coast
---
15
Spend the Day on a Beautiful Estepona Beach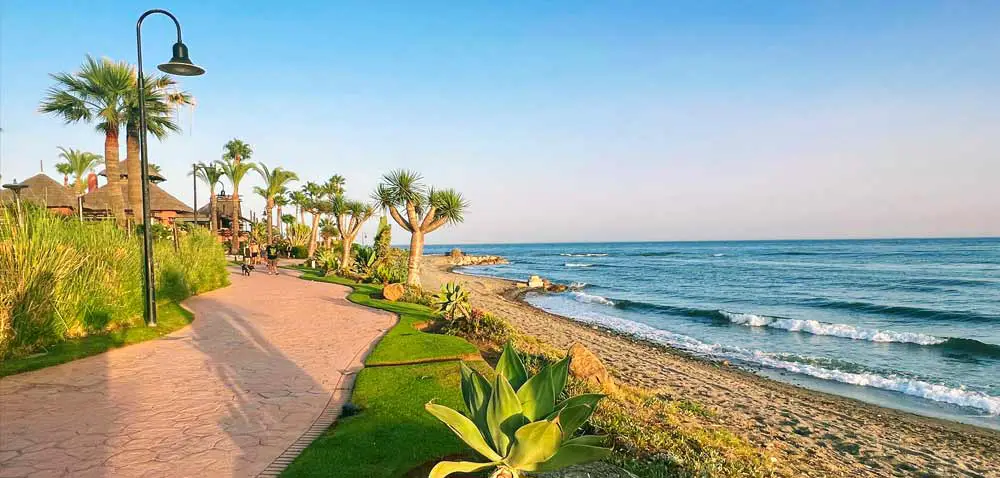 ** Guadalmansa Beach - Las Dunas Grand Luxury Resort
La Rada Beach, or Playa La Rada, is probably the most popular beach in Estepona. Located in the heart of the city, this long stretch of sandy coastline stretches for over 2.5 kilometers and is loved for its fine golden sand and calm, clean waters, making it ideal for families, swimmers and sunbathers.
The beach's central location means that it is surrounded by a wide range of amenities, including numerous chiringuitos (beach bars), restaurants, shops and even playgrounds for children. It's also easily accessible, with ample parking nearby and a beautiful palm-lined promenade, the Paseo Marítimo, running alongside it.
La Rada Beach is known for being well maintained and clean, and has been awarded the Blue Flag for quality several times. But despite its popularity, keep in mind that Estepona has eight other amazing beaches for you to enjoy on your next holiday...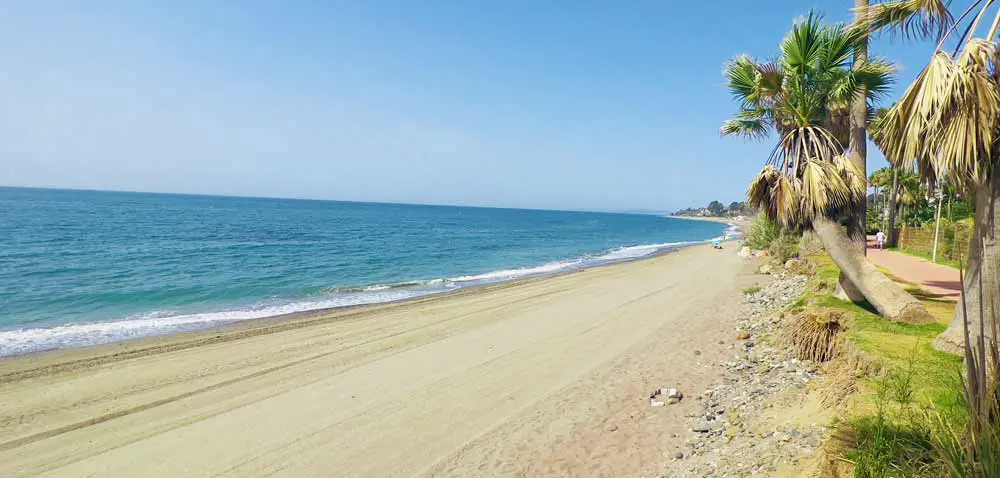 ** Playa Arroyo de las Cañas - Estepona, Spain
---
El Cristo Beach: Another Blue Flag beach located in a sheltered cove known for its shallow waters and soft sand... perfect for families and young children.
Playa de la Galera: Located between the Estepona marina and Casasola, it offers tranquility with clear waters, beautiful surroundings and a peaceful atmosphere.
Playa del Padrón: Known for the popular Laguna Village shopping center and Puro Beach Club, this beach combines leisure, shopping, and beach relaxation in one place.
Bahia Dorada Beach: Characterized by its distinctive rock formations, Bahia Dorada Beach offers a more secluded, natural setting ideal for those seeking a quieter beach day.
Punta de la Plata Beach: A long and narrow beach, Punta de la Plata is known for its natural beauty, making it an excellent choice for a peaceful day by the sea.
Costa Natura Beach: Located next to the Costa Natura naturist resort, this beach is popular with nudists and was one of the first official nudist beaches in Spain.
Playa Bella: With a mixture of pebbles and sand, Playa Bella is a quieter beach, ideal for those looking to relax away from Estepona's busier central beaches.
Playa del Saladillo: This long, quiet beach stretches for over 3 kilometers and is known for its golden sands and calm, clear waters, making it an ideal spot for those seeking a peaceful beach experience away from the crowds.
---
16
Explore the Estepona Marina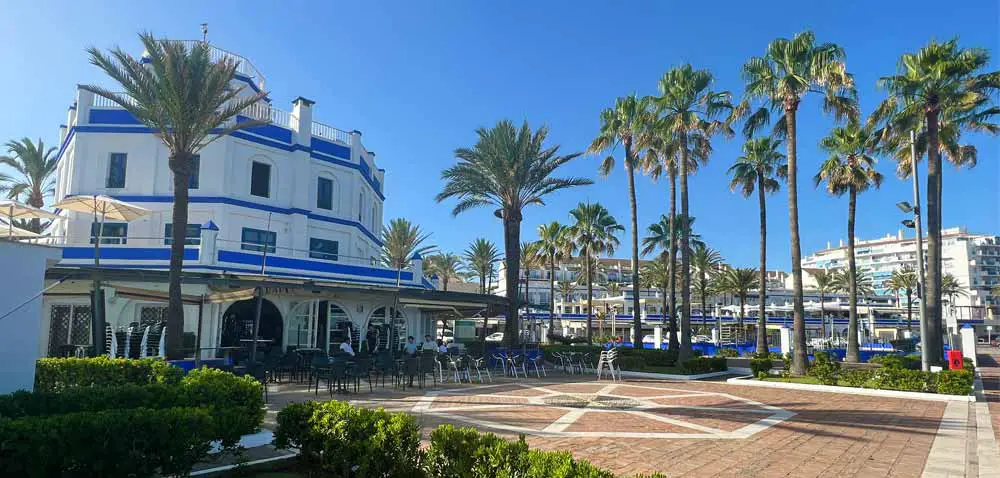 ** Puerto Deportivo de Estepona
The Estepona Marina, also known as Puerto Deportivo de Estepona, is located on the western edge of town. It's a 10 to 15 minute walk from the old town and is directly accessible from the Paseo Marítimo, Estepona's seafront promenade. The marina is not only a berth for luxury boats and yachts, it also has some wonderful bars, restaurants and shops within the marina complex...
---
If you're feeling adventurous, the Estepona Marina also offers a variety of tours and excursions. Here are a few that are available:
---
17
Dining by the sea on Estepona's promenade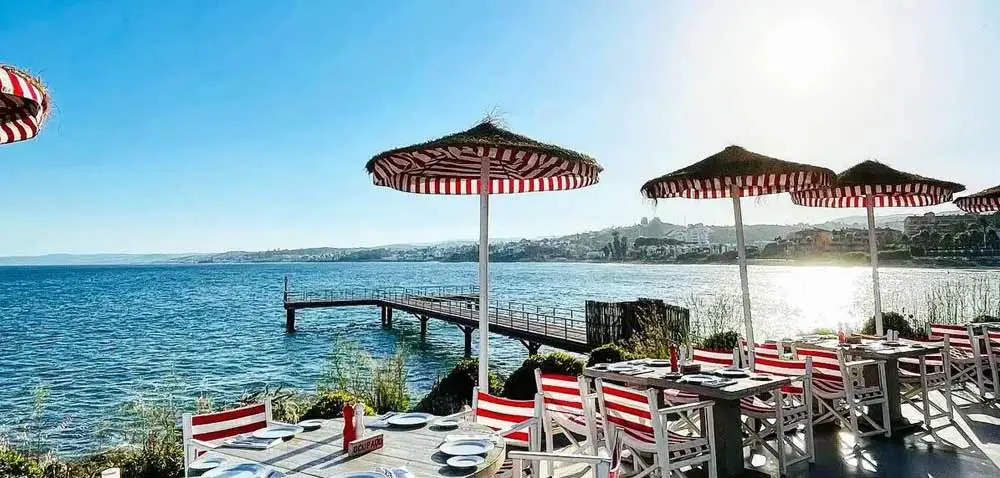 ** Ancla Sea Bridge Restaurant - Estepona, Spain
Dining by the sea in Estepona is not just about the food, but the whole experience - the sound of the waves, the warmth of the sun, the stunning views and the relaxed atmosphere. It's one of the true pleasures not to be missed when visiting this beautiful seaside town. Here are the four best options:
---
18
Discover the Paseo Maritimo de Estepona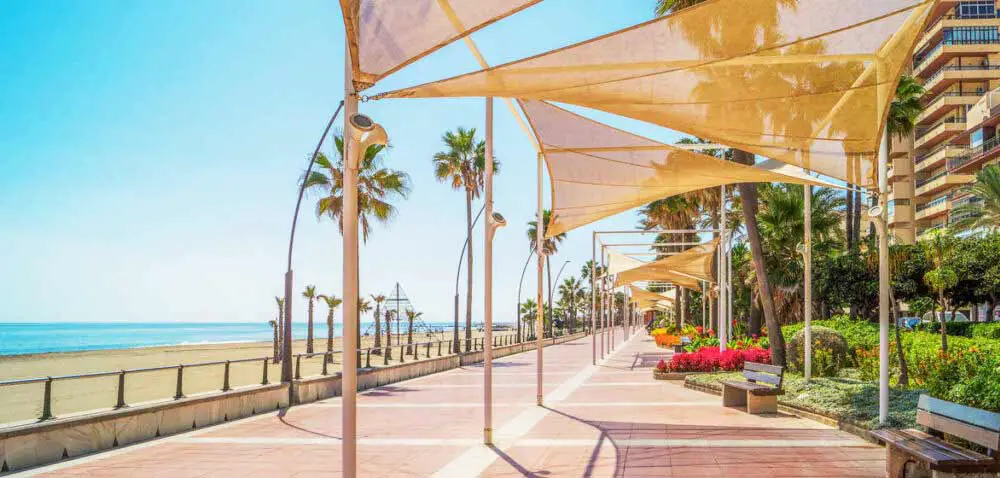 ** Paseo Maritimo de Estepona, Spain
The Paseo Marítimo de Estepona, or Estepona's seafront promenade, is one of the town's main attractions and offers stunning views of the Mediterranean. It's the perfect place to stroll, jog or cycle and is lined with numerous cafes, restaurants and chiringuitos (beach bars), as well as play areas for children... making it a lively and bustling area throughout the day and into the evening.
The promenade stretches for over 2.5 kilometers from the eastern edge of town to the Estepona Marina and follows the coastline along Playa La Rada, Estepona's most popular beach.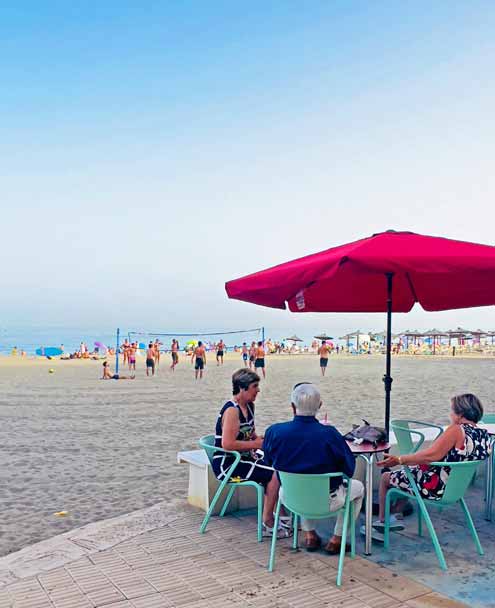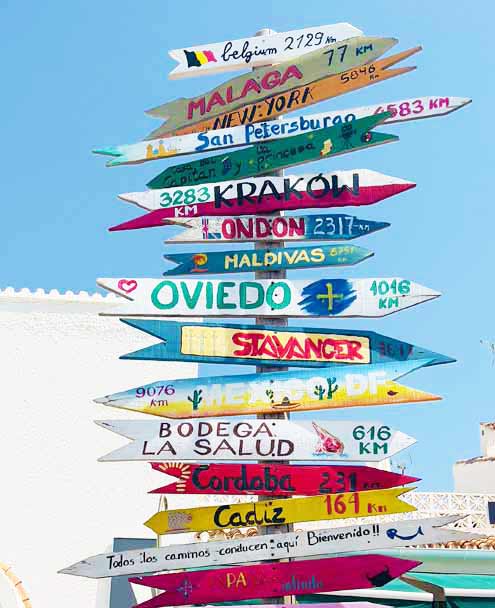 ** Details of the Paseo Maritimo de Estepona, Spain
The Paseo now also connects to neighboring Marbella and it's possible to walk, bike or run all the way to its eastern end.
There are several bike rental companies in Estepona where you can rent a bike for a few hours or for the whole day. Some even offer electric bikes and scooters, which are a fun and easy way to explore the coast.
---
19
Shop the flea market at the Marina on Sundays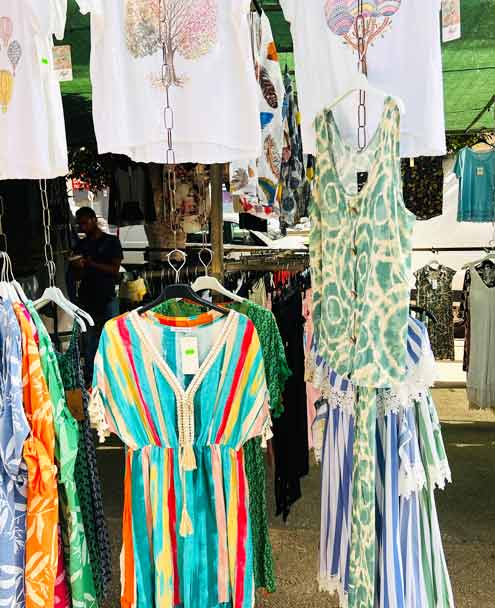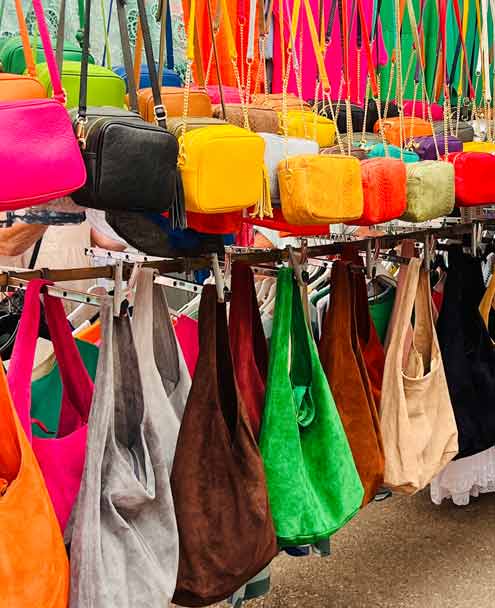 ** Clothing and Colorful Bags from Estepona Market
The Estepona Marina Market, also known as the Estepona Port Market, is a bustling market that takes place every Sunday from 09:00 to 14:00. You will find everything from clothing, accessories and handmade jewelry to local produce, antiques and souvenirs. The market is a great place to pick up unique items and local delicacies to take back to your family or friends. It's located right next to the marina.
There is also the Estepona Wednesday Market, which is a traditional street market held in the center of town. This market is larger than the Sunday market and is one of the largest open air markets on the Costa del Sol. You will find a wide variety of goods including fresh fruit and vegetables, local produce, clothing, household goods and much more.
One other popular market in Estepona is the Ecological Market (Farmers Market) which is held in the Palacio de Congresos in Estepona on the first Sunday of every month.
---
Market Days in Estepona & Surrounding Villages:
| | |
| --- | --- |
| Monday | Torrox Pueblo – Torrox Costa – Marbella |
| Tuesday | Nerja – Motril – Salobreña – Fuengirola |
| Wednesday | Algarrobo Costa – Rincón de la Victoria – Estepona ❣️ – Mijas Costa |
| Thursday | Frigiliana – Torre del Mar – Vélez Málaga – Torremolinos |
| Friday | Motril – Almuñécar – La Herradura – La Cala del Moral – Salobreña – Benalmádena |
| Saturday | La Caleta de Vélez – Cómpeta – Puerto Banús – Mijas Costa – Fuengirola |
| Sunday | Nerja – Benagalbón – Malaga – Estepona ❣️ |
---
20
Check out Estepona's ancient watchtowers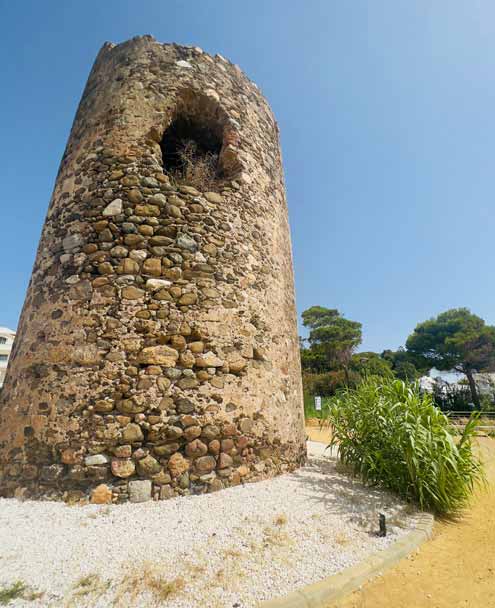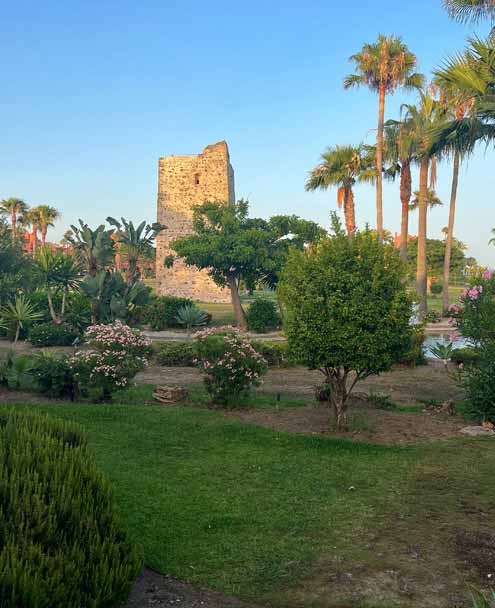 ** Ancient Watchtowers - Estepona, Spain
The ancient watchtowers along the coast are a fascinating glimps into the history of Estepona. They were built mainly during the Muslim era, from the 8th to the 15th centuries, although some were built or modified in later periods. Their main purpose was to warn of impending attacks by pirates or enemy forces, with fires lit at the top of the towers creating a chain of communication to the next tower along the coast.
Estepona has seven of these towers along its coastline: Padron, Guadalmansa, Saladavieja, Arroyo Vaquero, Saladillo, Banos, and Velerin.
---
21
Visit the Punta Doncella Lighthouse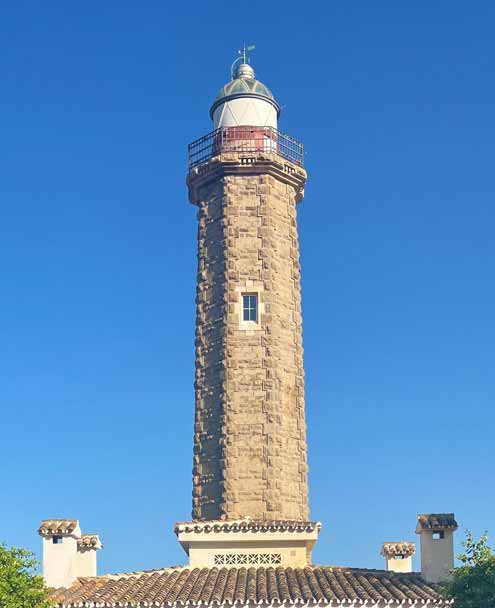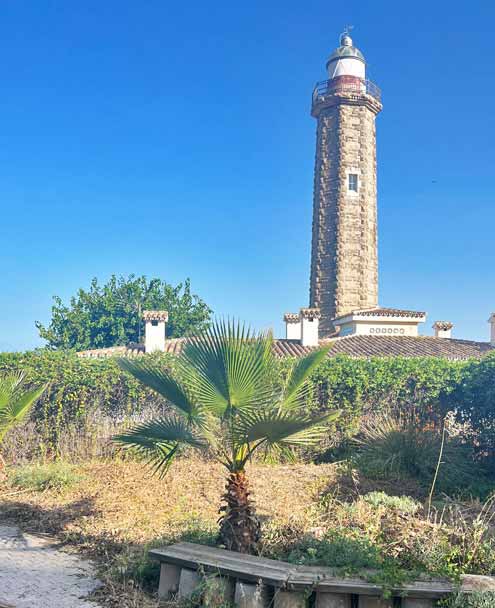 ** Punta Doncella Lighthouse - Estepona, Spain
The lighthouse of Punta Doncella was lit for the first time in 1861 and is still in use today, serving as an important beacon for ships sailing along the Costa del Sol. It is 22 meters high and its light can be seen from a distance of 20 nautical miles. This lighthouse, and the one across the Mediterranean in Ceuta, are used to guide ships through the Strait of Gibraltar.
The area around the lighthouse is picturesque and a popular spot for walks and picnics, with benches where you can sit and enjoy the beautiful scenery. It's also a great place to watch the sunset.
---
Estepona Spain ➜ TOP Sights Outside of Estepona!
So far we've covered all the amazing things to do in and around Estepona's old town and coastal areas... now it's time to venture further out.
The area around the village of Estepona is teeming with interesting sights and things to do... let's take a look.
---
22
Play golf at the Estepona Golf Club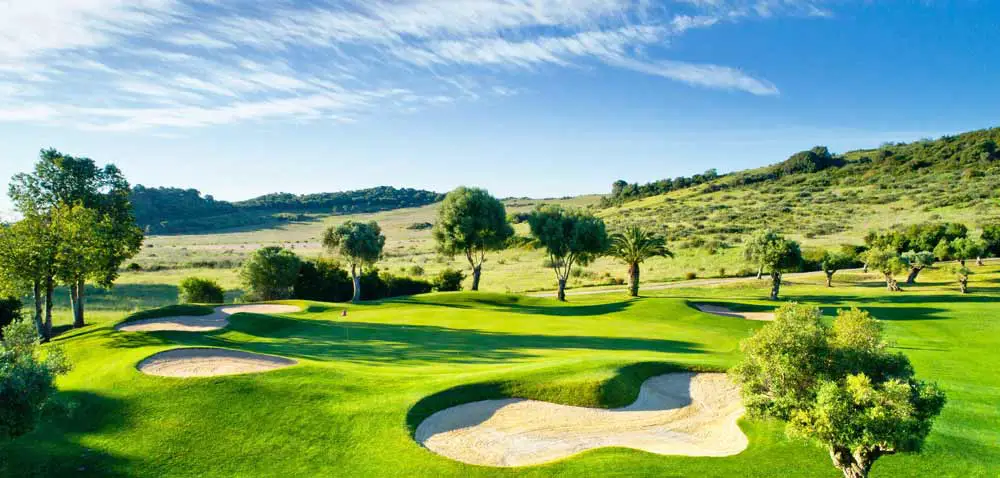 ** Things to Do in Estepona ➜ Play Golf
Estepona Golf is one of the most prestigious golf courses in the area, renowned for its sea views, and is the perfect opportunity to enjoy the beautiful natural scenery of the Costa del Sol.
The course is located on the outskirts of Estepona, set against the beautiful backdrop of the Sierra Bermeja mountains. Opened in 1989, it has 18 holes, is par 72 and was designed by José Luis López. The layout offers a fair challenge to golfers of all skill levels, with wide fairways, large greens and several water features. The 14th hole is especially known for its beautiful coastal views.
In addition to the course, Estepona Golf offers a driving range, putting green and pro shop. Lessons are also available for those wishing to improve their game. The clubhouse has a bar and restaurant with a terrace overlooking the 18th hole - a perfect place to relax after a round of golf.
---
23
Visit the Dolmenes of Corominas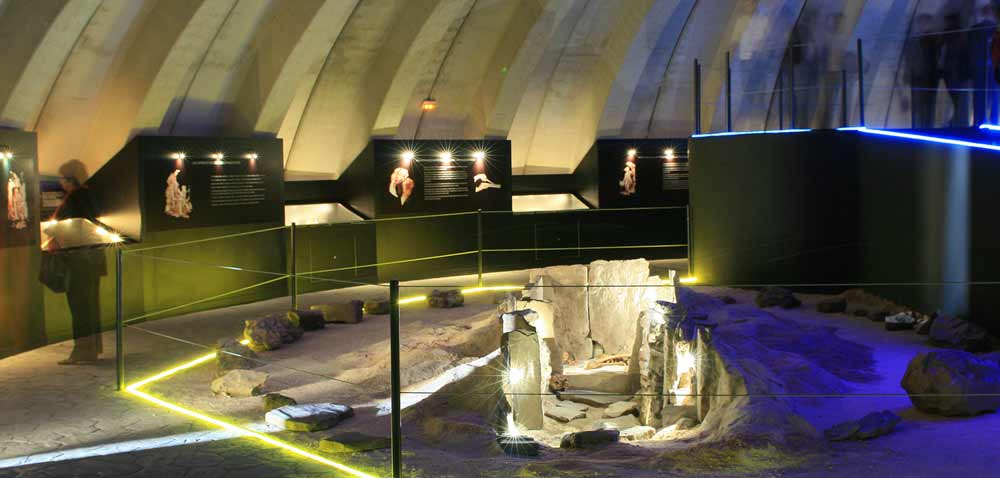 ** Things to Do in Estepona ➜ Dolmenes of Corominas
The Dolmenes of Corominas site is located in Pedregales Park, about 3 kilometers from the center of Estepona. It's a very interesting site to visit, but you must book your reservation / tour in advance (675 942 975 / 626 912 311) www.dolmenesestepona.com.
The Corominas Necropolis is a collection of tombs dating back to the Copper Age, around 3000 to 2500 BC. Five dolmens (megalithic tombs) have been discovered at the site, which were typically used for communal burials. You will also have the opportunity to visit the interpretive center to learn more about the people who built the dolmens and see items found at the site, including pottery, stone tools, and jewelry.
---
24
Visit the Equestrian Art School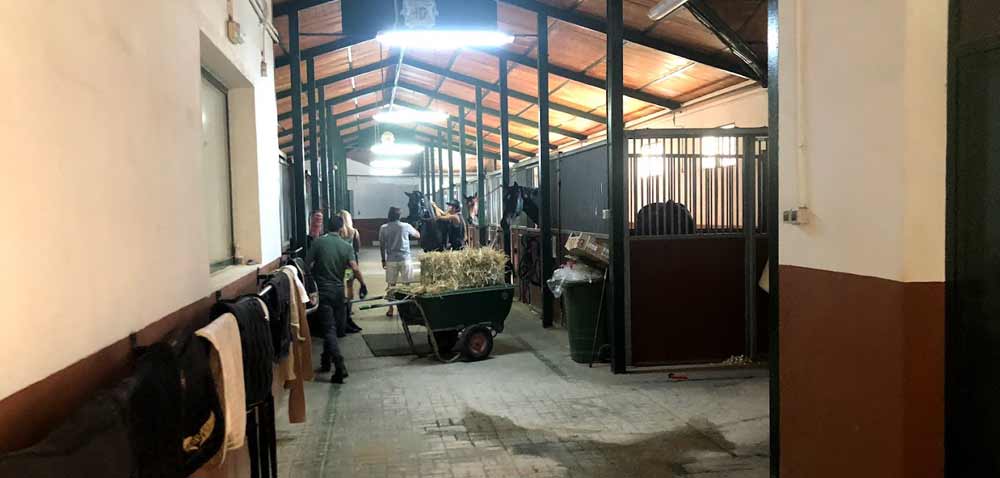 ** Things to Do in Estepona ➜ Equestrian Art School
The Equestrian Art School of the Costa del Sol, located 15 minutes outside of Estepona, is a great place to visit for anyone interested in horseback riding. Set in beautiful surroundings with views of both the mountains and the sea, the school has extensive facilities including indoor and outdoor arenas, paddocks and stables.
Lessons are available for riders of all levels, from beginners to advanced, and for both children and adults. And if you're here during the summer, the school also organizes summer camps for children and teenagers.
Also check their website for their schedule of equestrian performances and shows, where students and professional riders showcase their skills in dressage and other equestrian arts!
---
25
Spend the Day at the Selwo Aventura zoo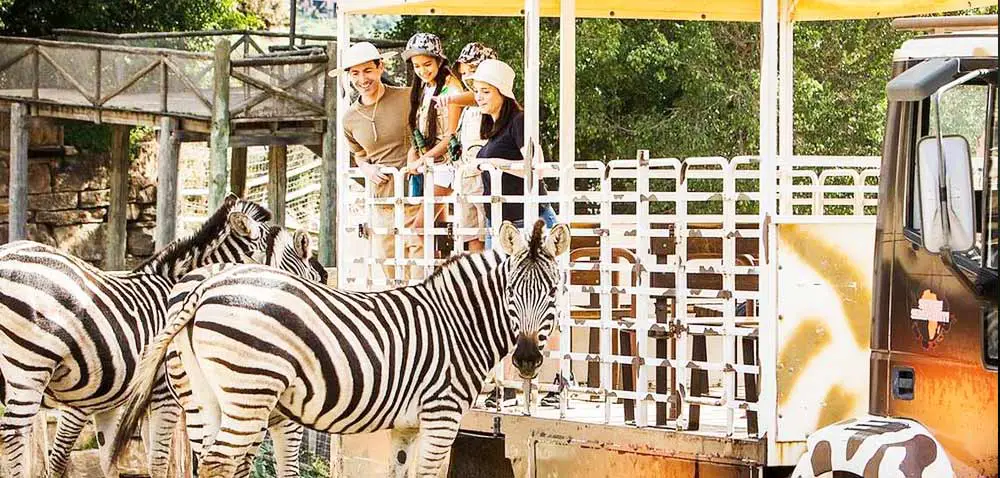 ** Things to Do in Estepona ➜ Selwo Aventura Zoo
Your kids will love spending the day at Selwo Aventura! This park is home to over 2,000 animals from different continents, including giraffes, cheetahs, hippos, rhinos, hyenas, and more.
Selwo is different from other typical zoos because it offers a safari-like experience and other fun interactive activities like feeding giraffes, meeting meerkats, and getting up close to animals like lemurs and birds. There are also several adventure activities, including a zip line and suspension bridge.
For those who wish to extend their visit, the park offers unique accommodation options. The Watu and Masai Lodges offer rooms inside the park with views of the animal habitats, and park tickets are included in the price!
There are two other zoos near Estepona: The BioParc in Fuengirola and the Selwo Marina.
---
26
Hike the Reales de Sierra Bermeja natural park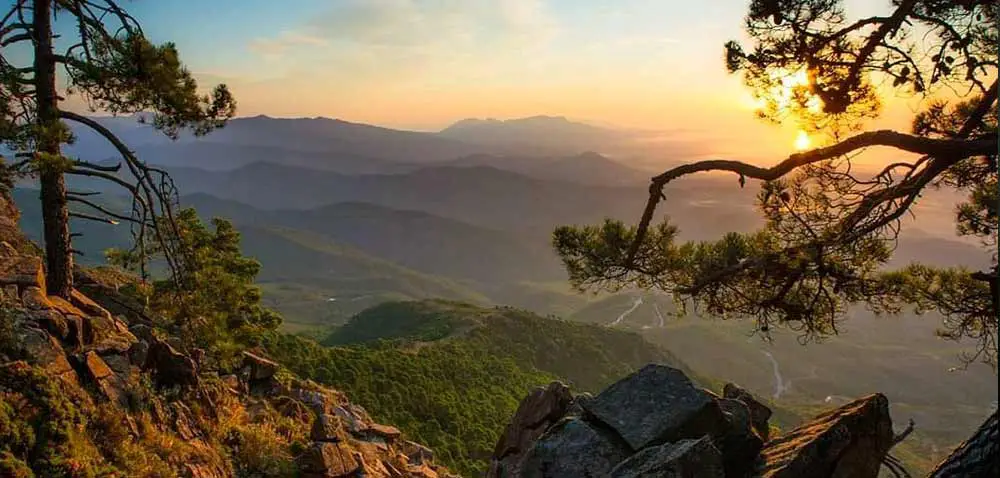 ** Things to Do in Estepona ➜ Hiking in the Natural Park
Take a break from the coast and spend a day hiking in the Reales de Sierra Bermeja Natural Park. It's an absolute paradise for nature lovers! The two most popular trails are the Paseo de los Pinsapos track and the hike to the Pico de los Reales.
Paseo de los Pinsapos Trail: This trail takes you through one of the last remaining Spanish fir forests. It's a relatively flat and easy walk of about 4 kilometers and takes about 2.5-3 hours to complete. The forest also provides a cool, shady area to walk in.
Pico de los Reales Trail: At 1,452 meters, Pico de los Reales is the highest peak in the Sierra Bermeja and offers breathtaking panoramic views of Estepona, the Costa del Sol, the Mediterranean Sea, Gibraltar and, on a clear day, the coast of Africa. The hike to the summit is more challenging and will take an extra 40 minutes.
---
27
Endulge Yourself at the Healthouse Las Dunas Spa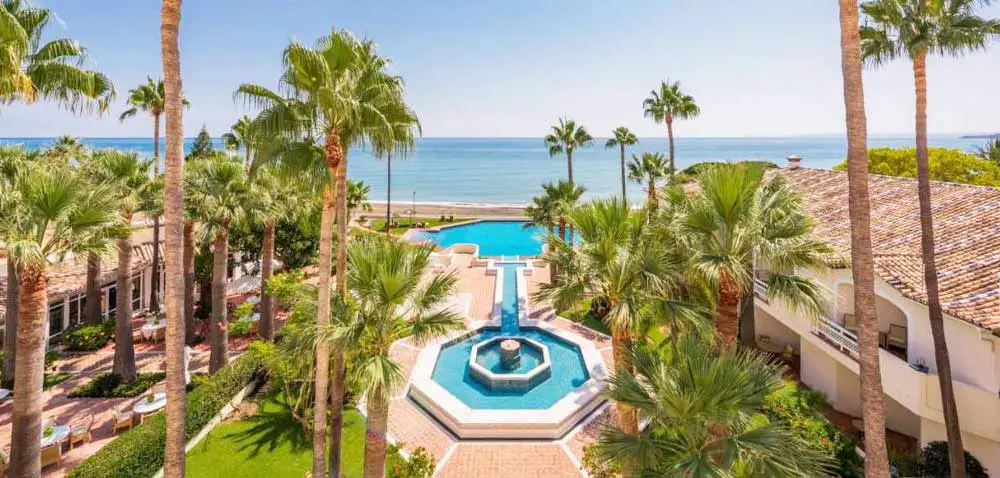 ** Things to Do in Estepona ➜ Healthouse Spa
For those looking for a beautiful place to relax and unwind in style, look no further than the Healthouse Las Dunas Resort and Spa, located on the beachfront in Estepona. Known for its commitment to health and wellness, it offers a range of treatments and facilities designed to promote relaxation and rejuvenation.
Take some time out and enjoy the spa's hydrotherapy circuit, including a dip in the heated indoor pool, a session in the sauna or steam room, or a relaxing soak in the Jacuzzi. The hydrotherapy circuit is designed to relax the muscles, open the pores and purify the body. You can also choose from massages, facials, body wraps and more...
All treatments at Estepona's Healthouse are performed by professional therapists using high quality, natural products.
---
28
Visit the Laguna Village shopping complex

** Things to Do in Estepona ➜ Laguna Village Shopping
Need a little retail therapy? Laguna Village is a luxury shopping complex located in Estepona, just minutes from Marbella. It's an open-air, Balinese-inspired shopping center that offers upscale boutiques; a variety of dining options, from casual eateries to fine dining restaurants; two popular beach clubs, Purobeach Marbella and Camuri, with luxurious sunbeds, pools and beach access; and a variety of services, including a beauty salon, real estate agency and car rental.
The center offers a relaxed, leisurely shopping experience with open walkways and beautiful sea views, dining and relaxation... what more could you ask for?
---
29
Visit the Guadalmina Roman Baths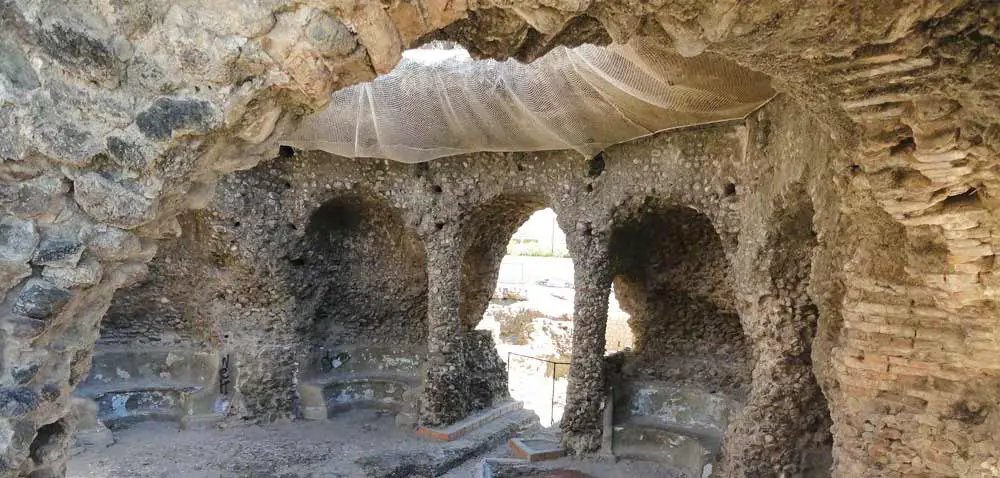 ** Things to Do in Estepona ➜ Roman Baths
For those of you who like to learn a thing or two while on vacation, we have you covered. Just 20 minutes outside of Estepona, near Marbella, you'll find the Roman Baths of Guadalmina, also known as Las Bóvedas.
Dating from the 3rd century AD, these baths are one of the few remaining examples of Roman architecture on the Costa del Sol. They were probably part of a larger complex that may have included a villa, although only the bathhouse has survived. Despite the passage of time, the baths are relatively well preserved. Some of the domes and walls are still standing, and the basic layout of the bathhouse is easily recognizable.
The baths are located near the Guadalmina golf course and the San Pedro Alcántara area of Marbella. They are open to the public and free to visit.
---
30
Tour the SantaVerde Aloe Vera Finca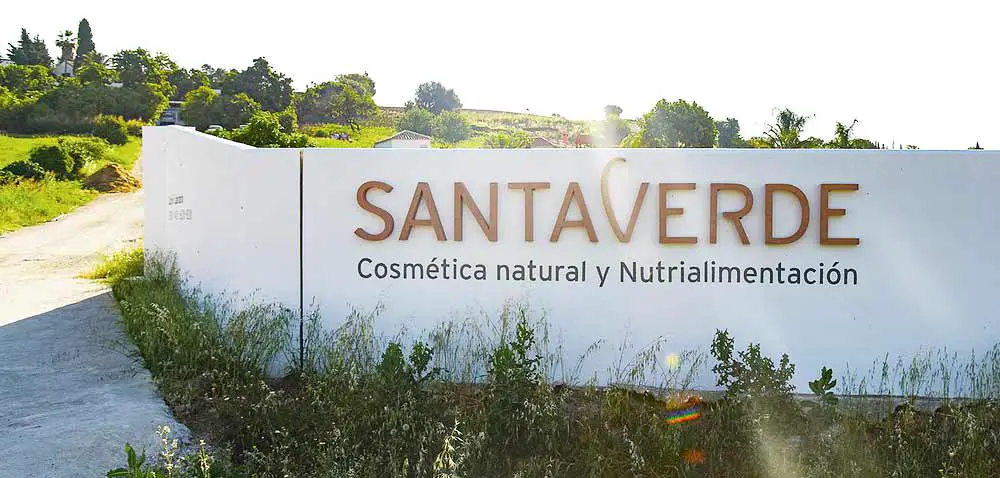 ** Things to Do in Estepona ➜ Aloe Vera Finca
For something a little more natural, visit the SantaVerde Aloe Vera Finca, a working farm near Estepona that grows Aloe Vera, a plant known for its healing and cosmetic properties. The farm cultivates several species of Aloe Vera, along with other medicinal and aromatic plants.
You can take a guided tour of the farm and learn about the cultivation of Aloe Vera. You can also buy some of their 100% organic skin care products including creams, lotions, gels and juices at the farm shop.
---
31
Visit the 'El Parque de San Isidro'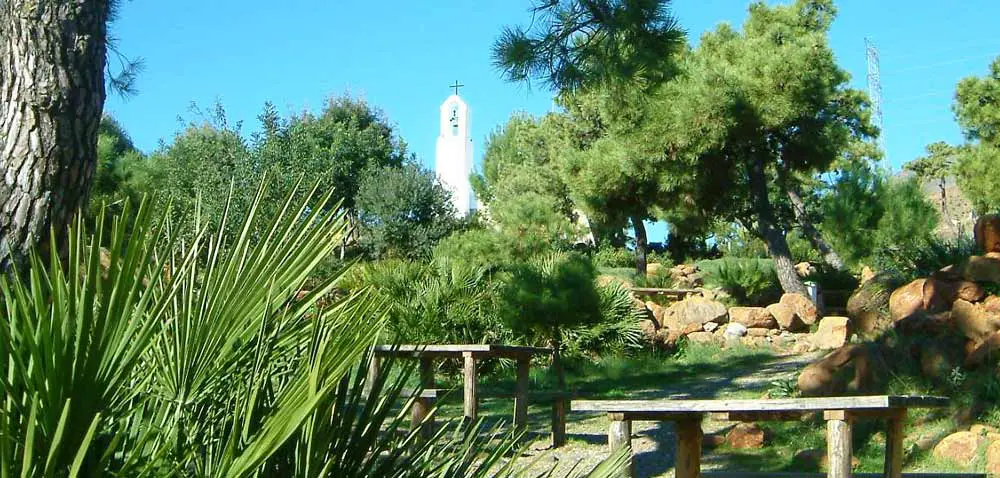 ** Things to Do in Estepona ➜ Parque de San Isidro
Take a break from the summer heat and head over to the Parque de San Isidro... a beautiful urban park located in the city of Estepona. There you will find a children's playground, walking paths, a pond and wildlife, and throughout the park there are picnic tables and benches where you can sit and relax, enjoy a meal, or just take in the natural surroundings.
The park is located in the northern part of Estepona, away from the hustle and bustle of the beach area, but still easily accessible from the center of town.
---
Check Out These Villages Near Estepona...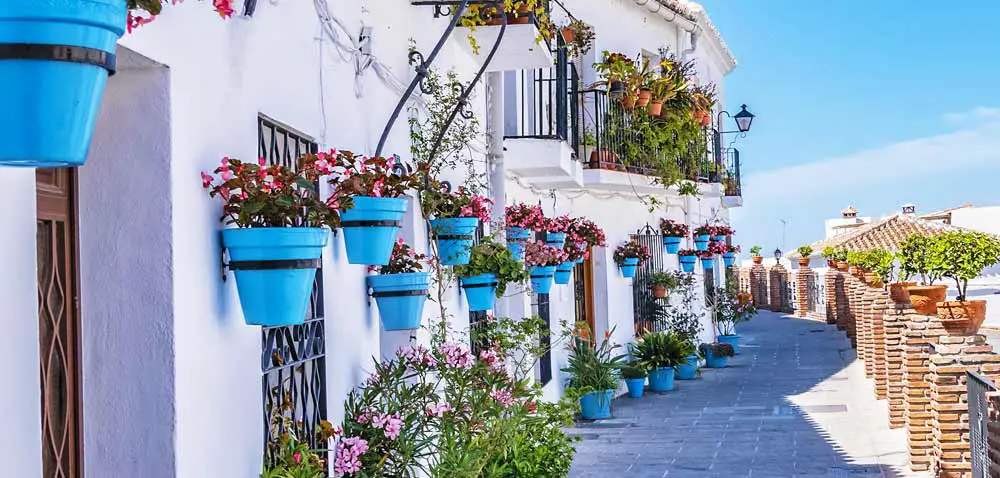 ** Street in Mijas Spain - 40-min From Estepona
If you're staying in Estepona for a week or more, here are other cities and towns you should definitely visit along the Costa del Sol or in the mountains behind it; like Malaga, Marbella, Mijas, and more...
---
Here are 5 of our favorite places to visit near Estepona:
Mijas, is probably the most charming village on the Costa del Sol. It's just a 40 minute drive from Estepona... perched high in the mountains with breathtaking views of the coast and the Mediterranean Sea. Mijas is known for its typical Andalucian whitewashed houses, narrow cobbled streets, friendly locals and donkey taxis, as well as its two top attractions, the Mijas Bullring and the Church of the Immaculate Conception.
You can easily drive to Mijas on your own or take a private day tour. The most popular activity during your visit is the off-road buggy tour of the Sierra de Mijas.
Malaga, one of Spain's most magnificent cities, is less than an hour away from Estepona. Walk through its pretty streets and alleys, visit its famous cathedral and castle, and then relax with a delicious meal at the Muelle Uno marina.
Discover the city with a walking tour!


** Rock of Gibraltar - a Short Drive from Estepona
In less than an hour from Estepona you can visit one of the most famous landmarks in the area, the Rock of Gibraltar, where you can enjoy incredible views of the Mediterranean, the Atlantic and across to Africa. Inside the Rock you'll find an impressive network of caves, including St. Michael's Cave, which is now used as a concert venue.
You can choose to see the island on your own, book a group tour, or take a private tour. The two main activities on the Rock of Gibraltar are the dolphin watching cruise and the cable car ride to the top. This ticket includes both.
Ronda, just over an hour's drive from Estepona, is one of the famous 'pueblos blancos' and is known for its iconic 'Puente Nuevo' bridge. The town sits atop the El Tajo ravine overlooking the Puente Nuevo bridge, which connects the old and new towns of Ronda. The village is surrounded by a patchwork of colorful hills, mountains and rural farms.
Ronda is steeped in history and its three main attractions are the Plaza de Toros (Ronda's bullring), the Mondragon Palace, and the Arab Baths. Private day trips to Ronda are available from Marbella.
Both the old town of Marbella and Puerto Banús are well worth a visit while you're in Estepona. The Marbella old town has narrow, winding streets and alleys, beautiful houses decorated with colorful flower pots, lively squares like Plaza de los Naranjos, and a nice selection of upscale boutiques and restaurants.
Puerto Banus, Marbella's marina, is one of the most famous marinas in the world, attracting the rich and famous and known for its luxury yachts, high-end boutiques and vibrant nightlife. It's the perfect place to people watch, shop and dine in style.
While you're there, take a walking tour / tapas adventure in the Marbella old town.
---
Ready for Some Adventure? Estepona is packed with Tours and Activities!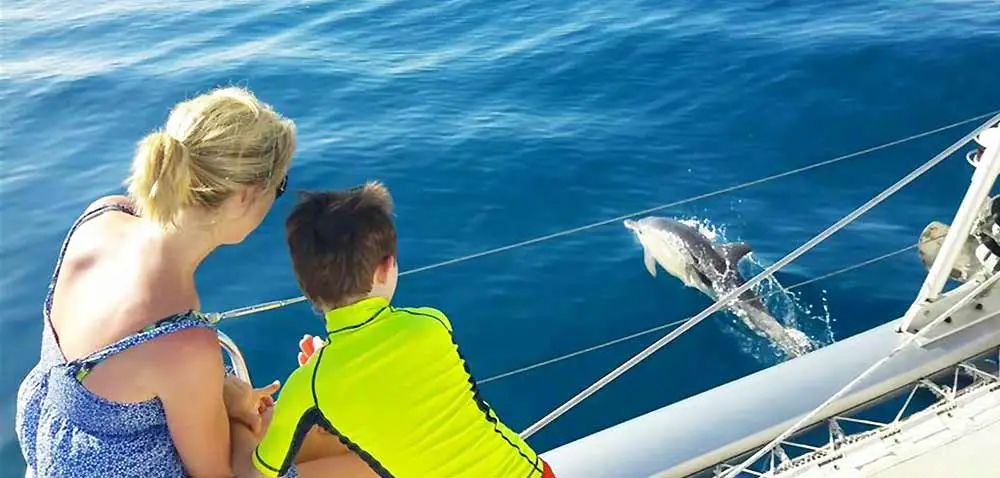 ** Things to Do in Estepona ➜ Dolphin Watching Tours
As you can see, Estepona is jam-packed with things to see and do, but we're not done yet!
Before you visit this beautiful village you may want to book one of these incredible tours and adventures. We've done the research for you and listed the top 10 available and highly rated activities in Estepona. Take a look!
---
37
Learn how to make a Classic Paella
Take a cooking class and learn how to make a traditional paella from a chef at the prestigious Culinary Institute of Barcelona. Then enjoy your delicious paella paired with homemade sangria in a beautiful setting on a farm in the Sierra de Bermeja countryside... surrounded by nature. This would certainly be the highlight of your trip to Estepona.
---
38
Dolphin Watching Adventure in Estepona Bay
The coastal area around Estepona is home to several species of dolphins and there are several companies that offer dolphin spotting tours. These tours are committed to being respectful of the local marine life and aim to minimize disturbance to these wonderful creatures while still providing an enjoyable experience for you.
Keep in mind that while there are many dolphins in this area, sightings can never be 100% guaranteed. The best time to see dolphins around Estepona is during the warmer months when they come closer to shore.


---
39
Take a Sailing Excursion
Sailing is a very popular activity around Estepona and there are several ways to enjoy a day or evening at sea. You can sail around the bay of Estepona on a traditional "Menorquín" fishing boat with family and friends, stopping to swim and snorkel... even spot some dolphins.
Or you can choose to enjoy the beauty of Estepona Bay during the "golden hour" of sunset on a romantic mini-cruise while relaxing on board with a glass of cava and fresh seafood tapas. Either is a wonderful way to get acquainted with the beautiful Andalucian coastline.


---
The Costa del Sol, with its beautiful beaches and ideal weather, is the perfect place to try jet skiing. There are several companies in and around Estepona that offer jet ski rentals and guided tours. They will provide instructions for beginners to ensure you have a safe and enjoyable experience. Whether you prefer a leisurely ride along the coast or a more adventurous high-speed trip, this is an exhilarating way to explore the Mediterranean Sea and enjoy Estepona's stunning coastline.
---
SUR Walks is a company operating in and around Estepona that offers a wide range of guided walking and nature tours, here is one near Estepona. These tours offer the opportunity to explore the beautiful Andalusian countryside with its diverse flora and fauna, historical landmarks, and natural wonders.
These excursions typically involve hiking through natural parks, forests, mountains, or along coastal paths, with routes to suit different fitness levels and interests. Knowledgeable guides share insights into the region's history, culture and natural environment, enhancing the experience and providing a deeper understanding of the area.


---
42
Take the Kids Karting in Malaga
Go-karting in Malaga is an exciting experience for the whole family! Malaga and the surrounding area boasts several quality go-kart tracks that cater to a wide range of ages and skill levels, from beginners to experienced racers.
These go-karting tracks are usually open air and range from simple layouts for beginners to more complex configurations with tight corners, long straights and undulating sections to challenge more experienced drivers. Most of these venues also have small cafes or restaurants where you can grab a bite to eat, and spectator areas to watch the action.
---
43
Attend a flamenco show
The Flamenco Dinner Show at the Blue Dolphin Beach Club in Estepona offers an enchanting evening of traditional Spanish culture, food and entertainment. Located right on the beach, the club offers a beautiful seaside setting that enhances the vibrant energy and passion of the flamenco performance.
As you enjoy your barbecue dinner accompanied by sangria and cava, you'll be treated to a spectacular flamenco performance featuring talented dancers, live singers and guitarists. The captivating rhythm, powerful dance moves and emotional music of flamenco come together to create a truly unforgettable experience.


---
Estepona Diving Center is a reputable diving center located in Estepona Marina that offers a range of diving courses and experiences, the center caters for both beginners and experienced enthusiasts.
A variety of PADI (Professional Association of Diving Instructors) certified diving courses are available, from beginner to professional levels. They also offer Discover Scuba Diving experiences for those wanting to try diving for the first time.
See all available dive courses here.
---
45
Go wine tasting at a local vineyard
Take a full day wine tour from Marbella to Ronda. This tour offers an immersive experience of one of Andalusia's most scenic and historically rich towns, combined with a deep dive into its celebrated wine culture.
Ronda is famous for its wines, and this tour gives you exclusive access to two local wineries where you can explore the vineyards, learn about the winemaking process from knowledgeable guides, and enjoy tastings of Ronda's finest wines. Afterwards, you will have free time to explore Ronda's picturesque streets and sights, and enjoy a delicious tapas lunch.


---
46
Take an Authentic Andalusian Jeep Eco Tour
With pickup in Estepona, this Authentic Jeep Eco Tour offers an exciting day of exploring Andalusia's stunning countryside and charming white villages in an open roof Land Rover Defender... for a truly immersive, close to nature experience.
Your journey begins with a trip to the Parque Nacional Sierra de las Nieves, a UNESCO Biosphere Reserve known for its diverse flora and fauna, where you will learn about the natural history of the region and, depending on the season, have the chance to enjoy a refreshing swim in the river. Then you will visit two traditional Andalucian white villages.


---
Estepona, Spain ➜ Practical Information
Now that you know all the
top things to see and do in Estepona
... Are you ready to visit this beautiful Mediterranean town? Take a look at the information below to help you plan your trip.
---
How Long do You Need for a visit to Estepona?
The time needed to visit Estepona depends on what you want to do... To explore the town at a leisurely pace, with a stroll through the old quarter, visiting the main sights and enjoying a good meal,
one day
should be sufficient.
However, if you want to spend more time on the beach, do some hiking in the area, or take a sightseeing tour around the bay, you may want to extend your stay to two or three days (or even a whole week) to fully enjoy all that Estepona and the surrounding area has to offer.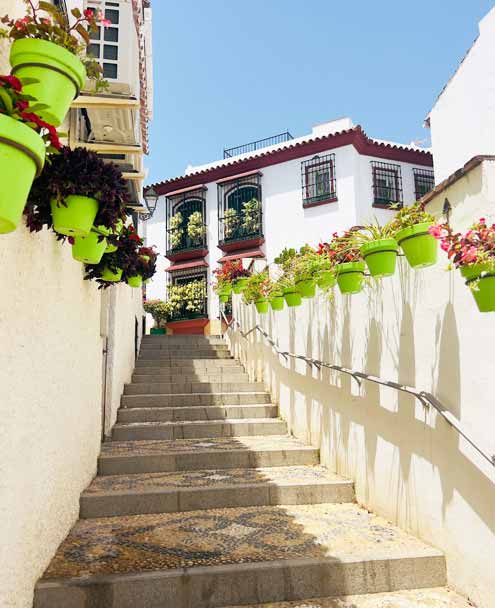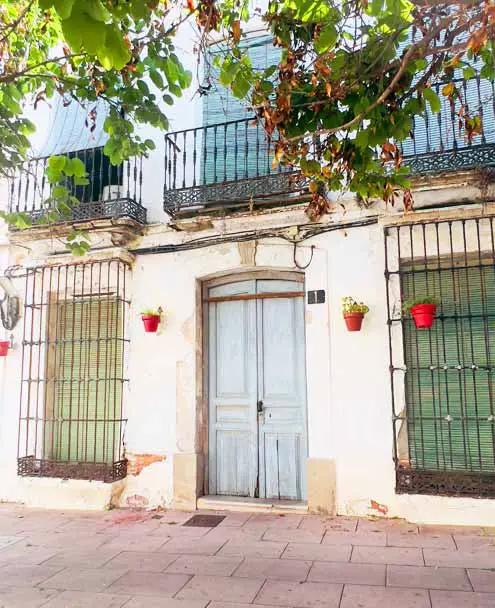 ** Village Street Details in Estepona, Spain
---
When is the best time to visit Estepona?
The best time to visit Estepona is from late spring to early fall (May to October). During these months, the weather is warm and sunny, perfect for beach activities and outdoor exploring. July and August are the hottest months and can be quite busy as this is the peak tourist season.
Here's a breakdown of what to expect in Estepona during each season:
Spring (March to May): In the spring, Estepona begins to warm up, with temperatures ranging from 17°C (63°F) in March to around 21°C (70°F) in May. There is more sunshine and less rain, making it a pleasant time to visit.
Summer (June to August): Hot and sunny with 11 to 12 hours of sunshine per day, and temperatures averaging 25°C to 28°C (77°F to 82°F). Summer is the peak tourist season in Estepona, perfect for beach days and water activities.
Autumn (September to November): The fall season in Estepona sees a gradual cooling off from the summer heat, with average temperatures dropping from 25°C (77°F) in September to around 18°C (64°F) in November. It is generally sunny, but the chance of rain increases.
Winter (December to February): Winter in Estepona is mild compared to many European destinations. Average temperatures range from 15°C to 16°C (59°F to 61°F). Although the weather can be unpredictable, there are still plenty of sunny days.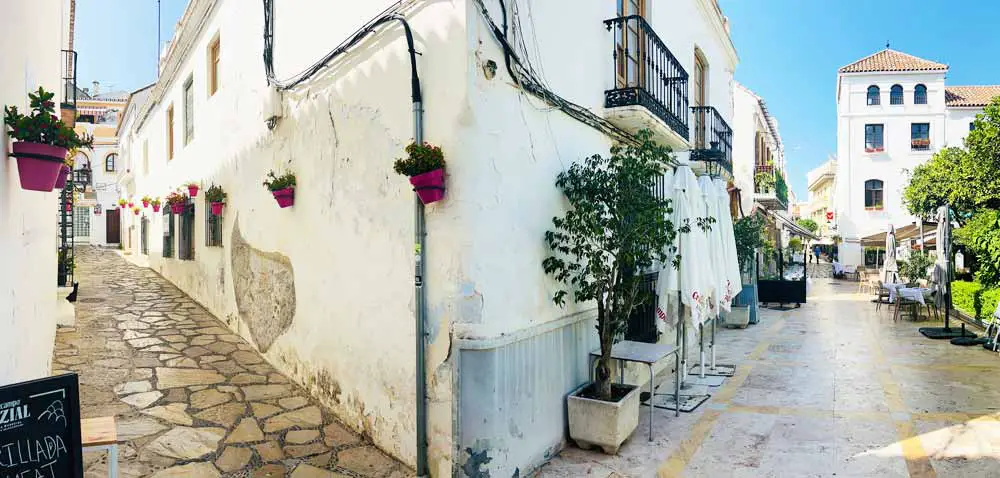 ** A Street Corner in Estepona, Spain
---
Estepona ➜ How to Arrive & Directions
Estepona is easily accessible. It is located about
90 km (1 hour 10 minutes)
west of Málaga,
200 km (2 hours)
southwest of Granada,
150 km (1 hour 35 minutes)
east of Cadiz, and approximately
230 km (2 hours 20 minutes)
south of Seville. It can be reached by car or bus, with frequent connections from the nearby town of Marbella.
Getting To Estepona ➜ by Plane
Málaga Airport (AGP): Distance from Estepona: about 80 km, travel time: about 50 minutes by car. Offers domestic and international flights, with many airlines serving the airport.
Granada Airport (GRX): Distance from Estepona: about 195 km, travel time: about 1 hour 55 minutes by car. Smaller airport with mainly domestic flights and a few international destinations.
Important!
The BEST place to find
cheap flights
is Cheapoair.com!
To Estepona ➜ by Train
You can take a train to Málaga from any major city in Spain and from there you can take a bus or taxi to Estepona.
Check for the cheapest tickets and train schedules to Estepona.
To Estepona ➜ by Bus
Buses run from Málaga to all the coastal towns and it's relatively cheap and easy. Buy tickets online
To Estepona ➜ by Car
Renting a car is another option for exploring the surrounding areas of Estepona. Underground parking is available on the main road into town.
---
Driving Directions to Estepona:
From Málaga: Follow the AP-7 in a westerly direction. When you get to Estepona, take the #7 exit.

From Granada: Follow the AP-7 west and then southwest. Continue past Málaga and take the #7 exit when you reach Estepona.
---
Check out!:
You will find the
cheapest
most reliable
car rentals
in Spain here!
To Estepona ➜ by Taxi
One way private transfer between Malaga Airport (AGP) & any Costa del Sol destination.
Taxis are available in Estepona and can be hailed on the street, found at taxi stands or booked by phone or smartphone app. They're a convenient way to get around, especially if you're traveling with luggage or have limited time.
Estepona Map

Who are we?
An American expat with over 20 years of experience living and traveling in Spain, specifically in Malaga and Granada. Darsey is a seasoned explorer of Andalucia. Drawing from decades of immersive experience, she offers deep insights into this enchanting region of Spain, including off-the-beaten path destinations, the best places to stay, and the top bucket list activities to try!
More...
Want to Save on your Next Trip?
Save money on your next trip with our favorite travel websites!
Find the Cheapest Hotels:
The Largest Selection of Villas & Apartments:
Cheapest, Most Reliable Car Rentals:
Best Bus & Train Fares:
Huge Selection of the BEST Tours & Activities
Discount Tickets to Museums & Attractions

See our Full List of Travel Deals & Site Recommendations Here.