Kayaking and Other Water Sports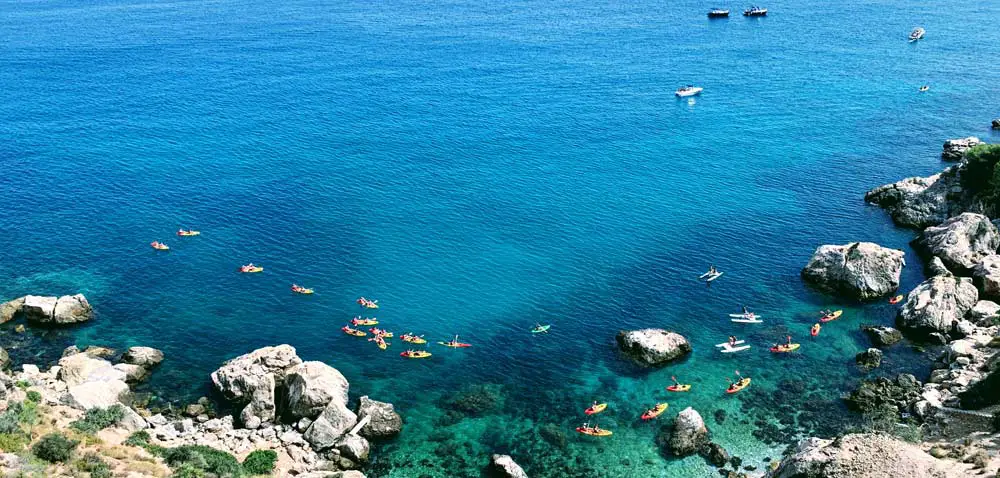 After its natural beauty and remarkable landscape, the Costa Tropical is probably best known for its abundance of available water sports. On any given day you will find swarms of windsurfers, wakeboarders, kayakers, and paddleboarders exploring the bay; their multi-colored sails and boards glistening in the sun.
Small watercraft, such as surfboards, canoes, kayaks, and paddleboards are available for rent daily on the beach.
---
So, Where is All the Action?
The area around La Herradura, Almunecar, and Nerja is the perfect place for a sporting holiday... and water sports are the favorite.
Some of the best beaches in Almunecar for these activities are Playa Cabria, Playa Veintiuna (on the western end of Playa San Cristobal) and Playa del Barranco Enmedio, found at the very far end of Almunecar, to the east, after Playa Curumbico.
La Herradura's two favorite beaches for water sports are Playa la Herradura (where most of the action takes place) and Playa Berengueles (very popular with divers and snorkelers).
Nerja also has two very sporty beaches, Playa del Playazo and Playa Burriana. Playa Burriana is the favorite with kayak and paddleboard tours leaving hourly for the Maro Cerro Gordo Nature Park to see its beautiful waterfall.
---
Two Kayaking Excursions We Recommend are:
KAYAK TOURS ➜ BOOK SECURELY ONLINE!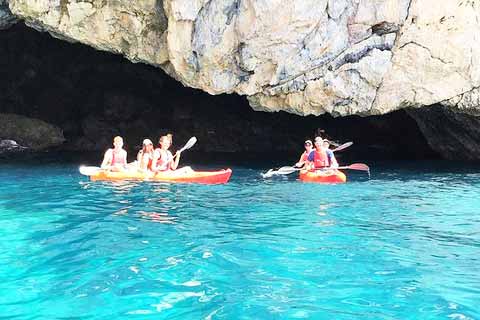 KAYAKING TO MARO WATERFALL! ➜ BOOK SECURELY ONLINE!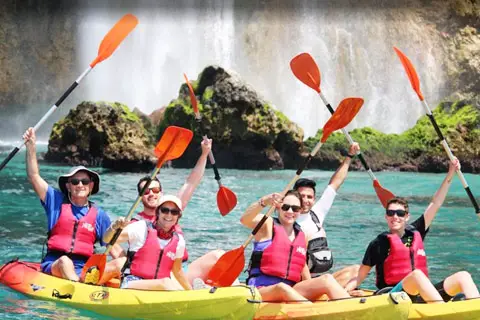 ---
---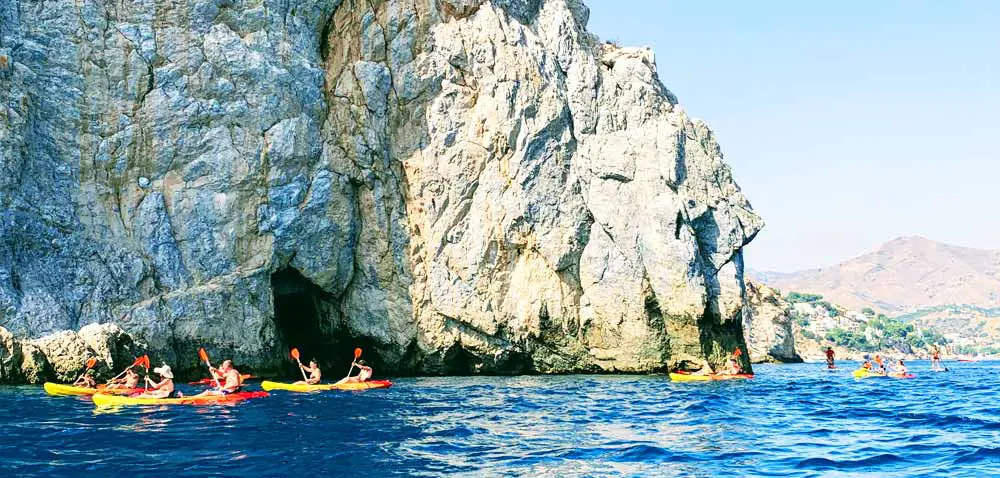 ** Kayaking around the Cerro Gordo Caves
---
Which Water Sports are Available?
During the summer months, the sea is filled with eager sports enthusiasts... Some of the water sports you can try while you're here are:
Windsurfing, kayaking, canoeing, paddleboard, aquatic cycling, water skiing, wakeboarding, snorkeling, and scuba diving...
---
Available Services?
Many companies cater to specific sports... or to all of them. Water sports equipment and small crafts like canoes and kayaks can be rented on many of the local beaches or you can join a group and be shown the best sites.
Water Sports Rentals - Numerous companies along the beach rent out equipment by the day or hour, depending on the sport. You can usually rent for 1-hour, 2-hours, 1/2 day, or a full day.

Excursions / Guided Tours - If you've never been to the Costa Tropical, this is probably your best option, and it's definitely the most popular. Guided tours leave hourly from the beach to Punta de la Mona, Cerro Gordo to see the caves and grottos, the gorgeous Maro beaches, or to see the Maro waterfall... if you can make it that far... stops for snorkeling and snacks are common depending on the time.

Classes - Another fun thing to do is take one of the classes offered along the beach. If you've never done any of these activities before, personalized instruction is available. Plus you can take a course on sailing with a catamaran, windsurfing, paddleboard yoga, and more...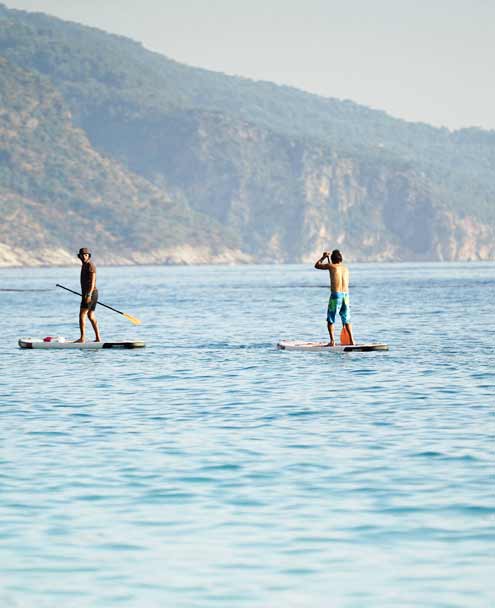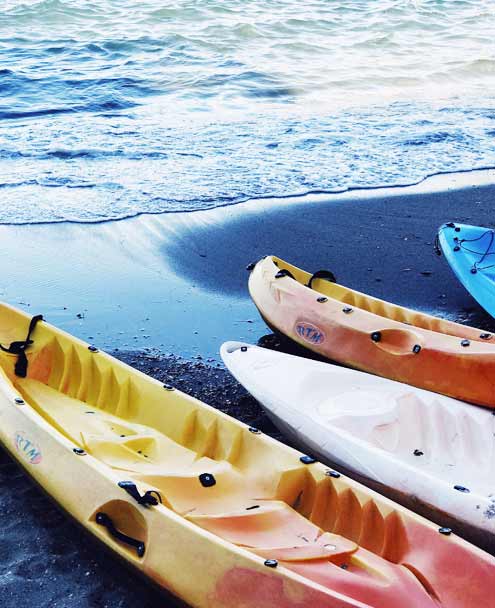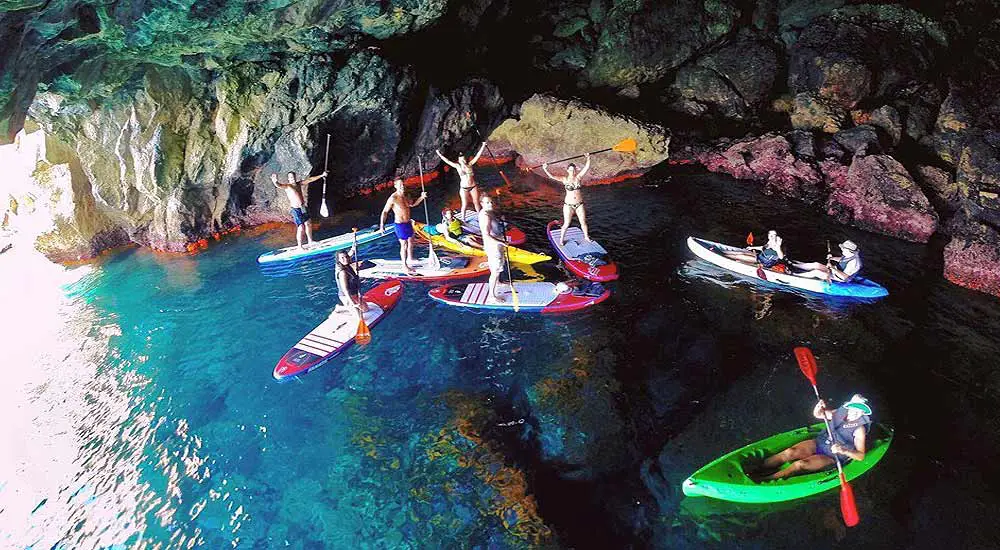 ** Paddle Board, Kayaking are popular in La Herradura
---
The TOP Water Sports Companies
All of the companies below offer rentals of water sports equipment and most offer classes and personalized excursions and tours.
Most of these companies also offer a range of other adventure sports activities, like hiking, canyoning, 4x4 excursions, etc., so we have noted that where applicable.
1. Activ8You! As an expert provider of outdoor and adventure sports, Activ8You offers fun-filled, safe activities for all ages, including kayak rentals and excursions, snorkeling equipment, padel boards, and more.
Recommended Tour:
ACTIV8YOU! - ADVENTURE COMPANY
Address: Pª Marítimo Andrés Segovia 61, Caseta en la Playa, 18697 La Herradura
Phone: +34 678 846 995
Website: https://www.activ8you.com/
Facebook: www.facebook.com/activ8You
Email: info@activ8you.com
Additional Services: Canyoning, Hiking Excursions, Summer Kids Camp
---
2. Windsurf La Herradura Operating in La Herradura since 1979, Windsurf La Herradura has two locations, one right on La Herradura beach and the other in the Marina del Este. They offer water sports equipment rental and classes on sailing, windsurfing, and paddleboard yoga.
Kayaking excursions are also available around the Cerro Gordo point.
WINDSURF LA HERRADURA - ADVENTURE COMPANY
Address 1: Paseo Marítimo nº34, La Herradura, Granada, Spain
Address 2: Av. Marina del Este, 18697 La Herradura, Granada
Phone: +34 958 640 143 / 958 330 717
School: +34 675 982 324
Website: https://www.windsurflaherradura.com/

1 Hr
2 Hrs
10 Hrs
1/2 Day
Day
Kayak - solo
€7
-
€55
€20
€35
Kayak - doble
€12
-
€95
€40
€60
Paddle Surf
€10
-
€85
€25
€50
Windsurf
€20
€30
€160
-
-
Catamaran
€35
€60
€280
€125
-
Courses (5 Hours)
Windsurf
€110
Catamaran
€120
Paddle Yoga
One Class
€12
5 Classes
€50
---
3. Educare Aventura Educare Aventura is a tourism company operating in Nerja since 2000. They offer the following tours:
Kayaking along the Nerja and Maro cliffs, Paddle Surfing along the Nerja and Maro cliffs, 4x4 routes along the Sierra Almijara National Park, Mountain biking through the Montes de Málaga National Park, Trekking El Torcal, Horseback riding in the Montes de Málaga, and Canyoning descent in the Rio Verde Ravine (Otivar-Granada).
Recommended Tours:
EDUCARE AVENTURA! - ADVENTURE COMPANY
Address: Camino de Burriana, Local 2, Fase 2, Playa de Burriana, Nerja, Malaga
Phone: +34 676 685 827 / 600 620 054
Reservations: +34 952 039 026
Website: https://educare-aventura.com
Contact Form:https://nimoaventura.com/contact-us/
Email: kayak@educare-aventura.com
Additional Services: Canyoning, Hiking, Mountain Biking, Horseback Riding, 4x4 Routes
---
4. Nimo Aventura

NIMO AVENTURA! - ADVENTURE COMPANY

Phone: +34 601 631 833
Website: https://www.nimoaventura.com/
Contact Form:https://nimoaventura.com/contact-us/
Email: info@nimoaventura.com

Additional Services: Kayak, Barranco (Cliff Jumping), Parapente, Paintball, Scooter Rentals, and Hiking
---
5. Open Water Scuba

OPEN WATER LA HERRADURA - DIVING CENTER

Address: Paseo Andrés Segovia, s/n, La Herradura (Granada)

Phone: +34 644 444 314 – 958 640 092
Website: https://www.openwater.es
Email: info@openwater.es

Additional Services: Scuba Diving, Baptism, and PADI Certifications
---
6. Marengo La Herradura

MARENGO - ADVENTURE COMPANY

Address: Paseo Andrés Segovia, 18690 La Herradura, Granada

Phone: +34 658 964 357
Website: https://marengolaherradura.es
Contact Form: https://marengolaherradura.es/contacto/
---
7. MARAE

MARAE - ADVENTURE COMPANY

Address: Paseo Andres Segovia 44 18697 La Herradura, Granada

Phone: +34 657 730 030
Website: https://marae.eu
Contact Form: https://www.marae.eu/contacto-marae/

Additional Services: Paintball, Quad Tour, Canyoning, Hiking, Kayak Tours, Mountain Bike Tours, Paddle, and Paddle Yoga
---
8. Totally Sorted Sports

TOTALLY SORTED SPORTS - ADVENTURE COMPANY

Address: Paseo Andres Segovia 44 18697 La Herradura, Granada

Phone: +34 958 883 143 / 627 713 897
Website: https://www.totallysortedsports.co.uk
Contact Form: https://www.totallysortedsports.co.uk/contact-us/

Additional Services: Canyoning, Hiking, Almunecar Tour, Buggy Safari, Catamaran, Horseback Riding, and Skiing in the Sierra Nevada
---
9. Wailele Adventure & Sports - Nerja

WAILELE ADVENTURE SPORTS - ADVENTURE COMPANY

Address: Playa de Maro, Nerja, Malaga

Phone: +34 644569199
Website: https://www.wailele.es/

Additional Services: Outdoor activities in nature at the hand of the best specialists. Kayak, Paddle Surf, Step Surf and Tours.

---
---
More Outdoor and Nature Activities