Playa Cabria:
The TOP 10 Things to Know Before You Go!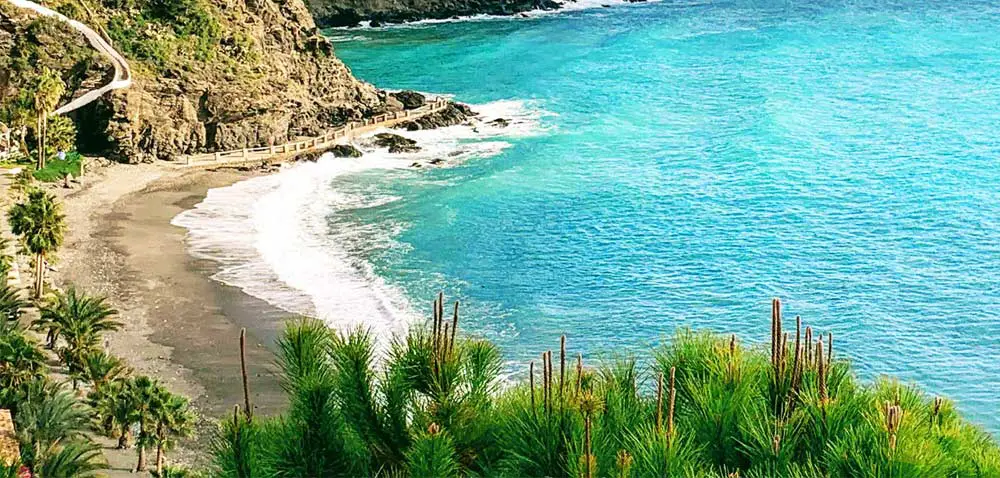 Nestled under an impressive cliff with an old watchtower is Playa Cabria. And to the west (overlooking the beach) is the popular Hotel Playacalida and Spa, known for its lazy river and stunning views of the coast from its oversized infinity pool.
The proximity of this 4-star hotel has increased the popularity of Playa Cabria in recent years, making it one of the most popular beaches in Almuñécar.
Playa Cabria is small, only 250 meters long, and the area around it has a beachy, bohemian, village-like feel. There are two small chiringuitos right on the beach if you get hungry, and a few more back in the dry riverbed. A stroll through the area reveals quaint bars, hidden patios, and a rustic bed and breakfast with private terraces and sea views.
Keep reading to learn ten facts about Playa Cabria before you go!
---
We also have more detailed information on:
---
1
Secluded and Peaceful Atmosphere
Playa Cabria is yet another of the many charming beaches in Almuñécar along Granada's stunning coastline (the Costa Tropical). It is known for its relatively secluded and quiet setting and is much less crowded compared to some of the other more popular beaches in Almuñécar, like Playa San Cristobal and Playa Puerta del Mar... making it a wonderful spot for those looking for a more peaceful beach getaway.
---

This beach has a mixture of dark sand and pebbles and is approximately 120 meters long and 20 meters wide.
Many of the beaches in Almuñécar are pebble beaches (we recommend getting some of these beach shoes before you come). Playa Cabria stands out for its soft black sand, making it much easier on the feet!
---
Access to Playa Cabria is relatively easy, with several trails leading down to the beach. And although it is more secluded, it still offers basic facilities like showers and restrooms. There are also a few restaurants and chiringuitos (beach bars) nearby where you can enjoy fresh seafood, tapas and drinks.
From the hotel: If you are staying at the Hotel Playacalida, you can easily walk down to the beach along a desiganted path. It's a quick and easy 5 minute walk, although the walk back up is a bit more strenuous!
From the highway: If you are driving, take the N-340 from Almuñécar towards Salobreña. At the last roundabout there is a small sign and a gravel road leading down to the beach. It's very easy to miss, so be careful. Here is a link to the turnoff. The road down is unpaved and a bit bumpy, but it goes all the way down to the beach with parking at the end.
Where to find Playa Cabria
---
4
Family-Friendly Environment
Playa Cabria is known for being family friendly. Its waters are generally calm, making it suitable for swimming and children's play, and the atmosphere is relaxed and welcoming. This beach is a good choice for children because the water is shallow (and not usually rough), the waves are small, and the sand is soft and easy on the feet.
---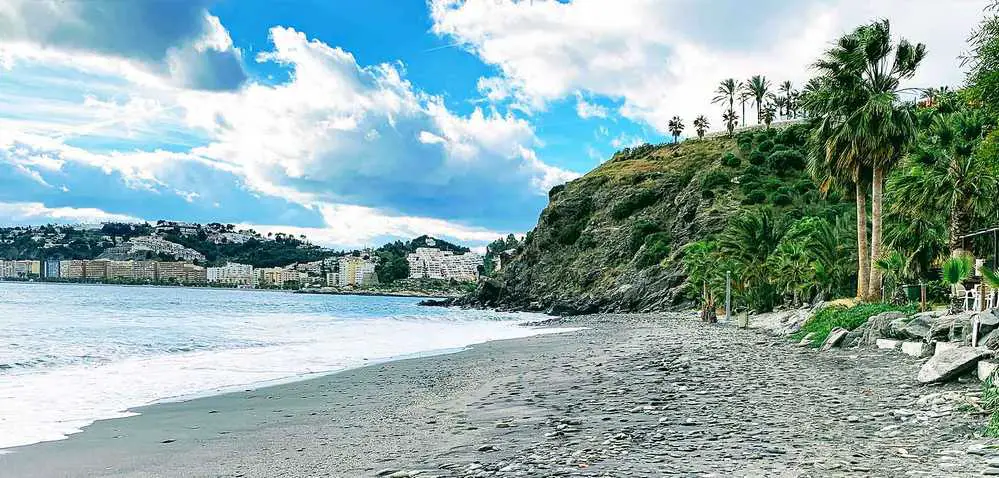 This beach is surrounded by natural beauty, including rocky cliffs and Mediterranean gardens, making it the perfect place not only for swimming and sunbathing... but also for enjoying the raw natural beauty of the Costa Tropical.
The beach itself is beautiful, but further out under the sea there is also an abundance of marine life and underwater flora, making it a favorite among local divers. You will often see divers in full scuba gear coming in and out of the surf.
---
6
Its Connected to Playa Curumbico

The Costa Tropical, known for its rugged landscape and beautiful hidden coves, has several beaches that are connected by coastal walkways. Playa Cabria and Playa Curumbico are two of these beaches (Playa Muerto is another). They are separated by steep cliffs, but it's possible to walk from one to the other via a stone path.
The walk itself is pleasant, with beautiful views of the Mediterranean. However, the path is uneven and in disrepair in some places, so be careful.
These beaches, like many along the Costa Tropical, are more secluded and natural. And although they are not officially designated as 'Playa Naturalistas', they are popular with nude sunbathers.
---
7
Top Hotel Near Playa Cabria

One of the top hotels near Playa Cabria is the Hotel Playa Calida and Spa. It is perfectly located with easy access to several beaches, including Playa Cabria and Playa Calabajio, and has stunning views of the Mediterranean Sea.
The hotel has a number of facilities, including a large outdoor swimming pool (one of the largest in the area) and a wonderful spa with various treatments and services.
It's also known for being family friendly, offering things like a kids club, entertainment staff, bike rentals, table tennis, children's playground, plunge pool, infinity pool AND a lazy river. Plus, many of the rooms have sea views.
---
8
Best 2 Restaurants Near Playa Cabria
Two highly recommended restaurants near Playa Cabria are "Restaurante Tito Yayo" and "Restaurante Calabajío", both with excellent locations and high quality food. Also check out the 10 best restaurants in Almuñécar.


---
9
Its Surrounded by Wonderful Gardens and Trails

Just for fun, climb to the top of the rocky point west of the beach. There is a beautiful Mediterranean Garden (Parque Mediterraneo) that stretches from Playa Cabria to the neighboring beach, Playa Calabajio, and down to the sea.
The Parque Mediterraneo is located between Taramay and the beaches of Calabajío, El Pozuelo and Cabria and covers an area of approximately 38,000 square meters. As a Mediterranean garden, it's filled with a huge variety of tropical plants and trees typical of the Mediterranean climate and it's a wonderful place to walk, relax or just enjoy the views.
---
10
Its Crowned by an Ancient Tower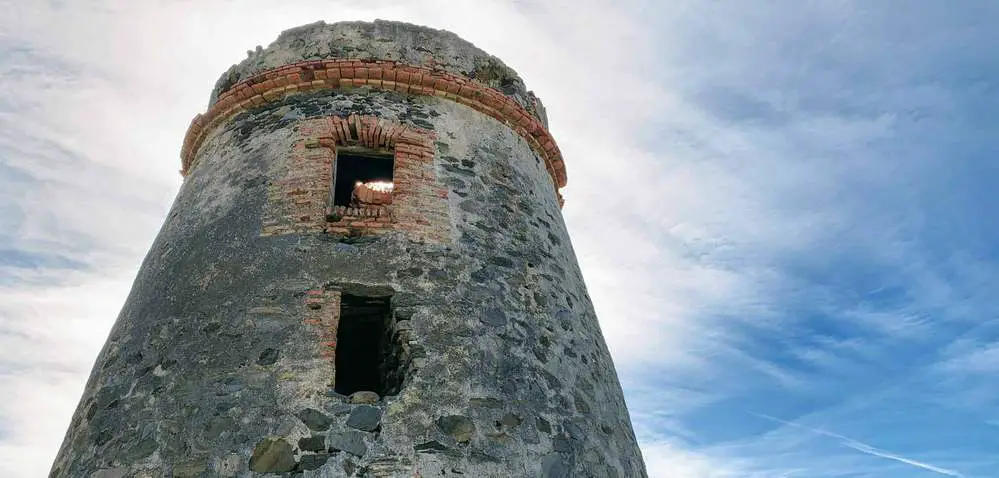 The Torre de los Diablos (Tower of the Devils) near Playa Cabria is one of several historic watchtowers along the coast of Granada. These towers are part of an elaborate network that was historically used for defense and surveillance along the Spanish coast.
Most of these towers were built in the 16th century in response to frequent pirate raids and served as lookouts to warn the locals of impending attacks.
This particular tower is located on a cliff overlooking Playa Curumbico, near Playa Cabria, and can be accessed from the main N-340 highway.
---
Keep Exploring! Top Beaches Near Playa Cabria
Here are the TOP 14 beaches in Almuñécar:
---
Beach Information - Playa Cabria
| | |
| --- | --- |
| Type: | Water Sports Beach |
| Length: | 250 Meters |
| Surface Area: | 10,000 m2 |
| Max Capacity: | 2,000 users |
| Sand Type: | Black, fine sand |
| Facilities: | Restaurants / Bars |
| Access: | Dry river bed |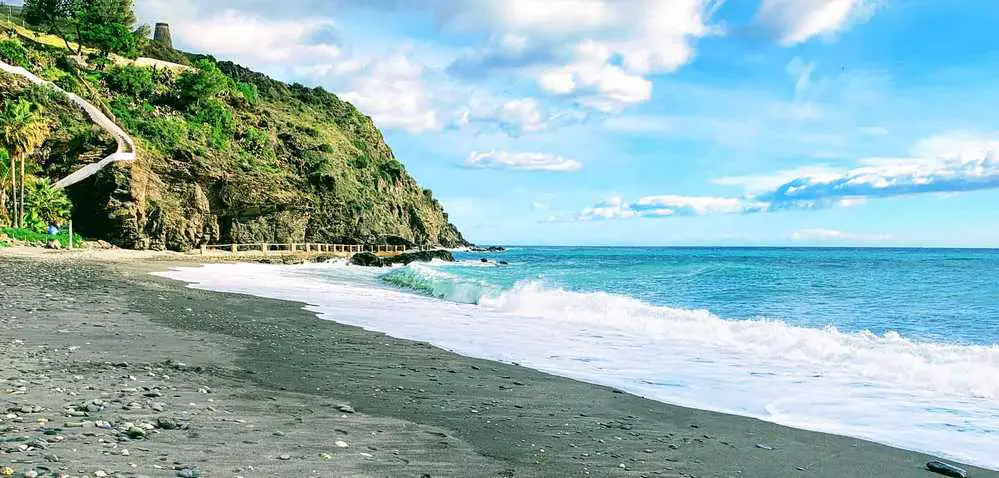 Who are we?
An American expat with over 20 years of experience living and traveling in Spain, specifically in Malaga and Granada. Darsey is a seasoned explorer of Andalucia. Drawing from decades of immersive experience, she offers deep insights into this enchanting region of Spain, including off-the-beaten path destinations, the best places to stay, and the top bucket list activities to try!
More...
Want to Save on your Next Trip?
Save money on your next trip with our favorite travel websites!
Find the Cheapest Hotels:
The Largest Selection of Villas & Apartments:
Cheapest, Most Reliable Car Rentals:
Best Bus & Train Fares:
Huge Selection of the BEST Tours & Activities
Discount Tickets to Museums & Attractions

See our Full List of Travel Deals & Site Recommendations Here.