Shopping and Arts & Crafts in Almuñécar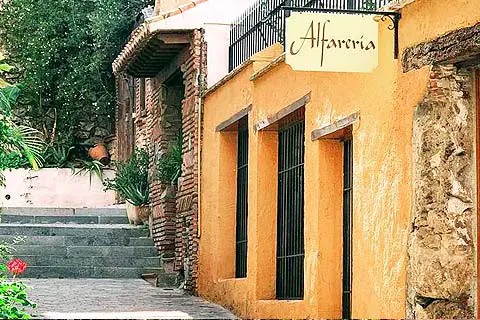 The arts and crafts in the area have a lot of tradition behind them. Some of the more popular crafts are the ceramics (mostly with a Moroccan influence), leather making, jewelry and the traditional Spanish guitar.
Much time and passion goes into the making of an exceptional flamenco guitar so this craft has understandably developed into an art form over the years. The Spanish love their music and the guitar has a very special place in the hearts of most Spaniards; especially because of the long tradition of Flamenco in the country. Because of the guitars popularity in the Costa Tropical, there are several shops here that are dedicated to this art alone. One of the Province Houses in Manjuelo Park sells these guitars.
To find authentic Spanish crafts in Almunecar try these places:
Province Houses in the Manjuelo Park
Jewelry Store across from the Plaza Abderraman
Craft tent behind the Almunecar daily market and beside the Almunecar Aquarium
Traditional leather making and weaving stall near the bus stop on Calle
Craft carts in the Plaza de Abderraman
Moroccan shop located in the old town, "Casco Antiguo"
Another great place for finding crafts and other items to take home are the local Specialty shops. These are great for finding gifts for family and friends. Most of these shops carry locally made soaps, hams, cheeses, chocolate, olive oils, dates, wines, pottery and other trinkets. They are a little more expensive than what you would find in the grocery store but the quality is higher and they are often wrapped nicely. You can find many items from the nearby Alpujarras in the specialty shops too.


Where to find the Shopping and Art in Almuñécar
More to Explore...
Around the Costa Tropical