Plaza Abderraman in Almuñécar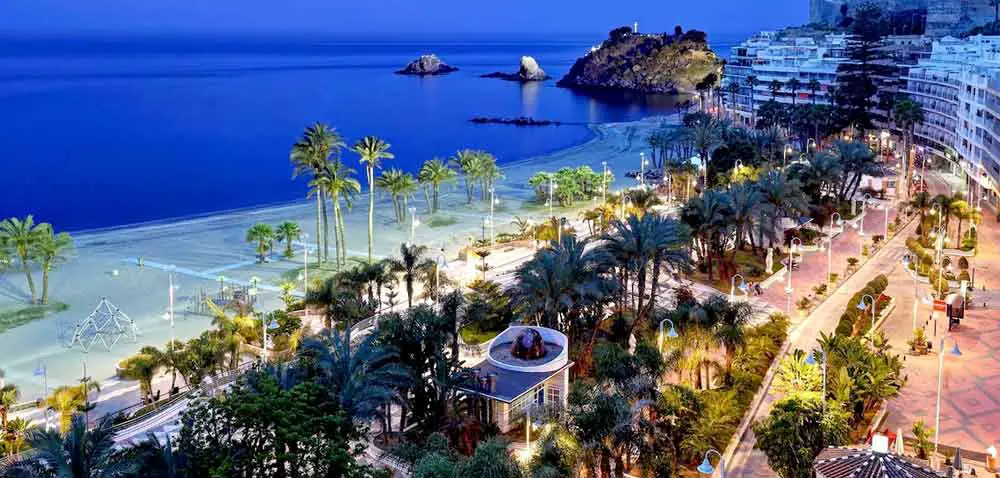 This Plaza takes its name from the Omeyan Prince from Damascus (Prince Abderraman I) that came ashore here in Almunecar before establishing an independent emirate in Córdoba. There is a statue in his memory directly across the street.
The area is very active during the summer months but slows down during the winter. During the summer, craft carts are set up daily selling inexpensive items such as; music, jewelry, scarves, clothing, trinkets, etc. It's a great spot to grab a souvenir or a gift for someone back home.
There is also a great handmade jewelry shop located across from the plaza on the opposite side of the street. Many local artists sell their work there.
At night, especially during the summer, this entire area is very lively. There are great restaurants all along the promenade and tourist walk up and down late into the night. On the opposite side of the Penon lies the new Almunecar Promenade that has numerous bars and clubs.
---
Getting There
The plaza lies directly across from the San Cristobal Penon, the famous rock that juts out into the sea. It also lies at the end of the San Cristobal beach promenade that runs from the western most end of the beach to this point.
Follow the main coastal road that runs along the beach. The plaza is directly across from the famous Penon de Cristobal.

Who are we?
An American expat with over 20 years of experience living and traveling in Spain, specifically in Malaga and Granada. Darsey is a seasoned explorer of Andalucia. Drawing from decades of immersive experience, she offers deep insights into this enchanting region of Spain, including off-the-beaten path destinations, the best places to stay, and the top bucket list activities to try!
More...
Want to Save on your Next Trip?
Save money on your next trip with our favorite travel websites!
Find the Cheapest Hotels:
The Largest Selection of Villas & Apartments:
Cheapest, Most Reliable Car Rentals:
Best Bus & Train Fares:
Huge Selection of the BEST Tours & Activities
Discount Tickets to Museums & Attractions

See our Full List of Travel Deals & Site Recommendations Here.
Where to find Plaza Abderraman