Motril, Spain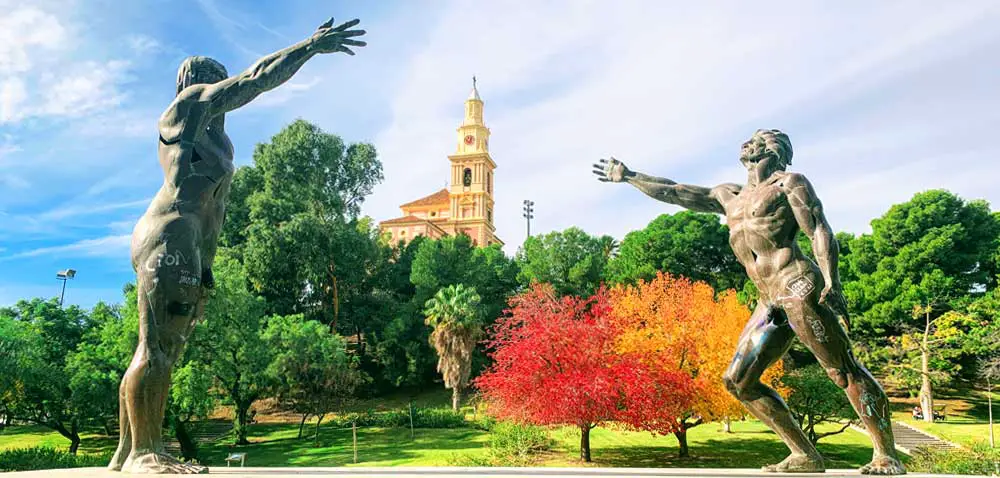 ** Los Pueblos de America Park - Motril, Spain
💡
Affiliate Disclosure:
  Please be aware that some links on this site are affiliate links, which means that we might receive a small commission ☕ if you click a link and make a booking. This helps us to keep the site running and will NOT affect the price you pay in any way... ❤️ 🙏 🙏 ➜
How does this work?
---
Explore Motril, the TOP TEN Things to See & Do!
Sitting right in the heart of the Costa Tropical... and a nice place to visit if you are driving through the area... is the town of Motril --- it is also the largest and most commercial of the Costa Tropical towns so it's a GREAT place to pick up supplies and do some shopping!
Motril's year-round mild climate, proximity to Granada, the Alpujarras and the Sierra Nevada mountains, mild sea breezes, and numerous beaches have increased travelers' curiosity over the years... as a result tourism has increased substantially.
---
Note:
Visit the other gorgeous Costa Tropical villages:
Almuñécar
,
La Herradura
, and
Salobreña
, just minutes down the coast... Plus
Nerja
and
Frigiliana
are right on the border with the Costa del Sol.
---
Motril Travel Guide
What to See and Do in Motril
---
You May Also Be Interested In:
---
Motril, Spain - Everything You Need to Know!
---
Where to Stay in Motril ➜ The 3 Best Hotels
First things first, if you're planning a trip to Motril you need to know where you're going to stay. The following three hotels are the best in the area.
TOP HOTELS - MOTRIL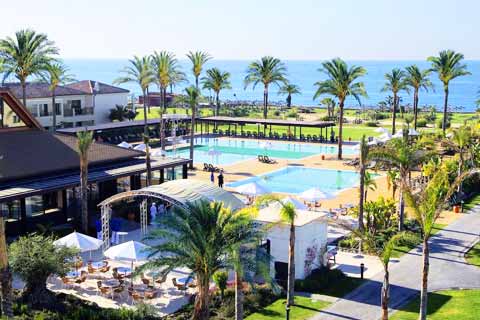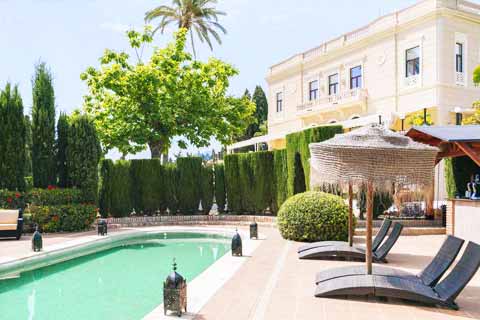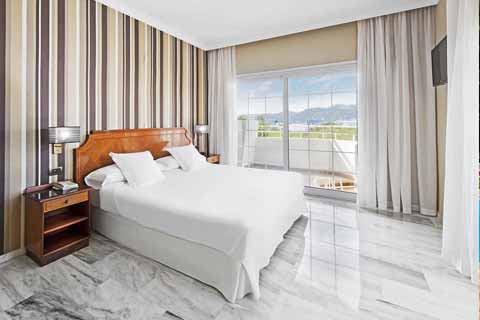 ---
Recommended Restaurants in Motril
RECOMMENDED RESTAURANTS - MOTRIL
La Ballena Azul - A family-owned Mediterranean seafood restaurant, right on the Poniente Beach.
Zarcillo Restaurante - Another Mediterranean style restaurant with great tapas and a wonderful ambiance just near the Nuestra Senora de la Cabeza church.
---
---
The Top Three Recommended Tours Near Motril
Being so close to the city of
Granada
, most people want to visit the Alhambra when they're in town. It really is a must-see if you've never been! Make sure to get your tickets early because it can sell out months in advance.
Also, if you are traveling with small children... The Aquatropic Water Park in Almunecar is not to be missed!
RECOMMENDED TOURS - MOTRIL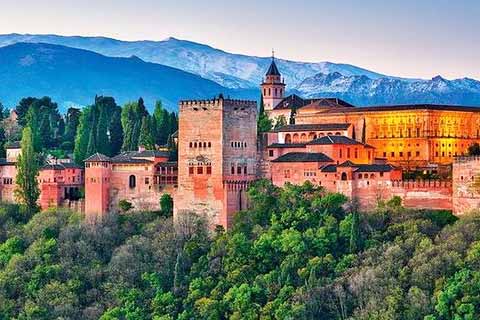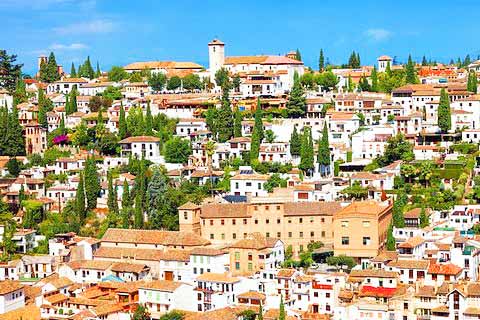 ---
So, What Does Motril Have to Offer?
Motril is not only the most important
commercial center
and
major port
in the Costa Tropical, but it's fast becoming a tourist destination as well.
Weekly cruise ships now dock at the port of Motril; while golf courses, shopping centers, parks, museums, hotels and new access roads are all being further developed.
Note: Recent statistics show that its population of Motril is up to 51,000... and still growing.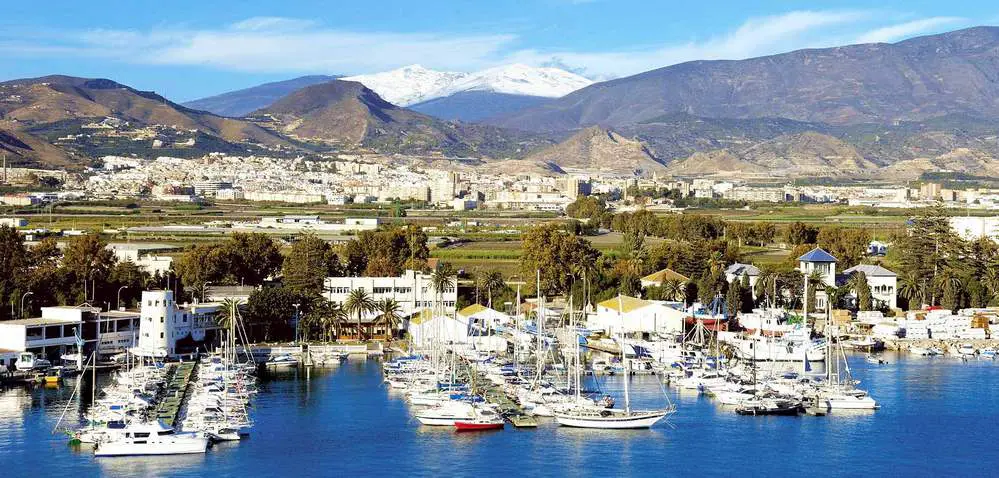 ** The Port of Motril - Motril, Spain
A new full-service ferry is also making DAILY trips between Motril and several Moroccan towns... We have more information on this below!!
Rural tourism is also on the rise in Spain, and Motril is a great jumping off point for travelers venturing into the breathtaking Alpujarras, the Sierra Nevada region and the nearby Lecrín Valley.
The most upscale area of town, and the most popular for tourist, is Playa Granada. Sitting right on the Mediterranean Sea, this area draws summer vacationers from all over Spain and now even has THE nicest resort hotel on this part of the coast, The Playa Granada Resort Hotel and Spa.
---
Where is Motril?
Motril is brilliantly located right in the center of the
Costa Tropical
, between the sea and the mountains and between the two towns of
Salobrena
and
Calahonda
from east to west.
It is also:

64 km (55 min) directly south of Granada (capital city - Granada province)
94 km (1 hr 15 min) east from Malaga (capital city - Malaga province)
108 km (1 hr 15 min) west from Almeria (capital city - Almeria province)
The Sierra Nevada Ski Resort is 1 h 22 min (91.2 km) to the north...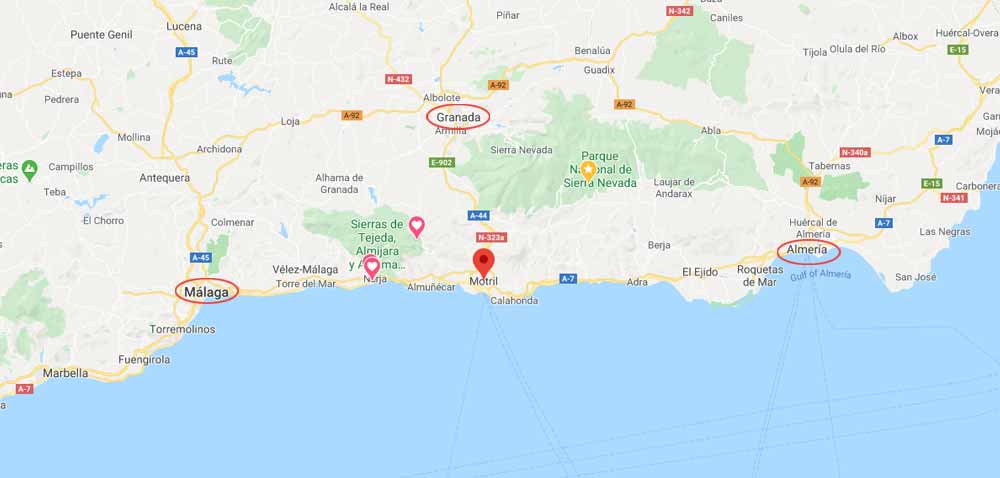 AND, because of its thriving ferry service... Motril is only 4 - 8 hours from the Moroccan towns of Nador, Tangier, Melilla and Al Hoceima.
A visit should only take a few hours.
---
But First... A Brief History
Motril's historical past is one shared by many of the other towns along the Costa Tropical... having been inhabited by the Phoenicians, Greeks, Romans, and Moors...
During Moorish times, the great King Boabdil, the last king of Granada, spent a lot of time in Motril at his mother's palace, which was located where the Santuario Nuestra Senora de la Cabeza now stands.
The area's real economic boom came later in the 19th century with the growth and production of sugar cane.
In later times, and continuing today, the farming of tropical fruits and vegetables became a stronger economic force. Thanks to Motril's temperate sub-tropical climate the area produces TONS of Chirimoyo, avocado, mango, nispola and many other exotic fruits that are farmed here and shipped all over the world.
---
The 10 TOP Things to See and Do While in Motril!
1
Relax on One of Motril's Pretty Beaches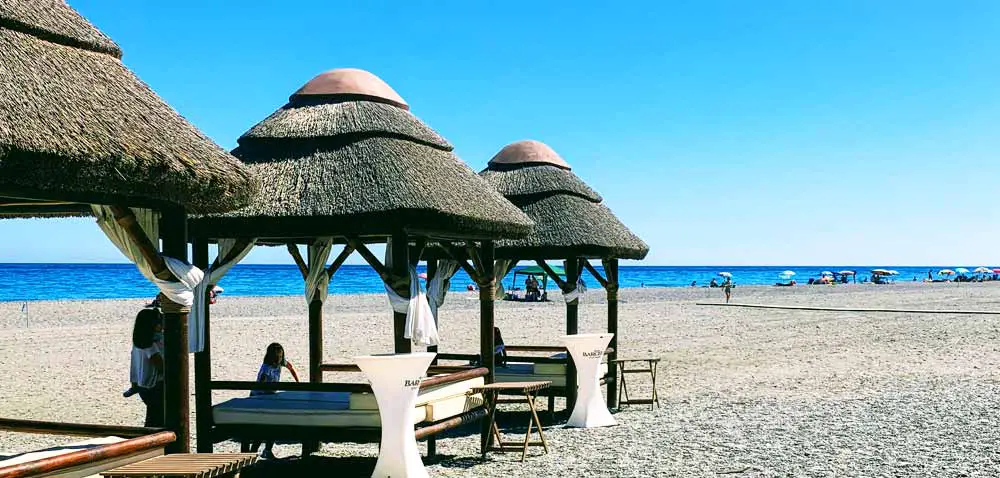 ** Playa Granada - Motril, Spain
The Motril beaches are wide and long and peppered with lively chiringuitos from end to end. The town can claim 7 beaches of its own... Playa Granada and Playa Poniente being its two most popular.
The other Motril beaches are Playa Joya, Playa Carchuna, Playa Torrenueva, Playa Rijana, and Playa El Cable... all are just a few minutes in either direction. Playa Calahonda is also often considered a Motril beach because of its close proximity and the small size of its own town (which is basically a suburb of Motril).
Note: The Costa Tropical coastline (and Motril as well) is known for its calm waters and being THE favored spot for snorkelers and divers on Spain's southern coast.
The most popular areas for diving & snorkeling are:

---
MOTRIL TOURIST INFORMATION
Oficina de Información Turística - Plaza de las Comunidades, +34 958 825 481
Located just at the entrance of the Parque de los Pueblos de America.
Open Daily:
10 am – 2:15 pm, and
5 pm – 7 pm (except on Sunday)
Website: www.motrilturismo.com
Website: www.negociosenmotril.es - A new site with listings of local businesses operating during the COVID-19 outbreak with information on home deliveries, etc.
Email address: turismo@motril.es
---
2
Learn About Motril's Sugar Cane Cultivation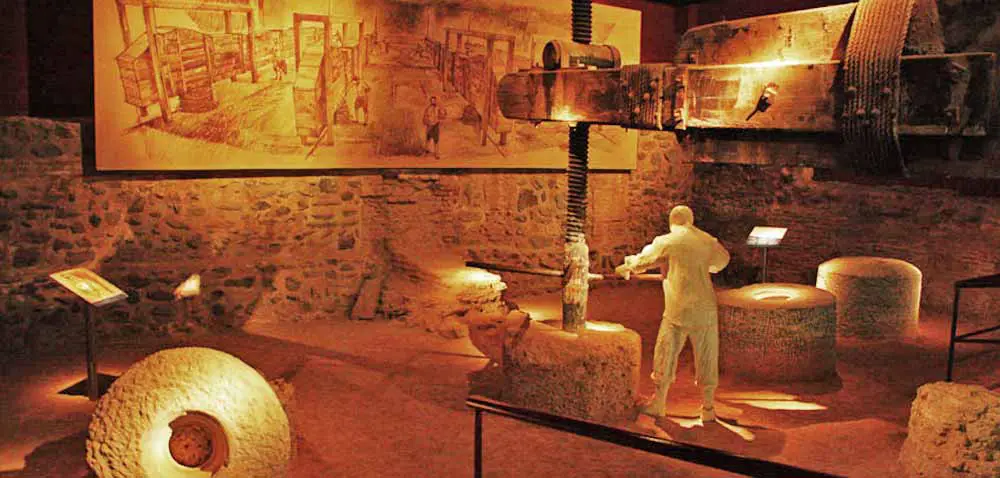 ** Museo Preindustrial del Azucar - Motril, Spain
Oh My! How Sweet You Are!!!
Motril's history is based around nearly one-thousand years of sugar cane production!!
The entire area was at one time covered in sugar cane plantations that supplied sugar (a luxury at the time) to the rest of Spain... but especially to the Moorish Kings in Granada. Being a luxury item, sugar was taxed VERY highly, which provided a huge boom to the Motril economy.
If you are interested in learning more about this history, check out these sites in Motril:
Museo Preindustrial del Azucar

- Located in the Casa de Las Palmas (from the 16th century). A museum focused on sugar cane cultivation between the 13th and 18th centuries, tour the oldest sugar mill in Europe and don't miss seeing its impressive tool collection.

Casa de Las Palmas

- The home built by a Moorish man (Jerónimo el Cebtini) at the same time the sugar mill was built. The house was later confiscated by the Christians during the revolt of 1570. Today it houses the Museo Preindustrial del Azucar.

Motril Sugar Warehouse

- Located in the old Nuestra Señora del Pilar Sugar Factory you can find a fantastic exhibition room with numerous pieces of artwork. You will also find the popular restaurant "Museo del Azúcar", which is definitely worth a visit!
---
Preindustrial Sugar Cane Museum
Opening hours
Tues - Sat: 10:00 – 14:00 | 16:00 – 19:00
Sunday only mornings
Monday closed
Price:
3.00€ / Seniors (2.00€)
Motril Sugar Warehouse
Price: FREE
---
3
Stroll Through Motril's "Parque de los Pueblos de America"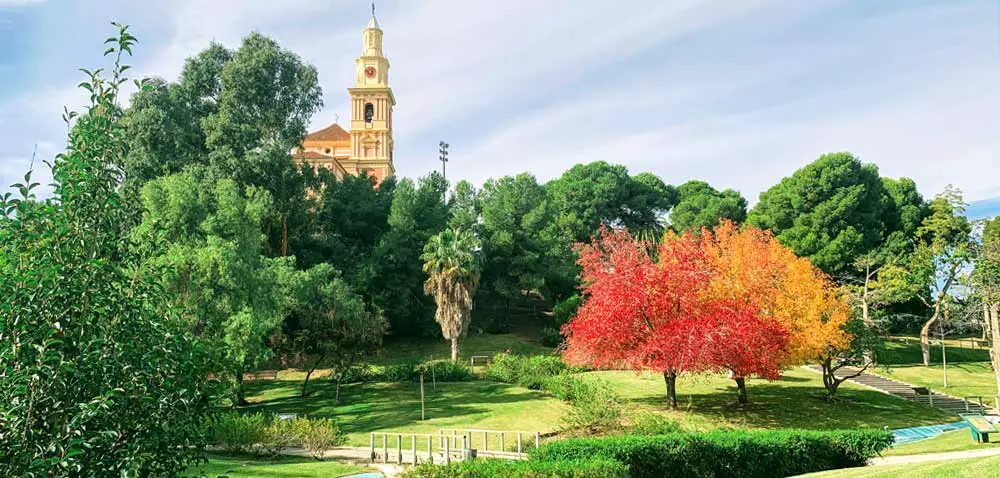 ** Parque de los Pueblos de America - Motril, Spain
This is a lovely little park at the base of the Nuestra Senora de la Cabeza Church. It's a great place to take the kids to run around or roll across its freshly manicured lawns.
The park houses a collection of sub-tropical plants, shrubs and trees from the Americas;
Washingtonia Palms,
Bright purple Jacarandas, and
Pink and Orange Bougainvillea's...
You can expect to see a BEAUTIFUL burst of color at any time during the year!!
The statue in the middle of the gardens represents the connection and symbiosis between the people of Spain and the Americas...
Parque de los Pueblos de America also has a nice water feature; streams, bridges and a large fountain in the middle.
The park is OPEN all day!
---
4
Visit the Motril History Museum
Located in the Casco Antiguo or old town, the History museum is housed in the "Casa Garces", right around the corner from the town's Cultural Center.
The Motril Museum has an interactive display of the town's history from its first settlers up to today.
Motril History Museum
Opening hours: Tuesday - Saturday: 10:00 - 14:00 | 16:00 - 21:00
Price: 3.00€ / Seniors (2.00€)
---
5
Visit the Santuario Nuestra Senora de la Cabeza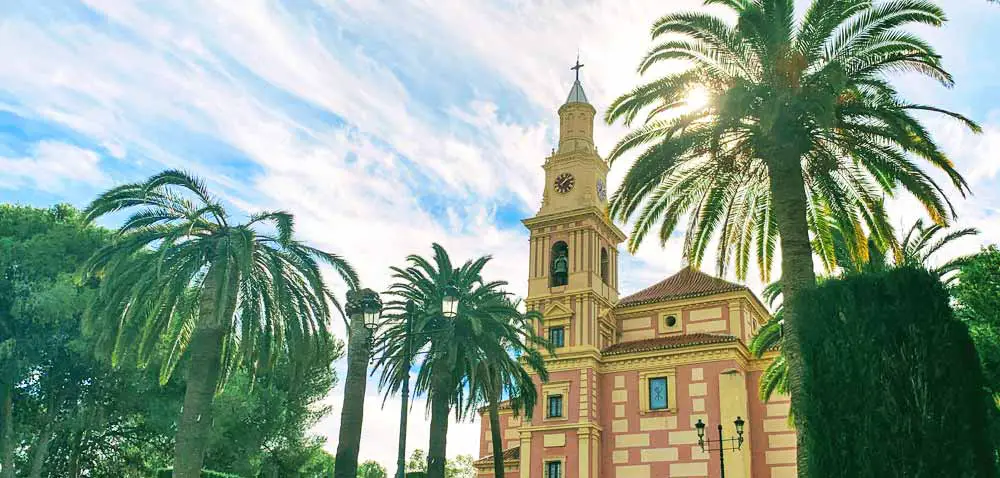 ** Santuario Nuestra Senora de la Cabeza - Motril, Spain
This extraordinary church was built on what was once a Nasrid palace and home to the mother of the last King of Granada (Boabdil... also known as: Abu `Abdallah Muhammad XII).
It is said that he spent many months with her every year in Motril... in this palace...
After the Moors were expelled from Spain, the palace was left in disrepair for many years... until in 1631, a sanctuary was built.
The new church was unfortunately destroyed during the Spanish Civil War but was later restored to its original plans. It has since been named and dedicated to the Patron Saint of Motril, the Virgin de la Cabeza.
The Treasury and tower can be visited by paying a 1 € donation fee.
Nuestra Senora de la Cabeza Sanctuary
Opening hours: Daily: 10:30 – 13:00 | 17:00 – 19:00
Services: Tues - Sat: 20:30, Sundays: 10, 13 y 20:30
Price: FREE
---
6
Walk Through the Motril Old Town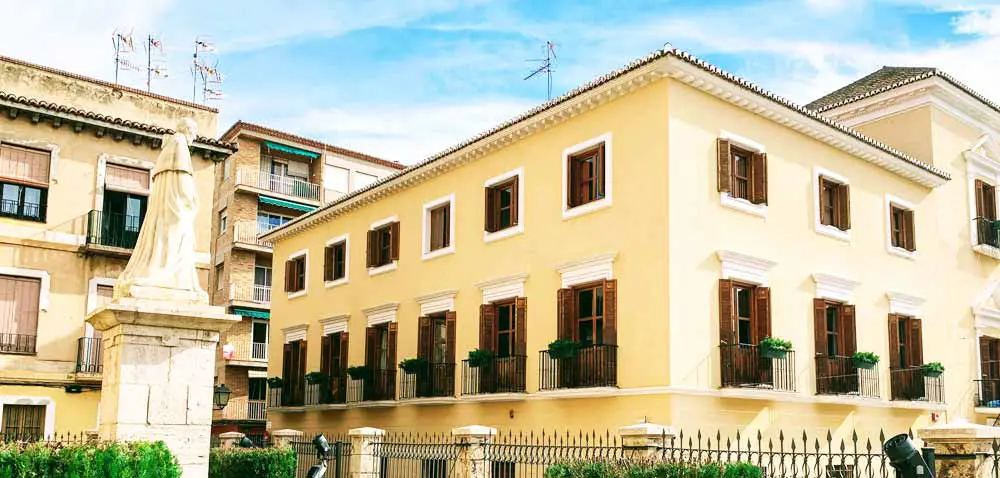 ** Part of the old town - Motril, Spain
As far as "old towns" go in Andalucia, the Motril "old town" is pretty basic... It's more commercialized than the surrounding towns and not as fixed up, but it IS a great place to go for shopping in the area.
ALSO, the historic district within the "old town" (which is also quite small)... has a few interesting sites that are worth a visit:
The Encarnación Church

- This church was built just north of the early Nasrid village upon the site of the ancient Alixara mosque (1510-1514). It has been declared a "Site of Cultural Interest".

Hernández Quero Art Centre

- You will find the art center housed in the old Palace House Ruiz de Castro (once belonging to one of the most important Motril families from the 17th Century). The center displays the artwork of one the most important artists from Granada during the second half of the 20th Century, Hernández Quero.

Casa de la Condesa de Torre-Isabel

- Now housing the Motril Cultural Center, this noble house was built during the second half of the 18th century.

Motril Town Hall (Ayuntamiento)

- The original building dates to 1631, but only the façade and main corridor have been preserved.

Calderón de la Barca Theatre

- This theatre has a neo-classical, Italian design which dates to 1880. It has been recently restored to the original style. It has ALSO been designated as a "Site of Cultural Interest".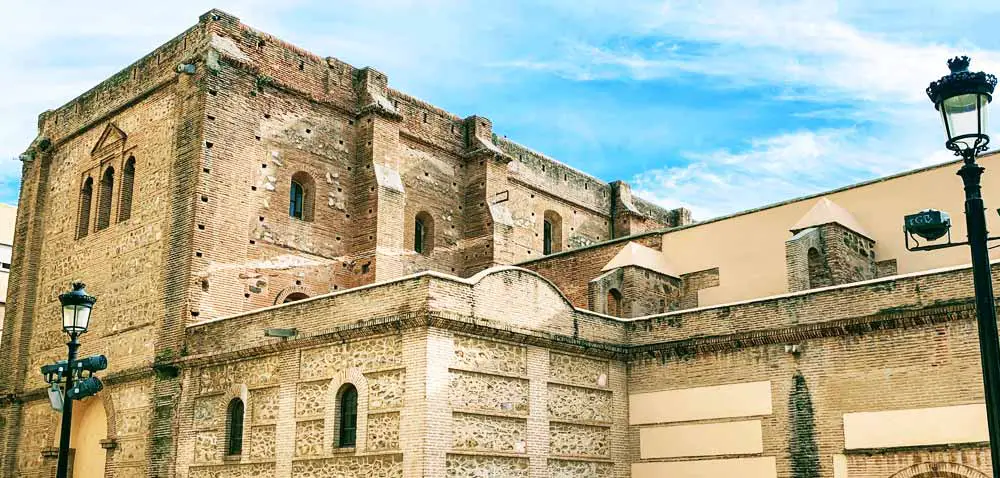 ** The Encarnación Church - Motril, Spain
---
7
Play a Round of Golf by the Sea...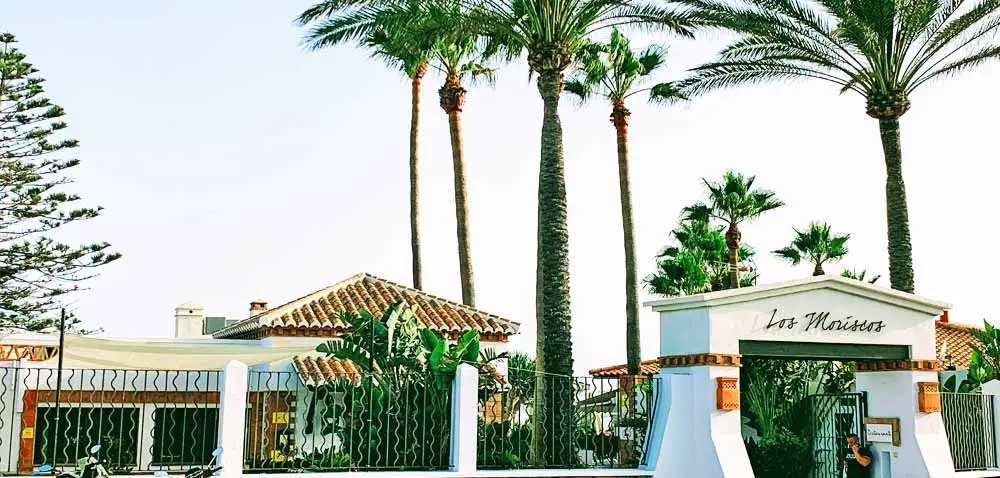 ** Los Moriscos Golf Club - Motril, Spain
The Los Moriscos Golf Resort is a perfect way to spend the day with friends. It's an 18-hole walking course that sits right on the edge of the Mediterranean Sea. There is also a driving range if you just want to practice your swing.
The course has been described as fairly easy and can be completed in about 2-hours.
Afterwards, grab a drink and enjoy the views with friends in the Club Bar, it's right on the Granada beach!
➜ Read: Everything you need to know about the Los Moriscos Golf Resort
---
8
Drink Some Motril Rum... for FREE!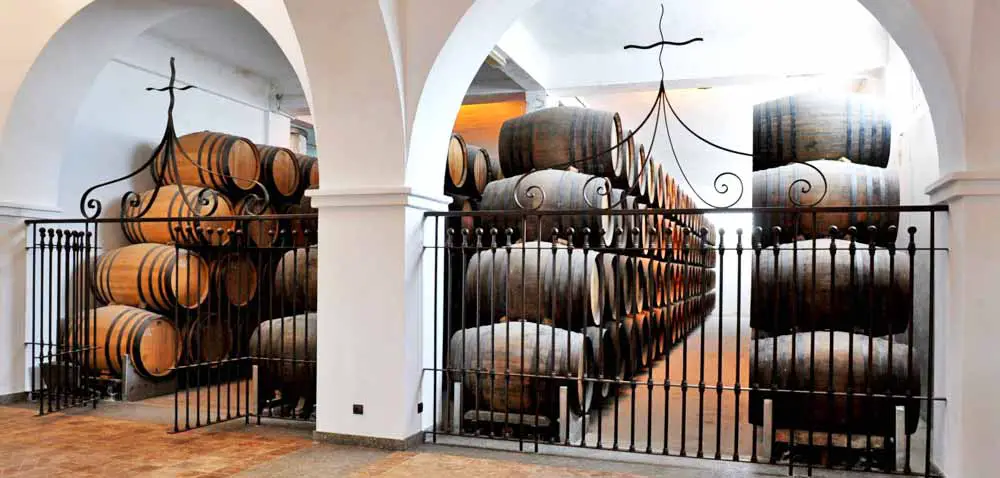 ** Ron Montero Bodega - Motril, Spain
The Montero Bodega was founded by a family with deep connections to the history of sugar cane production in Motril. They once owned two of the most important and successful sugar factories in the area (Guadalfeo Sugar Factory and Montero Sugar Factory).
Today they use traditional methods in making their internationally acclaimed rums and will show you the entire process... with a FREE tour of the facility... AND, you also get to TASTE the rums...
Purchase a few if you'd like, they make great gifts!
➜ Read: All About the Ron Montero Bodega - Tours, Hours & History
➜ Check Out: Tour to Motril - Rum Tasting in the Ron Montero Rum Factory!
Ron Montero Bodegas
Guided Tours: Tues - Sat: 12:00(Spanish) & 13:00 (English)
Tasting Included. Group tours book by phone: 958 600 183
Price: FREE
---
9
Go Bird Watching in the Motril Wetlands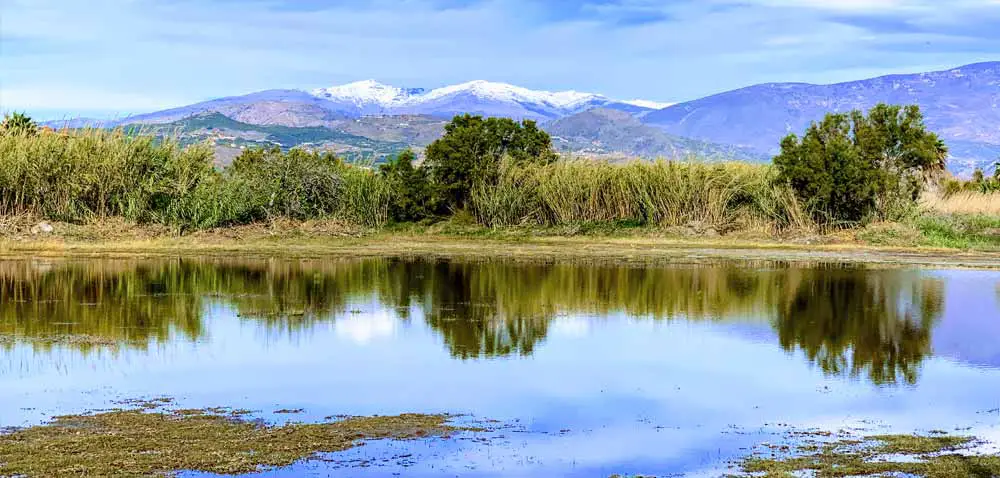 ** Charca Suarez Wetlands - Motril, Spain
Would you believe there are wetlands just inland of the Granada coastline that are home to thousands of marine species? It is one of two very important and protected natural wetlands in the area, the other being 40-minutes away outside the town of Padul (also worth a visit).
Walking into this park is like walking into another world... You leave the hustle and bustle of town life behind you... and walk into a place of silent serenity.
It's a wonderful place to visit, full of winding paths, several lakes and streams, and little wooden houses where you can sit quietly and observe the wildlife. Silence is not only appreciated but encouraged... so that the birds and other creatures can go about their business undisturbed.
This is also a great place to take the kids... as long as you can keep them quiet... Shhhhh....
➜ Charca de Suarez - Motril Wetlands - 10 Things You Should Know Before You Go!
Charca de Suarez - Motril Wetlands
Opening hours: Mon - Fri: 16:00 – 18:00,
Sat - Sun: 9:00 - 13:00 | 16:00 - 18:00
Group tours can be booked ahead: 651 819 134
Price: FREE
---
10
Rent a Bike on the Poniente Promenade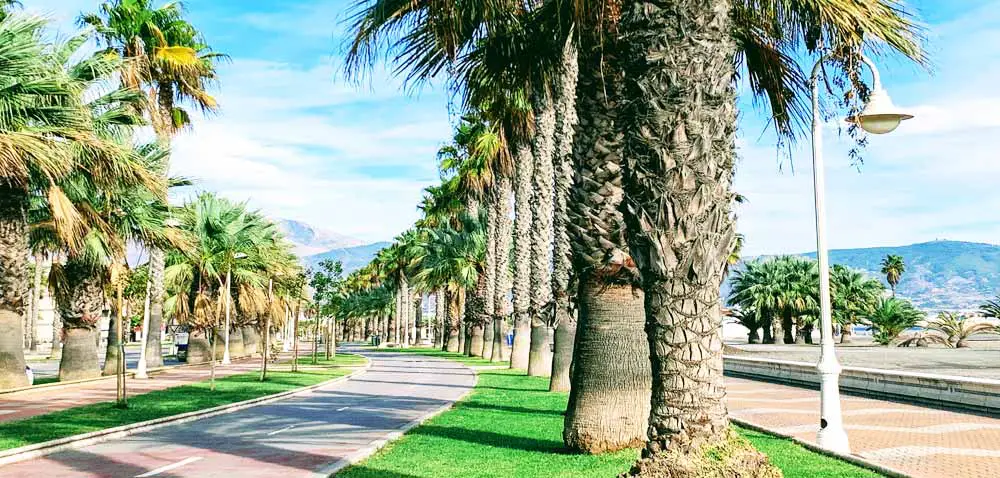 ** Playa Poniente Promenade - Motril, Spain
The Motril Playa Granada coastal area is totally flat and perfect for biking. There is a fabulous promenade that runs the length of Playa Poniente... and from there you can take the coastal road through the entire Playa Granada area.
If you are staying at the Playa Granada Resort Hotel & Spa, they have a huge bike room with FREE rentals, as does the campground in front of Playa Poniente.
This whole area is very lively during the summer months... Take a break along the way and go for a swim or grab a drink at one of the beachside chiringuitos.
---
11
Take a Ferry from Motril to Morocco... (Major Bonus!)
Yes! Can you believe it? You can actually go to MOROCCO! AND, it is Fabulous!!
We LOVE Morocco, it is such an exotic place to visit, unlike any place we have ever been... the food, the people, the spices, the colorful medinas and beautiful architecture... to think you can just hop on a ferry and end up in such an exotic place is amazing...
The Motril port has ferries leaving daily with crossings to Melilla, Tangier, Al Hoceima and the coastal town of Nador.
If you think you may be interested... keep reading...
---
Motril to Tangier (Morocco)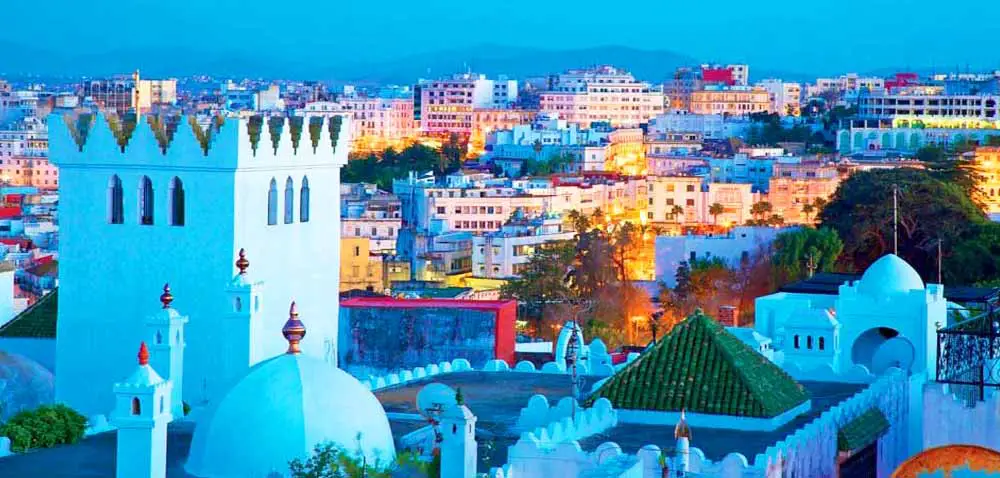 ** Tangier, Morocco
The longest journey from the Motril port is to Tangier. There are 7 sailings per week with a duration of 8 hours. Tangier is the gateway city to the rest of Morocco and a MAJOR port on the Straits of Gibraltar (as it has been since Phoenician times).
A walk through the bustling Tangier medina is like a walk back in time... and an experience you are unlikely to forget.
The two towns of Ceuta and Tetouan are very close and are also great places to explore.
Check Schedules and Prices for Motril - Tangier Ferry
---
NOTE:
There are two OTHER towns on the Southern Coast of Spain (Cadiz Province) that have ferries that go directly to Tangier --- Algeciras and Tarifa. The ferry trips are MUCH shorter... but you need to keep in mind the drive from Motril down the coast...
Driving from Motril to Algeciras - 2 h 28 min (230 km) via A-7 and AP-7
Ferry to Tangier from Algeciras - 1 hr 30 min
Check Schedules and Prices for Algeciras - Tangier Ferry
Driving from Motril to Tarifa - 2 h 49 min (255 km) via A-7 and AP-7
Ferry to Tangier from Tarifa - 1 hour
Check Schedules and Prices for Tarifa - Tangier Ferry
TOP HOTEL - TANGIER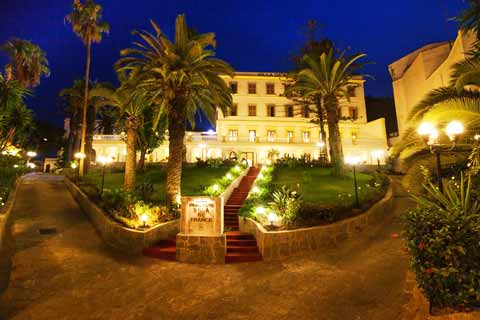 ---
Motril to Melilla (Spain)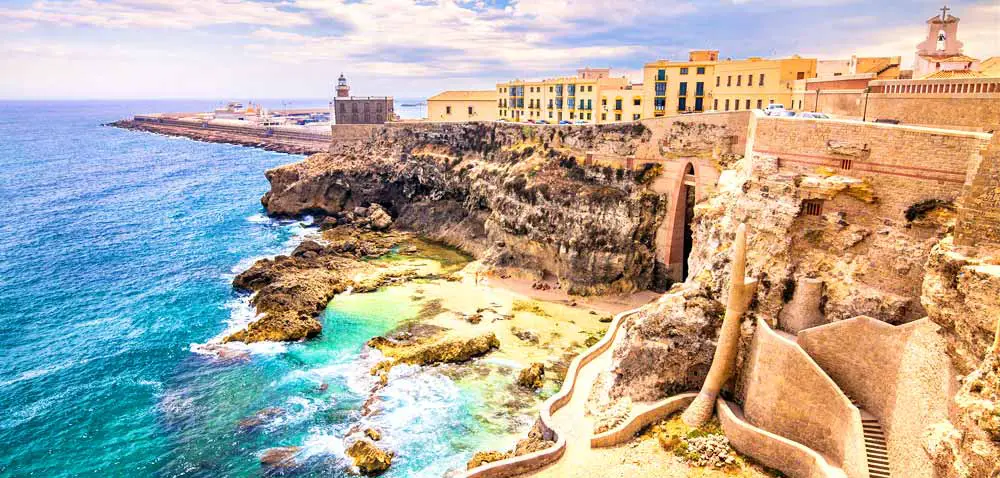 ** Melilla, Spain
There are 6 sailings per week from Motril to Melilla with a duration of 5 hours and 45 minutes.
Melilla is actually a Spanish city located on the northern coast of Africa. It is one of two Spanish cities in mainland Africa, the other being Ceuta (near Tangier).
Melilla is also the sister city of Motril.
Check Schedules and Prices for Motril - Melilla Ferry
TOP HOTEL - MELILLA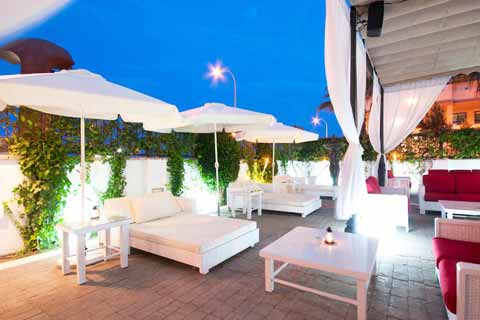 ---
Motril to Alhucemas (Also Called El Hoceima) (Morocco)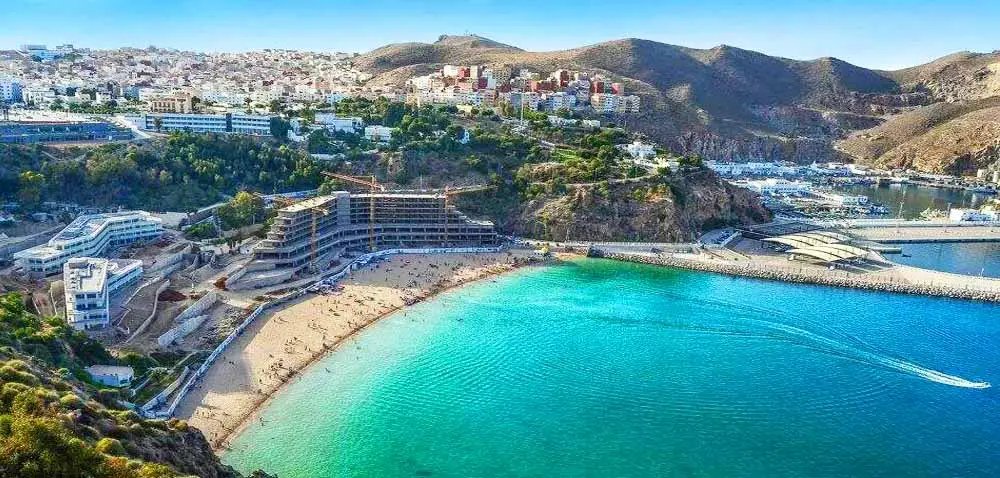 ** Alhucemas, Morocco
You will find 4 sailings per week from Motril to Al Hoceima with a duration of 5 hours.
Al Hoceima is a town on the Mediterranean coast at the edge of the Rif mountain range in northern Morocco. It is the capital city of the Al Hoceima Province.
Al Hoceima is a good choice to visit because from there it's only a 4-hours' drive to the incredible city of Fes.
Fes is a northeastern Moroccan city often referred to as the country's cultural capital. It's most known for its walled medina, vibrant souks and old-world atmosphere.
Check Schedules and Prices for Motril - Alhucemas Ferry
TOP HOTELS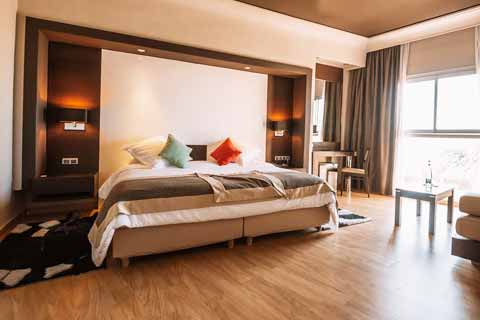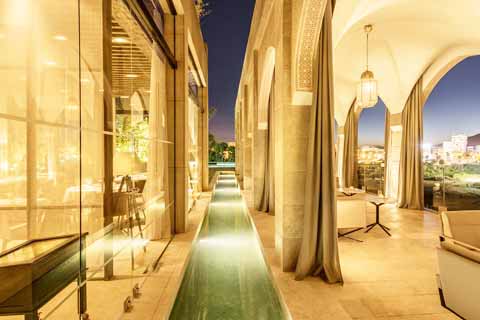 ---
Motril to Nador (Morocco)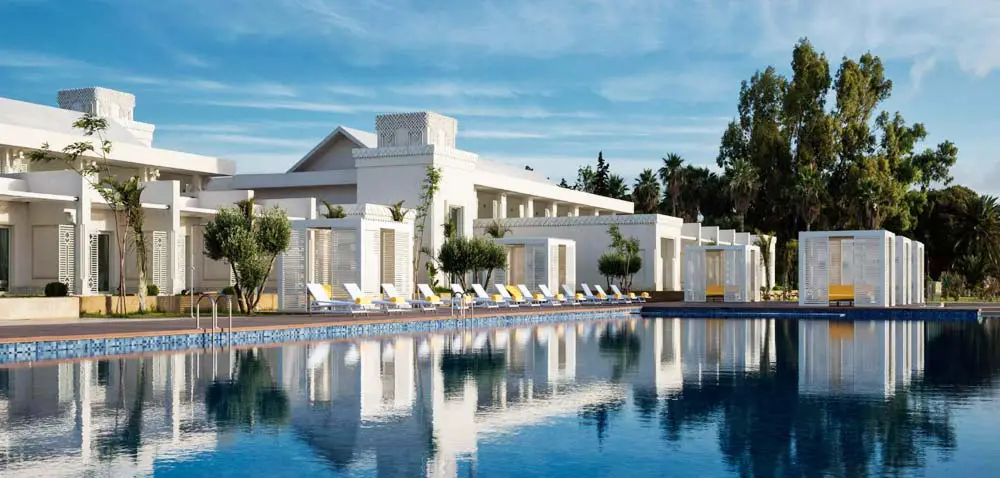 ** Marchica Lagoon Resort, Nador Morocco - 4 Hours from Motril
There is a ferry from Motril to Nador 4 times weekly with a duration of 4 hours.
Just 10 kilometers to the south of the Spanish city of Melilla (and also within the Rif mountain region) you will find the coastal Moroccan city of Nador.
Its best feature is its salt lagoon called Sebkha Bou Areq, Bḥar Ameẓẓyan or Mar Chica and its beautiful 5-star resort, Marchica Lagoon.
Check Schedules and Prices for Motril - Nador Ferry
TOP HOTEL - NADOR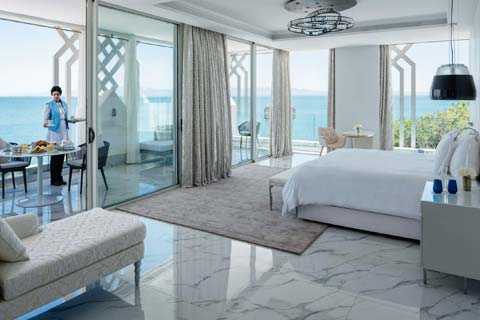 ---
Other Interesting Information You Should Know About Motril
1
The King and Queen of Belgium Have a HUGE Estate on Playa Granada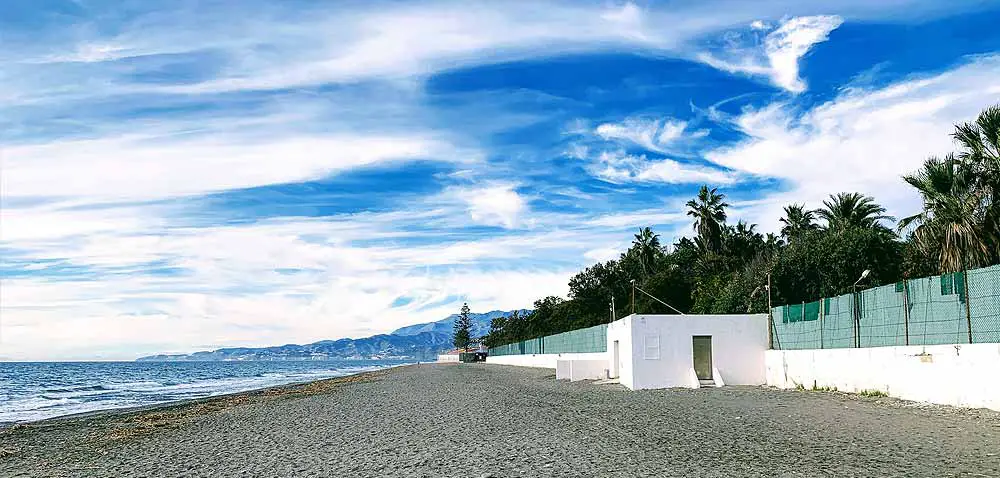 ** La Astrida - Motril, Spain
It's actually more like a walled-in fortress. The property is huge and takes up almost one whole city block, running from the start of Playa Granada all the way to the Los Moriscos Golf Club.
You will know when the King and Queen are home when the house is surrounded by security detail.
---
We were pleasantly surprised with the shopping in Motril. The old town is quite small, but does have some nice, higher end stores. There are a number of very nice children's clothing stores... as well as for men and women.
The old town also has several popular Spanish chains like, Bershka, Women'Secret, Zara Kids and OYSHO among others.
Just on the outskirts of town, you will also find a number of "big box" stores like Leroy Merlin, Worten, Al Campo, Decathlon and plenty of large grocery store chains.
People come from all over the Costa Tropical area to do their shopping in Motril, so you should be able to find almost anything you need...
---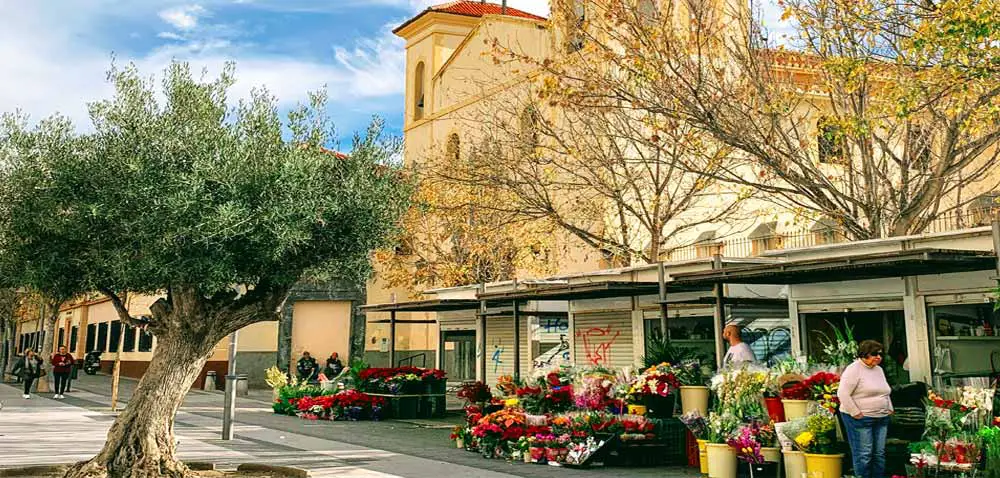 ** The Motril Markets
Oh La La... A Spanish Market! Just like all the other Spanish villages along the coast, Motril has its own vibrant markets!
The Municipal Market is held every Monday - Saturday from 9:30 - 2:00.
Operating since 1955, the municipal market is a great place to find... butchers', fish markets, bakeries, fruit and vegetable stands, organic produce, coffee shops and more. In the adjacent square, there are flower stalls.
The Motril Street Market is held Tuesdays and Fridays from 9:00 - 1:30 in the Rambla de los Alamos.
---
4
Playa Granada Resort Hotel and Spa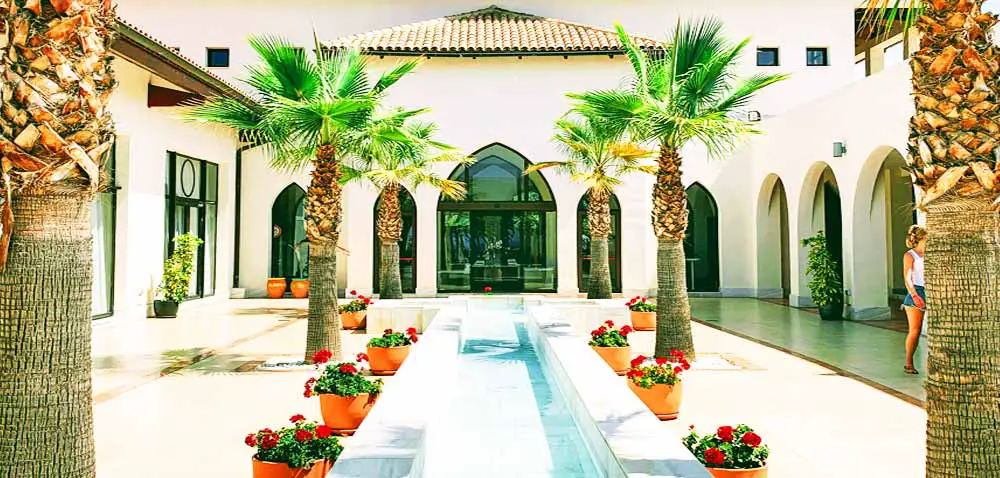 The Playa Granada Resort and Spa is THE BEST place to stay in Motril. It's great for adults and has a TON of things for the kids to do too!
Located right on the Los Moriscos Golf course, it has SIX tennis courts, outdoor pools, a kid's club room and evening entertainment.
You will also find luxury amenities like the WellFit Spa, indoor pools, sauna, Hamman, hot tub, fitness center, large indoor theater and a NIGHTCLUB!!!
The Playa Granada Hotel also has a very good restaurant called La Bodega that serves Mediterranean cuisine, and a wide variety of Spanish wines. Enjoy!!
Check Availability Playa Granada Club Resort Hotel and Spa - Motril
---
5
Casa de Los Bates - A Rural Estate
Another nice place to stay and a popular location for weddings and parties is this Italian-style, 14th century palace, Casa de Los Bates.
The surrounding property is exquisite with botanical gardens, an outdoor pool and views of both the Mediterranean Sea and the Sierra Nevada Mountains.
The restaurant at Los Bates is also very good and serves outside guests with a reservation.
If you are interested in just seeing the property, tours are available:
Non-guided visit around the gardens: 3€
Guided visit around the small palace and the gardens: 6€
Check Availability Casa de los Bates - Motril
---
6
Distances to Other Important Towns from Motril:
Larger Cities / Towns
Malaga: 94 km / 1 hr 12 min
Granada: 64 km / 53 min
Almeria: 108 km / 1 hr 12 min
Sevilla: 294 km / 3 hr 3 min
Cádiz: 329 km / 3 hr 32 min
Other Smaller White Villages
Nerja: 40 km / 35 min
La Herradura: 31 km / 33 min
Almunecar: 20 km / 28 min
Salobrena: 8.2 km / 14 min
Calahonda: 14 km / 18 min
---
7
When is the Best Time to Visit Motril
During the month of May and October you are most likely to experience good weather with pleasant average temperatures that fall between 20 degrees Celsius (68°F) and 25 degrees Celsius (77°F).
The hottest season / summer is in June, July, August and September. The warmest month is July.
Motril has dry periods in June, July, August and September (NO RAIN).
November is the wettest month.
On average, the coolest month is January.
July is the driest month.
---
Motril's gastronomy is closely connected to its history, its port and its climate.
The History - the Motril Vega has been covered in sugar cane plantations for centuries... as a result the Motrileños have learned how to incorporate their sweet molasses into many interesting dishes. A typical favorite is salad, drizzled with molasses and topped with crumbled goat cheese and pecans.
The Port - Fresh seafood is brought in daily from the Motril port and shipped up and down the coast. If you like seafood, this is about as fresh as you can get it... and they know just how to prepare it!
The Climate - Located in a sub-tropical micro zone Motril is brimming with tropical fruits and veggies. Some of the ones you will find in abundance are: avocados, chirimoya, mangos, papayas and guayabas...
Motril is also well-known for its Choto, or BBQ goat stew...
---
Some of Motril's top celebrated fiestas are:
Earthquake Day - (Jan 13th) A day to remember the final day of a series of devastating earthquakes that hit Motril in 1804.
San Juan - (June 23rd and into the night of the 24th) A summer celebration where bonfires line the beaches all the way down the coast!
Patron Saint Celebrations of Carchuna, El Varadero, La Garnatilla and Calahonda - (July) Celebrations honoring the local patron saints of the surrounding villages. On July 16th, the Virgin Carmen is paraded through town and then taken out to sea by the local fishermen.
Fiestas de Nuestra Senora de la Cabeza (Motril's Patron Saint) - A full week of activities in honor of Motril's Patron Saint. Expect fireworks, music, dancing, entertainment for the kids.... and the list goes on...
Los Tablones - From March thru December these are the fiestas that take place in each of the Motril neighborhoods.
---
From Granada: Drive south on the A-44 for 55 minutes to reach Motril.
From Málaga: Head east on the A-7 for 1 hr and 12-minutes to reach Motril.

Who are we?
An American expat with over 20 years of experience living and traveling in Spain, specifically in Malaga and Granada. Darsey is a seasoned explorer of Andalucia. Drawing from decades of immersive experience, she offers deep insights into this enchanting region of Spain, including off-the-beaten path destinations, the best places to stay, and the top bucket list activities to try!
More...
Want to Save on your Next Trip?
Save money on your next trip with our favorite travel websites!
Find the Cheapest Hotels:
The Largest Selection of Villas & Apartments:
Cheapest, Most Reliable Car Rentals:
Best Bus & Train Fares:
Huge Selection of the BEST Tours & Activities
Discount Tickets to Museums & Attractions

See our Full List of Travel Deals & Site Recommendations Here.
There are several parking options in Motril. The larger, "big box" stores have large parking areas so parking isn't an issue but once in the old town it gets a little trickier.
I would recommend parking in one of the underground parking garages. The closest to the old town is at the corner of Calle Nueva and Calle Teatro. If you put that in your gps you shouldn't have a problem.
NOTE: Parking is not always well-marked within the old town. You usually must pay for all street parking. There are machines located along the streets where you can pay and remove a reciept for your car. If you don't pay, you will get a ticket very quickly!! So be careful!
---
I think that's all you need to know for a day out in Motril! Enjoy your visit!
---