Playa Rijana - Beach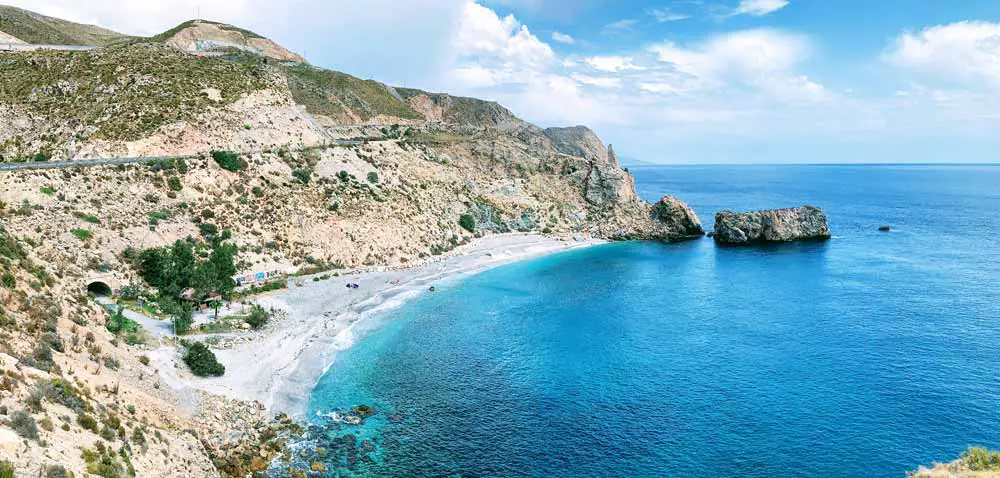 💡
Affiliate Disclosure:
  Please be aware that some links on this site are affiliate links, which means that we might receive a small commission ☕ if you click a link and make a booking. This helps us to keep the site running and will NOT affect the price you pay in any way... ❤️ 🙏 🙏 ➜
How does this work?
---
Playa Rijana... A Hidden Cove That You Will LOVE!...
Playa Rijana
is a spectacular little cove that is known mostly to the locals and not by many others.
We first discovered Rijana on a drive from the town of Calahonda going east on the old N-340 highway. As you make your way along this part of the beautiful, curvy coastal road you will enjoy amazing views of the sea, crumbling old roman watchtowers, high rocky cliffs and deep gorges that create these splendid little coves.
As we rounded the last curve before Playa Rijana, and it was revealed to us... our mouths dropped open... its beauty was spectacular...
Also: TOP Beaches in Motril
Also: TOP Beaches on the Granada Coast
---
Also Read: Costa Tropical Beach Guides:
What's Important to Know About Playa Rijana!
1. Playa Rijana - The Facts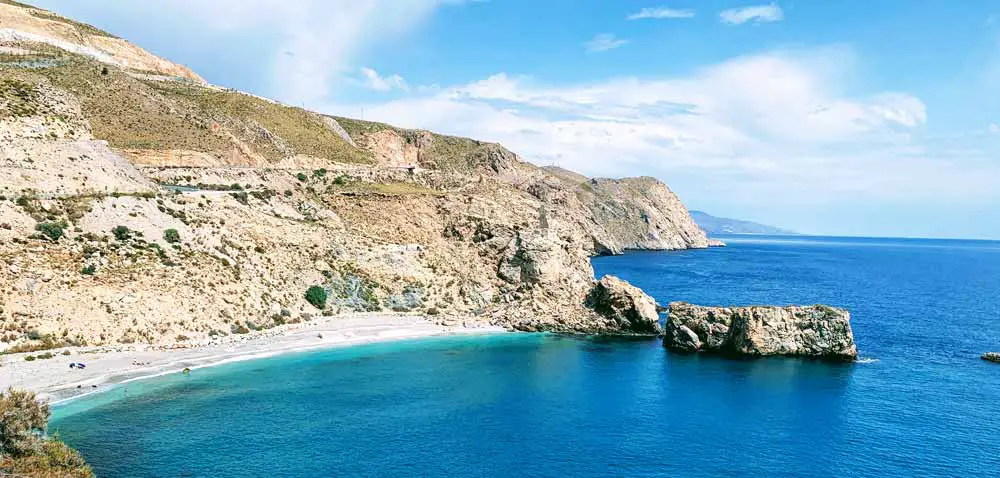 Playa Rijana is located along the southern coast of Spain in Andalucía, just after Motril and between the smaller towns of Calahonda and Castell del Ferro.

Of all the Costa Tropical Beaches, Playa Rijana is the most remote and undiscovered, but it's popular with the locals.

Playa Rijana is located in one of the many nature reserves along the Spanish coastline. This guarantees that the area will remain natural and untouched as further development has been forbidden.
---
What is the Sand like on Playa Rijana?
Playa Rijana is a pebble beach with semi-coarse sand. It is surrounded on all sides by natural cliffs and large rocks. One of the distinguishing features of Playa Rijana are the great rocks that jut out into the sea on its eastern end and the remains of a Roman tower that sit upon them.
---
How Long is Playa Rijana?
Playa Rijana
is 250 meters long and 20 meters wide.
---
What Facilities are available on Playa Rijana:
The only facilities on Playa Rijana are a small snack hut and portable bathrooms (only during high season). Otherwise enjoy the natural untouched beauty of this beach!
---
Why Visit Playa Rijana?
Visit this beach if you just want to get away from it all, and enjoy the day in a beautiful and natural setting...
2. Playa Rijana - How to Access the Beach...
Directions:
Take the N-340 (the old coastal highway) from the town of Calahonda going east for about 5 minutes. Drive slowly because the road is curvy, and the turnoff is easy to miss. When you come around the curve and see Playa Rijana below, the parking area will be immediately on the left-hand side of the road.
Parking fills up quickly during the summer months but during the off-season the area is very quiet.
Once you have parked, make your way to the north-western corner of the parking lot. There you will see a trail that takes you down into the ravine. Follow the trail for about 2 minutes and it will take you through a tunnel (under the highway) and out onto the beach.
Now, Enjoy!
---
3. Playa Rijana - How to Spend Your Day...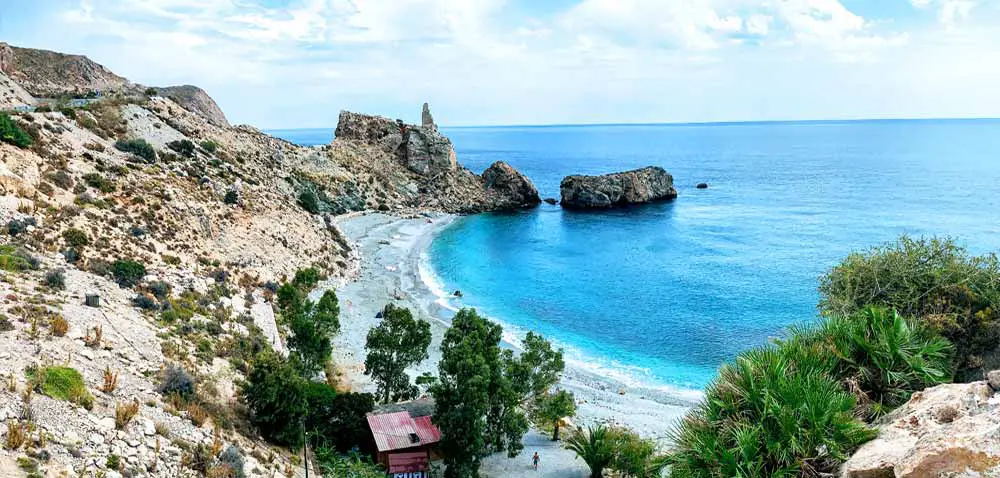 Because Playa Rijana is so remote and lacks the services of other beaches... come prepared. Also, come early! Parking is limited and fills up quickly.
Top Things to Do on Playa Rijana:
Take a Picnic

- There is a small tiki hut on one end of the beach that sells drinks and light snacks, but best to bring your own lunch.

Explore the Roman Ruins

- On the eastern end of the beach you will see the remains of an old Roman tower. Some people like to climb the rocks and explore the area. Many interesting artifacts have been found here over the years... see what you can find.

Bring your Goggles & Snorkel

- The water in this cove is well-known for being crystal clear and very still, it's the perfect spot for snorkelers.

Go for a Dive!

- This area is especially popular with scuba divers (as well as the Calahonda bay - 5 km away). There are several companies nearby that do diving tours.

Paddle around!

- During the summer months there is a company that operates right on the beach that offers paddle boards and kayaks... a perfect way for exploring the bay.
---
4. Playa Rijana - Where to Stay...
The Playa Granada Resort and Spa is
THE BEST
place to stay near Motril. It's great for adults and has a TON of fun things for the kids to do too!
TOP HOTELS - MOTRIL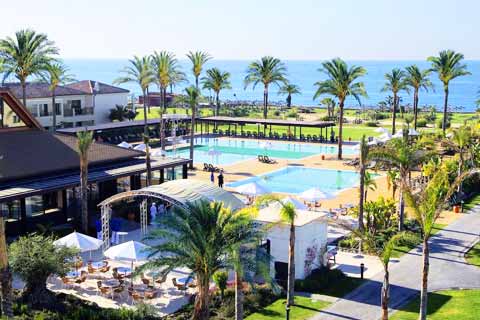 Read More about the Playa Granada Resort & Spa here: The Best Motril Hotel Guide
Or, Check Availability Playa Granada Club Resort Hotel and Spa - Motril
ALSO: A Recommended Calahonda Beach Hotel (closer by): OYO Hotel El Ancla - El Ancla is a very BASIC hotel located 150 m from the beach in Calahonda. It is clean, well-managed and gets good reviews.
TOP ACTIVITIES - NEAR PLAYA RIJANA
Private Half-Day Luxury Catamaran Sailing Cruise in Granada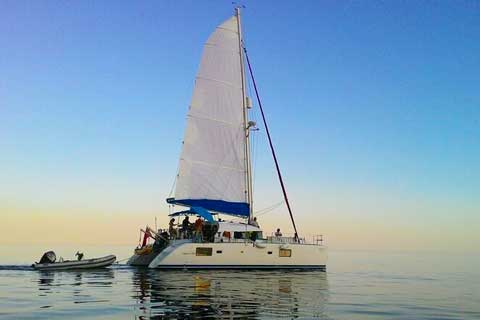 ---
How to Get to Motril and the Costa Tropical
From Granada: Drive south on the A-44 for 45-50 minutes to reach the Motril Beaches.
From Málaga: Head east on the A-7 for 50 minutes to reach the Motril Beaches.

Who are we?
An American expat with over 20 years of experience living and traveling in Spain, specifically in Malaga and Granada. Darsey is a seasoned explorer of Andalucia. Drawing from decades of immersive experience, she offers deep insights into this enchanting region of Spain, including off-the-beaten path destinations, the best places to stay, and the top bucket list activities to try!
More...
Want to Save on your Next Trip?
Save money on your next trip with our favorite travel websites!
Find the Cheapest Hotels:
The Largest Selection of Villas & Apartments:
Cheapest, Most Reliable Car Rentals:
Best Bus & Train Fares:
Huge Selection of the BEST Tours & Activities
Discount Tickets to Museums & Attractions

See our Full List of Travel Deals & Site Recommendations Here.
Have a great day on the beach!! ;-)