Experience the best of Nerja!
Where is Nerja?
Nerja sits right in the heart of Andalucia along the famous Costa del Sol... which is the most popular coastal area in southern Spain!
The Costa del Sol includes all the coastal cities and towns in the Malaga Province and stretches from Estepona to Nerja. Most of this area, as you can imagine, has become very commercialized over the years and is VERY busy during the summer months...
But Nerja is a bit different...because it sits at the tail end of the province it shares more characteristics with the Costa Tropical. Nerja sits just in front of the Sierras de Tejeda, Almijara y Alhama Natural Park so the area is typically more rustic, naturally beautiful, less developed, and enjoys the same cooler micro-climate as the Costa Tropical.
Keep Reading to Learn More about Nerja ▼
Nerja, Spain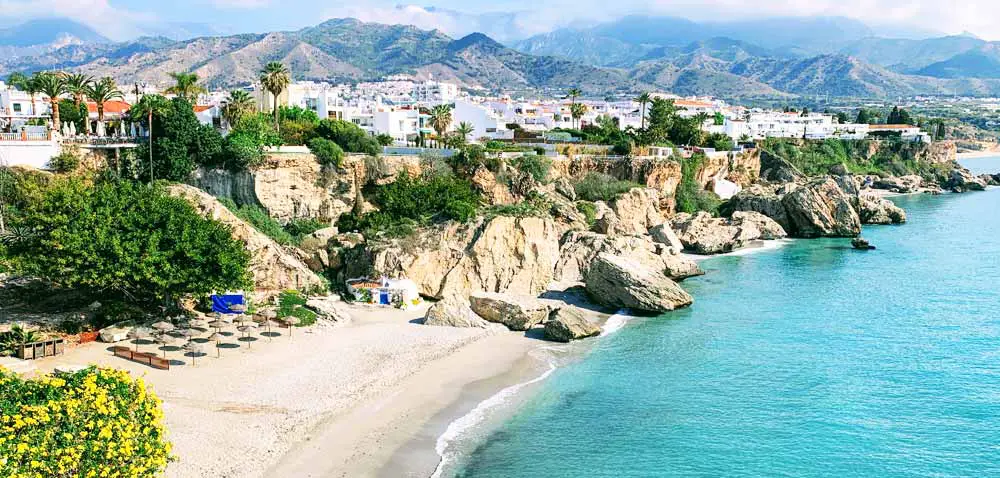 ** Playa Calahonda - Nerja, Spain
---
Nerja ➜ in the Costa del Sol ➜ and the TOP #20 Things To Do!
Nerja
is one of those
charming white-villages
in Spain that everyone is talking about. You know, the ones with the white-washed houses, beautiful old towns with winding streets and alleys full of brightly colored flowers and vines clinging to the balconies, small plazas full of quaint restaurants and tapas bars serving delicious Andalucian cuisine, and stunning white sandy beaches that meet the turquoise waters of the Mediterranean Sea...
And, when people visit Nerja (and its pretty neighbor Frigiliana) they often say... that these are the two MOST beautiful villages they've seen in Andalucia... AND, the two they enjoyed visiting the most.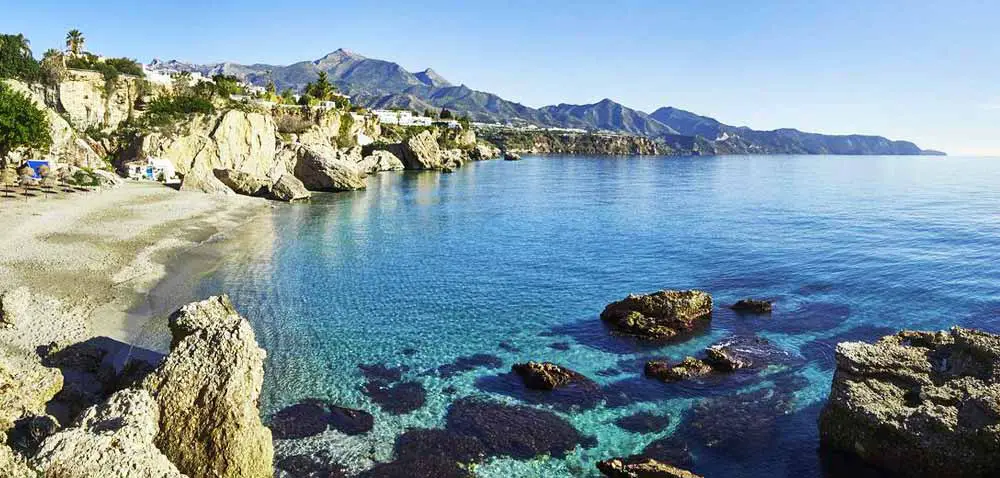 ** Views of the coastline from the Balcón - Nerja, Spain
---
If you're thinking about visiting Nerja, don't miss the Costa Tropical villages of Almuñécar, La Herradura, and Salobreña, just minutes away...
---
Day Trips to Nerja From Malaga or Granada

** Two Popular Beaches (Salón & Caletilla) - Nerja, Spain
Nerja, a small town on the sunny Costa del Sol, is a popular day trip destination from either Malaga or Granada. You can plan an excursion on your own or take one of these guided tours available from each of these nearby cities... if you want to leave the planning to the professionals.
Read our guide on the TOP day-trip excursions to Nerja, Frigiliana, and the Nerja Caves and why you can't miss them!
---
BEST Hotels & Where to Stay in Nerja
We recommend prioritizing location when choosing
where to stay in Nerja
. It's a small village, and if you love walking half as much as we do, consider one of these hotels within the old town. This way you don't need to worry about taxis or public transportation.
---
20 Incredible Things to Do in Nerja!
Nerja has some
seriously beautiful
things to see and some
seriously fun
things to do, so don't just waste your time lying around on the beach... well... do that too... But take advantage of these 20 amazing things to do while in Nerja. You won't regret it!
---
1. Visit the Nerja Caves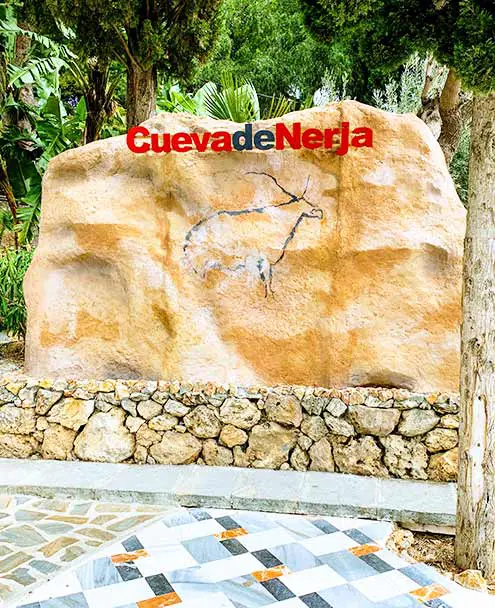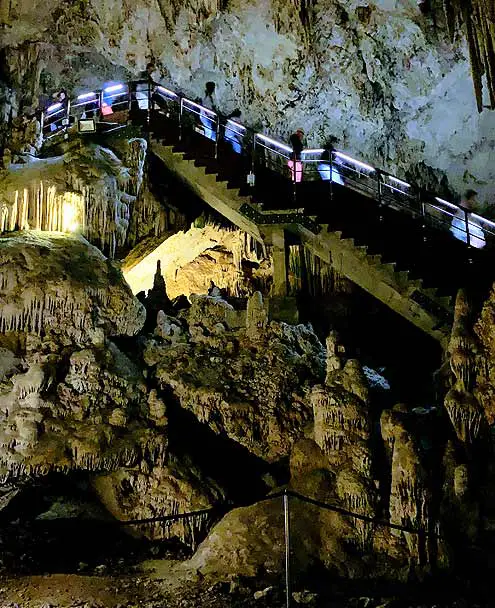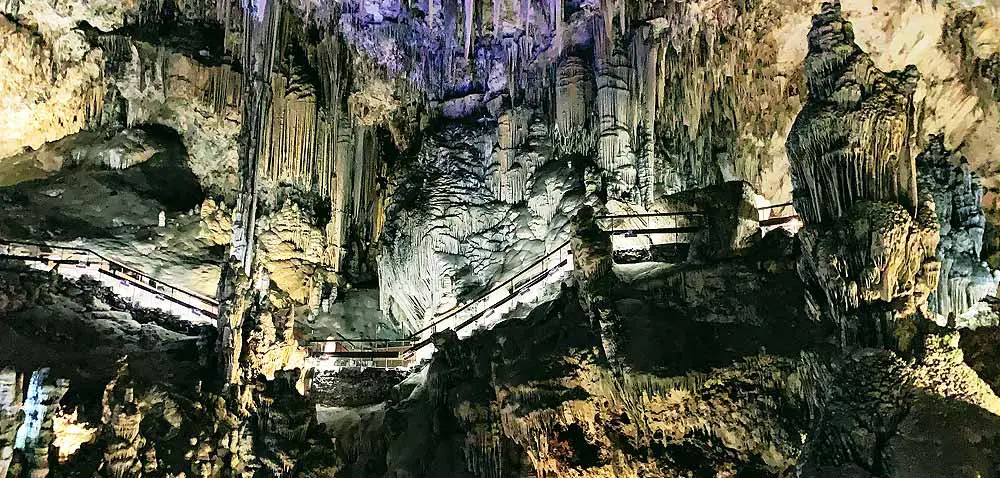 ** Guided walk in the Nerja caves - Nerja, Spain
This is one reason why SO many people come to Nerja, to see the world-famous Nerja Caves! These caves are extraordinary, so much so that they are listed in the "Guinness Book of World Records" for having the biggest stalactite in the world! What is a stalactite you ask? Read our article on The Ultimate Guide to the Nerja Caves and find out.
A trip to the Nerja Caves will take you about 1-2 hours, but it's well worth it. The general ticket also includes entry to the Nerja Museum but you can upgrade your ticket to also include a ride on the Nerja Tourist Train. The kids will love that!
---
2. Shop the Nerja Markets!
Almost every town in Andalusia has a daily market, and Nerja is no different. You will always find a wide assortment of fruits, veggies, spices, teas, plants and flowers... as well as handmade pottery and handicrafts that make great gifts or souvenirs.
There are also a ton of Moroccan items... Nerja has two weekly markets you can visit: the fresh food and spice market and the Sunday Rastro (which is a flea market or car boot sale). If you have the time, visit both!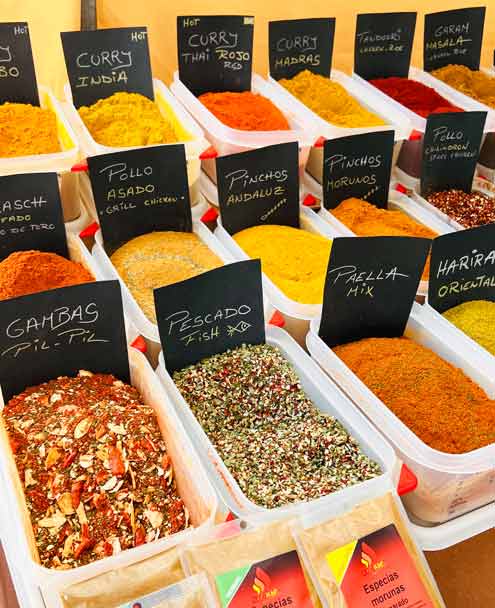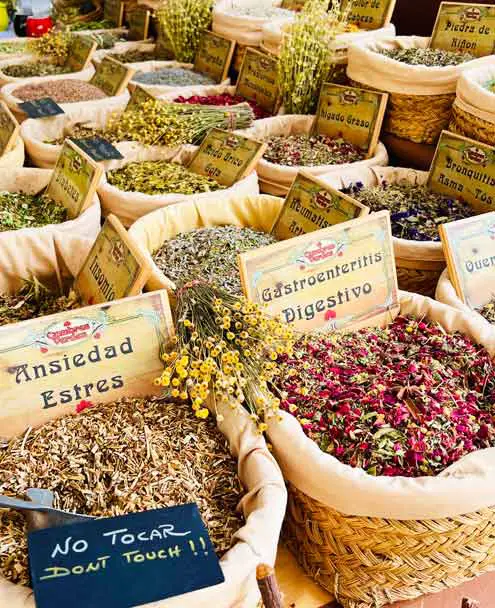 ** Nerja Markets - Organic Spices & Teas - Nerja, Spain
The Nerja Markets
Food & Spice Market:  Tuesdays (10 – 14:00)
The Rastro:  Sundays (10 – 14:00)
Location: Calle Cisne, Almijara II, 29780 Nerja, Spain (Málaga)
---
3. Tour the Old Town on the Nerja Train
Something the kids will LOVE is to take a spin on the
Nerja Train
. This is a great way to get your bearings when visiting a new place!
The train starts in Plaza Fabrica de los Cangrejos, next to Playa Torrecilla, and goes from Nerja to the village of Maro (past some of the most important sites) then to the Nerja Caves.
Note: If you plan on visiting the Nerja Caves and don't have a car, this is a great way to get there...
---
4. Explore the Balcón de Europa!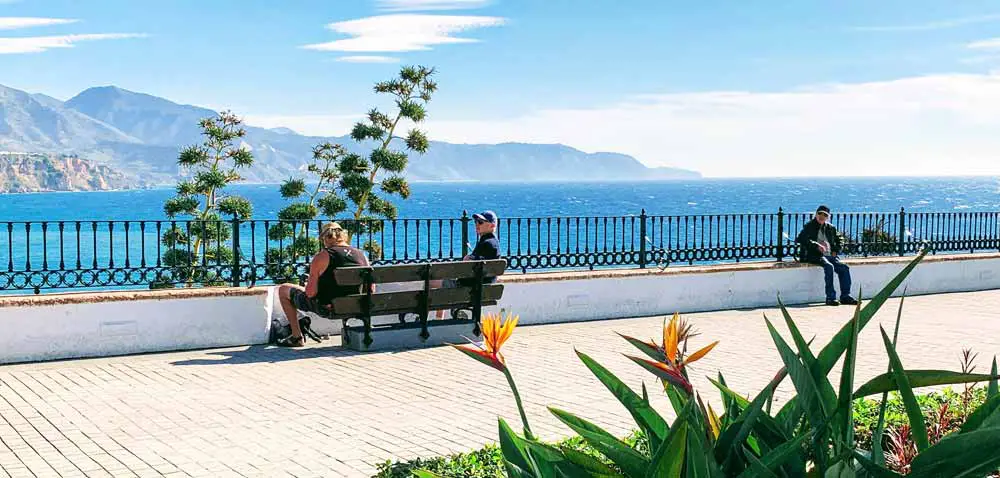 ** Views from the Balcón de Europa - Nerja, Spain
The thing that Nerja is most well-known for, besides its insanely beautiful beaches, is the Balcón de Europa at its center. 'Balcón de Europa' translates to 'Balcony of Europe'... and OH, what a balcony it is...
ALWAYS bustling with activity, you will find tourist admiring the stunning Mediterranean Sea views, enjoying a tapa in one of the cafes, watching the local artists paint, or just relaxing and taking in the festive atmosphere... The Balcón de Europa is truly a magical place to be!
---
5. Take a Photo with King Alfonso
A bronze statue has been erected in honor of
King Alfonso
that stands at the end of the Balcón de Europa promenade and is very popular with tourists. Don't forget to snap a photo with the dear king while you're in Nerja.
King Alfonso XII was the king of Spain from 1874 to 1885 and was the son of Queen Isabella II. He died of cholera in 1885.
On a visit to Nerja, after the great earthquake, King Alfonso was so delighted by its magnificent beauty and spectacular sea views that he declared... "He had found the balcony of Europe"... from which our dear Balcón received its name.

** King Alfonso II - Balcón de Europa - Nerja, Spain
---
6. Take a Stroll Along the Playa Calahonda Walkway
Just before you reach the Balcón from the shopping area, there is a doorway that leads down to
Calahonda beach
(behind the blue fountain). Take the stairs down to the beach and follow the path under the Balcón, past
Playa Caletilla
, and up the stairs on the other side until you reach
Playa el Salon
. From there you can take
Via Calle Salón
back to the Balcon Plaza and past the Church of El Salvador.
It is a wonderful place to stroll in the evenings and watch some of Nerja's incredible sunsets. During the summer months, there are often artists selling jewelry and other interesting crafts.
---
7. Peek Inside the El Salvador Church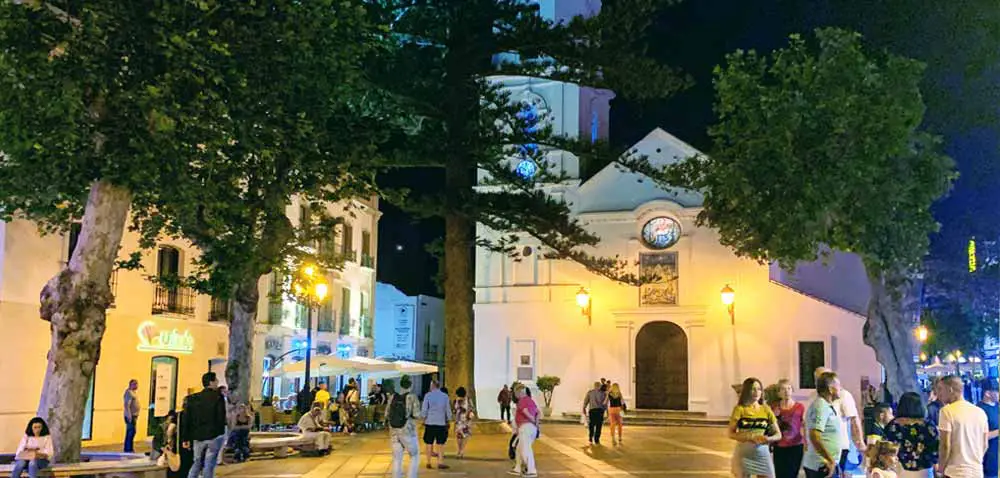 ** El Salvador Church - Nerja, Spain
This pretty church in Nerja sits on the western end of the Balcón de Europa and is host to many weddings, festivals, and religious processions during the year... most of which include singing, dancing, music, laughter... and lots of confetti.
Even in its quieter moments, the Church of El Salvador it worth a visit. The interior is less ornate than others but it contains representations of all three archangels (one of the few churches in the world to do so). The archangel of St Michael is highlighted as it is Nerja's patron saint.
---
8. Take a Ride in a Horse and Carriage
Another fun thing to do with the kids in Nerja is a horse-drawn carriage ride through the town. This option is only available during the summer months, but it is a fun and relaxing way to see the town. The ride takes approximately 30 minutes.
  Nerja Horse & Carriage Tours:
| | |
| --- | --- |
| Leaves From: | Plaza Fabrica de los Cangrejos |
| Price: | 30 euros per tour |
| Duration: | 30-minutes |
---
9. Take a Stroll through the Shopping District
Walking from the Balcón de Europa on
Calle Puerta del Mar
you will come across a labyrinth of small streets and alleys full of interesting shops and galleries. The area forms a loop and can easily be covered in an hour or so. It's also full of great restaurants, cafes, and tapas bars if you need a break from your shopping.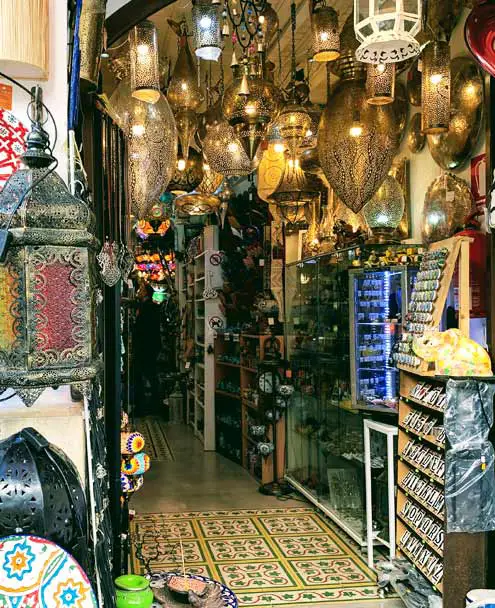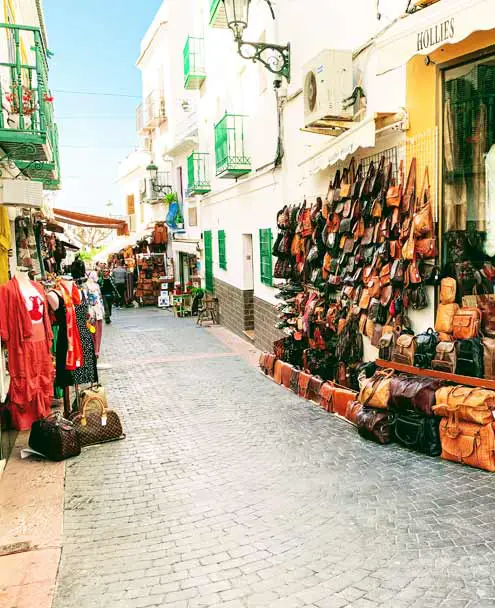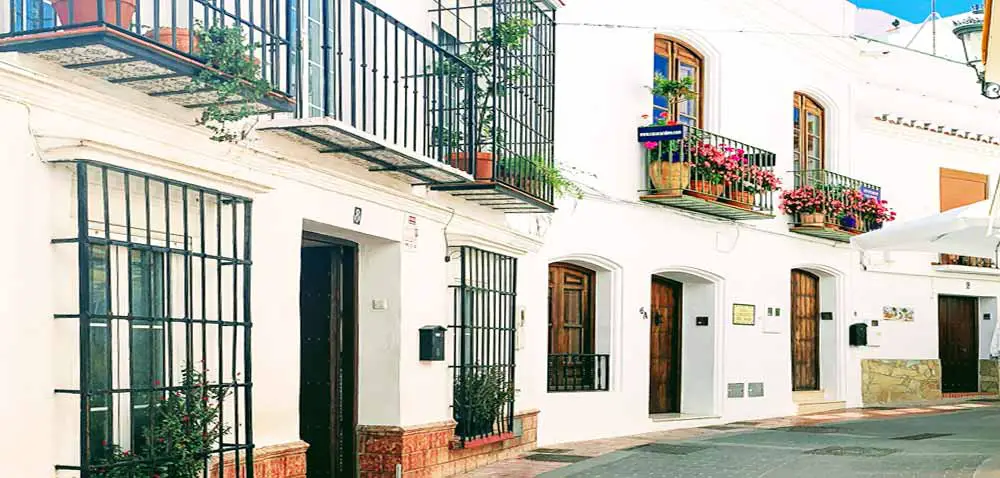 ** Beautiful Village Streets & Shopping - Nerja, Spain
What Kind of Shops Will You Find? Nerja has everything from clothing boutiques (men, women, and children's), art galleries, pottery shops, local craft shops, locally-made leather goods, to well-known chain brands like Desigual and Springfield. There are also specialty food shops, book stores, Moroccan goods, small supermarkets, and so much more...
Second Shopping area: Heading away from the Balcón (behind the El Salvador Church) cross the plaza and head to the left. You will find many more shops. As you walk towards the 'Plaza Fabrica de los Cangrejos' you will find four or five small souvenir shops that are great for buying gifts.
---
10. Take a Photo of the Eagle Aqueduct
One of Nerja's most interesting sites is the STILL working
Eagle Aqueduct
, also known as
el Puente del Águila
or "The Eagles' Bridge" in English. You will find it on the road to Maro going east just before you reach the
Nerja Caves
... and it's quite striking!
The Aqueduct is regarded across Andalucia as an "historic jewel of Spanish architecture". It was built in the 19th century and has been used ever since. In recent years, the aqueduct was given a "mini facelift" as sections of the arches have been painted yellow...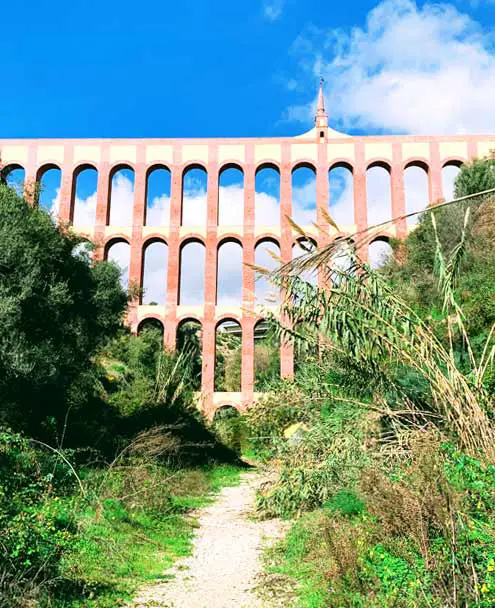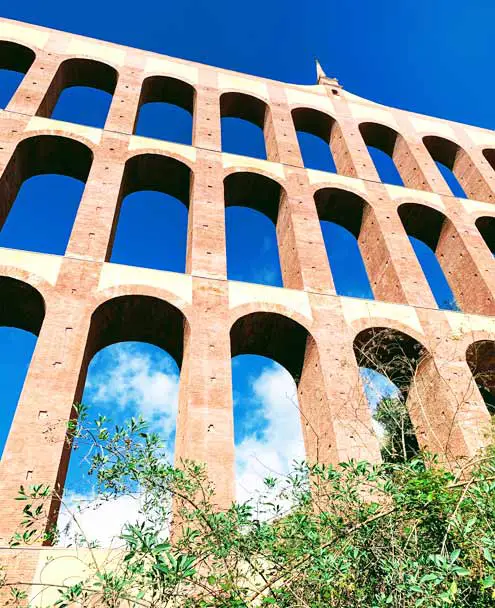 ** The Eagle Aqueduct - Nerja, Spain
---
11. Check out the Famous Boat from the 'Verano Azul' TV Series
Nerja was made famous back in the 1980's by a Spanish TV series called
'Verano Azul'
, which translates to
'Blue Summer'
. The show was about a group of kids and their lives while on vacation in a
typical Spanish Mediterranean village on the Costa del Sol
. It was extremely popular among the Spanish and had up to 20 million viewers at the time.
One of the main characters on the show 'Chanquete' lived on an old fishing boat... a replica of this boat can be found in the Parque Verano Azul on the western end of Nerja. Check it out!
---
12. The Ermita de las Angustias
On the northern side of Nerja, you will find this small, but pretty, 18th-century chapel located in the 'Plaza de la Ermita'. The
Ermita de las Angustias
is a tribute to the
patron saint of Nerja
,
"Our Lady of Anguish"
, and was recently renovated and its colorful murals were restored. It's definitely worth a visit!
Just behind the Chapel, you will find the Sala Mercado or "Exhibition Hall". It is the home to various art and photography exhibitions held throughout the year. If you are nearby, pop in and you might find something interesting...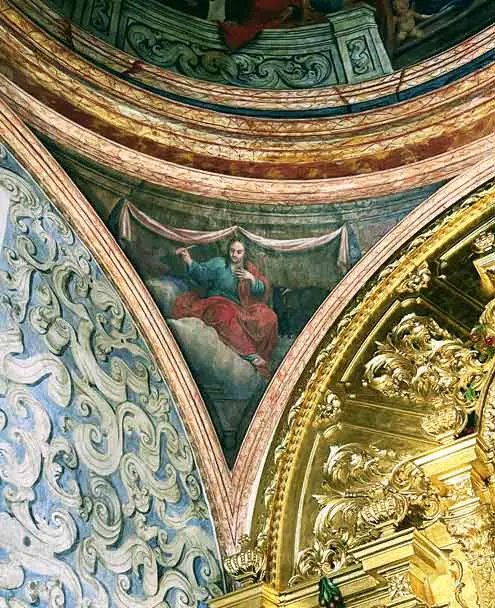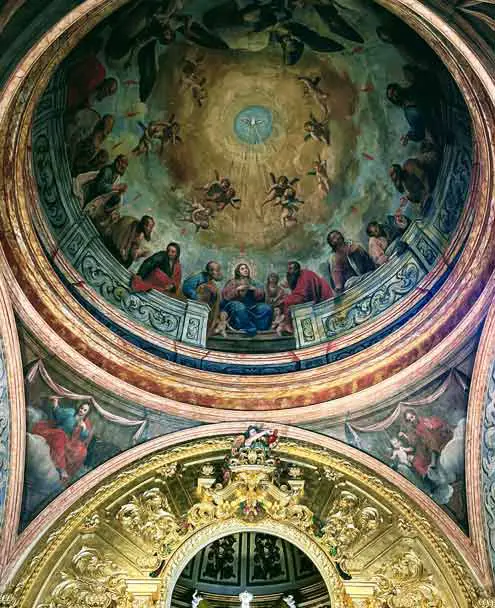 ** Ermita de las Angustias - Murals & Dome - Nerja, Spain
---
13. Party the Night Away in the Tutti Frutti Plaza
Nerja is known for its nightlife!
Unlike some of its quieter neighbors, this town likes to party!
If you are traveling with younger people or those that like to 'party into the night'... Nerja is the place to be!
Start with cocktails in the old town, the busiest area is along "Calle Almte Ferrandiz" where you will find the Buddha Bar Lounge and several other great tapas bars. Later, head over to the Tutti Frutti Plaza where you will find no less than 10 bars and music venues, they don't open until around 11:00 or so and stay open well into the night.
If you're still raring to go... you have the option of a few late-night discotheques that don't close until around 4 am... Don't forget to drink lots of water!!
---
Nerja's Best Bars:
| | |
| --- | --- |
| Cocktail Hour: | Buddha Bar, Hemingway's, El Burro Blanco Flamenco Bar |
| Bars in Tutti Frutti Plaza: | Safari, El Ancla, Tutty Bajamar, O'Malleys, Pub Seven, Agora, Tantra, Thebas, Bulovar, Tamareo, Eskape, y La Guarida. |
| Disco Clubs: | Rockefeller Club (Calle el Chaparil), Jimmy's Disco (Calle Antonio Millón) |
| Irish Pubs: | Irish Harp Bar, Buskers Irish Pub, Cochran's Irish Pub |
---
14. Visit the Nerja Museum
Tucked behind the Ayuntamiento (Town Hall and Visitors Center) in the
Plaza de España
you will find the
Nerja Museum
. It houses interesting items excavated from the nearby caves which include a very impressive female skeleton that is thought to have lived in the caves more than 18,000 years ago.
Explore its three floors of interactive exhibits that will give you a complete overview of the history of the area, starting from Paleolithic times until the present.
---
15. Spend the Day at a Beautiful Nerja Beach!
Ahhhhh... THIS is why you come to Nerja... For its
exquisite sandy beaches
and spectacular Mediterranean Sea views.
Nerja has 10 beaches for you to enjoy, all offering a wonderful assortment of water sports activities, delicious seaside chiringuitos, a shallow surf, and gentle waves. Rent a sunbed for the day and go for a swim! A day spent at any of these Nerja beaches would be a day spent, well ... in Spanish heaven...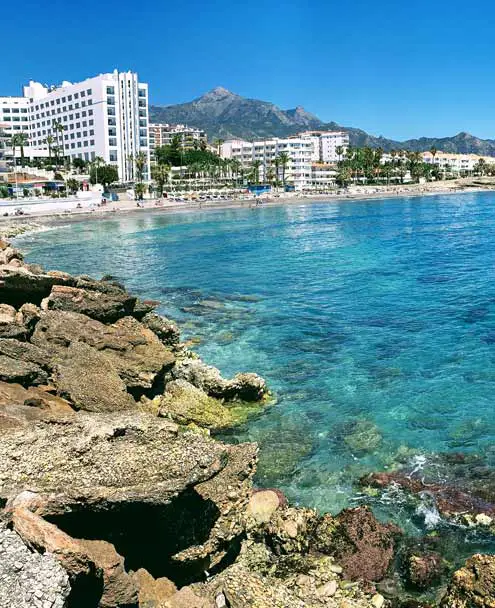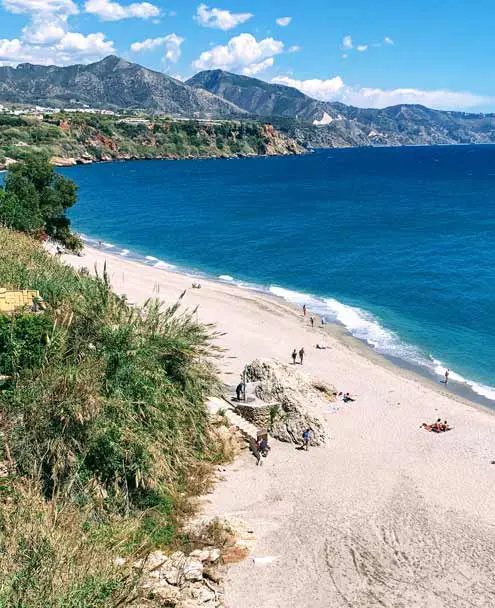 ** Playa Torrecilla and Playa Carabeillo - Nerja, Spain
---
16. Check Out One of the Nearby Costa Tropical Villages
While in Nerja, take advantage of being so close to about
7 other amazing cities and towns
and visit them all!! Most of these villages can be reached in less than 30 minutes... and the two larger cities of Malaga and Granada in under one-hour.
Check Out: La Herradura, Almuñécar, Salobreña, Motril, Frigiliana, Maro, Granada, Malaga, Torrox Pueblo
---
17. Visit Frigiliana
Just behind Nerja, and heading up into the
Sierra de Tejeda Natural Park
, you will come across one of the
"Prettiest Villages in Spain"
...
Frigiliana
.
Frigiliana is a small, typical white-washed Andalucian village which can easily be seen in just a few hours. Take a stroll through its winding streets and alleys, browse its charming boutiques and craft shops, visit the historic sights, and then enjoy a tapas on one of its balconies overlooking the mountains with the Mediterranean Sea and Nerja in the distance... It's simply stunning.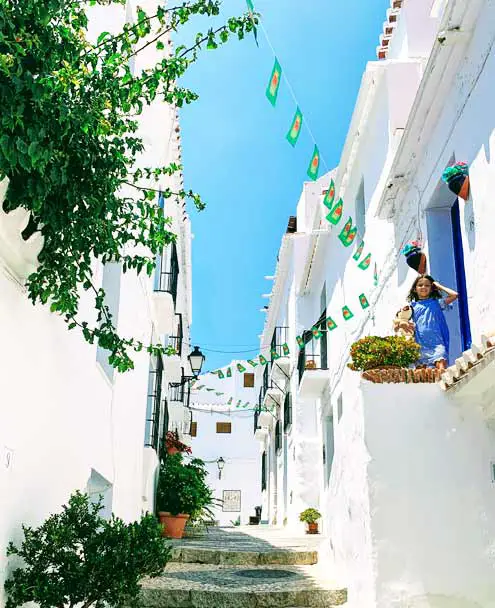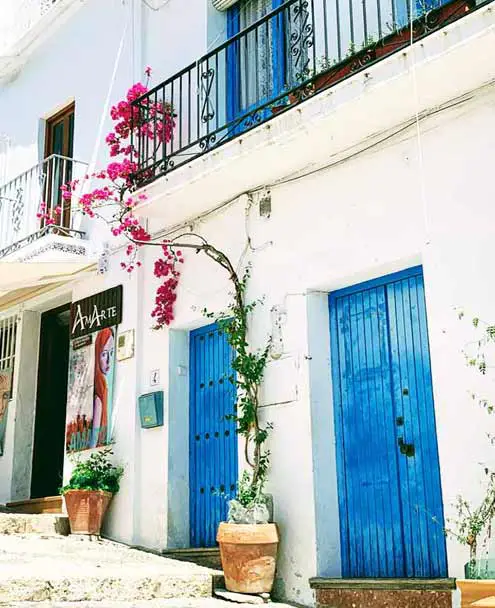 ** Neighboring Village of Frigiliana - Nerja, Spain
---
18. Visit the Town of Maro & its Beaches
Just east of Nerja is the small village of
Maro
, a picturesque farming village that sits on the edge of the Mediterranean Sea with beautiful views of the Costa del Sol, it is especially known for the
beauty of its beaches
...
Maro is located right in front of the caves of Nerja, so you can visit the caves and then take a walk through the old town of Maro. Once you cross the small footbridge, you will find the parish church, an old sugar mill and a small square where you can enjoy a light meal or a coffee...
---
19. Drive 5-Minutes Down the Coast and Explore the Nature Reserve along the Cliffs
Starting in Maro and heading east is the magnificent Maro / Cerro Gordo Nature Reserve. The best way to see this area is by car. From Maro to the end of the reserve (
La Herradura
) will take about 15 minutes.
The Paraje Natural de Maro / Cerro Gordo is an untouched area along the coastal border of Malaga (Nerja and Maro) and Granada (La Herradura) with rocky cliffs that drop dramatically into the sea... creating small bays and coves.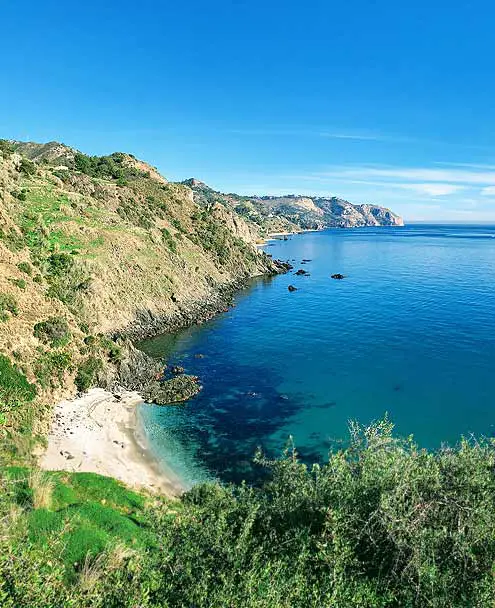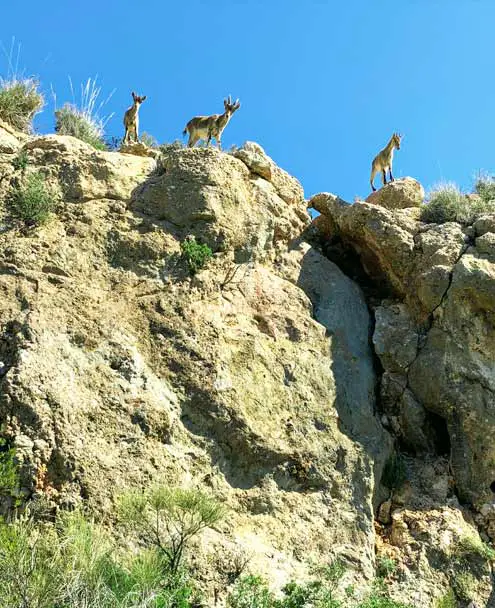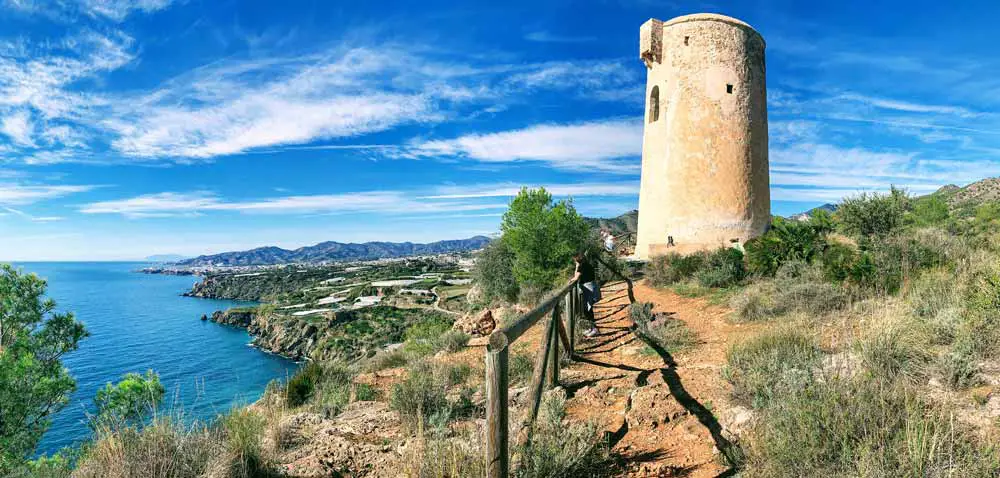 ** The Maro Tower - Nerja, Spain
The reserve boasts some of the most beautiful beaches in Spain, ancient Roman towers, Iberian mountain goats (that have found a home in the reserve), the Maro waterfall (only visible from the sea), fantastic hiking trails, and a wealth of flora and fauna.
---
20. Have More Time? Check Out These Excursions...
If you have a car, there is a LOT more you can see nearby in Andalucia; the Camino del Rey, the Alhambra Palace in Granada, the Mudejar-style white villages, and much more... See our
FULL list of excursions FROM Nerja
to take advantage of your time here!
If you need a cheap car rental, we recommend RentalCars.com as a GREAT low-cost option.
---
More Active Things to Do - Hiking Around Nerja
One of the great things about Nerja is that although it's a very touristy resort area it's also right next to the Costa Tropical, which is well-known for its
outdoor adventure activities
.
Nerja is also just in front of a large mountain range, the Sierras de Tejeda, Almijara y Alhama Natural Park, which lies across both the Malaga and Granada provinces and is fantastic for those who like hiking... It's easily accessible from Nerja or any of the neighboring villages.
Below you will find the 10 most popular activities you can do in and around Nerja...
---
| | |
| --- | --- |
| 1. Kayaking Excursions | Join a kayaking excursion through hidden caves, coves and waterfalls along the coast of Nerja. |
| 2. Boat Rental | Just 10 minutes from Nerja, in the pretty village of La Herradura, you can rent a boat and spend the day exploring the Costa del Sol. |
| 3. Scuba Diving Courses | Interested in a diving course during your stay in Nerja? Neighboring La Herradura is the best place to dive in southern Spain. |
| 4. Canyoning | Several adventure companies specialize in canyoning in the Junta de los Rios (1 hour from Nerja). |
| 5. Buggy Excursions | These adventurous buggy tours will take you on an unforgettable journey through the mountains of the Costa del Sol behind Nerja. |
| 6. Sightseeing Cruises | Here is our list of the top 10 sightseeing cruises along the coast of Nerja, Malaga, and Granada. |
| 7. Río Chillar Hike | This hike along the Chillar River is a unique and incredibly beautiful experience. |
| 8. El Pico del Cielo Hike | The hike to Nerja's highest peak, "El Cielo", is also very popular and the scenery is amazing. |
| 9. Paddle Surfing | Paddle Surfing is a unique way to see the most beautiful corners of the cliffs of Nerja and Maro. |
| 10. Paragliding | If you are looking for an unforgettable adventure... try flying through the sky over Nerja, the mountains, and the sea. |
---
Eat in One of Nerja's BEST Restaurants!
RECOMMENDED RESTAURANTS - NERJA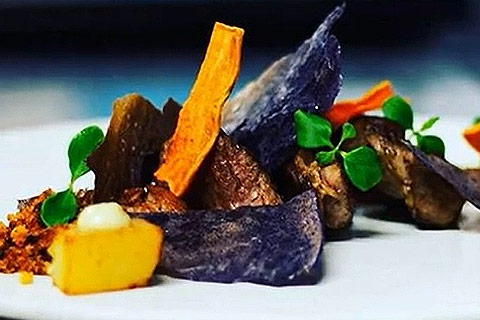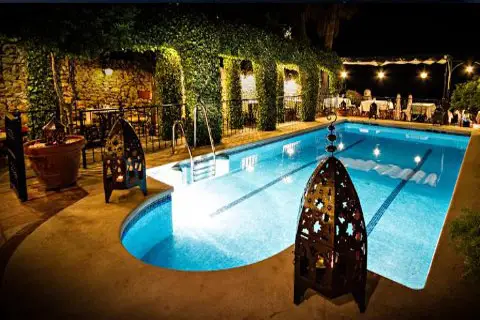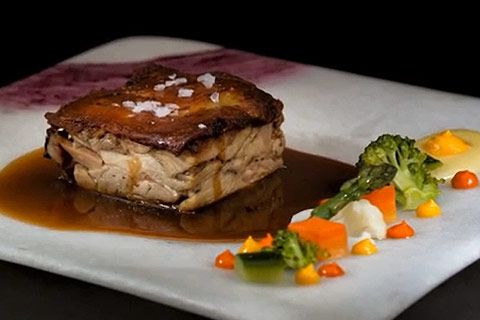 ---
For More Information About Nerja:
NERJA TOURIST INFORMATION
Location - Town Hall building, Calle Carmen 1, Nerja Spain
Tel: 95 252 15 31
Fax: 95 252 62 87
Opening Hours:
Monday to Sunday: 10:00 – 14:00
Email address: turismo@nerja.org
---
Important Information You Should Know About Nerja
---
1. Distances to Other Important Towns from Nerja:
Larger Cities

Málaga
➜
Nerja
58 km / 51 min
Granada
➜
Nerja
94 km / 1 hr 4 min
Sevilla
➜
Nerja
257 km / 2 hr 45 min
Cádiz
➜
Nerja
291 km / 3 hr 7 min

Other White Villages

Frigiliana
➜
Nerja
7 km / 13 min
La Herradura
➜
Nerja
16 km / 17 min
Almuñecar
➜
Nerja
20 km / 24 min
Torrox
➜
Nerja
13 km / 16 min
Competa
➜
Nerja
35 km / 48 min
Motril
➜
Nerja
46 km / 35 min
---
2. When is the Best Time to Visit Nerja
During May and October, you are most likely to experience good weather with pleasant average temperatures in Nerja that fall between 20 degrees Celsius (68°F) and 25 degrees Celsius (77°F).
The hottest months in Nerja are June, July, August, and September.
Nerja has dry periods in June, July, August, and September.
On average, Nerja's warmest month is July.
On average, Nerja's coolest month is January.
November is the wettest month in Nerja. This month should be avoided if you are not a big fan of rain.
July is the driest month in Nerja.
---
3. Nerja's Gastronomy
Nerja's gastronomy is centered around its natural environment. It's known for its typical healthy Mediterranean diet and most of its popular dishes come from fresh products harvested from the garden, vineyards, local farms, and the sea.
Nerja, as part of Malaga, feasts mainly on stews, grilled fish, gazpachos, rice dishes (paella), and fresh salads.
In addition to enjoying the special flavors of the day, the Nerja people are also known to frequent the beach bars and chiringuitos to combine the joy of eating with the magnificent views and spectacular nature all around them.
4. Nerja Fiestas
If you plan to visit Nerja during any of these festivals below, be sure to check with the town hall as to what activities will be taking place...
Nerja's top celebrated fiestas are:
The Nerja Fair - Mid-October - One of the biggest celebrations of the year in Nerja with processions, singing, dancing, eating, and drinking.
San Isidro and La Virgen del Carmen - 15th May & 16th July - These are two celebrations in honor of two highly regarded patron saints. Nerja honors them with flamboyant processions and huge parties.
The Three Kings Parade - 5th January - On the afternoon of January 5, the people of Nerja put on their best costumes to receive the procession of their Majesties... the Three Wise Men.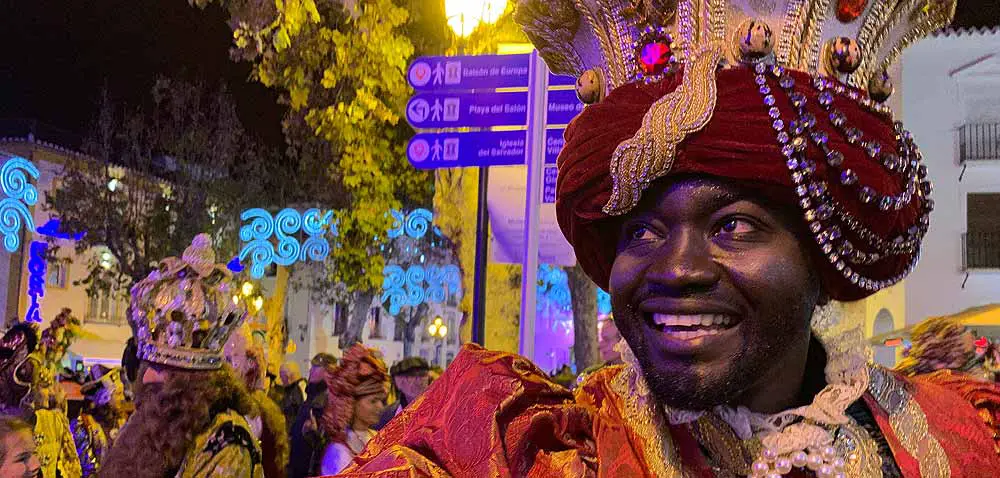 ** Three Kings Parade - Balcón de Europa - Nerja, Spain
---
Nerja ➜ How to Arrive & Directions
Nerja is an easily accessible town, only 45 minutes east of Malaga and 50 minutes south of Granada.
You can easily make a day trip to Nerja from either of these two cities. A visit will take about half a day... but if you have the time, we recommend staying for a day or two! There is plenty to see and to do in the area.
---
To Nerja ➜ by Plane
Nerja's two nearest airports are the Malaga International Airport and the Granada Airport. Both have flights arriving from all over Europe, and Malaga has flights from all over the world.
We recommend OMIO to find the cheapest flights to Nerja.
From the airport, you can take a bus, rent a car or take a cab to Nerja.
To Nerja ➜ by Train
Like most cities in Europe, Granada and Malaga also have great train stations that are accessible from anywhere in Spain.
Find the lowest ticket prices and check train schedules to Malaga and Granada.
To Nerja ➜ by Bus
Buses leave every hour from Malaga and Granada to Nerja. Tickets can be purchased directly at the station ticket office or online.
| | | | | |
| --- | --- | --- | --- | --- |
| Málaga - Train Station | ➜ | Nerja | 6 euros | 1 h 30 min |
| Málaga - Bus Station | ➜ | Nerja | 6 euros | 1 h 30 min |
| Granada - Bus Station | ➜ | Nerja | 13 euros | ~ 2 hours |
To Nerja ➜ by Car
From Malaga: Take the Autovía del Mediterráneo E-15/A-7 towards Almería. Take exit 933. At the traffic circle take the exit towards Nerja (50 minutes by car).

From Granada: Take the A-44 south to the E-15 / A-7. Take exit 929 on the E-15 / A-7. At the traffic circle take the exit towards Nerja (55 minutes' drive).
* If you need a rental car: Find a good deal here!
To Nerja ➜ by Taxi
A taxi will take you directly from Malaga airport or train station to Nerja in 55 minutes. Prices range from 75 to 160 euros, depending on the time of day and the number of passengers. Call Radio Taxi, the official cab service in Nerja, at the following number: 952 520 537.
If you are going to the airport or the train station from Nerja, you can find a cab at any of the three taxi stands in Nerja.
---
---
That should be all you need for an amazing vacation in Nerja! Have a safe trip!! ;-)
---