Your Journey Begins:
The Ultimate Stress Free Guide for Getting from Malaga to Nerja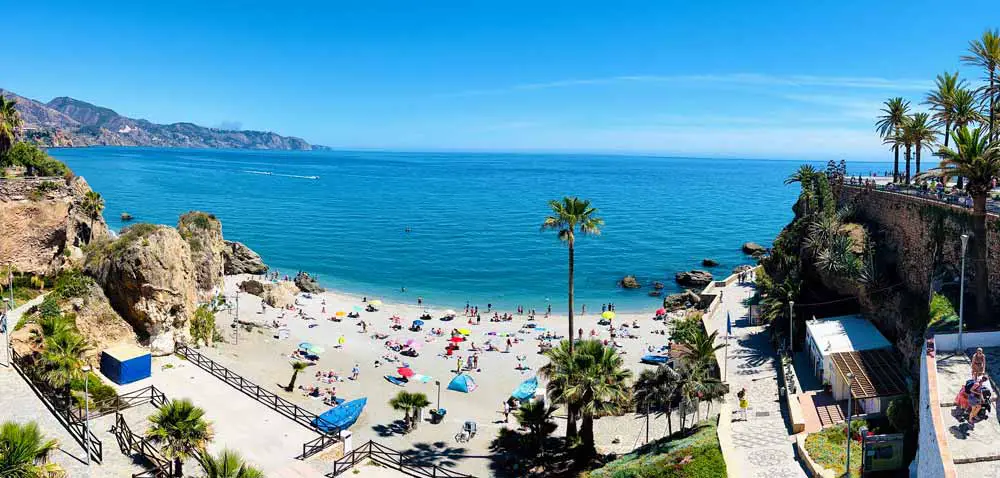 Driving from the lively, culturally rich city of Malaga to the tranquil, picturesque coastal town of Nerja is more than just a scenic drive - it's a passage through beautiful landscapes, past quaint villages and hidden gems tucked away in the Andalucian hills.
In this guide, we provide you with practical tips, local insights and traveler-tested advice to ensure your trip is smooth, engaging and stress-free. Having lived on the outskirts of Nerja for over 20 years... I have made this trip more times than I can count.
---
Setting Off from Malaga
After soaking up
Malaga's
rich history, from the Alcazaba fortress to the vibrant streets that were once home to famous painter Pablo Picasso, it's time to set your sights on
Nerja
. Leaving behind Malaga's busy port and lively tapas bars, Nerja beckons with its
serene beaches
and traditional charm. A contrast of worlds awaits you, offering a quieter but equally memorable chapter in your Andalucian journey.
---
Is Nerja Worth Visiting?
Yes! In Nerja you can expect not only a restful retreat from the hustle and bustle of the larger cities, but also a variety of engaging activities, from exploring the remarkable
caves of Nerja
to strolling along the scenic
Balcony of Europe
. Nerja is known for its slower, more relaxed pace, but also for its wide range of things to do!
You will find local restaurants serving traditional Spanish cuisine by the sea, quiet beaches like Playa Burriana that offer a peaceful escape, and breathtaking scenery that encourages exploration at a leisurely pace (kayaking, diving, and hiking are popular here).
---
Distance from Malaga to Nerja
Nerja is located east of Malaga and is the last town on the Costa del Sol. The journey between these two charming destinations is a relatively short but scenic drive of about 55 kilometers. This easy distance also makes Nerja a popular day trip for those wishing to explore beyond the boundaries of Malaga.
The stunning mountain village of Frigiliana is also located just minutes from Nerja.
| | | |
| --- | --- | --- |
| From | To | Distance |
| Malaga | Nerja | 55 km / 34 miles |
| Malaga | Nerja Caves | 58 km / 36 miles |
| Malaga Airport | Nerja | 69 km / 42 miles |
| Malaga | Frigiliana | 57 km / 35 miles |

** Renfe from Malaga Airport
---
Distance information by travel mode:
By Car: The fastest way to get from Malaga to Nerja is by car, generally taking between 50 minutes and an hour, depending on traffic and your specific departure and arrival points. This route mainly follows the A-7 highway, which offers coastal views as you navigate your way eastward.
By Bus: The bus is the cheapest and most stress-free way to travel the distance, with a travel time of approximately 1.5 to 2 hours, depending on the service and number of stops along the way. Buses run regularly between Malaga and Nerja, making it a great option.
Private Transfer / Taxi: For a comfortable and hassle-free trip, private transfers can be arranged, offering door-to-door service with a travel time similar to driving yourself, approximately 50 minutes to an hour, although potentially more expensive.
---
Day Trips: From Malaga to Nerja
A final option for getting from Malaga to Nerja is to book a guided excursion. Because Nerja is so close, many people choose to just go for the day, so there are numerous companies that arrange visits to Nerja, its neighbor Frigiliana and the famous Nerja Caves.
Here are the pros and cons of a day trip:
---
Pros:
Time-Saving: A guided day trip to Nerja guarantees a quick visit to its famous beaches and historic sites, while also highlighting top spots like the Balcón de Europa and Nerja Caves, which is important for those with busy schedules or multiple destinations.
Knowledge: A guide can provide valuable information, historical context, and interesting stories that you might not have learned otherwise. Their knowledge can greatly enhance your overall experience and give you a deeper understanding of Nerja.
Convenience: A guided day trip usually includes transportation, meals, and entrance fees, taking the stress out of planning. This is especially helpful if public transportation is a challenge or if there are language barriers.
Minimal Packing: A day trip eliminates the need for overnight packing, making for a light and carefree travel experience.
---
Cons:
Limited Time: Traveling from Malaga to Nerja and back in one day limits how much of the town you can really explore and experience. Some sights and activities may be missed due to time restrictions (e.g. kayaking in the nature reserve).
Potential Rush: The essence of Nerja, with its relaxed and leisurely pace, may be somewhat overshadowed by the need to adhere to a tight schedule, making it a less relaxing experience.
Travel Fatigue: Despite the relatively short distance from Malaga to Nerja, traveling back and forth in a single day could add an element of weariness to your adventure.
Missed Nightlife: Nerja, while quiet, offers its own kind of lively nightlife that you'll miss on a day trip.
---
---
How long Should I stay in Nerja?
The "perfect" length of time to stay in Nerja really depends on you, your interests and your overall itinerary. However, a generally accepted length of stay is 3 to 4 days. This allows plenty of time to explore the town's main sights, relax on its beautiful beaches, and perhaps take a few local excursions.
Here's a suggested daily breakdown:
Day 1: Explore the town, visit the Balcony of Europe, stroll through the charming streets, shop in the boutiques and enjoy a paella in one of Nerja's seaside restaurants.
Day 2: Spend the day visiting the famous caves of Nerja, enjoy some beach time and try some water activities like kayaking or snorkeling.
Day 3: Take a day trip to the nearby village of Frigiliana, known for its whitewashed buildings and cobbled streets, just a short drive (or bus ride) from Nerja.
Day 4: More beach relaxation, explore more of the town, visit the neighboring Costa Tropical villages (La Herradura or Almunecar) and then treat yourself to a delicious meal.


** Driving from Malaga to Nerja
---
Choosing Your Mode of Transport
When planning your trip from Malaga to Nerja, one of the first decisions you'll have to make is how to get around. Fortunately, Andalucia's efficient transportation system provides several options to suit every preference and budget.
---
From Malaga to Nerja by Car
If you like having the freedom to explore at your own pace, renting a car from one of the many rental companies at Malaga airport or in the city center may be the perfect choice. The drive to Nerja is a scenic one, taking you along the Costa del Sol and into the heart of one of Andalucia's most stunning natural parks. It's about 55 kilometers and will take you about an hour, depending on traffic.
---
Via the A-7:
As you leave Málaga, take the A-7, also known as the Autovía del Mediterráneo. This route hugs the stunning Costa del Sol, offering panoramic views of the sparkling Mediterranean on one side and rugged mountains on the other. The coastal towns of Rincón de la Victoria, Vélez-Málaga, Torre del Mar, Algarrobo and Torrox (each with its own unique charm) make up the first part of your journey.
---
Rincón de la Victoria: A popular town with beautiful beaches and a lively seaside promenade with many places to eat and shop.
Vélez-Málaga: The capital of the Axarquia region, known for its rich history and culture, has an impressive Moorish fortress.
Torre del Mar: This coastal resort is popular for its long, wide beaches and thriving nightlife, with many restaurants and bars.
Algarrobo: A small coastal town known for its quiet beaches and traditional Andalusian charm.
Torrox: Known as the place with "the best climate in Europe", Torrox is divided into two parts - Torrox Costa on the coast, popular for its sandy beaches and promenade, and Torrox Pueblo, a traditional white village in the hills.
---
Continuing on the A-7
, the coastal landscape gives way to the rugged green beauty of the Sierras de Tejeda, Almijara y Alhama Natural Park. As you approach Nerja, the brilliant blue of the sea is replaced by green olive groves and rugged cliffs.
Exiting at Nerja: If you are visiting the town of Nerja, take the first Nerja exit (#933). From there, head south towards the sea.
If you are visiting the Nerja Caves, continue to the second Nerja exit (#929). From there head south and follow the signs to the caves.
Visiting Frigiliana from Nerja: To get to Frigiliana, drive north from Nerja (Calle Joaquín Herrera) to the first Nerja exit (#933) on the N340. Pass over the highway and follow the road up into the hills. The drive will only take you about 10 minutes and will take you directly to the village of Frigiliana (known as one of the most beautiful villages in Spain).
---
🚩 If you're driving, head to one of the public parking lots at the entrance of the village, as the narrow, cobblestone streets are not car-friendly. If you've chosen public transport, the bus or taxi will drop you off near the town center.
💡
Need supplies?
Quick Tip: About 20 minutes outside of Nerja you will pass Torre del Mar. There is a large shopping center right off the highway called "El Ingenio" that has a large grocery store (Eroski) as well as clothing stores, electronics, pet stores, and more. They also have very cheap gas, so it's a good place to fill up!
---
From Malaga to Nerja by Bus
For those seeking a more relaxed, hands-off approach, the public bus service offers a convenient and cost-effective option. The ALSA bus company runs several services daily from Malaga's bus station to Nerja, with a journey time of around 45 min to 2 hours (only the last 23:00 bus takes 2 hours, most take around ~1 h 20 min, there is only one 45 min bus that leaves at 19:00).
Buses leave Malaga from the station at Paseo de los Tilos or the Malaga Airport and go to the Estación de Autobuses Nerja. They run from 6:30 am until the last bus at 23:00 pm.
More than 20 buses run daily from Malaga to Nerja and leave every hour or two hours, depending on the day.
Price: €7.20 (depending on route)
Duration: 45 min (fastest) - 2h (slowest)
From Airport Duration: (only once per day at 14:30) 1h 45min (with stops) €7.20
Check Routes, Times and Prices from Malaga to Nerja AND Book Online!
Malaga Bus Station:
Paseo de los Tilos, s/n, 29006 Málaga
Tel: 952 35 00 61 - Email: estabus@emtsam.es
 
Nerja Bus Station:
C. Antonio Jiménez, 4, 29780 Nerja, Málaga
Tel: 902 42 22 42
 
Bus Lines:
National Line: Alsa
www.alsa.es
Local Line:
Grupo Fajardo
(Nerja to Frigiliana)
www.grupofajardo.es
Phone: 958 882762 / 902 106286
Local Line:
Alsina Graells (Alsa)
(Nerja to Caves)
www.alsa.es
Local Line:
Bus Urbano or Blue Bus
(Stops within Nerja)
www.alsa.es
 
---
From Malaga Airport to Nerja by Bus
There is only one bus that runs daily from the Malaga Airport to Nerja. It leaves at 14:30 and takes 1h 45min (with stops) and costs €7.20.
Book it here!
But if you can't get the bus above, you still have another option.
Take the train from the airport to the main train station in the city center. From there walk to the bus station and catch a bus to Nerja.
The C1 line (RENFE high speed train)) connects the Malaga airport with the María Zambrano train station in about 8 minutes. If you stay on the train until the last stop, you will reach the city center in about 12 minutes. The airport train, which is located in front of the terminal, runs every 20 minutes from 5:40 a.m. to 23:20 p.m.
From the train station you can easily walk to Malaga's main bus terminal in 5 minutes or less.
Check Routes, Times and Prices from the Malaga bus station to Nerja!

** From Malaga Train Station to Bus Station - 5 min
Malaga Airport Info (remember also that Nerja can be accessed from the Granada Airport ):
---
From Malaga to Nerja by Taxi or Transfer Service
If you're looking for ease and convenience, consider booking a taxi or private transfer service. While it's the most expensive option, it offers door-to-door service and the comfort of a private vehicle. Plus, your driver can give you some tips about your trip!
Try these companies to find a Taxi or Transfer:
---
From Malaga to Nerja by Train
If you're thinking of taking the train from Malaga to Nerja, we're sorry to tell you that it's not possible... there is NO direct train line from Malaga to Nerja. The closest train station to Nerja is actually in Malaga itself.
While train travel is very popular (and cheap) in most areas of Spain, Nerja happens to be one of the places that is still not connected by train. We direct you instead to the bus options above.
You CAN however take a train from Malaga (or the Malaga airport) to these towns on the Costa del Sol: Fuengirola: 34 minutes, Benalmádena: 18 minutes, and Torremolinos: 10 minutes.
---
Journey Recap
Distance from Malaga to Nerja: Approximately 55 km (34 miles)
Driving time: About 1 hour, depending on traffic and where you start and end your trip.
Bus travel time: Bus trips take between 45 minutes and 2 hours, but are typically 1 hour and 20 minutes.
Main towns along the route: Rincón de la Victoria, Vélez-Málaga, Torre del Mar, and Torrox.
Scenic highlights: Coastal views along the Costa del Sol, panoramic views of the Andalucian countryside and the dramatic approach to Nerja with the mountains in the background.
---
Top Sights to See in Nerja
Don't miss these top 5 sights in Nerja:
---
Tips about your Trip - Where to Stay
---
Tips about your Trip - Top Activities
Beach Days: Spending time on one of Nerja's beautiful beaches is why you came to this tranquil paradise.
Water Sports / Kayaking Tours: Enjoy a kayaking trip through the nature reserve near Maro and visit the waterfall.
Hiking in the Sierra de Almijara: Explore the natural beauty and panoramic views. There are trails for all levels.
---
Nerja FAQ's
What is the best season to visit Nerja?
The best time to visit Nerja depends largely on your preferences. For beachgoers, the summer months (June to August) offer warm weather and vibrant nightlife, while the spring (April to June) and fall (September to November) offer milder temperatures and fewer crowds, making them ideal for exploring and hiking.
Are there any major festivals or events in Nerja?
Yes, Nerja hosts several festivals throughout the year. Some of the most popular are the Nerja Fair in October, the San Isidro Festival in May and the Carnival in February/March.
Is Nerja suitable for a family vacation?
Absolutely. Nerja offers several family friendly activities and attractions like exploring the Nerja Caves, enjoying days on the beach and enjoying water activities.
What are the options for eating out in Nerja?
Nerja offers a wide range of restaurants, from traditional Spanish cuisine to international fare. Visitors can enjoy fresh seafood at beachside chiringuitos, indulge in local dishes at tapas bars and even find options for vegetarian and vegan diets.

Who are we?
An American expat with over 20 years of experience living and traveling in Spain, specifically in Malaga and Granada. Darsey is a seasoned explorer of Andalucia. Drawing from decades of immersive experience, she offers deep insights into this enchanting region of Spain, including off-the-beaten path destinations, the best places to stay, and the top bucket list activities to try!
More...
Want to Save on your Next Trip?
Save money on your next trip with our favorite travel websites!
Find the Cheapest Hotels:
The Largest Selection of Villas & Apartments:
Cheapest, Most Reliable Car Rentals:
Best Bus & Train Fares:
Huge Selection of the BEST Tours & Activities
Discount Tickets to Museums & Attractions

See our Full List of Travel Deals & Site Recommendations Here.
💡
Affiliate Disclosure:
  Please be aware that some links on this site are affiliate links, which means that we might receive a small commission ☕ if you click a link and make a booking. This helps us to keep the site running and will NOT affect the price you pay in any way... ❤️ 🙏 🙏 ➜
How does this work?
---