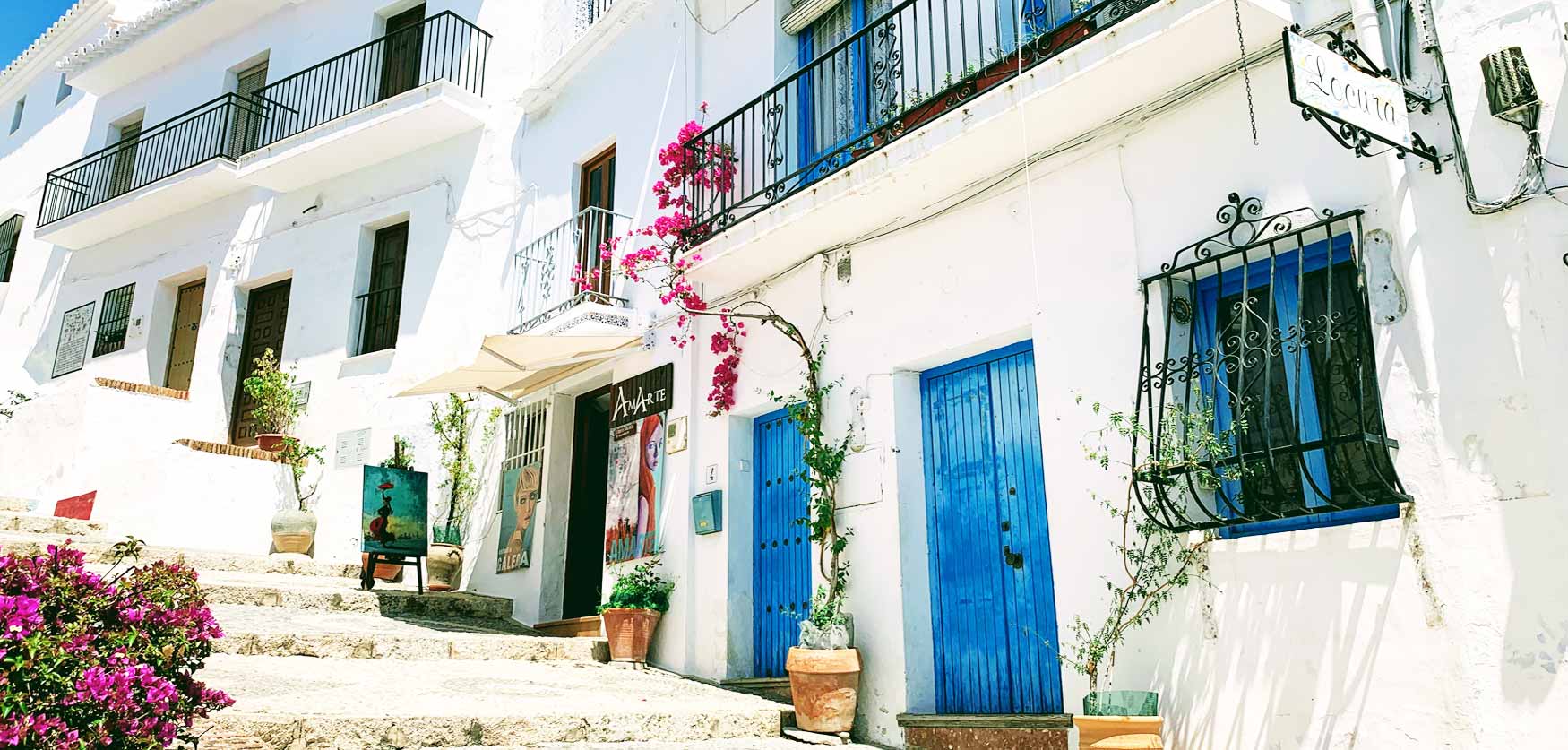 The Villages of La Axarquia
La Axarquia
Similar to La Alpujarra, La Axarquia is a large región of Andalucia that stretches from the Sierra de Almijara on the northeast, the provinces of Córdoba and Sevilla on the west, to the Mediterranean on the south, and lies within the province of Malaga.
Here are found deep valleys, terraced farmlands, quaint white villages, and a multitude of flora that adorns its hills and mountains. Wild lavender, herbs, pine, oak, carob, and wildflowers are rampant while shepherds still tend to their flocks of sheep and goats.
But agriculture thrives here too with lush valleys of orange, lemon, eucalyptus, banana, avocado, mango and olive trees as well as the home-grown wine made from locally grown grapes. This land of contrasts where high mountains look down on the sea still has many undeveloped villages in the inland areas - it is not uncommon to see mules still being used as a means of transport. In contrast, the coastal towns brim with nightlife and amenities for the visitor or resident. The sub-tropical climate enjoyed here is testament to its attraction to many to enjoy both summer (golf, tennis, marine sports, hiking, cycling) and winter sports (skiing is a mere 1-1/2 to 2 hours away).
The Most Popular Villages La Axarquia


The History of Axarquia
As in other areas of the region, La Axarquia's history dates back to Paleolithic times, evidence of which has been found in numerous caves in the mountains surrounding it. Utensils and drawings from those prehistoric peoples more than 30,000 years ago have also been discovered, giving us an excellent sample of those ancient cultures.
In later years, the Phoenicians, Carthagenians, Greeks and Romans left their own traces of their cultures. For example, the necropolis Paleo-Púnica was found near Algarrobo with a tomb from the 8th Century B.C. and came to be one of the most important archeological Phoenician finds in Europe. The remains of Roman baths and a necropolis have been found in Torrox. With the advent of the Moors came many examples of their art, architecture and farming techniques; today the towers of Arenas, Salares, Archez and all along the coast remind us of that important era in Axarquia's history. Even today, the gastronomy, dance, song, arts and crafts of that era are very evident in daily life.
In 1487 the Reyes Católicos (Catholic Kings) reclaimed La Axarquia, first re-taking Vélez-Málaga which became part of the kingdom of Granada. Since then, the Axarquia region has slowly evolved into what it is today: in the interior areas, the towns are predominantly agriculture-based, but the coastal towns are driven by the tourist industry where visitors are attracted by sun, sand and a casual lifestyle. During the last 25 years, the coastal areas have seen the most rapid growth while more people have discovered the pleasant, unhurried pueblo life further inland - a business of its own called rural tourism La Axarquia is filled with traditions that have evolved through time and from different historical influences. It is these traditions that form the people's way of life, customs and celebrations. Wine-making and production of raisins are just a bit of a legacy that remain today; religious celebrations, local fiestas, crafts, varied cuisine, dance and folkloric songs are all reminiscent of bygone times but live on in today's fast growing communities.
The towns and each of their pueblos that are part of La Axarquia are many, each with its own personality, fiestas, and local cuisine:

The Villages
Alcaucín . Alfarnate . Alfarnatejo . Algarrobo . Almáchar . Árchez . Arenas . Benamargosa . Benamocarra . Canillas de Aceituno . Canillas de Albaida . Colmenar . Comares . Cómpeta . Cútar . El Borge . Frigiliana . Iznate . Macharaviay . Moclinejo .
Nerja
. Periana . Rincón de la Victoria . Rio Gordo . Salares . Sayalonga . Sedella . Torrox . Totalán . Vélez Málaga . Viñuela
Where is La Axarquia located?
Getting There
---
More to Explore near the Costa Tropical...