Experience the best of La Herradura
Where is La Herradura?
Many people say that there is an unusual gravitational pull to the seaside village of La Herradura that seems to draw people whose interests lie in the arts, wellness, and mystic sciences...
...Maybe because its striking beauty is so inspiring or the feeling one gets of going back in time to a place where simplicity and nature reined supreme.
Whatever the Reason, La Herradura is a spectacular destination in coastal Andalucia. It lies just 45-minutes south of Granada and 50-minutes east of Malaga.
➜ La Herradura is not to be missed!
Keep Reading to Learn More about La Herradura ▼
La Herradura, Spain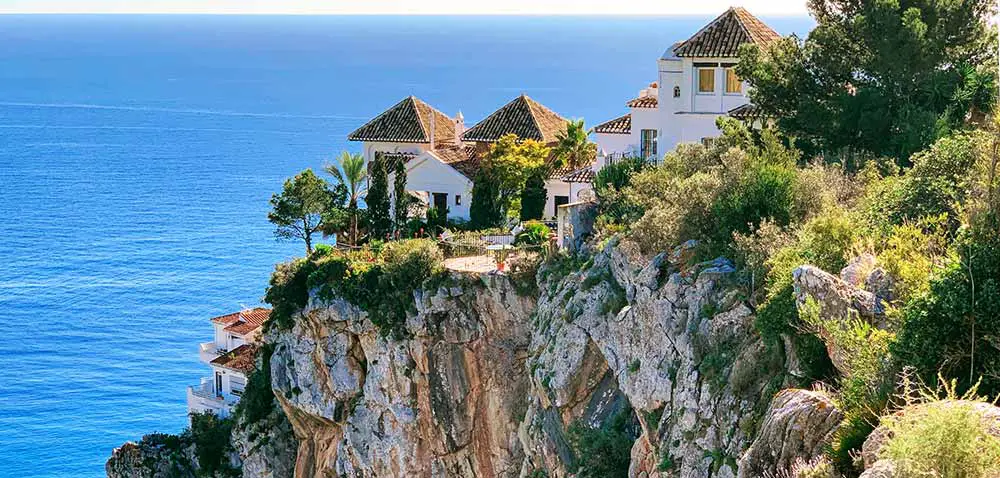 ** Beautiful Homes Perched on the Cliffs Overlooking the Sea, La Herradura
La Herradura - Everything You Need to Know!
La Herradura's history is vast, like the other towns in the Costa Tropical, its pretty bay was once used as a strategic port for both the Phoenicians and the Romans.
In recent years La Herradura has seen an influx of people of many different nationalities. Northern Europeans especially are flocking to this area because of the perfect year-round climate... with mild winters and very little rain.
The little village, once unknown, is growing fast and becoming a top destination along the Southern Coast of Andalucia, as evidenced by new construction, new hotels, and additional tourist services.
La Herradura´s geographical location is also ideal (for a visit or a permanent stay). Its proximity to the sea, to bustling Almuñécar, and easy access to Granada and Malaga via the new highway make for a pleasant existence on the Costa Tropical.
---
💡
Affiliate Disclosure:
  Please be aware that some links on this site are affiliate links, which means that we might receive a small commission ☕ if you click a link and make a booking. This helps us to keep the site running and will NOT affect the price you pay in any way... ❤️ 🙏 🙏 ➜
How does this work?
---
Explore La Herradura, the TOP Things to See & Do!
---
La Herradura Highlights
La Herradura is a municipality of Almuñécar which lies 20 kilometers to the east and its over 3000 inhabitants are keen service providers to the tourist industry.

The word La Herradura means "horseshoe" in Spanish, the town was given its name because of the horseshoe-like shape of its lovely bay.
The little fishing village is surrounded on both sides by two points, Punta de la Mona and Maro - Cerro Gordo. Each point is capped with an ancient Roman tower that were once used for protection against pirates coming from Africa.
The renowned Punta de la Mona urbanization was once home to Andrés Segovia. Segovia was the virtuoso classical Spanish guitarist who is thought of as the father of the modern classical guitar movement. He is well-known all over Spain. La Herradura's main beachfront road was named in honor of the much beloved musician.
---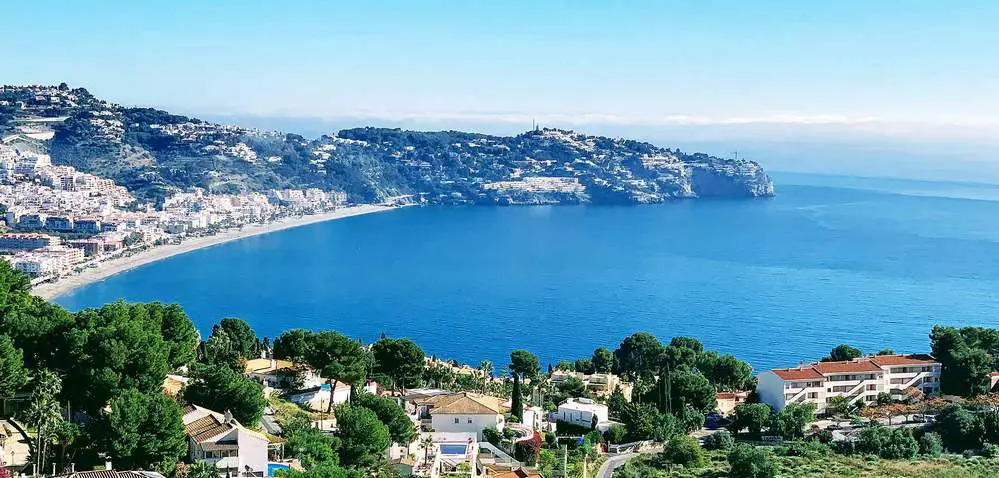 ** Eastern La Herradura Bay - Punta de la Mona
Top 4 Sites to See in La Herradura
La Herradura is full of fun things to do for the adults and the kids. There are parks, amazing beaches, great hiking trails, tons of water activities and even a castle to explore! Below you will find a few of La Herradura's top attractions.
1. The La Herradura Castle
2. Torre Cerro Gordo
3. Playa Cantarriján
4. Monument to the Shipwrecked Sailors
---
La Herradura - A Nature Lovers Paradise
La Herradura is especially known for its year-round, outdoor sports-oriented activities. Along the waterfront portion of town the rich marine life, relatively calm waters and 2 km. long beach are attractive to
scuba divers
, swimmers, boaters, sunseekers, and hang gliders – and on occasion, windsurfers as well.
Moving inland, across the highway, you can also find wonderful hiking trails, hillside villas, and panoramic views of the coastline. These wonderful trails can also be found on both sides of the bay and especially in the area around the Cerro Gordo National Park.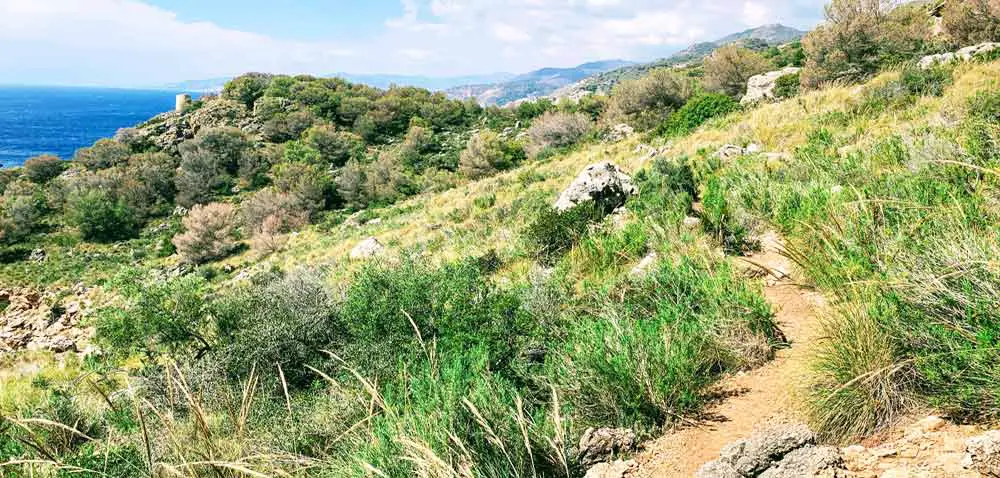 ** Trail from Playa Cantarriján (La Herrdura) to Playa Canuelo
A visit to each of the Roman towers is well worth your time, mostly because the views from the top are some of the best you will find along the entire coastline.
One particularly breathtaking view is of the sunset from the Maro - Cerro Gordo road above town, as the colors range from majestic lavenders and purples to deep oranges, depending on the season.
---
The 4 Best Things to Do in La Herradura
La Herradura is the perfect place to holiday and it caters to all types, those who want to get physically active and those who just want to relax... Here are the top 4 things to do in La Herradura.
1. Scuba Diving
Scuba diving
is one of the most popular sports you will find in La Herradura. People come from all over Spain and the rest of Europe just to scuba in these waters. Because of this, there are a number of great Scuba companies that can help you with all of your scuba and snorkeling needs. They will supply you with your equipment, help you attain the proper certifications and take you to some really incredible spots to "see the sights"... underwater sights that is.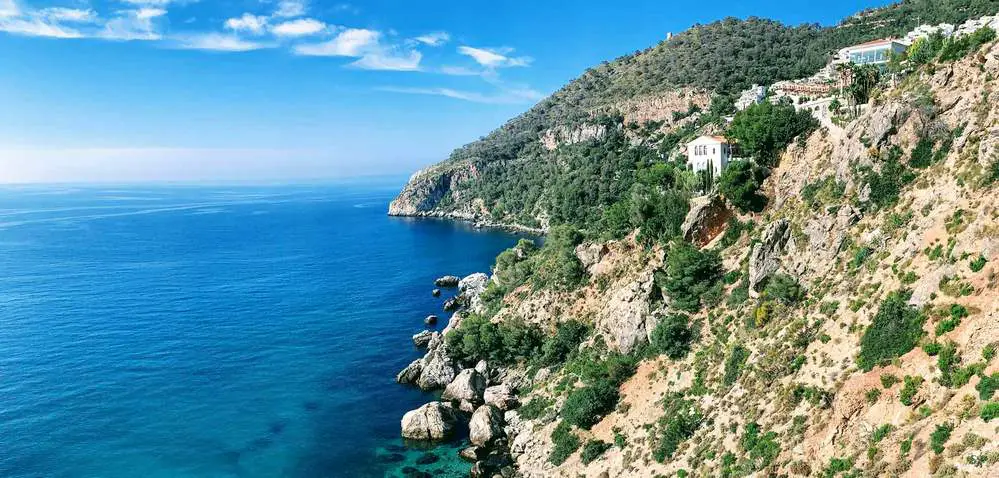 ** Popular area for diving - Cerro Gordo
The Western end of La Herradura is part of the 'Paraje de los Acantilados de Maro & Cerro Gordo', this is a Nationally protected park that runs between the towns of Maro and La Herradura. Because a large portion of the park remains below sea level, there is a huge variety of interesting sea life to observe. Some of the cliff caves are also favored locations for scuba.
The two most popular beaches for scuba in La Herradura are Playa Berengueles, which is just outside of the Marina del Este, and Playa La Herradura, the towns longest beach.
2. Kayaking
Another very popular activity in La Herradura is a
kayaking excursion
. Tours leave from
Playa Burriana
in
Nerja
or
Playa La Herradura
. There are also numerous
kayaking companies
operating along the beach that rent kayaks and paddel boards during the summer months.
Kayaking is such a desired sport here because the shape of the bay creates an excellent environment for exploration. The bay is protected by its two points so that the waves remain relatively small and there is minimum wind.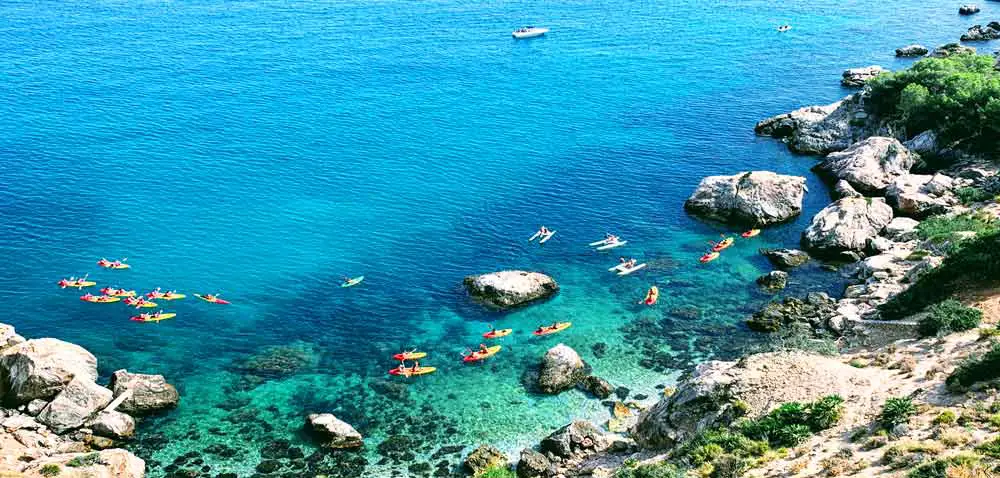 ** Kayaking through the Cerro Gordo Reserve
With the kayaks you can easily paddle around the Cerro Gordo point, going west, and explore the caves. On a calm day, a kayaking trip heading west along the coast is just breathtaking.
---
3. Hike the Cliffs around Cerro Gordo
Another fun thing to do in La Herradura is to climb out to the
Roman tower
on top of the Cerro Gordo Point. The walk is easy and will only take you about 20 minutes, but the incredible views are worth it. Drive up to the top and park in front of the Mirador restaurant. There is a path to the left of the restaurant that will take you all the way out to the tower. There is also a second look-out further to your right.
This entire area is part of the protected national park and remains relatively un-touched. You should also take a walk down the Cerro Gordo road where you will enjoy views all the way down the coast to Malaga.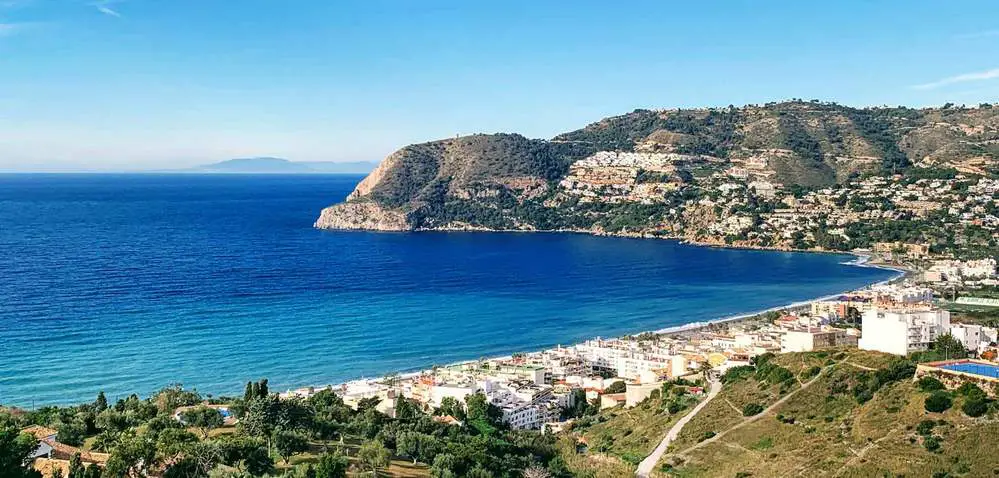 ** The Cerro Gordo Point & Roman Tower - La Herradura
Cerro Gordo is also home to the protected Iberian Ibex, which is basically a wild goat. On most days you will see them grazing together on the cliffs and jumping playfully from rock to rock. It truly is a sight to be seen.
just on the opposite side of the Cerro Gordo Point is the well-known Playa Cantarriján. It's a Playa Naturalista or nudist beach and one of the favorite beaches in the area.
---
4. Enjoy a Drink at a Chiringuito at Sunset
A Chiringuito is a typical Spanish restaurant and bar serving fresh seafood and typical andalucian dishes that usually sit right on the beach. One of the nicest things to do in La Herradura is to just... relax... sit down, take in the beauty of the bay, enjoy a cocktail and tapa and watch the sun set behind the majestic Cerro Gordo point. It really doesn't get any better than this...
Where to Stay in La Herradura
La Herradura is just a small fishing village in the Costa Tropical but there are many fabulous places for you to stay. From 4-star hotels,
low-cost hostals
,
two campgrounds
and numerous options for
renting villas
or
apartments
, accommodation is easy to find in La Herradura. See our hotel guides below:
The TOP four hotels that we recommed are:
---
La Herradura Tourist Office
---
More Must See Sites in La Herradura
Marina del Este
10-minutes west of the town of Almuñécar are the well-known and most popular areas to stay in La Herradura, the
Marina del Este
and the
Punta de la Mona
.
The Marina is a quiet, secluded port with berths for just over 200 boats; one of the only up-scale marinas on the southern Spanish coast. Diving, snorkeling, waterskiing, jet skiing, sailing and swimming are all enjoyed here during the warm summer months, as well as long moonlit after-dinner walks along the water.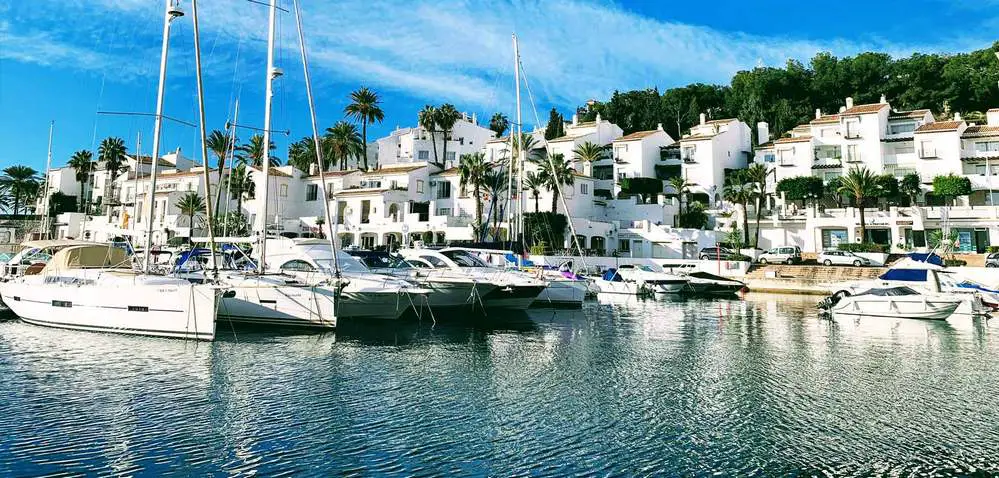 ** Marina del Este- La Herradura
This is a wonderful place to visit where you can stroll through the Marina shops and enjoy a delicious meal right on the water. The kids will love feeding the fish that swim up for a mid-day snack!
Renting a boat for the day is also a very popular activity here. Read our Marina del Este Guide.
---
Punta de la Mona
Covered in Pine trees and colorful Bougainville, the
Punta de la Mona
was once home to the famous flamenco guitarist, Andrés Segovia, and today boasts a 4-star luxury hotel and numerous high-end residences. It's one of the most sought-after areas in southern Spain for luxury second homes and vacation rentals.
Read reviews and see prices for the Hotel Best Alcazar, only 4-star hotel in the Punta.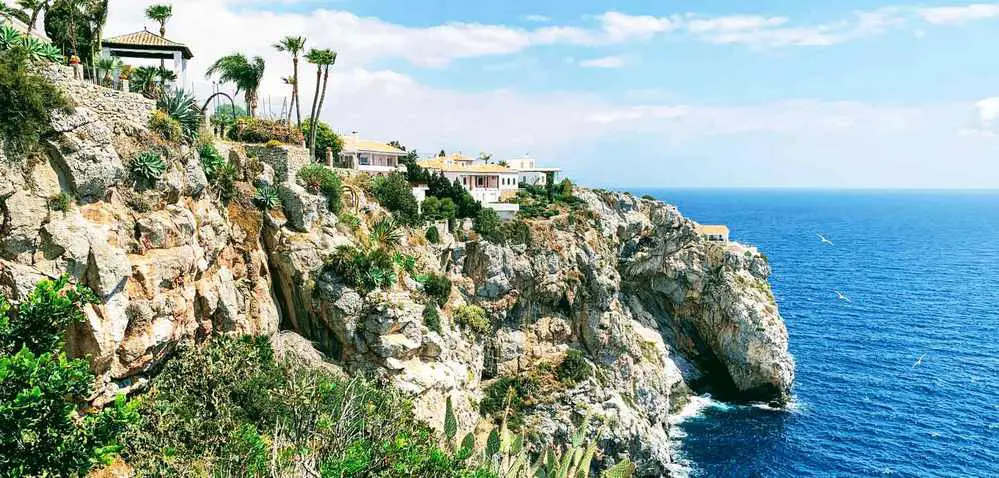 ** Cliff-top homes in Punta de la Mona - La Herradura
---
La Herradura Old Town
The existing
old town
in La Herradura is typical for this part of the coast – here you will find small, whitewashed homes with doorways opening onto tiny streets, neighbors sitting on park benches exchanging the news of the day, and local fishermen reveling in their catch. Its pretty streets are tiled, and the walls are adorned with hundreds of colorful pots... spilling over with red and pink Geraniums.
La Herradura's old town consists mostly of Spanish families that have lived here for centuries, and it hasn't changed much over the years...fortunately it still retains its authentic Spanish feel.
Explore the gently winding streets of the old town, its pretty flowered-filled corners are always a delight!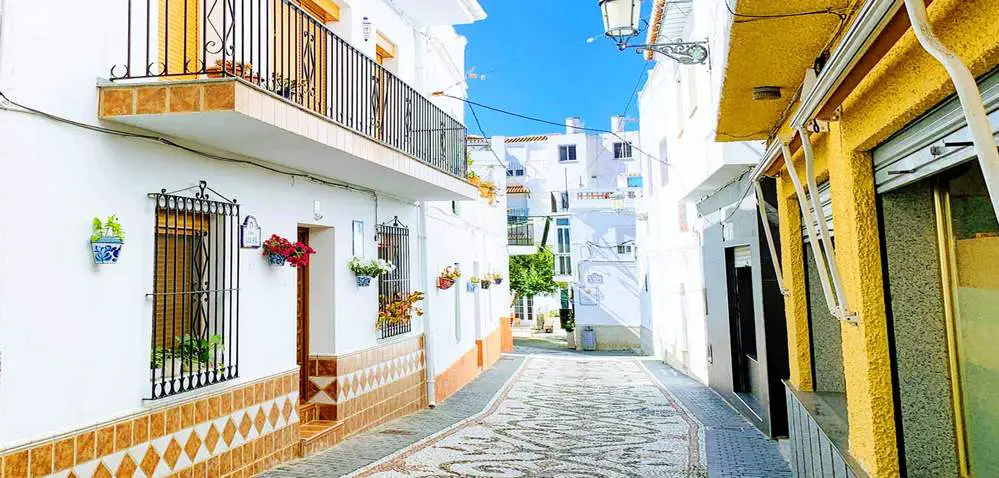 ** The Old Town (Casco Antiguo)
---
The La Herradura Beaches
La Herradura has been blessed with astounding beauty, and its beaches are the reason why. There are 4 wonderful beaches in town, most with all the amenities; restaurants, bars, shops, kayaking, paddle boarding and more.
Calaiza beach, the only beach with no services, can be accessed by kayak and is a wonderful little place to visit.
Read the La Herradura Beach Guide for more information on all the La Herradura beaches.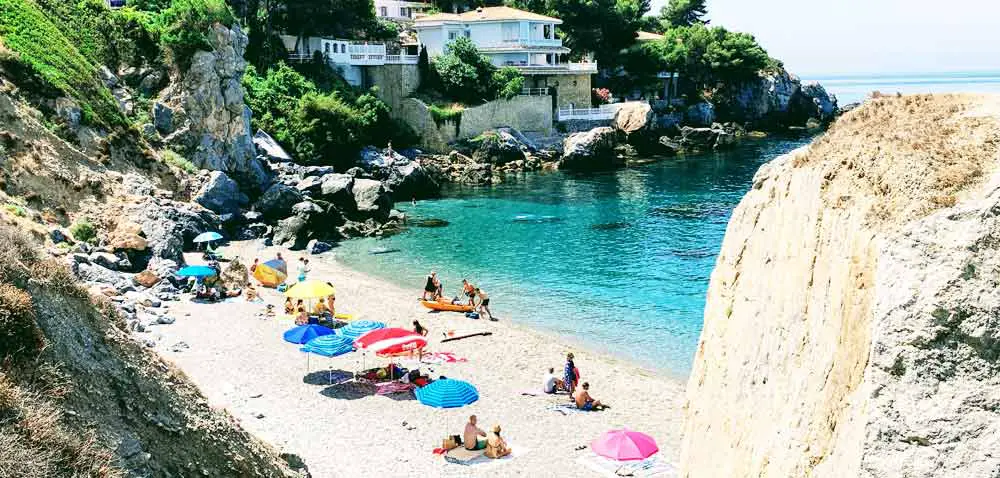 ** Cove on the Eastern end of La Herradura Beach
The San Jose Church
Once a hermitage but later designated as the local parish church in 1907, it derives its name from the patron saint of La Herradura, San Jose. It has a tall white bell tower and is used today for the town's local church services and weddings. There is a small shaded patio off to one side with a prayer area for giving thanks. Candles are lit daily. More about the
San Jose Church
.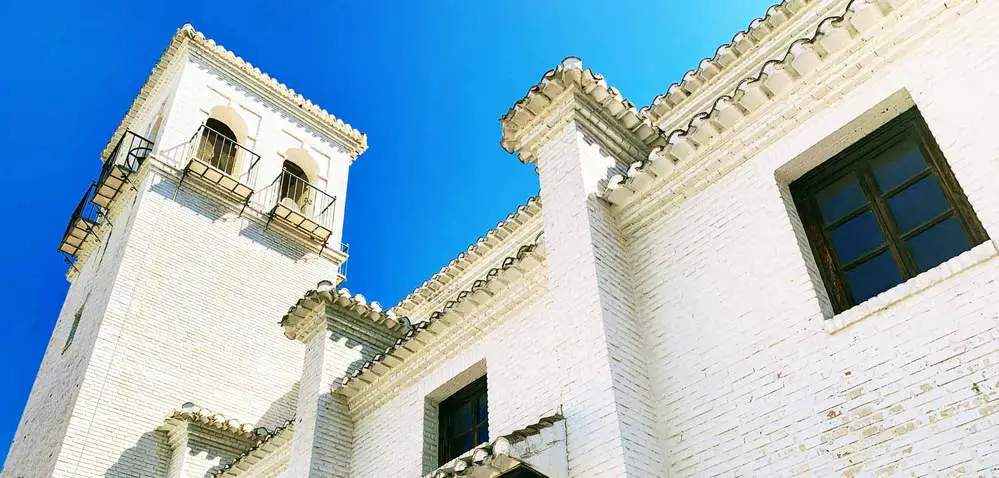 ** San Jose Church La Herradura
---
La Ermita
Sitting in the middle of the Pine forest atop the Punta de la Mona urbanization you will find this little gem. The
Ermita De San Jose & Santa Rita
is a small church with fantastic views of Almuñécar to the east. The area surrounding the ermita is also very beautiful and a nice place for walking. You can even climb up to the Tower above for more amazing views. More about
La Ermita
.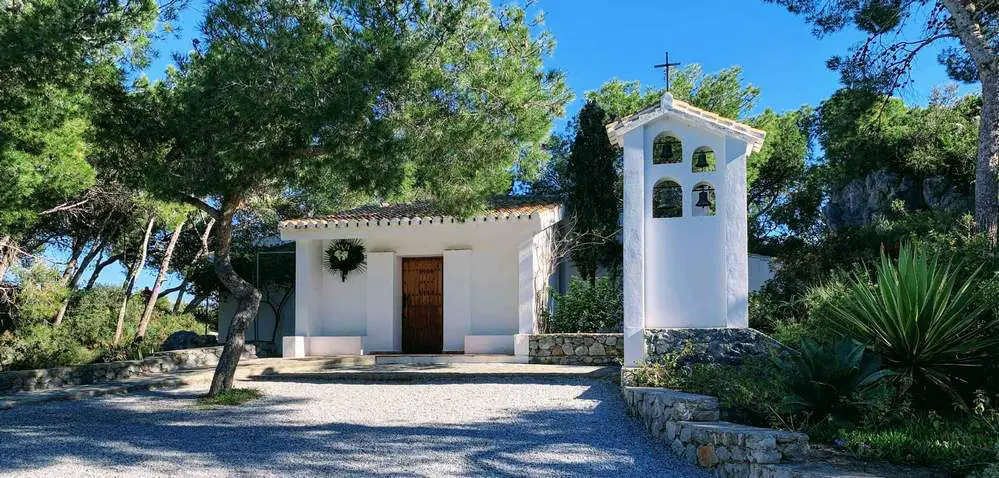 ** La Ermita- La Herradura
---
The Punta de la Mona Lighthouse
Sitting atop the Punta de la Mona urbanization is another Arab watchtower, this one is from the 18th century. It overlooks the Marina del Este below and has views to Almuñécar and Cerro Gordo.
You can access the tower from the stone staircase just above the Ermita or you can drive all the way to the top through the La Aldea neighborhood. A stroll through La Aldea is also recommended. Torre Punta de la Mona.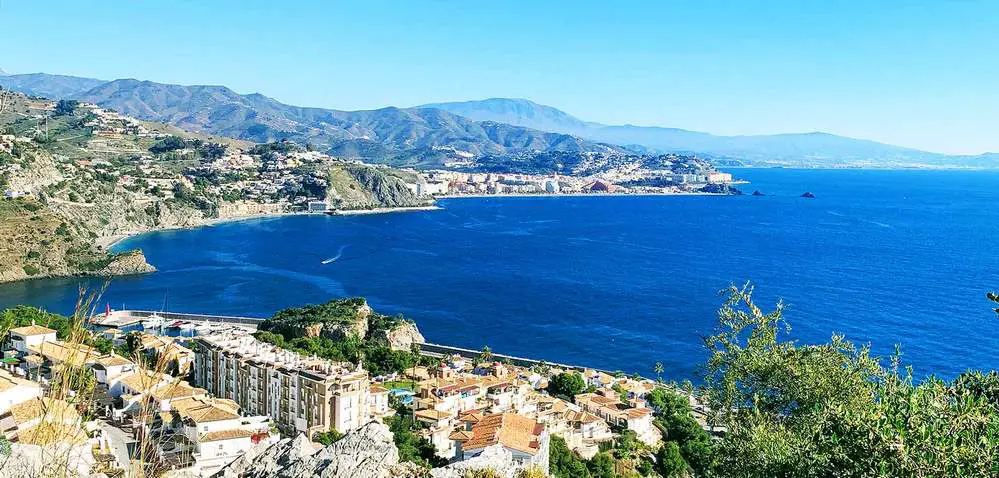 ** Views towards Almunecar from the top - La Herradura
---
Los Acantilados de Maro & Cerro Gordo
Running from the town of Maro (
Nerja
) all the way to La Herradura is the National park of Los Acantilados (the cliffs). This is one of the most picturesque stretches of the whole of the Southern Spanish coastline. It is protected by the Spanish government, so it's completely natural and untouched.
One of the most recommended drives in the Costa Tropical is the 15-minute drive from Maro to La Herradura on the old, curvy N-340 coastal road where you will see long stretches of beaches, mountains and cliffs jutting out into the sea, dotted with old Arab and Roman watchtowers.
There are many areas to stop along the way to take photos and enjoy the views.
Read more about the Los Acantilados de Maro / Cerro Gordo National Park here.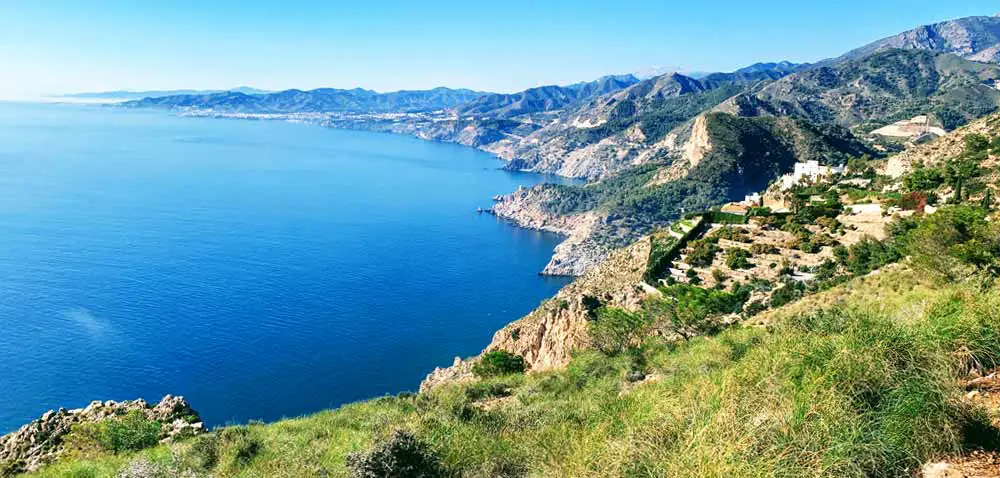 ** Views towards Malaga from the Costa Tropical & La Herradura
La Aldea
One of the most beautiful neighborhoods in La Herradura and located within the Punta de la Mona urbanization is the award winning 'La Aldea' community. It's perched along the cliffs above the Marina del Este and Playa Berengueles with spectacular views in every direction.
The urbanization was designed by famous architect Jesus Del Valle, who once lived there, and is now one of the most sought-after areas in La Herradura for summer rentals, apartments or villas. La Aldea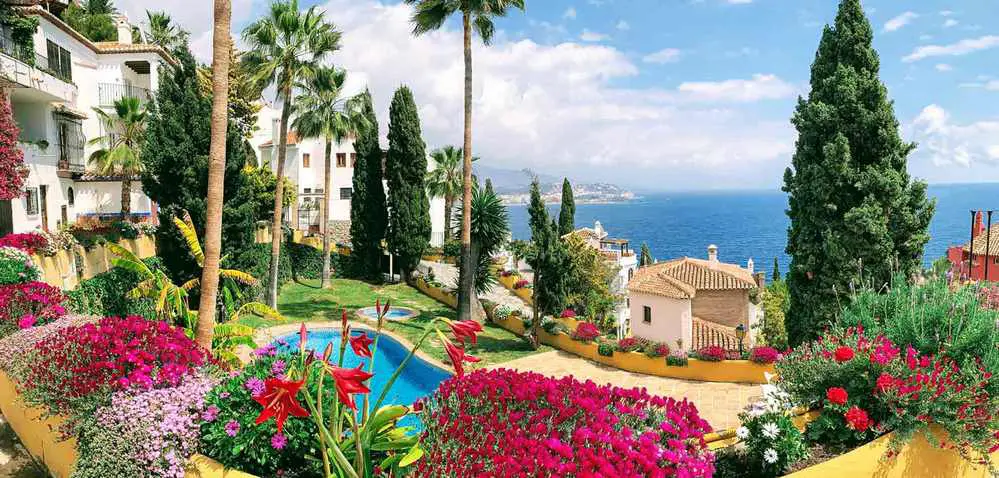 ** Community pool with Mediterranean views - La Herradura
---
Getting To La Herradura
Getting Here By Train:
Granada and Malaga both have great train stations and are accessible from anywhere within Spain. In general, the rail station in Spain is great and runs very smoothly. You can travel all over the country easily and quickly and usually at a low cost to you.
The best site for finding the lowest fares and booking trains is OMIO:
Look for rates and times for trains in Spain.
From each of the train stations (Malaga & Granada) you can get a direct bus to La Herradura. Best site for finding the cheapest bus fares is OMIO!
---
Getting Here By Plane:
Flying into the Costa Tropical is also easily done. Both Malaga and Granada have airports that service all of Spain. Malaga's airport is international with direct flights coming in from all over the world.
The BEST site for finding low cost airlines into these two cities is also now OMIO, they have added a new service lately and it's the cheapest that we have seen AND with the most reliable carriers:
➜ OMIO - Cheapest Flights in Europe
---
Getting Around La herradura
Bus
The Spanish bus system is great. Unlike in some countries, buses are used here often, and they tend to be larger, more comfortable, and very reliable. You can find direct buses from all the larger cities to any of the Costa Tropical towns, or buses that run from each small town to another.
There are also local buses that service each individual town.
All bus tickets can be purchased on OMIO where you can also compare and get the best prices. Local buses require payment as you get on, usually one euro.
➜ Best site for finding the cheapest bus fares is OMIO!
Taxi
Each town has a taxi stand where taxis are always present. You can either go down to the stand or call one up and have them come to you. There are also several private taxi services with larger vehicles that will take you to and from the bigger cities and airports. More about Taxis in Almuñécar.
Rental Car
One of the preferred ways of getting around is of course renting your own car. Car rentals in Spain tend to be very reasonable. You can either pick up a car in Granada or Malaga (at the airport) or pick up a car in town. More about car rentals in Almuñécar.