The Shipwrecked Sailors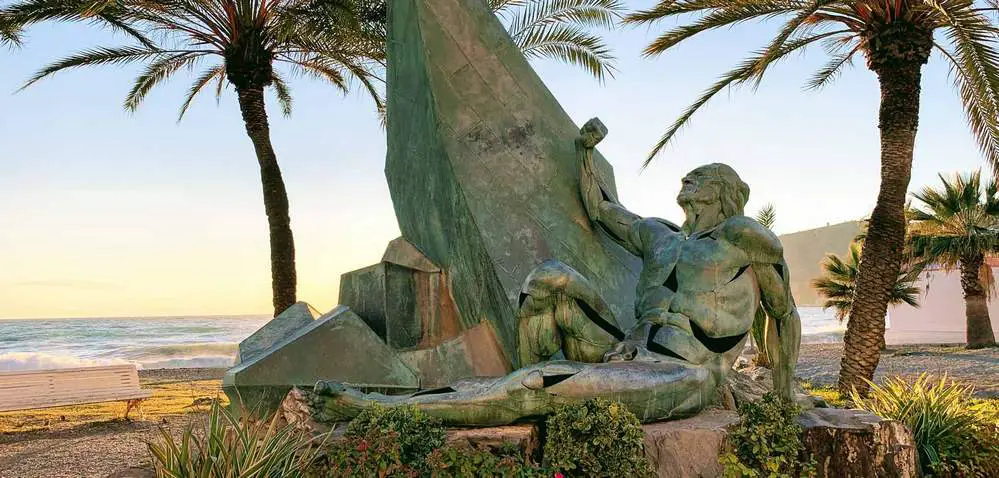 Located along the main beach road at the corner of Andrés Segovia and Paseo Marítimo (the intersection where you exit town) is the monument dedicated to the Shipwrecked Sailors. The statue is surrounded by a cluster of palm trees, rocks and park benches and has become a popular gathering place for the locals.
This monument is a tribute to one of Spain's greatest naval tragedies; to the sailors that lost their lives in this very bay. It was a tragic shipwreck that the Spanish Armada suffered the 19th of October 1562.
It took place during the reign of Felipe II when the aim was to stop Turkish expansion along the Mediterranean and specifically the Spanish coast. The story goes, that on the 18th of October, under the command of Don Juan de Mendoza, 28 galleys (ships) set sail along the coast of Spain. The ships departed from the port of Malaga full of supplies and with the wives and families of the soldiers on board.
A strong storm took the fleet by surprise so they decided to hide out in La Herradura Bay for cover. In the morning the storm returned again unexpectedly, keeping the fleet trapped within the bay. The ships crashed into each other wildly which ended with the sinking of 25 of the 28 galleys. Five thousand (5000) people lost their lives that day.
The remains of the shipwreck lie somewhere beneath the waters nearby, still waiting to be found.
Getting There
This monument is found right on the beach in the center of town. It sits at the corner of Avenida Andrés Segovia and the road where you take the right to drive towards the bus stop and out of town (Calle Rambla del Espinar).
---
---
Shipwrecked Sailors