Relax On Playa La Herradura!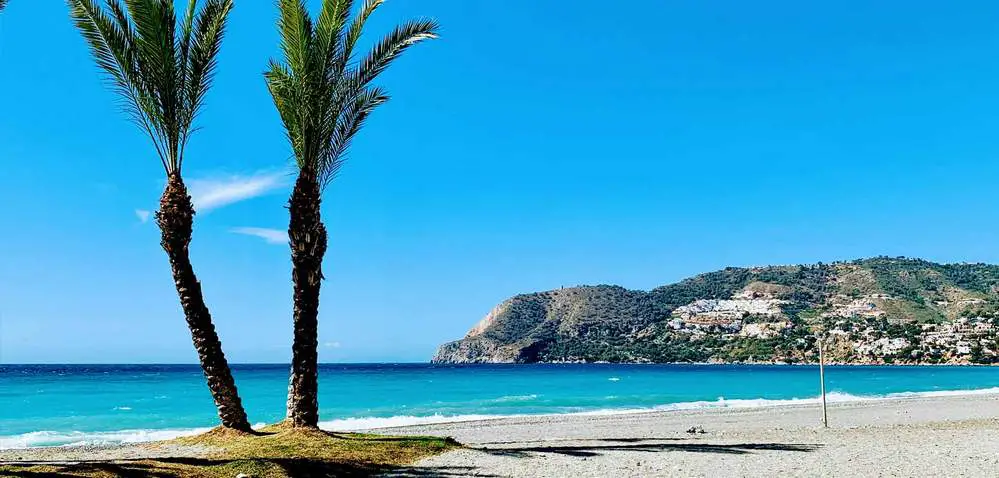 La Herradura is the small picturesque fishing village on the border of the Costa del Sol and Costa Tropical. It's the most naturally alluring and upscale of all the Costa Tropical towns.
Playa La Herradura is the longest and most popular beach in La Herradura and arguably one of the most beautiful in Spain. It's a clean, family-oriented beach with semi-coarse sand and packed with fun things to do for the whole family!
A day spent on Playa La Herradura can be soothing and relaxing or action-packed with a punch of adrenalin... you choose!
---
Playa La Herradura is a Gorgeous Bay in Andalucia!
Sheltered between the two points of
Punta de la Mona
and
Cerro Gordo
, this 2 km pebble and sand beach is protected within the horseshoe-shaped bay that gives it its name,
"La Herradura"
means "horseshoe" in Spanish.
During the summer months, mid-June through mid-September, this beach is full of life... while the rest of the year... it's peaceful and quiet.
Beautiful sailboats and yachts can often be seen moored here, but during the summer, the small bay of La Herradura is teeming with visitors sailing in from all over the Mediterranean.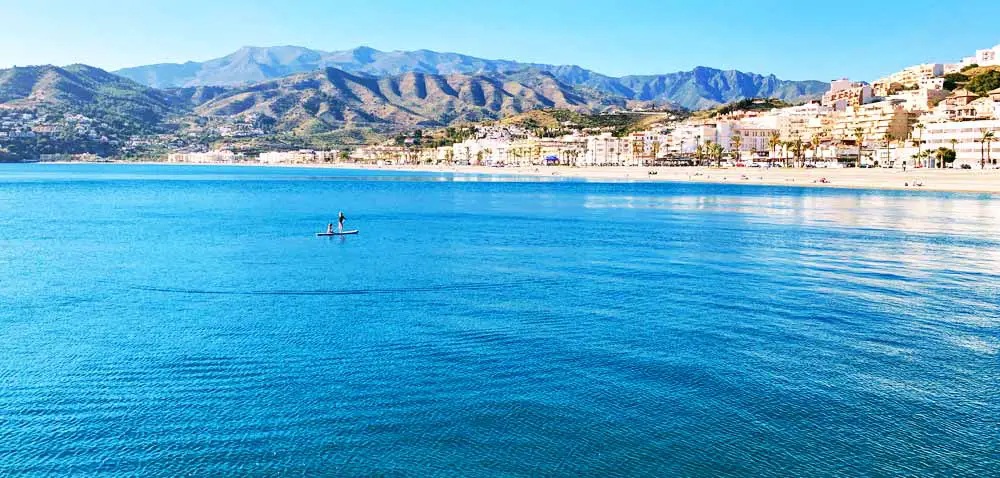 ** Playa La Herradura ➜ Paddle Board in the Beautiful Bay
10 Things to Do While Spending the Day at Playa La Herradura
1
Playa La Herradura is THE Place for Scuba Diving!
In recent years, Playa La Herradura has developed as a major scuba diving hub. It has become an immensely popular sport here due to the underwater natural reefs and ancient sunken ships to explore just off its shoreline.
Many scuba diving centers are now located in the town of La Herradura and the Marina del Este to the east, most do training and excursions around the bay of Playa La Herradura as well as Playa Berengueles, the beach beside the marina.
---
Get Certified With A PADI Course!
---
2
Join in the Fun and Kayak Around the Cliffs!
Small boats, kayaks and other water equipment can be found for rent all along Playa La Herradura. Activities that are popular here include wind sailing, kayaking, waterskiing, jet-skiing, snorkeling, water-biking, paddle boarding and more... Read our complete guide about Kayak and Water Sports in La Herradura.
During the summer we always say the cliffs around La Herradura seem more like Grand Central Station than what you would expect to find in a sleepy Spanish Village...
But it's quite exciting to see the throngs of kayakers and paddle boarders happily paddling away down the coast, navigating around the giant rocks, moving peacefully in and out of the sea caves, and finally resting on a beach within the Maro / Cerro Gordo Nature Reserve.
---
Recommended Tours: Rent A Kayak or Go With A Group!
Note: Paragliding is also an extremely popular sport in La Herradura, as this beach is a designated landing site. On any given day, you will see colorful parachutes drifting slowly down from the sky and landing along the beach.
---
3
Rent a Sailboat from the Marina del Este & Explore the Bay!
The Marina del Este is the only upscale marina in the area and one of the nicest ones along the Spanish southern coast. It's a great place to visit if you're in La Herradura with its numerous restaurants, boutiques and art galleries to keep you entertained.
The neighboring beach, Playa Berengueles, is another of the prettiest beaches along the Costa Tropical and worth seeing.
One of the best vantage points of La Herradura is from the sea. If you don't have one already, the marina is also a great place to rent a boat for the day. Read our complete guide on Renting a Boat in Marina del Este.
---
Boat Rental Options we Recommend...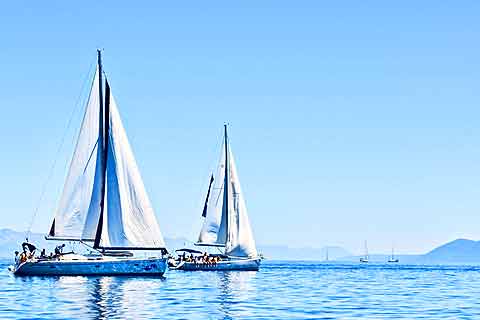 ---
4
Playa La Herradura East - Go For a Swim!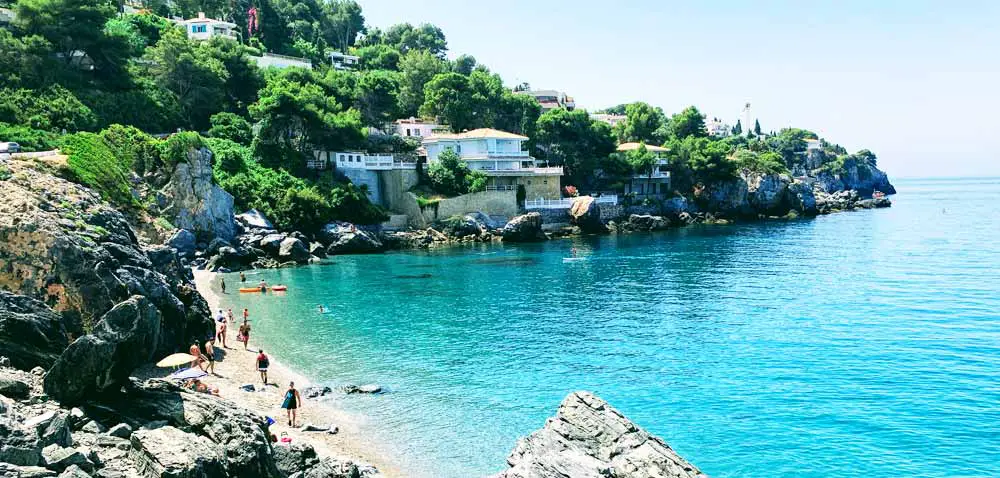 ** Playa La Herradura ➜ The Eastern Cove
One of the nicest things to do while spending the day at the beach is to cool off by going on a long leisurely swim. The surf along Playa La Herradura is great for kids, and the adults too, because the shoreline is gently inclined and the waves are relatively small. The water is also known for being especially clean and clear.
The eastern end of the beach is by far the best spot for swimming! There is a small cove at the far end that you access via a dirt path. This part of the beach has crystal clear turquoise water and giant rocks resting at the water's edge... This makes it the perfect spot for swimming and snorkeling...
---
5
Playa La Herradura West - Jump From the Rocks!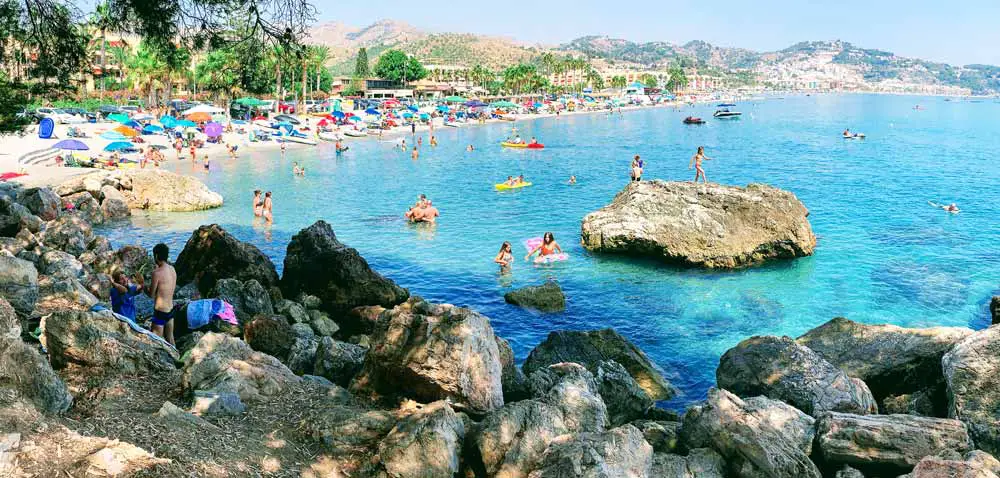 ** Playa La Herradura ➜ The Western Cove
The western end of Playa La Herradura is usually much busier than the eastern end, probably because it's easier to access. There are also large rocks that wrap around the point going towards Playa Calaiza that are great for the kids to jump from.
There is also a rugged path that cuts through the pine forest along the coast for a short distance, it's another fun place for the kids to explore!
---
6
All of Playa La Herradura - Just Relax....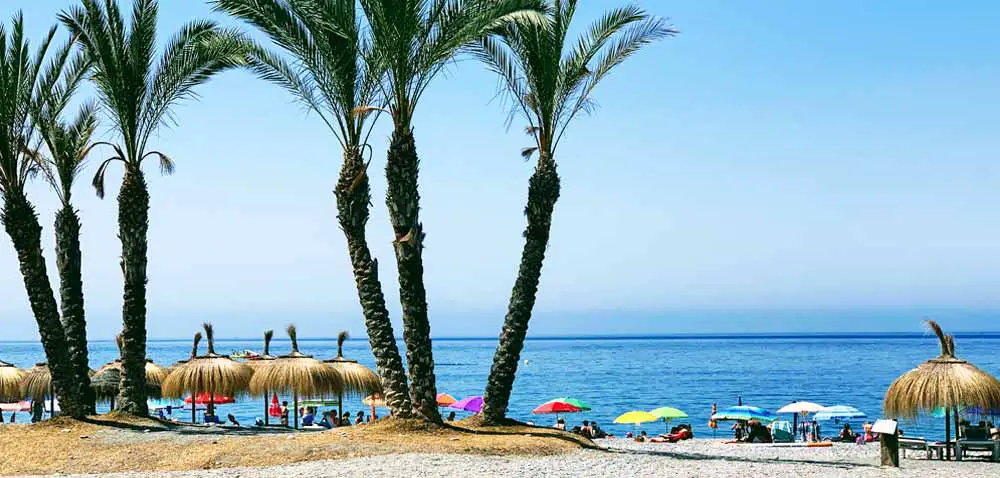 ** Playa La Herradura ➜ Palms, Umbrellas & White Sand
Now THIS is why you come to Playa La Herradura... to relax under a palm tree, read a good book, take a little siesta... and relax....
I can't think of a better spot!
Rent a sunbed and umbrella for some extra comfort. They are available at many of the chiringuitos along the beach, usually for around 5 euros a day.
---
7
Let the Kids Bounce at Aqua Arena
Now, here's an idea! Having a hard time relaxing because your kids are driving you nuts? Take them over to the Aqua Arena! The Aqua Arena is an inflatable bouncy park on the water that sets up shop every summer about mid-way down the beach.
They have full-time lifeguards on duty and will watch your kids while they bounce by the hour. Not only will you get the chance for some deep relaxation but your kids will come back happy... and exhausted!!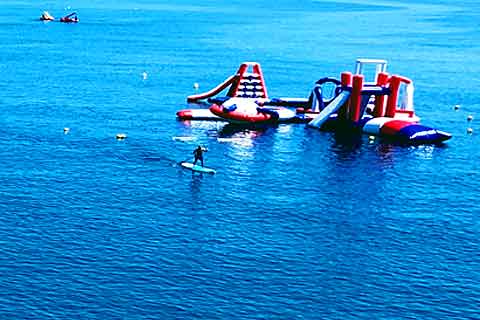 ---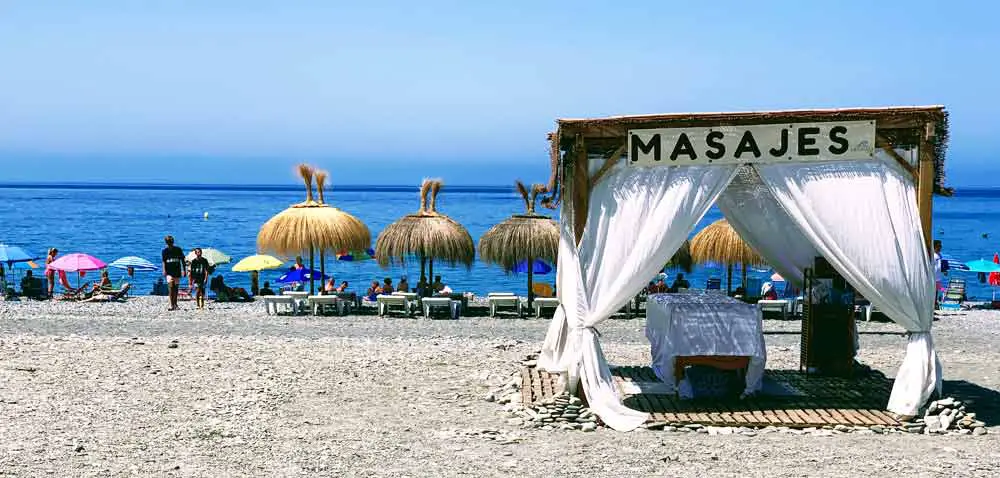 ** Playa La Herradura ➜ Massages Available
So, we agree that spending a day on Playa La Herradura is a day meant for relaxing. So, why not take it a step further and head over to the massage table...
Have those knots worked out with a deep muscle massage while listening to the sound of soothing music and the gentle surf!
When you're done, you will feel like... what I call... a "wet noodle" (that means really, really relaxed and loose).
---
9
Check Out Some Nearby Sites!
Got ants in your pants and want to keep moving? I know plenty of those types. While everyone else is asleep on their warm towels you can head over and check out these two sites right near the beach!
---
10
Playa La Herradura - Enjoy the Sunset!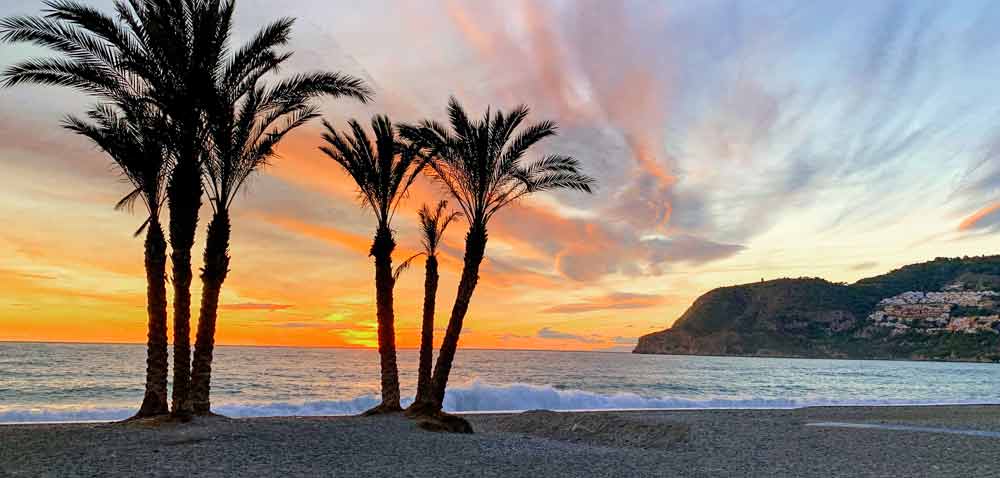 ** Playa La Herradura ➜ Enjoy the Sunsets
The sunsets in this village just CAN NOT be beat!
One of the BEST things to do in La Herradura is to meet some friends in a nice chiringuito on the beach and enjoy a drink while listening to the music and watching the sun finally fade away behind the beautiful Cerro Gordo point.
It is at this moment that you will realize... life just doesn't get any better than this...
---
Services Available on Playa La Herradura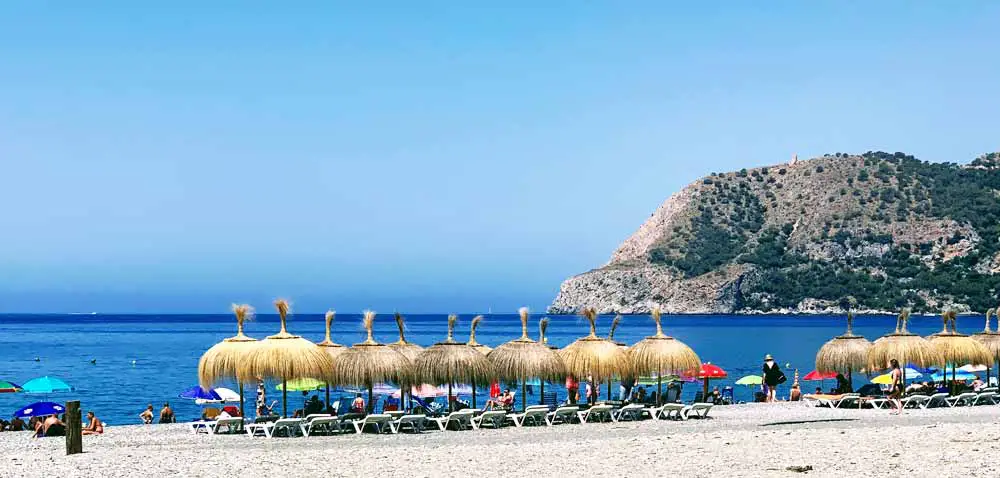 ** Playa La Herradura ➜ Cerro Gordo Point
Playa La Herradura is popular not only for its sheer beauty but also because of its proximity to so many other amenities found around town.
There are many great hotels, restaurants, cafes and beach bars that can be found along the beach, as well as several small grocery stores, beach stores and boutiques.

On the beach you will find, bathrooms, showers, sunbed and umbrella rentals, plus there are about 4–5 children's parks and play areas to keep the kids occupied.
Playa La Herradura has easy access for the disabled, making it one of the many accessible beaches in Andalusia.
There is also a flag system to notify beachgoers of current swimming conditions; a green flag when conditions are at their best, a yellow flag when you must proceed with caution and a red flag when you must stay out of the water for your own safety.

There is even a flag for high jellyfish numbers so you won't get stung.
---
Playa La Herradura is just a short walk from most summer rentals in the area... but there are also numerous great hotels located right on the beach!
Hotel Sol Los Fenicios (on the beach) | Boutique Peña Parda (on the beach) | La Caleta Bay (on the beach) | OYO Hotel Almijara (2 min walk to the beach).
LA HERRADURA HOTELS - SOL LOS FENICIOS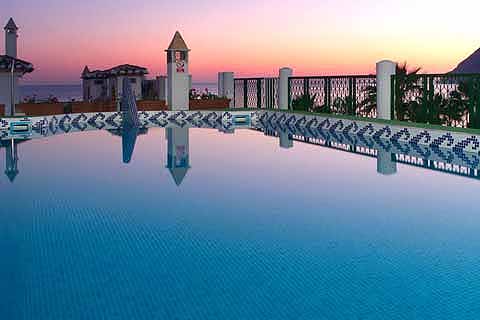 LA HERRADURA HOTELS - PENA PARDA BAY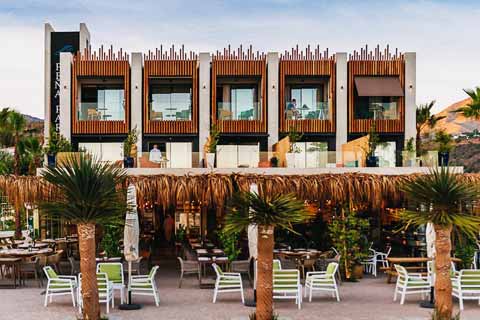 ---
Recommended Beach Chiringuitos
Our two favorite chiringuitos are on the western end of Playa La Herradura...
LA HERRADURA RESTAURANTS - CHAMBAO DE VICENTE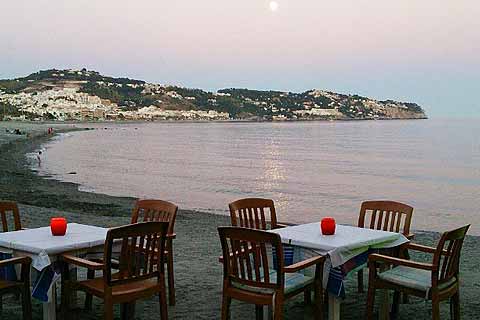 LA HERRADURA RESTAURANTS - LA SARDINA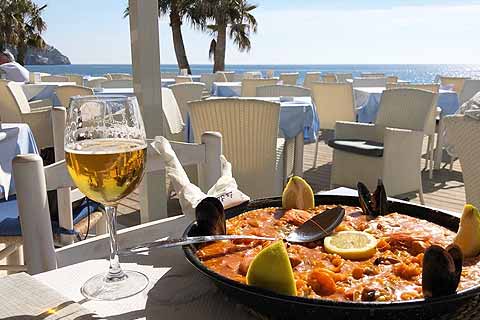 ---
Playa La Herradura Beach Data
| | |
| --- | --- |
| Type: | Family Beach |
| Length: | 2,100 Meters |
| Surface Area: | 109,200 m2 |
| Max Capacity: | 21,840 users |
| Sand Type: | Coarse sand and pebbles |
| Facilities: | Showers and Restrooms, Restaurants & Bars, Easy Access to Town |
| Access: | Along the entire main road of La Herradura, Paseo Andrés Segovia |
---
Getting to Playa La Herradura
From Granada
: Drive south on the A-44 for 55 minutes to reach the coast, then go west to La Herradura.
From Málaga: Head east on the A-7 for 53-minutes to reach La Herradura.
Once in La Herradura, Playa La Herradura runs along the entire main beach front area, the coastal road is called Paseo Andrés Segovia.
---
---
Parking Near Playa La Herradura
Parking in La Herradura can be a bit stressful during high season... so get up early and claim your spot! You can still find free parking along the beach in the areas marked with blue lines, although there are fewer and fewer of these spots every year.
There are also spots with yellow lines along the beach that indicate that you must pay, there are machines along the road where you can do this. Parking is strictly monitored so if you don't pay on a yellow line, you WILL get a ticket.
The best places to park now are at the western end of the beach where locals have opened up their land and are charging for spots. They have large lots with plenty of available space but they charge a flat rate of 5.00 euros. If you're planning to stay for the day, this is great, if you only want to stay a few hours you may find that this is a bit steep. At least you get around the headache of searching for hours or feeding a meter all day...
---
Where is Playa La Herradura
I hope that with this guide you are able to find everything you need for a perfect day spent on Playa La Herradura. Have a blast and remember... wear your sunscreen!!!
---