Playa Burriana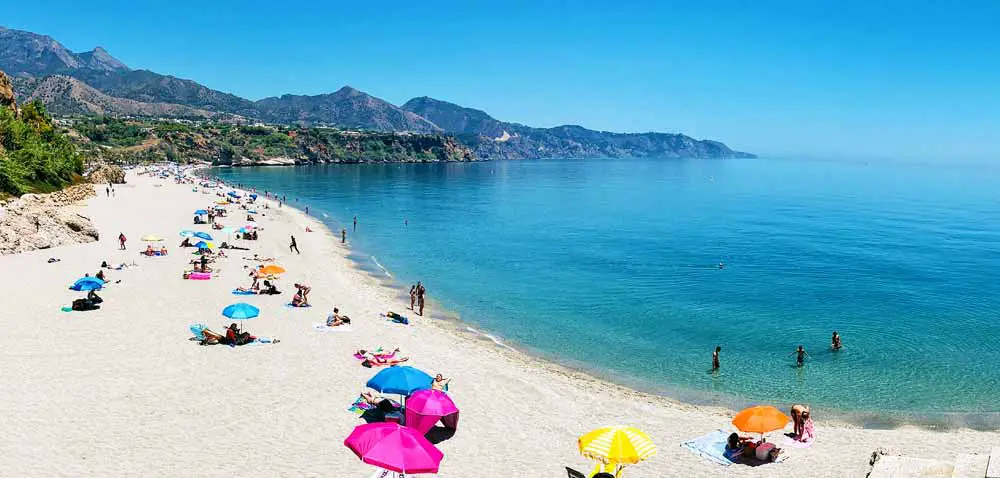 ** Playa Burriana - White Sand and Gentle Surf
---
Playa Burriana! Nerja's Most Popular Beach! ➜ Come to Where the Action is!
Playa Burriana is without a doubt the busiest and most well-known beach in Nerja. It's an 800-meter beach with soft white sand, gentle surf, and crystal-clear water. The beach is packed from end to end with some of Nerja's best restaurants, tapas-bars, beach shops, water sports companies, and a wonderful assortment of apartments and villas.
Burriana has everything you would need for a perfect beach holiday. Kayak excursions leave daily to the waterfalls in the Maro Nature Reserve, snorkeling and paddle board activities are available, as well as small boat rentals, and volley ball courts.
If you are thinking of spending your next holiday in Nerja, keep reading to find out why Playa Burriana might be the best spot for you and your family!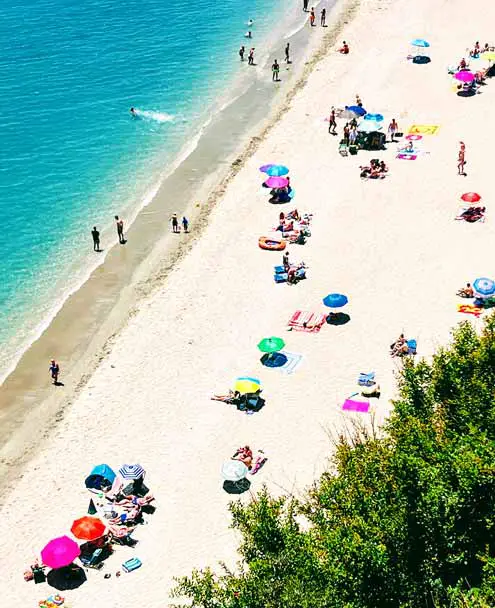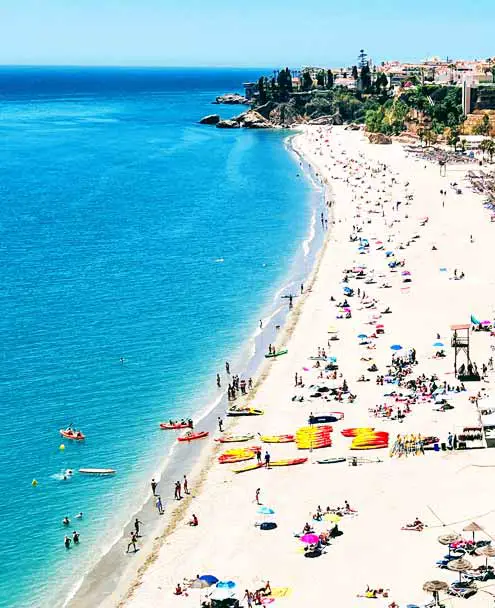 ** Playa Burriana - Kayaks & Colorful Umbrellas
The 'Blue Flag' Campaign, starting in 1987, has been awarded to over 4,000 beaches and marinas in 48 countries across Europe, South Africa, Morocco, Tunisia, New Zealand, Brazil, Canada, Jordan, UAE, and the Caribbean. As of today, Spain has had more 'Blue Flag' beaches than any other country every year since the awards began. Playa Burriana is one of two Blue Flag beaches in Nerja, the other is Playa Torrecilla.
Playa Burriana has also received the "Q" for Tourism Quality award, which is a renowned Spanish brand aimed at the certification of tourist services. A beach obtains the "Q" award when it has established a certain level of quality and standard. It brings with it, prestige, uniqueness and reliability that tourists can depend on.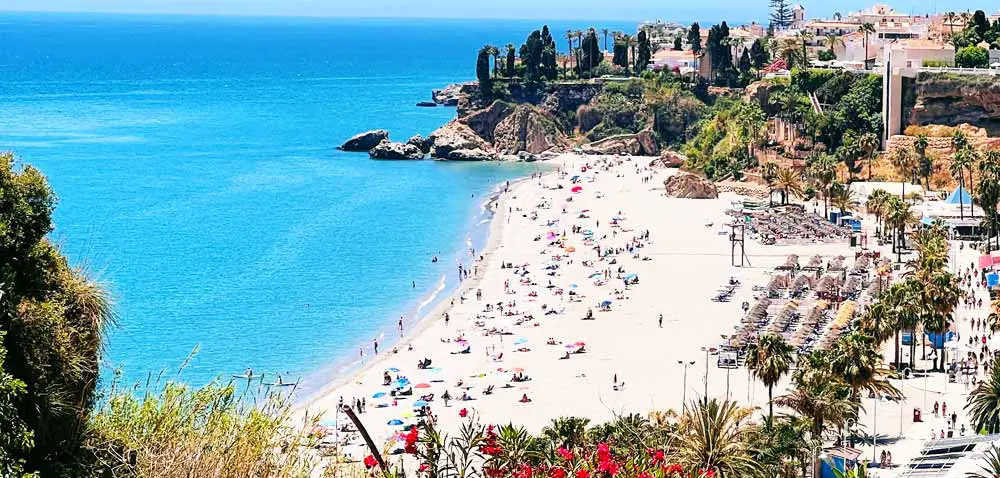 ** Playa Burriana from Above
---
Why Visit Playa Burriana?
Visit
Playa Burriana
if you love beautiful white sand beaches with crystal-clear water, you like to be where the action is, and you want access to the best restaurants, tapas-bars, shops, and water sports activities.
---
How to Arrive ➜
From Granada
- Drive south on A-44. Take exit 183 to merge onto E-15 / A-7 towards
Salobreña
/ Málaga. Take exit 295 (Nerja) from the A-7.
➜ Continue to the roundabout and take the N-340 (first exit) towards Nerja. Drive straight through two more roundabouts, at the third roundabout take the third exit and drive down towards the coast. You will reach Playa Burriana at the bottom of the hill.
From Malaga - Follow A-7 going east. Take exit 295 (Nerja) from A-7. Then follow directions above.
From the Center of Nerja - Drive along the Carretera de Almería / N-340 (Avenida de Pescia) going east towards Maro. At a large roundabout (Restaurante Asiatico will be on the corner on your right), you will see a blue sign indicating 'P Burriana'. Take a right and head down the hill until you reach the beach.
Access to the Beach
Access to Playa Burriana can be obtained in one of two ways:
Walking from the Nerja Town Center - This beach is on the eastern-most side of Nerja so walking from the Balcon de Europa will take about 20-25 minutes.

From the Balcon, walk towards the shopping area and take a right onto Playa Carabeo. Continue down Calle Carabeo until you reach the Mirador Del Bendito. From here you can access Playa Carabeillo which connects to Playa Burriana.

Driving - Most people prefer to either drive to Playa Burriana or take a taxi. If you are not staying near the beach the walk can be a bit far, especially if you are carrying beach supplies. From the town center the drive will take you under 10-minutes.

There is a taxi stand at the end of Filipinas street, at the beginning of Playa Burriana. You can call and book a taxi here. Phone: (+34) 619 097 521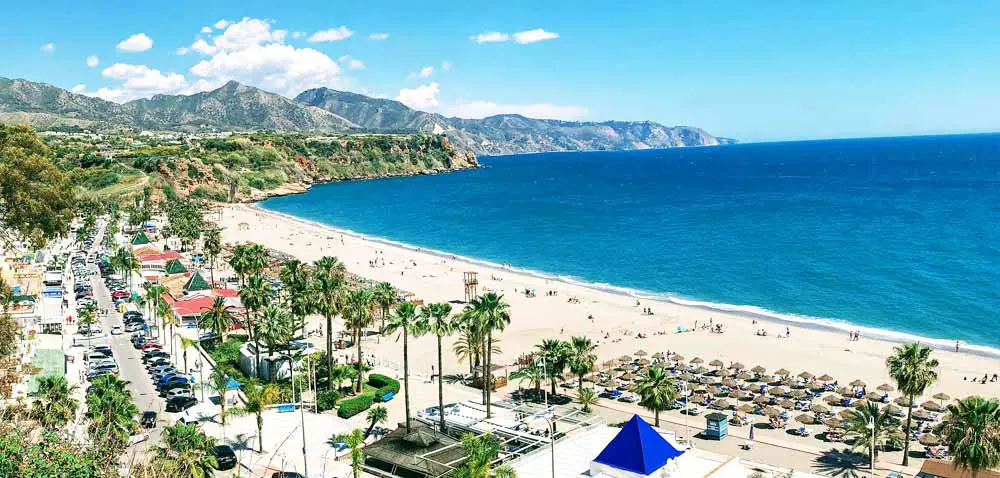 ** Playa Burriana - Nerja's busiest beach
---
Parking ➜
Where to Park
- Parking is notoriously bad along Playa Burriana. Free Parking is limited so you will have to drive along the beach until something opens up or you can drive to the eastern end of the beach and up the hill. During the summer this area will also be quite full and you might have a long walk back down to the bottom.
There is also a parking garage available during the summer months. Access to this lot is located just after the roundabout on the left-hand side, before you reach the beach. The map location is here.
One other option is to park in the Carabeo Parking Lot. This is a huge, dirt parking area behind Playa Carabeillo. You can easily access Playa Carabeillo on foot and cross over to Playa Burriana.
---
Facilities on Playa Burriana:
Everything you need to enjoy a relaxing day at the beach can be found on
Playa Burriana
.
Showers
Changing Rooms
Sun Bed and Umbrella Rentals
Boat Rental
Restaurants
Bars
Lifeguards
Taxi Stand
Parking Garage
Kayak & Paddle Surf Rentals
3 Volleyball Courts
Disabled Access
Seaside Promenade
---
Beach Info ➜
| | |
| --- | --- |
| Type: | Family Beach / Urban Area |
| Length: | 800 meters |
| Width: | 40 meters |
| Level of occupancy: | High |
| Sand Type: | White Sand |
| Facilities: | See Above |
| Nudist beach | No |
| Access | N-340 Highway to Paved Road (Seaside Promenade) |
| Ease of Access | Easy |
Other Nerja Beaches:
---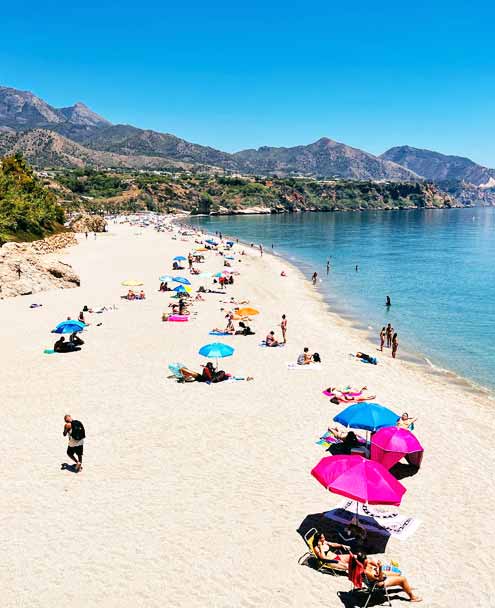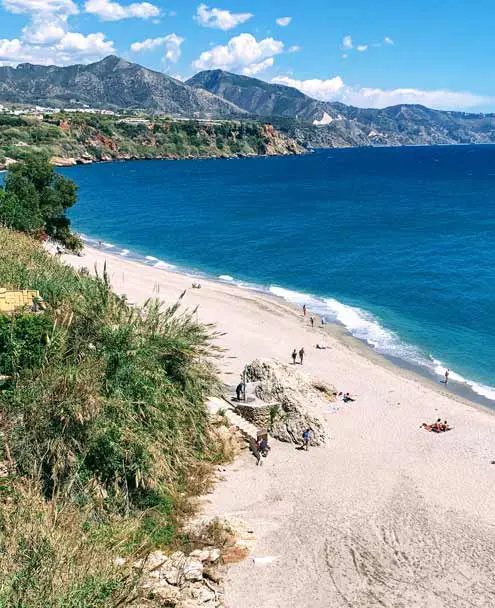 ** Views of Playa Burriana
---
Playa Burriana ➜ Where to Stay
Because Playa Burriana is such a popular area there are many options for accommodation...
Hotels ➜
There is one hotel directly on Playa Burriana, and it's a great one. The
Parador de Nerja
is located within walking distance of everything in town, and also has an elevator with direct access to the beach. This is our #1 choice for hotels near Burriana.
Two Other Good Hotel Choices
Hotel Nerja Club Spa by Dorobe -



Villa Flamenca -


Top Apartments for Rent ➜
Playa Burriana Apartments
Apartamentos HC Burriana Playa -



Apartamentos Nerja Bahia -


Apartamentos Almoraide Suites - Adults Only
Summer Villas to Rent ➜
---
Playa Burriana ➜ Where to Eat
There is no end of great restaurants along Playa Burriana, you will find cuisine of all types, lots of locally grilled fresh seafoods, ice cream parlors, and tapas bars. Here are our top 4 favorite restaurants on Playa Burriana...
PLAYA BURRIANA - RAW LOUNGE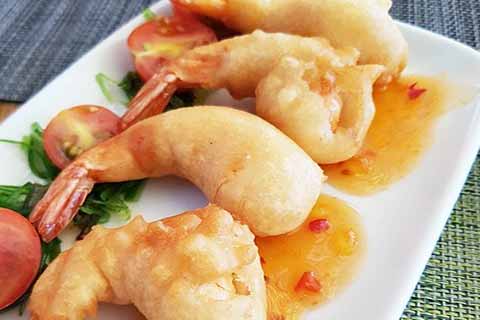 PLAYA BURRIANA - LAN SANG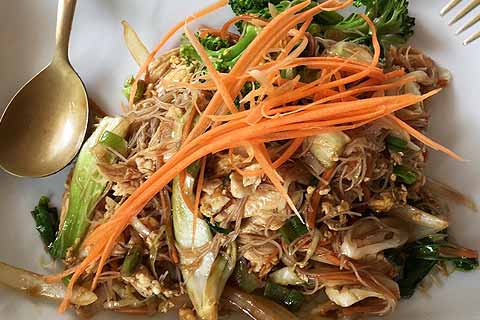 PLAYA BURRIANA - PLAYA Y SOL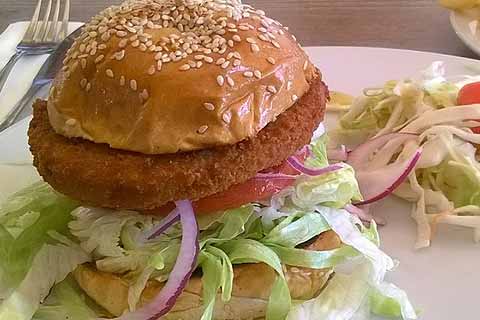 PLAYA BURRIANA - AYO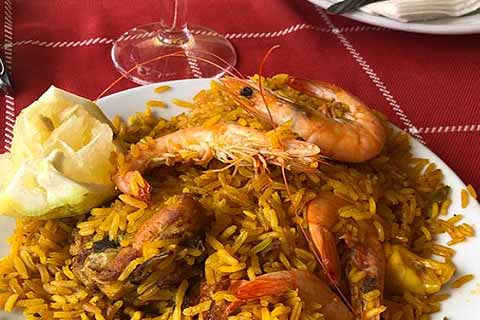 ---
Playa Burriana ➜ Kayak Rentals / Excursions
Playa Burriana is the most popular spot in Nerja for kayaking due to its proximity to the
Maro Nature Reserve and Waterfalls
. Kayaks can be rented on the beach or you can join one of the excursions that leave on the hour. The tours are
highly recommended
as they guide you through the reserve, pointing out the most important aspects, and taking you to the most interesting caves, coves, and waterfalls.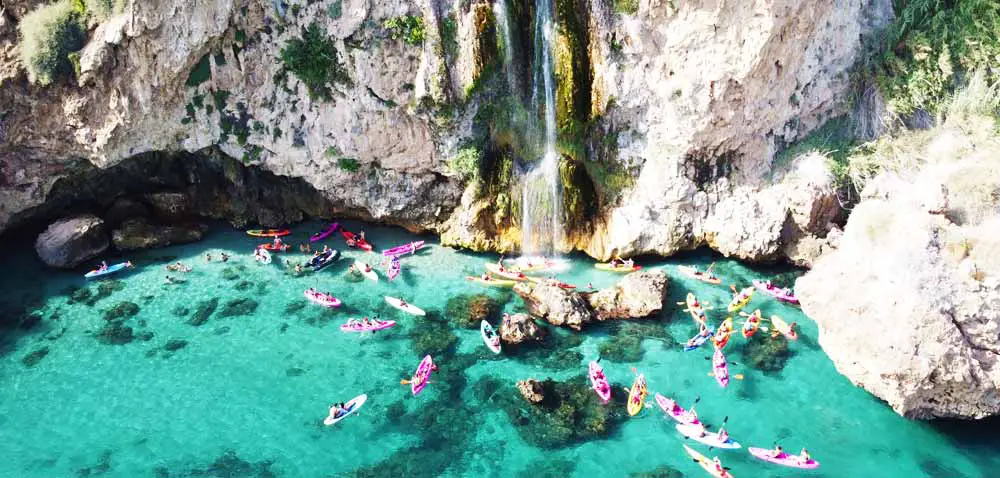 ** Kayaking to Waterfalls near Playa Burriana - Nerja
Educare Aventura is the one of the top water sports companies on the beach. You can book an excursion with them directly on the beach, by telephone, or book online. We highly recommend you book in advance of your trip as this is a very busy area and you don't want to lose a spot. Read more about the kayaking excursions here: Kayaking in Nerja.
EDUCARE AVENTURA! - ADVENTURE COMPANY
Address: Camino de Burriana, Local 2, Fase 2, Playa de Burriana, Nerja, Malaga
Phone: +34 676 685 827 / 600 620 054
Reservations: +34 952 039 026
Website: https://educare-aventura.com
Contact Form:https://nimoaventura.com/contact-us/
Email: kayak@educare-aventura.com
Additional Services: Canyoning, Hiking, Mountain Biking, Horseback Riding, 4x4 Routes
KAYAKING TO THE MARO WATERFALL! ➜ BOOK EARLY & SECURELY ONLINE!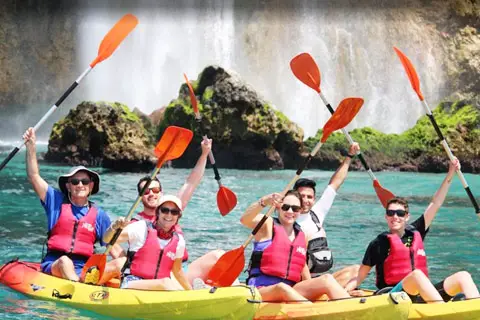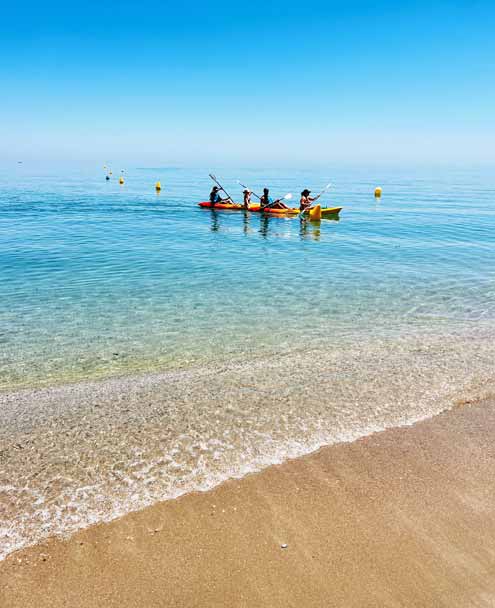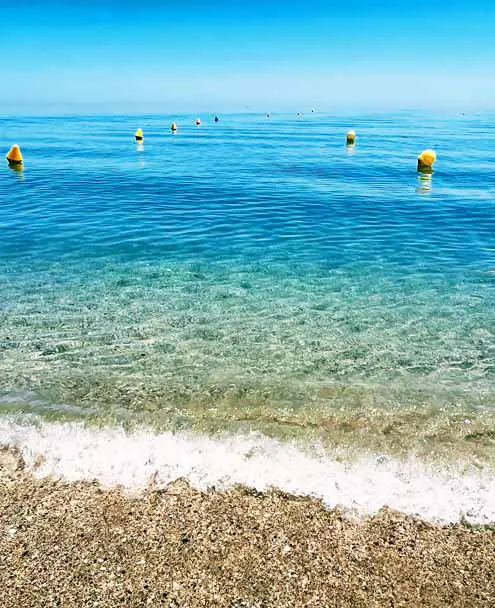 ** Kayaking in the Crystal-Clear Water at Playa Burriana
Playa Burriana ➜ Paddle Surf Rentals / Excursions
Paddle surfing is another fun activity you can do from Playa Burriana. Paddle boards can be rented from
Educare Aventura
on the beach or
Crystal Kayak
along the main road.
Prices are about 10.00 euros for one hour. You can also join the Paddle Surf Tour that takes you through the nature reserve on paddle boards.
---
Playa Burriana ➜ Scuba & Snorkeling
The
Nerja Dive Resort
is a family-run, five-star PADI dive center in
Nerja
just on the front of Playa Burriana. They offer PADI courses from beginner to professional levels, 'Discover Scuba' programs, snorkeling, and boat trips. They dive just east of Playa Burriana in
La Herradura
,
Punta de la Mona
, and the
Maro-Cerro Gordo Natural Park
.
Most of the top diving companies in the area are in La Herradura (10-minutes down the coast) as the diving there is considered to be the best in Spain. Read more about what's on offer here: Scuba Diving in La Herradura.
NERJA DIVE RESORT - NERJA - DIVING CENTER
Address: Playa Burriana, Edificio Sitio de Burriana Fase 2, Local 4. 29780 Nerja, Malaga, Costa Del Sol, Spain
Address 2: Av. Marina del Este, s/n, 18697 La Herradura, Granada
Phone: +34 952 528 610
Mobile: +34 651 893 917
Website: www.nerjadiving.com
Email: mail@nerjadiving.com
Price List: https://nerjadiving.com/precios/
---
Playa Burriana ➜ Small Boat Rental
Rent a small boat while you're in town and you don't even need a license. Motorboats can be rented by the half-day or full day. The prices vary by season, duration of rental, and boat size. For more information go to
Crystal Kayak
on the main Burriana road.
You can read more about boat rental from the only marina in the area, Marina del Este in La Herradura... Renting Boats & Jet Skis in La Herradura.
Price Info ➜
| | | |
| --- | --- | --- |
|   | 1/2 Day | Full Day |
| Low Season: | 170€ - 400€ | 250€ - 600€ |
| High Season: | 250€ - 550€ | 400€ - 800€ |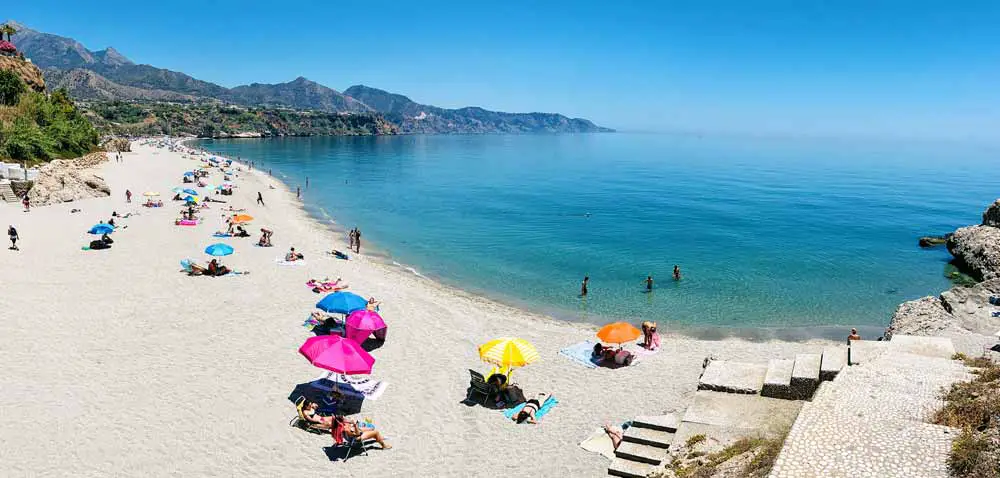 ** Wide Angle View of Playa Burriana & Playa Carabeillo - Nerja
Playa Burriana ➜ Map
---
---
---
💡
Affiliate Disclosure:
  Please be aware that some links on this site are affiliate links, which means that we might receive a small commission ☕ if you click a link and make a booking. This helps us to keep the site running and will NOT affect the price you pay in any way... ❤️ 🙏 🙏 ➜
How does this work?
---