Nerja to Frigiliana:
5 Easy Ways to Reach the Charming Town of Frigiliana from Nerja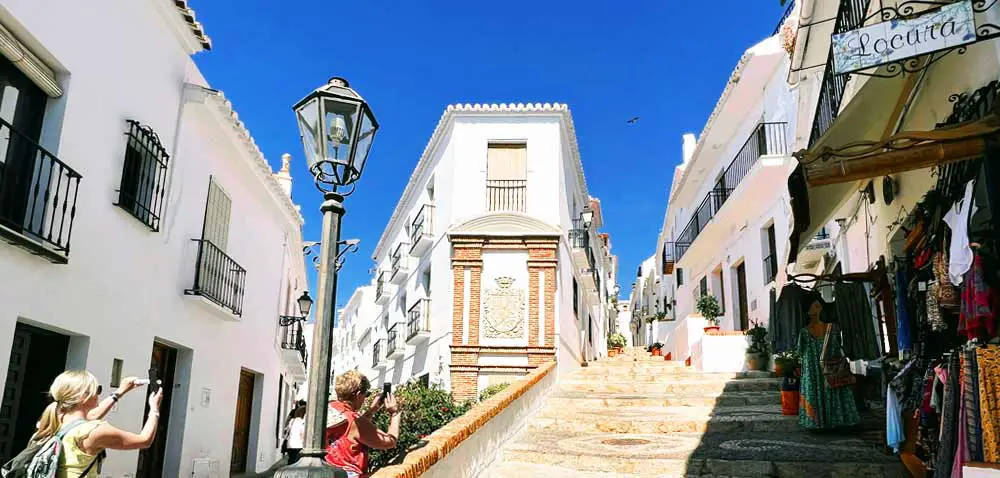 Located on Spain's sun-kissed Costa del Sol, Nerja and Frigiliana are two of Andalucia's most treasured villages, so it is no wonder that tourists flock here year after year. Set against the backdrop of the Mediterranean Sea, Nerja is famous for its wide sandy beaches and the famous Balcony of Europe. In contrast, Frigiliana, perched on a mountainside, is a mosaic of whitewashed houses and cobblestone streets with panoramic views.
For those staying in the coastal town of Nerja and wanting to venture inland, Frigiliana is just a short drive away. Covering a distance of about 6 km (3.7 miles), the trip between the two towns is easily done. For more information about getting from Malaga to Nerja ➜ read this guide.
⭐ Here's a detailed guide on the 5 BEST ways to get from Nerja to Frigiliana.
---
How far is Frigiliana from Nerja?
---
1
Getting From Nerja to Frigiliana by Car
The easiest and most direct way to get from Nerja to Frigiliana is by car and the quickest route takes just 14 minutes. It's a beautiful drive with views of the coast and then winding along a country road up into the hills. 🚗
Nerja to Frigiliana Driving Map
Follow these driving directions from the Nerja Bus Station to the village of Frigiliana, 6.3 km.
Directions:
---
Car rentals:
If you rent a car in Nerja (or at the Malaga airport) you will find a lot of companies catering to different budgets. But our two favorite car rental companies are Discover Cars, which is usually the cheapest, and Rentalcars.com, which is owned and operated by booking.com.
I use Rentalcars.com a lot because I'm so familiar and comfortable with booking.com and use them for all my hotel bookings. Plus, it's nice to be able to book your entire trip (car rental + hotels) with the same company to keep it organized. I also use the booking.com app when I travel so I have my reservation codes at the ready when I check in.
---
Parking options:
Parking in Frigiliana can be a bit difficult during the high season, so make sure you arrive early! If you get there early, you can usually find free parking on the road into town. If that is full, there is also a parking garage at the bottom of the village (location here).
During the summer, you may have to park quite far out of town and walk to get a free spot on the street. Be sure to wear comfortable shoes. The town itself is quite hilly and requires a lot of walking too.

** Parking Prices in Frigiliana
---
2
Getting From Nerja to Frigiliana by Bus
Grupo Fajardo usually operates the bus route between Nerja and Frigiliana and the buses leave from the main bus station in Nerja, which is convenient if you are staying in the town center.
The journey will take about 15 minutes and the buses run almost hourly every day, including Sundays and holidays but with a more limited timetable. The first bus leaves Nerja at 7:20 in the morning and the last returns from Frigiliana at 20:30. Click here for more Nerja to Frigiliana bus information with detailed prices and schedules.
The fare is cheap at just over 1.00 euro each way, making this a very popular choice for summer visitors. You can buy tickets on the bus or at the bus station, and you can also buy tickets in bulk if you plan to make the trip often.
Be sure to check the schedule before you go...especially during the holiday or summer season.
---
3
Getting From Nerja to Frigiliana by Taxi
For those looking for a more direct and faster option, taxis are readily available in Nerja. The trip to Frigiliana by taxi is quick, but fares can vary depending on the time of day and the specific taxi company. 🚕
We also recommend that you ask for a price before you start.
There are three taxi stations in Nerja or you can call Radio Taxi, the official taxi service (952 520 537). The price of a Nerja taxi to Frigiliana is approximately 14.00 euros.
Taxi Stands:
Plaza La Ermita: map here
Bus Station: map here
Tutti Frutti Plaza: map here.
---
4
Getting From Nerja to Frigiliana By Bike or On Foot
Yes! You read that right... It is possible to get from Nerja to Frigiliana by bike or on foot and people do it all the time!
For the more adventurous, the idea of cycling or even trekking may be appealing and there are several bike rental companies in Nerja that cater to all levels of ability (and rent both conventional and electric bikes).
The route between the two towns is scenic but keep in mind that it requires a good level of fitness due to the uphill climbs. Safety gear, hydration and a map are essential.
Although trekking is not the most common mode of transportation, it does offer the most immersive experience of the area's wild natural beauty... just remember to wear comfortable shoes and bring plenty of water.
From Nerja to Frigiliana by Bike: 45 minutes
Trekking From Nerja to Frigiliana: 1 hour and 40 minutes
---
5
Guided Tour to Nerja and Frigiliana

** Nerja Caves
A final option for visiting Frigiliana from Nerja is to join a guided tour. Most of these tours are available from either Málaga or Granada and take you to Nerja, the Nerja Caves and the small village of Frigiliana.
Here are some options:
---
What Should You Know Before Visiting Nerja?
Is Nerja worth a visit?
Absolutely! Nerja is one of my favorite towns along the coast and is much prettier and less developed than some of the other Costa del Sol villages like Marbella and Estepona, although it can get very crowded in the summer. The best time to visit is from the beginning of May to the end of June or September to November.
There's really no end to what you can do in Nerja, but make sure you see these "top sights" while you're here.
---
What Should You Know Before Visiting Frigiliana?
Is Frigiliana worth a visit?
Again, yes! The historic charm of Frigiliana is immediately apparent upon arrival. The old town is a maze of small streets and alleys with panoramic viewpoints, artisan shops and small cafes sprinkled throughout (take a photo tour). The tourist office will be happy to give you a map of the main sights and show you how to get around the village.
Some of the most important aspects of Frigiliana are:
---
Frequently Asked Questions
Why travel from Nerja to Frigiliana?
So many people visit Nerja every year, it's home to the famous Nerja Caves and of course 15 gorgeous beaches with spectacular Mediterranean views. But what many people don't realize is that the small village of Frigiliana sits just over the hills and is the perfect day trip destination from Nerja.
What is the distance from Nerja to Frigiliana?
The distance between Nerja and Frigiliana is approximately 6 km or about 3.7 miles from the Nerja bus station to the Frigiliana bus station. The trip will take you less than 15 minutes by car or about 20 - 25 minutes by bus if there are stops.
Is there a Nerja to Frigiliana train?
Unfortunately there are no train stations in either town. The only options are by private car, renting a car, taxi, bus or joining an excursion.
How much is a taxi from nerja to frigiliana?
Fares change every year, but typically the price of a taxi between the two villages is around 15.00 euros each way.
---
Conclusion
The trip from Nerja to Frigiliana is short and easy and well worth your time. As we said above, these towns are two of the most popular towns on the Costa del Sol and you should see them both if you can.
If you are planning to visit Nerja and have some extra time, we highly recommend that you spend at least a couple of hours exploring the small mountain town of Frigiliana. You won't regret it!

Who are we?
An American expat with over 20 years of experience living and traveling in Spain, specifically in Malaga and Granada. Darsey is a seasoned explorer of Andalucia. Drawing from decades of immersive experience, she offers deep insights into this enchanting region of Spain, including off-the-beaten path destinations, the best places to stay, and the top bucket list activities to try!
More...
Want to Save on your Next Trip?
Save money on your next trip with our favorite travel websites!
Find the Cheapest Hotels:
The Largest Selection of Villas & Apartments:
Cheapest, Most Reliable Car Rentals:
Best Bus & Train Fares:
Huge Selection of the BEST Tours & Activities
Discount Tickets to Museums & Attractions

See our Full List of Travel Deals & Site Recommendations Here.
💡
Affiliate Disclosure:
  Please be aware that some links on this site are affiliate links, which means that we might receive a small commission ☕ if you click a link and make a booking. This helps us to keep the site running and will NOT affect the price you pay in any way... ❤️ 🙏 🙏 ➜
How does this work?
---