Frigiliana Villas with Pool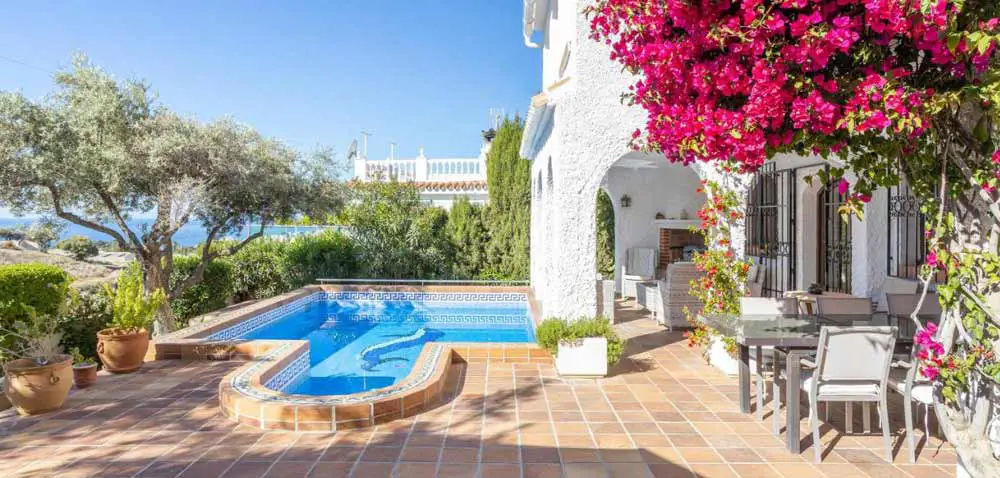 With over 200 holiday villas scattered throughout the surrounding hills and countryside, you will have no problem finding the perfect setting for your next visit to Frigiliana. From rustic cottages with traditional Spanish charm to modern villas with a more modern design, there's a style and size to suit everyone, whether you're a solo traveler, a couple, a family or a large group.
If you are looking for large holiday villas with sea views, the best options are along the coast closer to Nerja. In the area around the village of Frigiliana you will find mostly rural villas... to which we have dedicated another whole page.
---
What Can you Expect from a Frigiliana Villa?
When picturing a stay in one of the Frigiliana Villas, imagine a blend of traditional Andalusian architecture with modern amenities. These beautiful homes often have stunning views of the surrounding
Sierras de Tejeda, Almijara and Alhama Natural Parks
and the shimmering Mediterranean Sea, especially if they're located high on the hills surrounding Nerja or
Frigiliana
.
Most of Frigiliana's villas are equipped with a range of amenities to ensure a comfortable yet luxurious stay. They typically have private pools, terraced gardens, spacious living areas, fully equipped kitchens and often outdoor barbecue areas. For those who want to stay connected, Wi-Fi and satellite TV are common.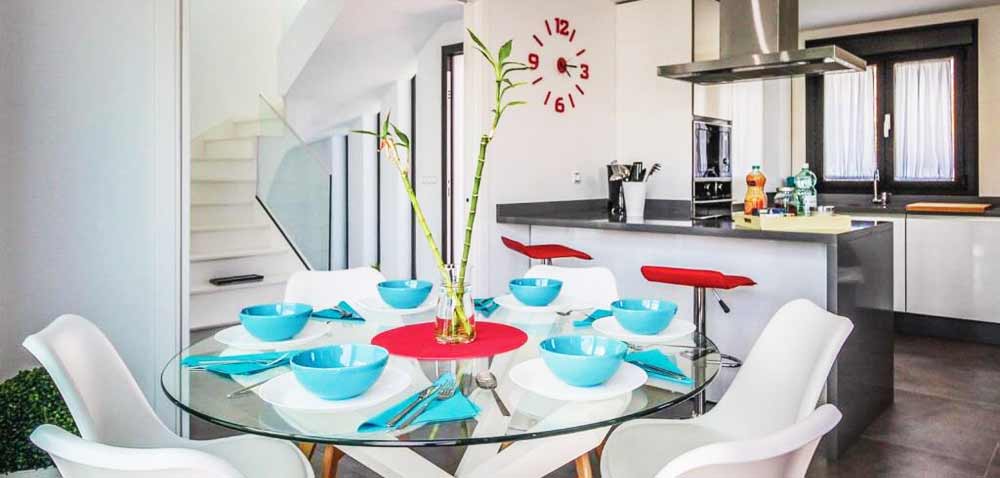 ** Frigiliana Villas - Villa Manhattan
While Frigiliana Villas offer an unparalleled holiday experience, they can be on the expensive side, especially during high season (July 1st - August 31st, December 24th - January 6th (Christmas) and Easter).
For those on a tighter budget... there are cheaper alternatives in and around Frigiliana. Consider looking into rural houses (Casa Rurales) or apartments in town. While they may lack some of the luxury associated with villas, they offer an authentic feel of Andalucian life and can be a more affordable way to experience the charm of Frigiliana.
---
Our TOP 10 Frigiliana villa recommendations...

Nerja & Frigiliana Villas with Pool: Villa Melissa
Why stay here?
Location & Amenities: Villa Melissa, located in Nerja, is a notable mention among the villas near Frigiliana. With a generous 180 square meters of space, it offers five bedrooms, a flat screen TV with streaming services, and a well-equipped kitchen including a dishwasher, oven, microwave, and toaster. The two closest beaches are Playa Carabeillo (2.6 km) and Caletilla Beach (2.7 km ). Nearby attractions include the Balcony of Europe (1.4 km) and the Acueducto del Águila (2.8 km). The villa is 66 km from Malaga airport.
Garden & Pool: The outdoor facilities are designed for relaxation and fun. There is a swimming pool, a manicured garden, barbecue facilities and a terrace with city views. A picnic area is also available.
---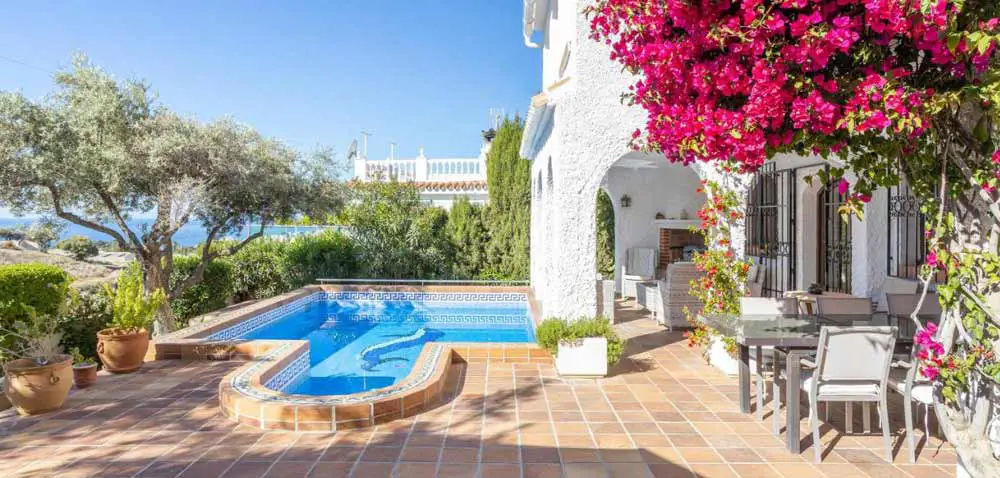 Nerja & Frigiliana Villas with Pool: Fuente Del Baden
Why stay here?
Location & Amenities: The Fuente Del Baden villa boasts a spacious 150 m2 floor plan. Accommodating up to eight guests, this air-conditioned property features four bedrooms, three bathrooms and a fully equipped kitchen. Essential amenities such as a washing machine, satellite TV and free WiFi will add to the comfort of your stay. The villa is ideally located, with Burriana Beach 1.4 km away and Playa Carabeillo 2.2 km away. Malaga Airport is 69 km away.
Garden & Pool: Designed for optimal outdoor relaxation, the villa features a private saltwater pool that remains heated throughout the winter months and is illuminated at night. The terrace overlooks the tranquil garden, and the barbecue facilities promise a memorable outdoor dining experience. The garden area, with seating for ten, is complemented by comfortable sun loungers, making it the perfect retreat for sunbathing and relaxation.
---

Nerja & Frigiliana Villas with Pool: Villa Manhattan
Why stay here?
Location & Amenities: Villa Manhattan boasts a spacious 200 m2 floor plan, making it an excellent choice among the villas in Frigiliana. This air-conditioned property features three bedrooms, a living room, a flat-screen TV, and a kitchen fully equipped with a dishwasher and oven. For added luxury, the villa has four bathrooms, each with a walk-in shower. From the villa's balcony, you can enjoy captivating mountain views, while its proximity to Playa Carabeillo (2.3 km) and Caletilla Beach (2.5 km) further adds to its appeal.
Garden & Pool: Guests may enjoy the luxury of a private outdoor swimming pool and participate in nearby activities such as biking, hiking, and table tennis. The terrace, with unobstructed sea views, complements the outdoor living spaces. For the more adventurous, the villa offers a bicycle rental service.
---

Nerja & Frigiliana Villas with Pool: Villa Almassora
Why stay here?
Location & Amenities: Villa Almassora offers a lavish stay within its expansive 200 sqm interior. The villa has five bedrooms and five bathrooms. You will have access to a number of amenities, including air conditioning and a fully equipped kitchen - with a dish washer and coffee maker - as well as satellite TV and free WiFi. A highlight for many is the terrace, which offers breathtaking sea views. The villa is a short stroll from Playa Carabeillo, Playa Burriana and Playa Carabeo, making it an ideal location for beach lovers.
Garden & Pool: In addition to its luxurious indoor amenities, Villa Almassora impresses with its magnificent outdoor spaces. A private pool, set in a meticulously landscaped garden, promises hours of relaxation. The property also welcomes pets. For those who wish to maintain their fitness regime, access to a fitness center is an added benefit.
---

Nerja & Frigiliana Villas with Pool: Villa Amapolsas
Why stay here?
Location & Amenities: This villa is a sprawling 350 m² oasis of tranquility. The property boasts five spacious bedrooms, a kitchen equipped with both a dishwasher and oven, and two bathrooms with showers. You can expect the highest level of comfort with air conditioning, a flat screen TV and a large comfortable living area. The villa is located on the eastern side of Nerja, not far from the quiet urbanization of Maro, just a short drive from the famous Nerja Caves.
Garden & Pool: The exterior of the villa is equally enticing, with panoramic sea views best enjoyed from the patio. With its proximity to both Caleta Beach (2.1 km) and Maro Beach (1.5 km), beach lovers have plenty of options. There is a private swimming pool set in a spacious garden and barbecue facilities for those who enjoy al fresco dining. Activities abound, from kayaking and snorkeling in the picturesque bay of Maro to exploring the culinary delights of Nerja and beyond.
---

Nerja & Frigiliana Villas with Pool: Villa Las Palomas
Why stay here?
Location & Amenities: Villa Las Palomas is a 125 m² home, strategically located in the heart of Nerja. It has three large bedrooms and three bathrooms, as well as a fully equipped kitchen and satellite TV. Just 400 meters from the beautiful beaches of Nerja, the villa is a blend of comfort and convenience, offering unrivaled proximity to the main attractions of Nerja. Amenities include air conditioning, free WiFi, dishwasher, coffee maker and free private parking.
Garden & Pool: Step out onto the terrace for stunning mountain views and a refreshing outdoor pool and barbecue. Those traveling with pets will be pleased to know that they are welcome, adding to the appeal of the villa.
---

Nerja & Frigiliana Villas with Pool: Villa Concha Blanca
Why stay here?
Location & Amenities: Villa Concha Blanca, a 130 m² luxury residence, is located near the heart of Nerja, just an 8 minute walk from Burriana Beach and a 15 minute walk from Nerja's historic center and the iconic Balcón de Europa. It promises both convenience and comfort with its proximity to various restaurants, bars, shops and supermarkets. The villa has four bedrooms to suit a variety of needs. These include a king-size double bedroom on the ground floor with an en-suite bathroom and three further bedrooms on the first floor. The villa has a modern open plan kitchen with all the necessary appliances from oven, hob, microwave and fridge/freezer to dishwasher and washing machine.
Garden & Pool: Several terraces overlook the villa's private pool and offer views of the village, sea and mountains. The ground level terrace leads directly to the pool area and a spacious terrace with a barbecue area. For those seeking elevated views, there is access to the roof terrace.
---

Nerja & Frigiliana Villas with Pool: Villa Oliva
Why stay here?
Location & Amenities: This villa has 3 bedrooms, 2 bathrooms and a fully equipped kitchen. You can enjoy modern amenities such as free WiFi, a washing machine and a flat-screen TV with satellite channels. Notably, this Frigiliana villa is just a 15-minute walk from the famous Burriana Beach, which is flanked by numerous restaurants, bars and shops. In addition, the old town and the iconic "Balcón de Europa" are within a 15-20 minute walk. The property is also easily accessible, being 68 km from Malaga Airport, and even offers a paid airport shuttle service for the convenience of its guests.
Garden & Pool: A prominent feature of this villa is the private pool, which is uniquely heated by solar panels, ensuring a comfortable swim all year round. Adjacent to the pool is a manicured terrace with stunning mountain views, providing a tranquil place to relax or dine. Those with a culinary inclination can enjoy the outdoor BBQ facilities. Additionally, the villa's proximity to the coast means that guests can indulge in nearby snorkeling and cycling experiences.
---

Nerja & Frigiliana Villas with Pool: Villa Victoria
Why stay here?
Location & Amenities: Located in Nerja, this villa offers a spacious 130 m² living area. The property boasts 4 bedrooms, 4 bathrooms and a fully equipped kitchen with modern amenities. Reviews from previous guests highlight the villa's prime location within walking distance to the beach, restaurants and the town center. It's a short distance to popular beaches such as Playa Carabeillo, Burriana Beach and Playa Carabeo. Other reviews praise the villa for its brightness, cleanliness and also mention the excellent service from the staff. Malaga Airport is 68 km away, and guests can take advantage of a paid airport shuttle service offered by the property.
Garden & Pool: Immerse yourself in the villa's tranquil garden and enjoy the panoramic mountain views from the terrace. The outdoor area is further complemented by BBQ facilities and a private pool, which is a refreshing treat especially during the warmer months. The exterior of the villa, including the private parking space, is highly recommended.
---

Nerja & Frigiliana Villas with Pool: Villa Jazmines
Why stay here?
Location & Amenities: Nestled in the heart of Nerja, Villa Jazmines stands out as a spacious 135 m² sanctuary just moments away from the famous Playa Carabeillo and Burriana Beach. This villa is not just a place to stay, it's a luxurious experience with 3 elegantly appointed bedrooms, 3 immaculate bathrooms and a kitchen with modern conveniences such as a dishwasher and coffee maker. The location is prime, with Playa Carabeo less than a kilometer away and the iconic Balcony of Europe just a 14 minute walk away. For those arriving by air, Malaga Airport is 68 km away, and the villa ensures a seamless journey with its paid airport shuttle service.
Garden & Pool: Beyond the villa's lavish interiors, the outdoors beckon with a refreshing private pool set amidst a lush garden. Guests can relax on the terrace, taking in the breathtaking mountain views, or enjoy the convenience of complimentary private parking.
---
Frigiliana ➜ How to Arrive & Directions
Frigiliana is easily accessible. It is located about
56 km (35 miles)
east of Málaga and approximately
106 km (66 miles)
southwest of Granada. It can be reached by car or bus, with frequent connections from the nearby town of Nerja. The drive from Málaga takes around 50 minutes, while from Granada, it takes 1 hour and 15 minutes.
To Frigiliana ➜ by Car
Renting a car is another option for exploring the surrounding areas of Frigiliana. Parking is available at the bottom of the village and along the road.
---
Driving Directions to Frigiliana:
From Málaga: Follow the E-15/A-7 in an easterly direction. Take the 933 exit and follow the MA-5105 to Frigiliana.

From Granada: Follow the GR-30, A-44 and E-15/A-7 south. Take the 933 exit and follow the MA-5105 to Frigiliana.
---
Check out!:
You will find the
cheapest
most reliable
car rentals
in Spain here!
To Frigiliana ➜ by Bus
Buses run from both Málaga and Granada to the coastal areas, but getting a bus from Málaga is much easier. You can take a bus to Nerja and then change to a local line that will take you up into the hills to Frigiliana. Buy tickets online
💡
Affiliate Disclosure:
  Please be aware that some links on this site are affiliate links, which means that we might receive a small commission ☕ if you click a link and make a booking. This helps us to keep the site running and will NOT affect the price you pay in any way... ❤️ 🙏 🙏 ➜
How does this work?
---