Where to Stay in Frigiliana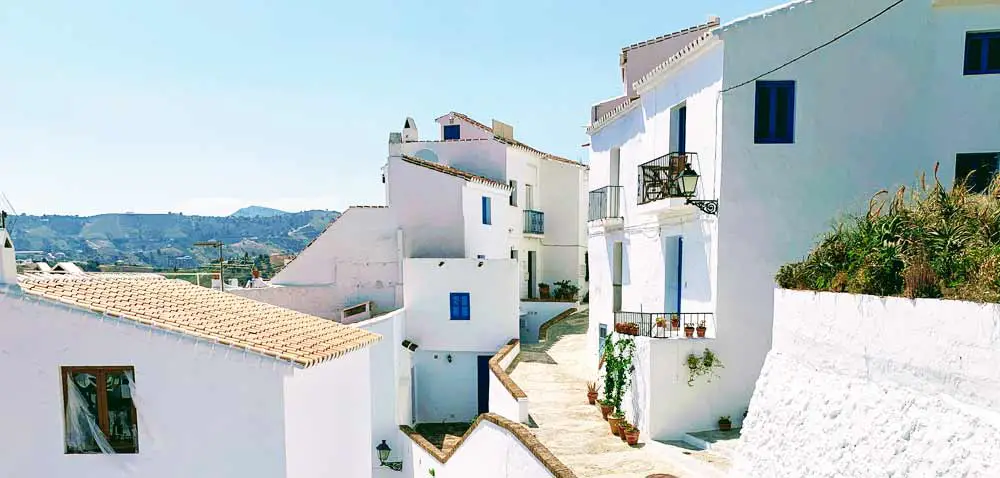 Choosing where to stay in Frigiliana requires a good understanding of what the area has to offer. With its quaint mountain charm, Frigiliana is a mosaic of cobbled streets and traditional whitewashed houses that embody the essence of Andalucia.
In the town itself, accommodation options range from quaint bed and breakfasts to more modern hotels and hostels. If you venture out into the surrounding countryside, you'll find rustic cottages that offer a tranquil escape from the hustle and bustle of everyday life. A short drive away is Nerja, a popular coastal town with a mix of private seaside villas and boutique hotels.
For those who prefer a lively city experience with the flexibility of day trips to Frigiliana, Malaga and Granada offer a wide range of hotels and resorts to suit all tastes and budgets. In this guide we'll provide you with information on each of these options to help you decide exactly where to stay in Frigiliana and the surrounding area.
---
1
Traditional Andalusian Coastal Villas
If you are wondering where to stay in Frigiliana, a classic whitewashed villa with sea views is a great option! Most of the villas are located in nearby Nerja by the coast.
If you're looking for a more luxurious experience, you'll find an endless number of elegant coastal villas with panoramic views, private pools, spacious interiors and high-end amenities like fully equipped kitchens, hot tubs, BBQs and Wi-Fi. They combine comfort and elegance while still retaining the distinctive Andalucian character we all love so much.
A villa stay in Frigiliana will give you privacy and space with all the comforts of home. Whether you want to soak up the sun by your private pool, enjoy a family BBQ under the stars, or explore the nearby village of Frigiliana, a private villa is the way to go...
---
The rural country houses / villas in Frigiliana (Casa Rurales) often combine traditional Andalucian architecture with all the modern comforts. You can expect to find terra cotta roofs, rustic wooden beams, and whitewashed walls covered in bright pink and purple bougainvillea. Most of the villas have breathtaking views of the mountains, valleys and sometimes even the Mediterranean Sea in the distance.
Unlike the coastal villas, these country homes offer a sense of tranquility and solitude, often nestled among olive groves, vineyards or almond trees... giving you plenty of space to relax. At the same time, they are only a short drive from the center of town, the beaches of Nerja or the natural parks... making them convenient for those who like to explore.
---
As the village of Frigiliana is quite small, there are only a handful of hotels, but they are lovely and offer a quiet escape from the hustle and bustle of the Costa del Sol.
If you choose to stay in one of these rural Andalucian hotels, you will be close to nature, hiking trails and wonderful panoramic mountain views around every corner.
---
4
Hostels, Boutique Hotels & Bed and Breakfasts
Boutique hotels and bed and breakfasts are smaller, more personal hotels that can offer a unique setting and a more intimate experience. Most are family-run and feel more homey than a typical hotel, with warm hospitality and often a hearty breakfast to set you up for a day of adventure.
There are also a few Frigiliana Hostel options in the area, which are also smaller and more intimate, but cater to those on a budget, like young people and backpackers.
---
5
Holiday Apartments In Town
Staying in an apartment in Frigiliana offers the comfort and privacy of being at home, but it may lack some of the more common amenities and services offered by a hotel.
Some of the things you can expect to find are: a fully equipped kitchen, washing machines, free Wi-Fi, air conditioning and heating, a terrace or balcony, a TV with cable channels, and sometimes free parking and swimming pools.
---
6
Luxury Resorts in Nerja
Staying in the coastal resort of Nerja and visiting Frigiliana for the day is another popular choice for many people. The two towns are so close together, only 6 kilometers, that the drive would only take you 10-15 minutes. You could easily explore the quaint cobblestone streets of Frigiliana and then return to the cool coastal ambience of Nerja.
When it comes to the best hotels in Nerja, the Parador de Nerja stands out. Perched on a cliff with direct elevator access to Burriana Beach, it has spectacular sea views. Another top pick is the Hotel Balcón de Europa, named for its location on the famous Balcón de Europa promenade. It offers guests unparalleled Mediterranean views and immediate access to the heart of the village. Both hotels are excellent choices!
Also: Nerja Hotels | Nerja Villas | Nerja Hostels | Nerja Apartments
---
7
Campgrounds & Caravan Parks
For those who want to be closer to nature, travel in a caravan or expierence the beauty of camping under the Andalucian stars... take a look at the campsites that are available in the area.
---
8
The Costa Tropical Villages
The Costa Tropical is a lesser known but equally stunning stretch of coastline compared to its more famous neighbor, the Costa del Sol, and it's not far from Frigiliana. The first town (La Herradura) is about 20 minutes away by car. The area is known for its numerous beaches, subtropical climate, unique flora (including palm trees) and the backdrop of the Sierra Nevada mountains. Almuñécar and La Herradura both have 4-star dive centers due to the clear waters and abundant marine life, and are especially popular with divers, kayakers and snorkelers.
If you're in the area, especially during high season when there are fewer accommodations available, check out the Costa Tropical villages. They offer a wide range of hotel options, from luxury resorts to charming boutique hotels and budget hostels.
---
9
Malaga City & the Costa del Sol
Another option, if you are looking for where to stay in Frigiliana is to stay in Malaga and just make a day trip to Frigiliana. It's about 50 minutes away.
Malaga is the capital of the Costa del Sol... and offers outstanding hotel options. The 5-star Gran Hotel Miramar is a top choice, offering luxurious comforts just 10 meters from La Malagueta beach. Another standout is the Vincci Selección Posada del Patio, a 5-star hotel known for blending modern elegance with some of Malaga's oldest architectural remains. Both hotels are centrally located and ideal for exploring the city's top sights.
---
10
Boutique Hotels in Granada with Pools
Granada, with its famous Alhambra Palace and historic Albaicín district, is yet another interesting option for those wishing to visit Frigiliana. It is a bit further than Malaga, 1 hour and 10 minutes, but it has a wonderful selection of hotels (Granada Hotels with a Pool and Best Boutique Hotels in Granada). You could easily spend two or three days in Granada and make a quick day trip to visit Nerja and Frigiliana.
---
Frigiliana ➜ How to Arrive & Directions
Frigiliana is easily accessible. It is located about
56 km (35 miles)
east of Málaga and approximately
106 km (66 miles)
southwest of Granada. It can be reached by car or bus, with frequent connections from the nearby town of Nerja. The drive from Málaga takes around 50 minutes, while from Granada, it takes 1 hour and 15 minutes.
To Frigiliana ➜ by Car
Renting a car is another option for exploring the surrounding areas of Frigiliana. Parking is available at the bottom of the village and along the road.
---
Driving Directions to Frigiliana:
From Málaga: Follow the E-15/A-7 in an easterly direction. Take the 933 exit and follow the MA-5105 to Frigiliana.

From Granada: Follow the GR-30, A-44 and E-15/A-7 south. Take the 933 exit and follow the MA-5105 to Frigiliana.
---
Check out!:
You will find the
cheapest
most reliable
car rentals
in Spain here!
To Frigiliana ➜ by Bus
Buses run from both Málaga and Granada to the coastal areas, but getting a bus from Málaga is much easier. You can take a bus to Nerja and then change to a local line that will take you up into the hills to Frigiliana. Buy tickets online
💡
Affiliate Disclosure:
  Please be aware that some links on this site are affiliate links, which means that we might receive a small commission ☕ if you click a link and make a booking. This helps us to keep the site running and will NOT affect the price you pay in any way... ❤️ 🙏 🙏 ➜
How does this work?
---