The Best Salobreña Hotels
Top 2023 Guide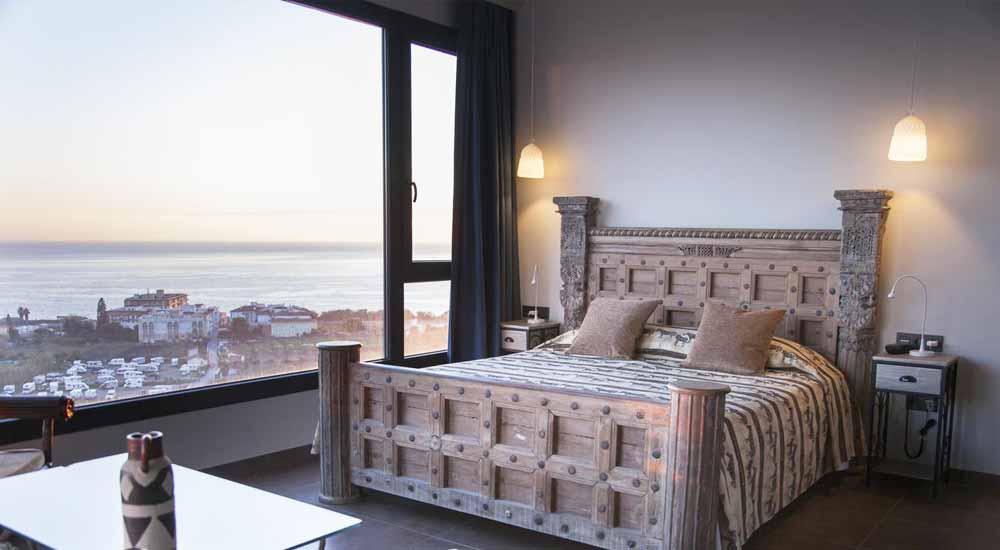 ---
➜ Take me to the Salobreña
Hostels
,
Apartments
,
Campgrounds
, or
Villas
page.
---
The Five BEST Salobreña Hotels and Where to Find them...
Welcome to our guide on the
Top Five Salobreña Hotels
... We have selected the
top five (5) hotels
and tell you about the AREA to help you make the best choice ....
If you are thinking about renting a villa in the area, we recommend VRBO.com.

The photo above shows a room from the Modern La Miba Hotel, with views of the Salobreña Castle and sea.
---
Because there are no hotels along the Salobreña beach, although we think a big resort is being planned, the best areas to stay in
Salobreña
... in a hotel... are:
On the outskirts of town with views of the Salobreña castle and sea
Further out of town in an all-inclusive resort
In the Old Town
Remember: Book Early! These hotels fill up fast and you don't want to miss out!!
Also: Check out the hotels in these near-by Costa Tropical towns...
Salobreña Hotel Guide – Tips and Recommendations
Booking.com – The best website for booking hotels in the Costa Tropical. It's fast, easy and most importantly all the Spanish hotels work with them!

We've chosen to partner with Booking.com because they have:

Low rates with no booking fees
24/7 customer support and
Free cancellation on most properties

Salobreña is packed with tourists from mid-June to September, Book hotels early for the best deals.

---

Remember: Prices change drastically depending on the season...

High-Season: July 1st - August 31st, December 24th - January 6th (Christmas) and Easter week

Mid-Season: April 1st - June 30th, September 1st - October 31st

Low-Season: November 1st - March 31st

---

The Most Popular Tours near the Costa Tropical: The two (2) bucket-list activities that most people want to do on a trip to Spain are the Camino del Rey and the Alhambra in Granada.

Both are easily done on a day trip from the Costa Tropical... Book early as these get booked MONTHS in advance...
💡
Affiliate Disclosure:
  Please be aware that some links on this site are affiliate links, which means that we might receive a small commission ☕ if you click a link and make a booking. This helps us to keep the site running and will NOT affect the price you pay in any way... ❤️ 🙏 🙏 ➜
How does this work?
---
Two Salobreña Hotels on the Edge of Town with Gorgeous Views
1. The Hotel La Miba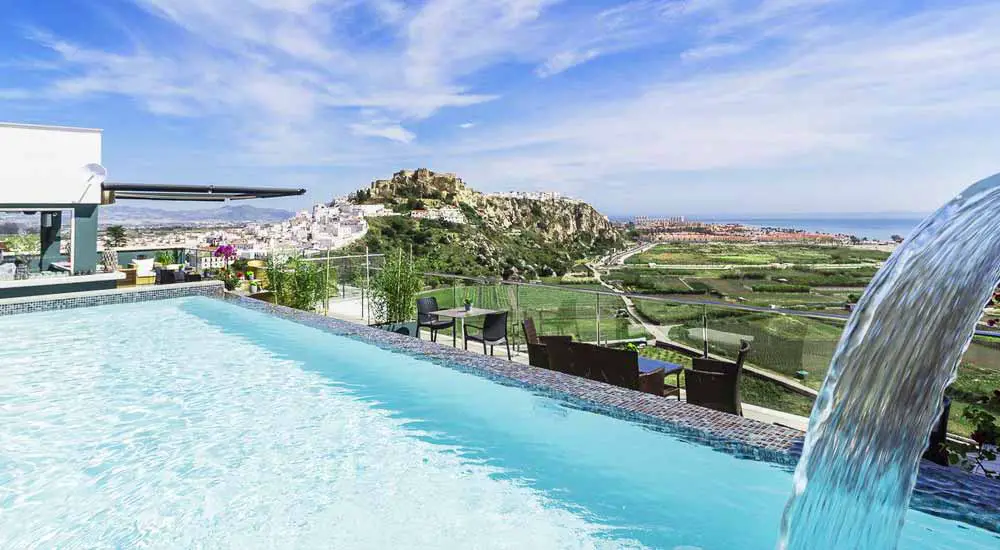 The views from the La Miba terrace really can't be beat! You have views of the village of Salobreña, its majestic castle on top and the beautiful Mediterranean Sea in the background.
This hotel is your higher-end option of the two... as it is modern, upscale and has a stylish decor in all the rooms. There is also a restaurant and bar that are very well-liked.
The only drawback to this hotel is that it's located right off the old N-340 highway, although this doesn't seem to bother most people... it's quiet with few cars. You will also need a car to get into town (Salobreña) and to the beaches below. You CAN walk, but it can be a bit hilly.
This hotel is a favorite for couples!
Hotel Highlights:
Rooftop Pool
Sea and Castle Views
Bar and Terrace
Free Parking
Sun loungers or Beach Chairs
Pets Allowed
Free Wi-Fi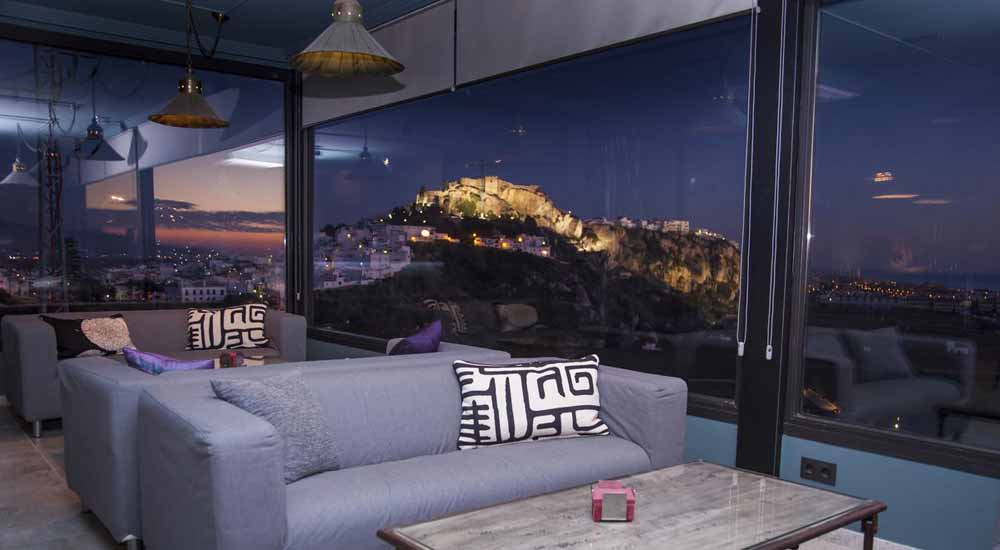 Trusted Booking Partner
---
2. The Hotel Salambina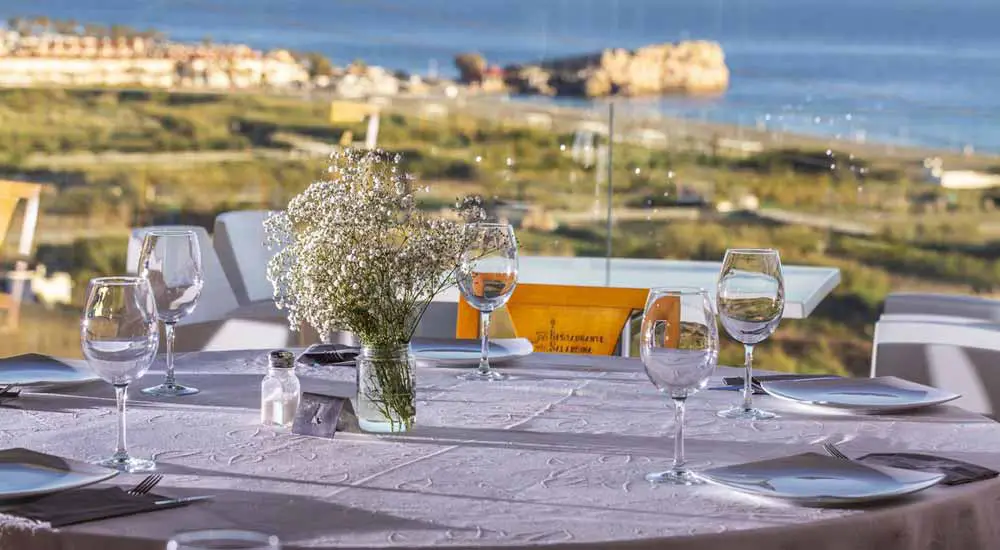 The Hotel Salambina is a one-star hotel located just on the outskirts of Salobreña. It also has beautiful sea and castle views, although the castle is not as visible as it is in the La Miba Hotel. It sits just beside the Hotel La Miba but is a lower-cost option.
It has a garden, bar, restaurant with a terrace, room service and free WiFi in the public areas.
This hotel is also located right off the old N-340 highway, but like we said above there is little noise and the hotel faces the sea.
A car is recommended to get into town and to the beaches below.
Hotel Highlights:
This hotel does not have a swimming pool but it does have a terrace to enjoy with views
Restaurant / Bar
Free Parking - Car Recommended
Sun loungers or beach chairs
Pets NOT Allowed
Free Wi-Fi in Public Areas
BBQ Facilities

Trusted Booking Partner
---
One Salobreña Hotel Out of Town - All-Inclusive Resort
3. The Hotel Salobreña Suites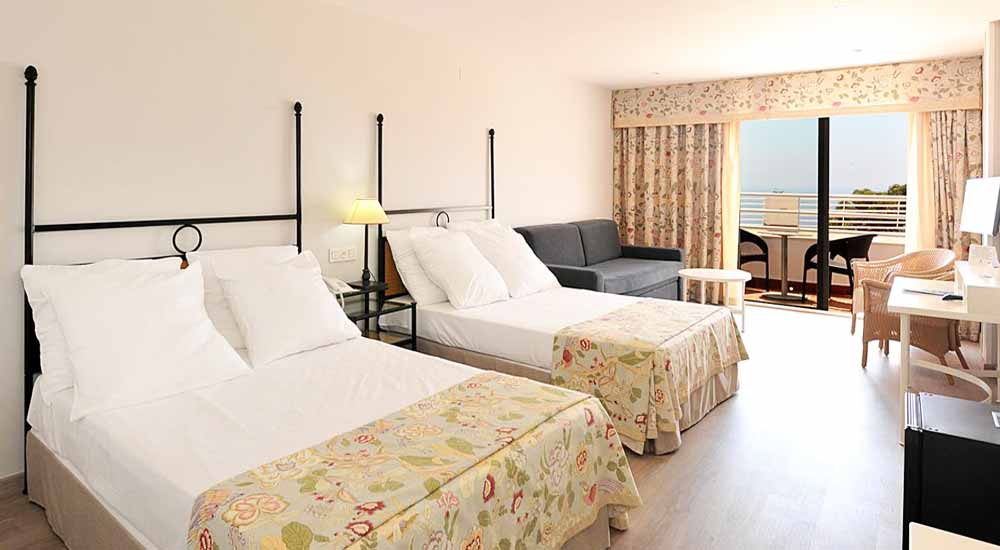 The Hotel Salobreña Suites is located just 3-km outside of Salobreña. It's an all-inclusive resort with a restaurant / bar, swimming pool with outdoor bar, wellness center, tennis courts and evening entertainment. The hotel sits on top of the cliffs with stunning views of the sea and the village of Salobreña in the distance.
This is a pet-friendly hotel and a good choice for families with small children.
The hotel is a bit rustic in some ways but has been going through a major renovation and is modernizing most of its rooms.
Hotel Highlights:
Swimming Pool with Sea Views
Bar and Pool Bar
Free Parking
Sun loungers or beach chairs
Pets Allowed
Free Wi-Fi
Evening Entertainment, Table Tennis, Billiards and Children's Playground
Tennis, Massage and Laundry Available for an Additional Charge
Also, has an ancient Roman Tower on-site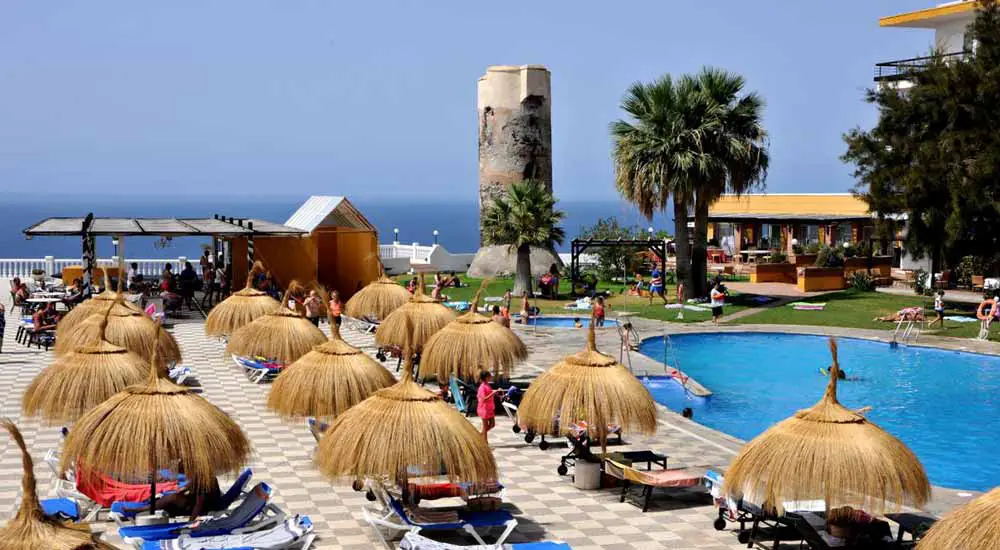 Trusted Booking Partner
Two (2) Salobreña Hotels Located in the Old Town
4. The La Roka Guest House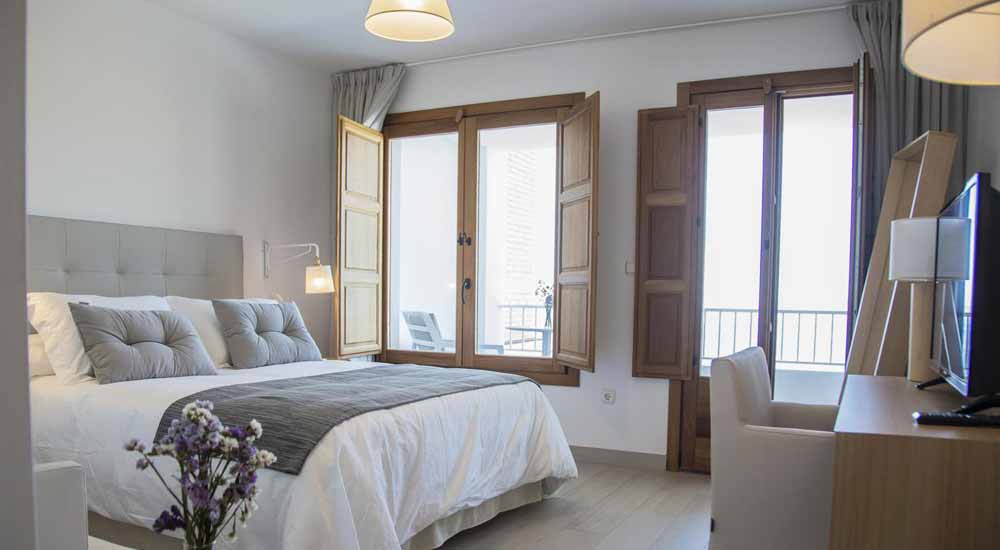 La Roka is actually a guest house and not formally a hotel. It provides adult-only accommodations with a restaurant and terrace. The property has a tour desk and free WiFi throughout. La Roka would be the perfect choice for a romantic getaway or honeymoon, it's very highly rated by couples.
At the guesthouse, the rooms have a closet and a private bathroom equipped with a shower and a hairdryer. All the rooms at La Roka have a flat-screen TV and air conditioning, and some rooms also feature a seating area. You will also be provided with a desk and a coffee machine. The Guesthouse is located in the Old Town so all the historic sites will be within walking distance, the Salobreña beach is a 7-minute walk from the accommodation.
Hotel La Roka Highlights:
Sundeck and Terrace
Free Wifi throughout
Restaurant
Street Parking
7-minute walk to the beach
Some rooms have a sitting area
Within walking distance to bus station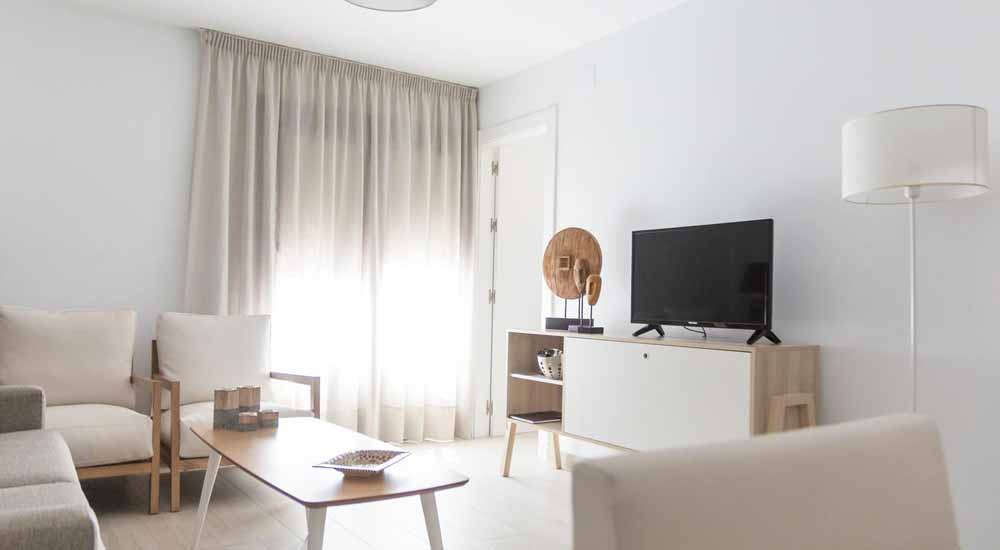 Trusted Booking Partner
---
4. The Hotel Avenida Tropical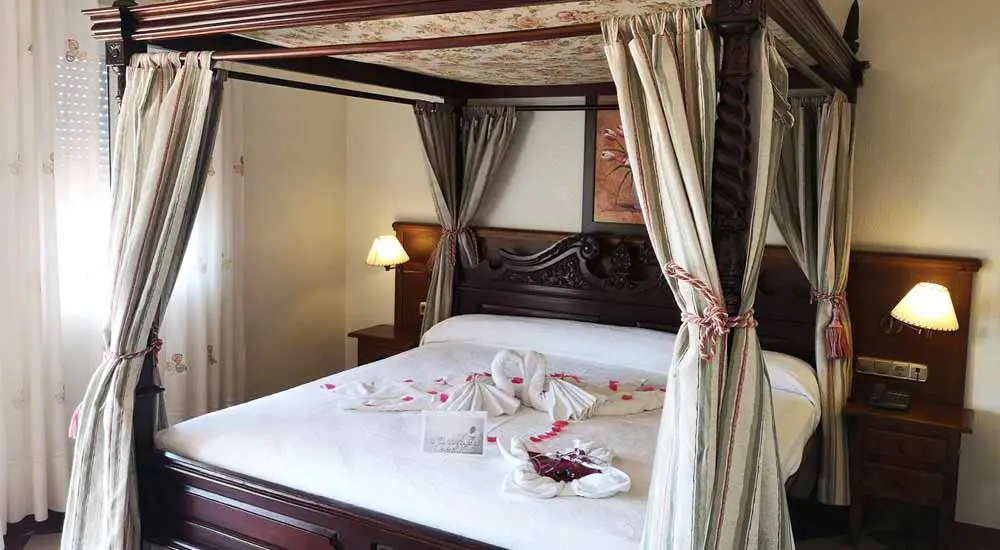 The Hotel Avenida Tropical is also located in central Salobreña, just a 5-minutes' walk to the Old Town. The bus station is also walkable, so no car is needed.
All the air-conditioned rooms at Avenida Tropical include satellite TV, mini-bar and hairdryer. Free WiFi is available throughout the property.
The hotel has a restaurant and bar with a buffet breakfast served daily.
There is no swimming pool but a shared sun terrace with stunning views is available for guests.
Hotel Avenida Tropical Highlights:
Outdoor area with sundeck and terrace with views of Salobreña
Restaurant and Bar
Private parking is possible on site (reservation is needed) and costs € 16 per day.
Bathhouse, Hot Tub / Jacuzzi, Solarium
Pets NOT Allowed
Free Wi-Fi throughout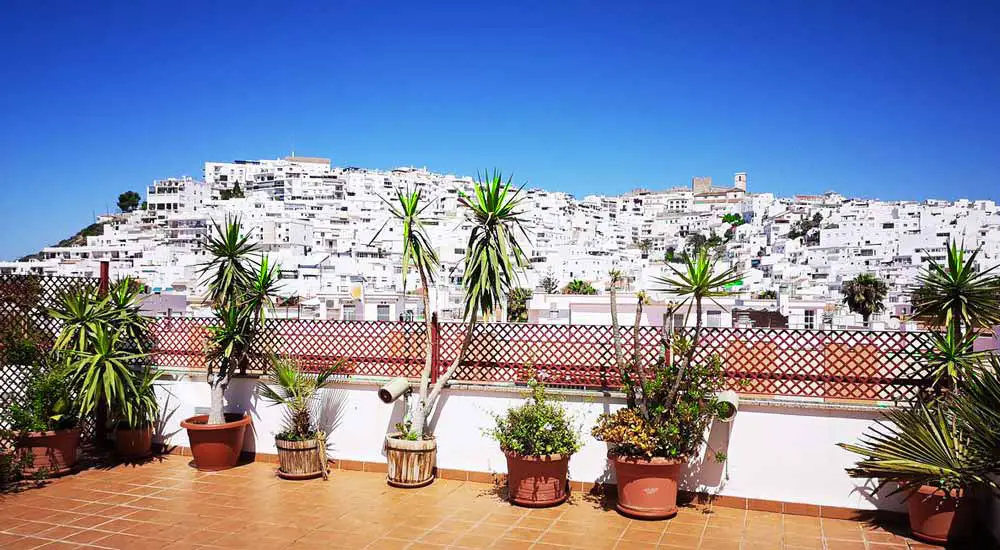 Trusted Booking Partner
---
See Also: