Frigiliana Hotels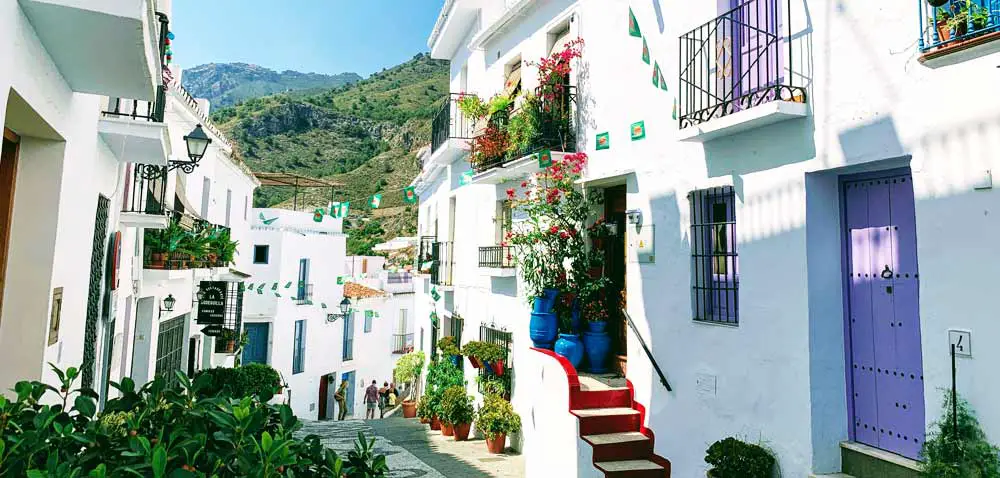 Within the picturesque foothills of the Sierra Almijara Natural Park, you will find the idyllic Spanish village of Frigiliana which never fails to impress its visitors. When it comes to 'Frigiliana Hotels', this 'prettiest village in Spain' offers a unique selection of accommodations that complement its traditional Andalucian charm and peaceful mountain setting.
Whether you're looking for a cozy bed and breakfast, a rustic, family-friendly hotel, or a romantic hideaway in the hills, Frigiliana has it all.
---
Recommended Hotels in Frigiliana... and Nerja
The village of Frigiliana is quite small, so there are only a handful of hotels, but you will also find a huge selection in nearby
Nerja
, a coastal town just a 10 minute drive away and a popular beach destination on the Costa del Sol.
Which town should you stay in? Well, that depends on you... staying in a hotel in Frigiliana offers a quiet escape to a picturesque hillside village oozing traditional Andalucian charm. You will be close to nature, hiking trails, and panoramic mountain views around every corner.
Nerja, on the other hand, offers a more vibrant coastal scene with easy access to wide sandy beaches, bustling promenades overlooking the Mediterranean and a wider range of nightlife and dining options.
But don't worry, we'll recommend hotels in both towns... so that you are able to make the BEST decision about where you would like to stay.
---
The TOP 4 Frigiliana Hotels - What's on Offer
Most hotels in Frigiliana offer basic amenities such as free Wi-Fi, air-conditioned rooms and airport shuttle services. Some also offer swimming pools and rooftop terraces where you can relax after a day of sightseeing.
In terms of proximity to town, most of Frigiliana's hotels are within a 5 to 15 minute walk of the town center. This means that you can easily enjoy the local life, do some shopping and visit all the main attractions within a short distance from your hotel.
Read on to find out more about Frigiliana's TOP Hotels and what they have to offer.
---

Frigiliana Hotels: Hotel Villa Frigiliana
Just a short walk from the old town, Hotel Villa Frigiliana stands out as the only large 3-star hotel in the village. It has a rustic style that complements its natural surroundings, and its location is particularly convenient for those who like to explore. From its private terraces, you will be treated to stunning views of the Frigiliana countryside.
The hotel's restaurant serves traditional Andalusian cuisine, and the pool area is the perfect place to relax and enjoy the warm afternoon sun. If you're looking for a spacious, well located and comfortable hotel in Frigiliana, Hotel Villa Frigiliana is well worth considering.
---

Frigiliana Hotels: Hotel El Torreón
If a boutique hotel experience is more your style, Hotel El Torreón is the perfect choice. Housed in a lovingly restored 18th century building, the hotel offers six unique rooms decorated with local artwork, a cozy courtyard garden, and a rooftop terrace with spectacular views of the village.
The hotel is located in the heart of Frigiliana's old town and is one of the few hotels in this historic area... offering you a prime location from which to explore. The rooms are well furnished with a mix of elegance and functionality. With all the necessary comforts at hand, it's a practical and comfortable base for your stay in Frigiliana.
---

Frigiliana Hotels: Posada Morisca
For those on a budget, options like the Posada Morisca offer affordable comfort without compromising on quality. Nestled in the scenic countryside, yet close to the center of Frigiliana, Posada Morisca offers a unique and "homey" hotel experience.
Each cottage-style bedroom has been designed with private access, providing a sense of seclusion and tranquility. The rooms have spacious terraces, which are perfect for relaxing and enjoying the beauty of the natural surroundings. Each room is also equipped with a wood burning stove, adding to the warmth and coziness of your stay during the cooler months.
---

Frigiliana Hotels: Hotel Rural Almazara
Located just outside the picturesque village of Frigiliana on the road to Nerja, Hotel Rural Almazara is a rustic retreat that perfectly captures the essence of the Andalusian countryside. Set against a backdrop of rolling hills, the hotel offers breathtaking views of both the lush natural landscape and the sparkling Mediterranean Sea.
A highlight of the hotel is its inviting pool and adjacent terrace, where you can lounge and take in the panoramic views. For those seeking a tranquil getaway that combines rustic charm with modern comforts, Hotel Rural Almazara is a wonderful choice.
---
The TOP Nerja Hotels - What's on Offer
Nerja
may be a small town on the Mediterranean coast, but it has a lot to offer. It's home to the world famous
Nerja Caves
and is a popular holiday destination throughout the year. This is why Nerja is full of all kinds of
accommodation options
, from boutique hotels to 4 star all inclusive resorts,
hostels and guesthouses
... Nerja has it all!
Since the list is so long... we've decided to give you the TOP two hotels in each category. Here are our recommendations...
---

Nerja & Frigiliana Hotels: (4-Star) Parador de Nerja
For those seeking a luxurious retreat, the four-star Nerja Parador is the place to be. Perfectly perched on a rocky cliff, the hotel offers unparalleled views of the Mediterranean Sea and the enchanting Burriana Beach just below. With a traditional Andalusian interior, each spacious room is an oasis of comfort, many with private terraces overlooking the sea.
There is an oversized outdoor swimming pool with breathtaking views, and the hotel's lush gardens lead to an elevator with direct access to the beach. You can also enjoy the hotel's restaurant which offers gourmet Andalusian cuisine. For a truly indulgent stay, choose the Nerja Parador.
---

Nerja & Frigiliana Hotels: (4-Star) Hotel Balcón de Europa
Imagine waking up to the sound of gentle waves and breathtaking views of the Mediterranean! The Hotel Balcón de Europa in Nerja promises all of this and more. Located right on the iconic Balcón de Europa promenade, this hotel is not just a place to stay, but an experience in and of itself.
You'll be only steps away from the most beautiful beaches, lively restaurants, and historic sites. Inside, enjoy modern amenities, warm Spanish hospitality, and elegantly designed rooms. Dine at the on-site restaurant and enjoy local delicacies with sea views. For an unforgettable Costa del Sol experience, the Hotel Balcón de Europa is the place for you!
---

Nerja & Frigiliana Hotels: (All Inclusive Resort) Marinas de Nerja Beach & Spa
The Marinas de Nerja Beach & Spa is ideally located on the Costa del Sol seafront with direct access to Playa El Playazo. Nearby, charming seaside chiringuitos offer local seafood specialties right on the beach.
For those wishing to stay longer, this hotel offers apartments with kitchenettes for those days when you prefer to eat in.
In addition to its proximity to the beach, the hotel also offers a shuttle service for those wanting to explore Nerja's old town, a spa for relaxation, a large outdoor pool with a bar, and an on-site restaurant serving delicious local cuisine.
---

Nerja & Frigiliana Hotels: (Boutique Hotel) MB Boutique Hotel - Adults Only
MB Boutique Hotel in Nerja is a top choice for adults looking for a relaxed and upscale hotel. Designed exclusively for adults, it offers a serene escape from the stress of everyday life. The hotel is modern with clean lines and high quality amenities ensuring you will have a comfortable stay.
For those who want to explore, it's conveniently located near the main attractions in Nerja, just 250 meters from Torrecilla Beach and the Plaza Fabrica de los Cangrejos, and a quick 5-10 minute walk to Balcon de Europa.
If you're looking for a high quality stay in Nerja, the MB Boutique Hotel is a solid choice.
---

Nerja & Frigiliana Hotels: (Boutique Hotel) Hotel Carabeo
Set in the historic old town of Nerja, Hotel Carabeo is a boutique hotel with a uniquely charming and welcoming atmosphere. Its outstanding feature is a mesmerizing cliffside pool where guests can relax and gaze out over the vast expanse of the Mediterranean Sea.
The hotel's exceptional location and amenities are complemented by an outstanding restaurant, 'Restaurante 34', renowned for its gourmet offerings. It is an excellent choice for those seeking a blend of history, luxury and charm in Nerja.
---

Nerja & Frigiliana Hotels: (Hostel) Hostel Boutique Plaza Cantarero
Hostel Boutique Plaza Cantarero in Nerja is the perfect blend of budget prices and modern style. This boutique hostel offers a personal touch to each guest, ensuring a comfortable stay in its tastefully decorated rooms and common areas.
Conveniently located near the bus station, it offers easy access to travelers. A highlight is the hostel's rooftop terrace or "Chill Out" where you can enjoy panoramic views of the village.
For beach lovers, Carabeo Beach, Carabeillo Beach and Calahonda Beach are just 550 meters away. The hostel also offers an airport shuttle service, and with attentive staff always on hand, you're sure to have a wonderful stay at the Hostel Boutique Plaza Cantarero.
---

Nerja & Frigiliana Hotels: (Hostel) Hostal Casa Mercedes
Hostal Casa Mercedes features traditional Andalusian architecture and a lovely tropical garden. Situated on a quiet hillside, you will enjoy sweeping views of both the mountains and the Mediterranean Sea. The hostel's location is prime, just a leisurely stroll from Playa Burriana, one of Nerja's most popular beaches.
The rooms are thoughtfully designed and many have terraces or balconies from which to enjoy the views. After a sun-drenched day on the beach, the garden and pool area provide the perfect retreat for relaxation. For those looking for both proximity to the beach and a dose of Andalusian charm, Hostal Casa Mercedes is an ideal choice.
---
Frigiliana ➜ How to Arrive & Directions
Frigiliana is easily accessible. It is located about
56 km (35 miles)
east of Málaga and approximately
106 km (66 miles)
southwest of Granada. It can be reached by car or bus, with frequent connections from the nearby town of Nerja. The drive from Málaga takes around 50 minutes, while from Granada, it takes 1 hour and 15 minutes.
To Frigiliana ➜ by Car
Renting a car is another option for exploring the surrounding areas of Frigiliana. Parking is available at the bottom of the village and along the road.
---
Driving Directions to Frigiliana:
From Málaga: Follow the E-15/A-7 in an easterly direction. Take the 933 exit and follow the MA-5105 to Frigiliana.

From Granada: Follow the GR-30, A-44 and E-15/A-7 south. Take the 933 exit and follow the MA-5105 to Frigiliana.
---
Check out!:
You will find the
cheapest
most reliable
car rentals
in Spain here!
To Frigiliana ➜ by Bus
Buses run from both Málaga and Granada to the coastal areas, but getting a bus from Málaga is much easier. You can take a bus to Nerja and then change to a local line that will take you up into the hills to Frigiliana. Buy tickets online
💡
Affiliate Disclosure:
  Please be aware that some links on this site are affiliate links, which means that we might receive a small commission ☕ if you click a link and make a booking. This helps us to keep the site running and will NOT affect the price you pay in any way... ❤️ 🙏 🙏 ➜
How does this work?
---