Frigiliana Malaga:
Discover the Timeless Charm of Frigiliana's Old Town!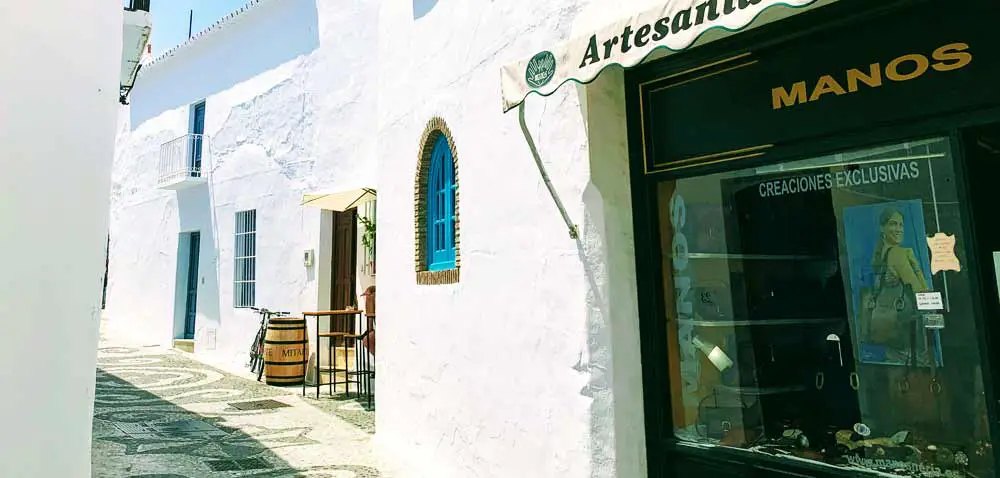 The old town of Frigiliana is packed with history, culture and tons of charm! You'll find many interesting monuments, museums and of course beautiful streets and alleys to explore...
We have put together a brief description of what you can expect to find in the historic quarter of Frigiliana (Malaga) before you visit...
You should also read the Top 30 must-see attractions & activities in Frigiliana in 2023
---
Exlore One of Andalucia's Best-Kept Secrets...
What does the Frigiliana old town look like?
This charming village is a symphony of color, with brightly painted doors and windows glistening in the warm Andalucian sun. The town's gleaming white walls provide a striking backdrop for these bold accents, making every stroll through the village feel like a walk through a living art gallery.
You will see doors and windows painted in shades of turquoise, cobalt blue, emerald green or fiery red, contrasting beautifully against a white canvas. Some are even adorned with intricately designed wrought iron grilles and door knockers... a nod to Frigiliana's Moorish past.
Flower pots filled with vibrant geraniums, bougainvillea and other native flowers frame these colorful entrances, adding an extra layer of charm to the old town.
➜ Take a photographic tour of the Frigiliana old town...


** Colorful Doors and Windows in Frigiliana Malaga
But, the Frigiliana Old Town offers more than stunning views and charming streets. It's a place of real cultural significance and history, with a variety of historical sites, local artisan shops, and traditional Spanish restaurants. Here is an overview of what you will find:
---
What can you expect to find in the Frigiliana old town?

** Street Corner in Frigiliana Malaga with Flowerpots
Each of these things adds to the unique and enchanting atmosphere of the Frigiliana Old Town... making it a very special place to visit.

** Hidden Alleyways in Frigiliana Malaga
---
21 Facts about Frigiliana Malaga
The old town of Frigiliana is known as "Barribarto" (an Arabic term for "high quarter").
Frigiliana is one of the best preserved Moorish villages in Spain.
The old town streets are famously narrow, steep, and winding, reflecting its Moorish history.
Cobbled streets, beautifully maintained by the locals, wind their way through the old town.
Whitewashed houses with brightly colored flowers line the streets.
The old town is home to the beautiful 17th century church of San Antonio de Padua.
12 historic mosaics adorn the walls of the old town, telling the story of the city's past, and detailing key events throughout history.
The old town is a pedestrian zone, preserving its tranquil ambience and making it safe for tourists.

** Church of San Antonio de Padua - Frigiliana Malaga
Numerous miradors offer breathtaking views of the surrounding countryside and the Mediterranean Sea.
It's home to 'El Ingenio', the only working molasses factory in Europe.
The Palacio de los Condes de Frigiliana, 16th century Renaissance palace, is an important landmark in the old town.
Traditional Spanish tapas bars, charming boutiques and craft shops line the streets.
The Fuente Nueva (New Fountain) stands at the entrance to the old town.
The Frigiliana architecture has won several awards for preservation and beautification.
Frigiliana's old town is famous for its annual Three Cultures Festival.
The old town is also known for its unique ceramics, with shops selling locally made pottery.

** La Casa del Apero - Frigiliana Malaga
The old town is home to the Museo Arqueológico - a museum displaying archaeological finds from the area.
Many buildings have beautifully carved wooden doors and wrought iron balconies, a touch of ancient Andalucian tradition.
The old town is home to La Casa del Apero, an 18th century building now used as the tourist office, cultural center, and exhibition hall.
The Jardin Botanico Santa Fiora, a botanical garden highlighting the region's flora, is located at the bottom of the old town.
Natural Springs: Historically, Frigiliana was chosen for its natural springs. Water was essential to Moorish agricultural practices, and remnants of old irrigation channels can still be seen throughout the town.
---
What to See in the Frigiliana Old Town (Top Sights)
Frigiliana has three different areas, within the old town of Frigiliana (Casco Antiguo) you have the
upper old town (Barrio Alto)
and the
lower old town (Barrio Bajo)
and then you have the
Frigiliana new town
.
The upper old town (Barrio Alto) is the historic part of the village, characterized by medieval Moorish architecture, with narrow, winding cobblestone streets, white houses decorated with colorful flowers, and the remains of an old fortress. It's a well-preserved example of Andalucian Moorish architecture and is often what people think of when they think of Frigiliana.
The lower old town (Barrio Bajo) is the more modern part of Frigiliana, where you will find newer buildings, shops and amenities. It still retains the charm of the area but with more modern facilities and easier access. The Hotel Villa Frigiliana is located here.
The new town (Casco Nuevo) contrasts with the historic quarter and has more modern architecture and wider streets. It was developed in the second half of the 20th century and continues to expand, and is where most of the city's residents live. It has very few historic sights.
---
Here are the top sights to see in the Frigiliana old town (Casco Antiguo):
The Upper Old Town (Barrio Alto):


** Top Sights in the Frigiliana Old Town
The Lower Old Town (Barrio Bajo):
---
How long do you need to see the entire Frigiliana Old Town
The time needed to fully explore Frigiliana's old town can vary depending on what you want to see and do. For a leisurely visit that includes time to admire the architecture, take photos, and perhaps enjoy a meal, you may want to allow at least half a day.
If you're looking for a thorough exploration that includes shops, galleries, and maybe a museum or two, along with some breaks, a full day would be nice. This will allow you to soak up the atmosphere without feeling rushed.
For those on a tighter schedule, a 2-3 hour visit would cover the highlights. Keep in mind that the old town is built on a hill, which means there will be plenty of ups and downs as you walk, so wear comfortable shoes.
Of course, you could always stay longer and see more of the sights in nearby Nerja, enjoy the beaches, and explore the neighboring towns on the Costa Tropical.
---
Staying overnight in the Frigiliana Old Town
Frigiliana is typically quieter than Nerja, making it a better option for those looking for a little peace and quiet...away from the hustle and bustle of the more touristy areas. The village has stunning views of the surrounding mountains and sea, is close to the Natural Park, and has
wonderful hiking trails
nearby.
For these reasons, Frigiliana is a popular (albeit quieter) destination with many accommodation options, from boutique hotels to charming guesthouses and villa or cottage rentals.
---
20 frequently asked questions About Frigiliana Malaga
Here are 20 frequently asked questions about Frigiliana...
---
Q: Where is Frigiliana (Malaga) located?
Frigiliana is located in the region of Andalucia, in the province of Malaga, southern Spain. It's about 6 km north of the famous Costa del Sol village of Nerja and about 56 km east of the capital city of the Costa del Sol... Malaga.
---
Q: How Far is Frigiliana from Nerja?
Frigiliana is located approximately 6 to 8 kilometers (about 4 to 5 miles) from Nerja. The trip usually takes about 15 minutes by car on the MA-5105 road that winds through the scenic countryside between the two towns. Public transportation, like buses or taxis, are also available, but may take a little longer due to schedules and routes.
---
Q: How do I get to the Frigiliana old town?
Frigiliana is easily accessible by car or bus from Málaga and Granada, where the two closest airports are located. They are 56 km and 110 km away respectively.
---


** Beautiful Doors in the Frigiliana Old Town
Q: What's the best time to visit the Frigiliana old town?
The best time to visit the Frigiliana old town is in spring (March to June) and fall (September to November), when the weather is mild and there are fewer tourists.
---
Q: Is the area around Frigiliana a good place for hiking?
Yes! The area around Frigiliana has many hiking trails, including those in the nearby Sierras de Tejeda, Almijara y Alhama Natural Park.
---
Q: Is Frigiliana family-friendly?
Absolutely! With its peaceful surroundings, outdoor activities and nearby beaches, there's something for everyone in the family. Check out these top sights / activities:
---
Q: What local dishes should I try in the Frigiliana old town?
Local dishes to try include 'migas', 'choto' and 'ajoblanco'. Also, don't miss the chance to taste the locally produced sweet wines. Best Frigiliana restaurants and dishes with recipes.
---
Q: What are the shopping options in the Frigiliana old town?
There is a weekly market on Thursdays, and there are several craft shops and art galleries that offer unique gift items. Frigiliana markets and where to shop.
---
Q: Can I visit other nearby villages from Frigiliana?
Yes, Frigiliana is part of the Sun and Wine Route of the Axarquía, which includes several picturesque villages (Algarrobo, Almáchar, Árchez, Benamargosa, Cómpeta, Sayalonga and Torrox).
You can also visit Nerja, Maro, Almuñécar, La Herradura and Salobreña.
---
Q: What festivals are celebrated in Frigiliana?
Frigiliana hosts several traditional festivals like the Festival of the Three Cultures and San Sebastian Day.
---
Q: What is the population of Frigiliana?
The population of Frigiliana is approximately 3,000 residents.
---
Q: Is the Frigiliana old town a good place for photography?
Absolutely. With its whitewashed houses, narrow streets, beautiful flowers and breathtaking views, Frigiliana is a photographer's paradise.
---
Q: Are there guided tours in Frigiliana?
Yes, there are several guided tours available, including walking tours of the old town, wine tours, and excursions to nearby villages.
---
Q: What is the weather like in Frigiliana?
Frigiliana has a Mediterranean climate with hot, dry summers and mild winters. The average temperature ranges from 12°C in January to around 25°C in August. Spring and fall are the mildest seasons, ideal for outdoor activities.
---
Q: Is Frigiliana a busy tourist destination?
Frigiliana is a popular destination, especially during the summer months. However, it maintains a peaceful and relaxed atmosphere throughout the year, thanks to its location away from the larger cities, like Malaga and Granada.
---
Q: Can I drive in the Frigiliana old town?
Yes and no, although some of the narrow streets in the Frigiliana old town are accessible by car, the town is best explored on foot.
If you are staying in the old town, be sure to ask your hotel where you can park. Some areas allow cars, but only if you have a hotel reservation. Otherwise, parking is available at the entrance to the village.
---
Q: Are there any beaches near Frigiliana?
Although Frigiliana itself is not on the coast, the beautiful beaches of the Costa del Sol, including those in nearby Nerja, are just a short drive away. The beaches of the Costa Tropical are also just minutes east of Frigiliana, as are the beaches of the Maro Nature Reserve. Check out all of the beaches near Frigiliana.
---
Q: Can I find vegetarian/vegan food in Frigiliana?
Yes, several restaurants in Frigiliana offer vegetarian and vegan options on their menus.
---
Q: Is it possible to visit the Sierras de Tejeda, Almijara y Alhama Natural Park from Frigiliana?
Yes, the Natural Park is easily accessible from Frigiliana and offers a wide range of activities, including hiking, bird watching and exploring other charming villages.
---
Q: How do I pronounce frigiliana?
The letter 'G' is silent or sounds like an 'H' in many Spanish words. So, Frigiliana is pronounced free-hee-lee-AH-nah.
The stress is on the third syllable (lee), so remember to emphasize that part when you say it.

Who are we?
An American expat with over 20 years of experience living and traveling in Spain, specifically in Malaga and Granada. Darsey is a seasoned explorer of Andalucia. Drawing from decades of immersive experience, she offers deep insights into this enchanting region of Spain, including off-the-beaten path destinations, the best places to stay, and the top bucket list activities to try!
More...
Want to Save on your Next Trip?
Save money on your next trip with our favorite travel websites!
Find the Cheapest Hotels:
The Largest Selection of Villas & Apartments:
Cheapest, Most Reliable Car Rentals:
Best Bus & Train Fares:
Huge Selection of the BEST Tours & Activities
Discount Tickets to Museums & Attractions

See our Full List of Travel Deals & Site Recommendations Here.
💡
Affiliate Disclosure:
  Please be aware that some links on this site are affiliate links, which means that we might receive a small commission ☕ if you click a link and make a booking. This helps us to keep the site running and will NOT affect the price you pay in any way... ❤️ 🙏 🙏 ➜
How does this work?
---