The Nerja Markets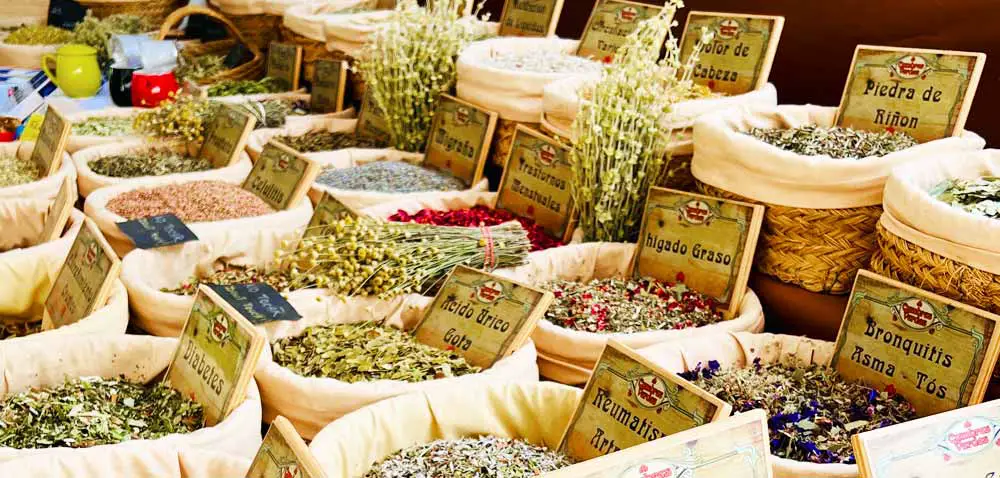 ** The Nerja Markets - Baskets of Organically Dried Teas
💡
Affiliate Disclosure:
  Please be aware that some links on this site are affiliate links, which means that we might receive a small commission ☕ if you click a link and make a booking. This helps us to keep the site running and will NOT affect the price you pay in any way... ❤️ 🙏 🙏 ➜
How does this work?
---
Your Ultimate Guide to the Nerja Markets!
😻 If you're visiting Spain and want to experience
authentic Spanish culture
, a visit to the local market is a MUST.
Every city and town along the Costa del Sol has a fruit and spice market where you will always find an interesting assortment of organic fruits, vegetables, spices, herbs, plants, and flowers... many of which you have probably never seen before...
These markets also offer an endless array of other interesting items to buy, like handmade leather goods, ceramics and crafts, Moroccan jewelry, beautiful linen dresses and scarves, and a wonderful selection of small gifts and souvenirs to take home to family and friends.
---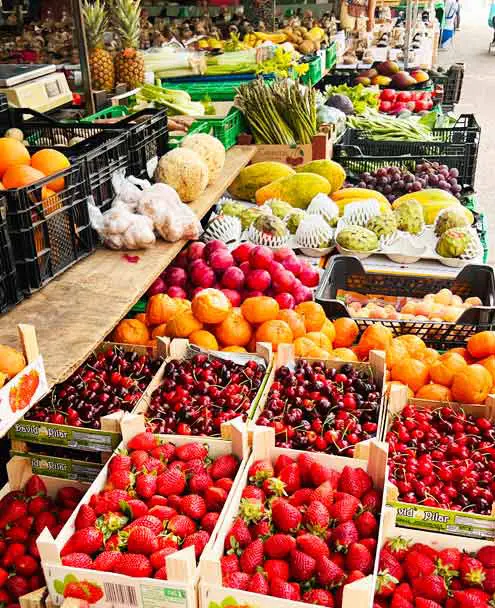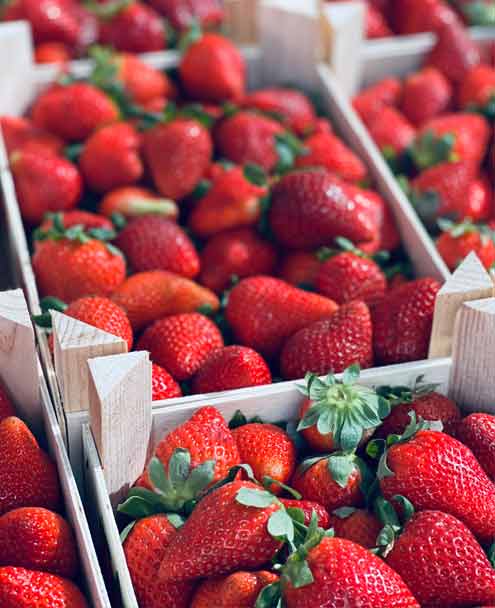 ** The Nerja Markets - Organic Fruits & Vegetables
Nerja has two weekly markets!
You're in luck!
Nerja has two weekly markets you can visit
! the
Fresh Food and Spice Market
(also called the Tuesday Market) and the
Sunday Rastro
(which is a flea market or car boot sale). If you have the time, we recommend visiting them both!
A walk through either of these Nerja markets could take you about 2 hours.
---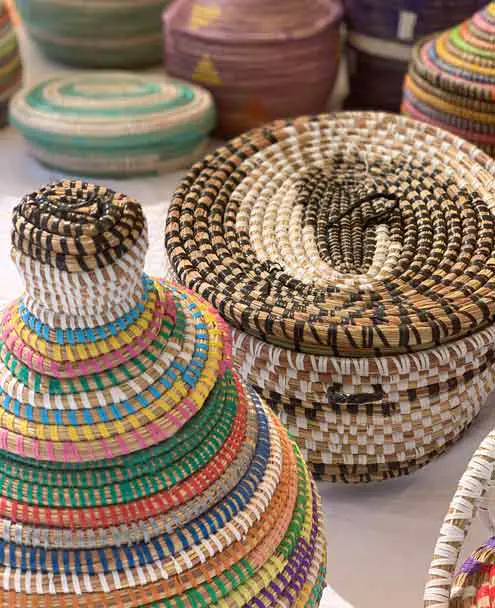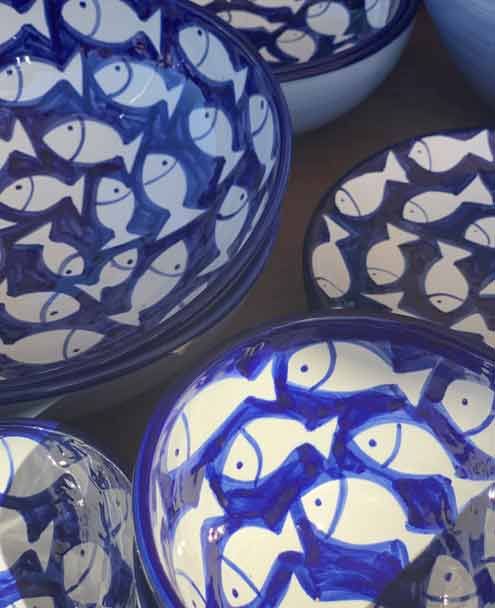 ** The Nerja Markets - Hand Made Straw Baskets & Ceramics
Nerja Markets ➜ The Tuesday Market
The Tuesday open-air Market in Nerja is an orchestra of delightful chaos. Merchants call out excitedly to hundreds of curious buyers, both just hoping to get a good deal.
Over 180 stalls are erected at this market every week, all overflowing with an endless number of interesting products and offerings.
---
What should you expect to find at the Tuesday Nerja Market?
Most of the items found in this Nerja market are NEW.
Fresh Organic Products: Vegetables, Fruits, Nuts, Spices, Plants, Herbs, Flowers, Honey, Olives, Olive Oils, Soaps, Cosmetics, Dried Teas and Fruits... and more
Hand Made Crafts: Beautiful Straw Baskets from Africa, Hand Woven Beach Bags, Moroccan Pottery and other Ceramics (Morocco being just hours away), Jewelry, and other crafts.
Clothing: Men and Women's Clothing, Shoes, Hats, Belts, Bags, and Other Accessories, Scarves, Children's Knitted Sweaters, Leather Goods, t-Shirts, and more...
---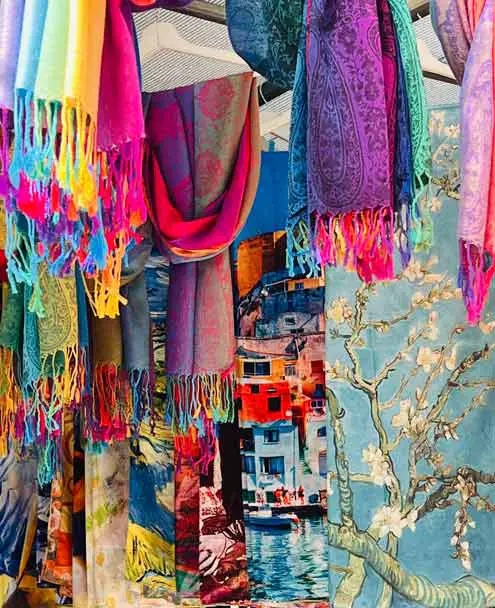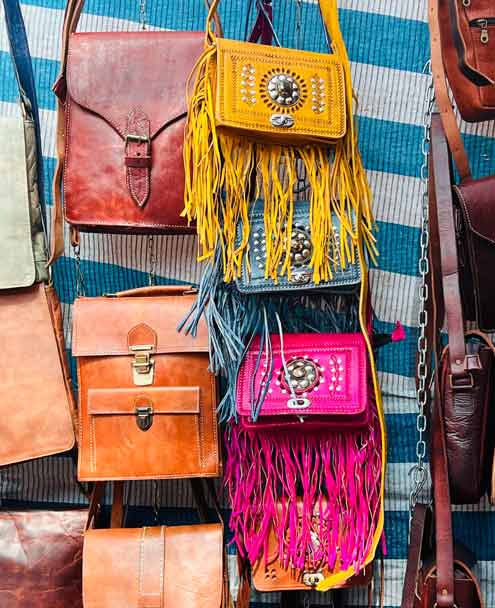 ** The Nerja Markets - Colorful Scarves & Bags
The Nerja Markets
Food & Spice Market:  Tuesdays from 10 – 2 pm
The Rastro:  Sundays from 10 – 2 pm
Location: Calle Cisne, Almijara II, 29780 Nerja, Málaga
Nerja Markets ➜ The Sunday Rastro
Held in the same location as the Tuesday Market above (keep reading for location and directions) you will find this market that is
extremely popular
with the locals.
The Sunday Rastro is a weekly flea market that always has something new and different. To truly know what's on offer in this Nerja market you must go yourself to find out... each week is a new opportunity to find that special treasure...
---
What should you expect to find at the Sunday Rastro?
Most of the items found in this Nerja market are USED / SECOND HAND.
Antiques and Furniture: You can find tables, paintings, artwork, carpets, light fixtures, and tons more...
Toys: There are usually a number of stalls selling old toys, games, and dolls.
Odds and Ends: Tools, Hardware, Collectables, Memorabilia, Books, Second-Hand Clothes, Shoes, and Kitchenware... to name a few...
---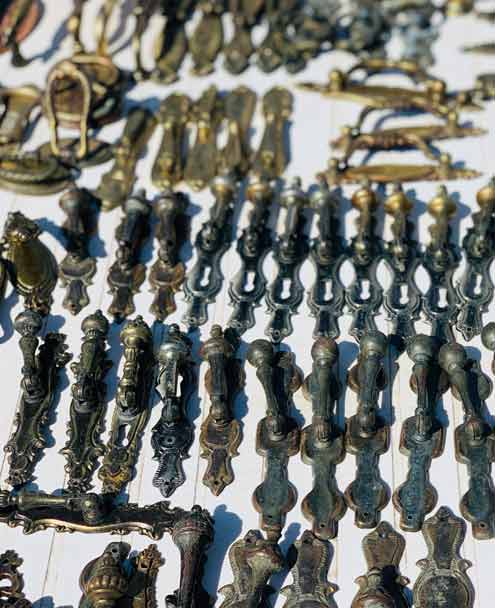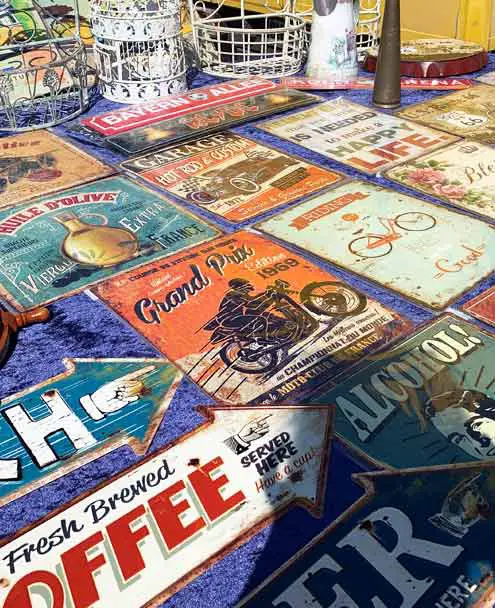 ** The Nerja Markets - Sunday Rastro Antiques
---
When and Where are the weekly street markets in Nerja?
Both Nerja Markets are located at the same place with the same hours.
The Nerja Tuesday Market is held every Tuesday (as the name suggests) except for holidays. The Sunday Rastro is held, yep you guessed it, every Sunday.
The official market hours are from 10:00 until 2:00, but if you arrive earlier merchants will be unpacking and you can still look around. Entrance to the markets is FREE.
Location: Calle Cisne going towards Almijara II (map here) (directions below)
---
Nerja Markets ➜ How to Arrive - Directions
To the Nerja Markets ➜ by Car ➜ 5 min (1.4 km)
From Nerja: Take the N-340 east towards Almeria / Maro (Avenida de Pescia). Continue straight until you reach the Playa Burriana roundabout (look for signs, they are small and hard to spot) and then take the third exit onto Calle Julio Romero. Continue straight and to the right until you reach Calle Cisne on your left. Turn left and follow the road until you arrive at the Nerja Market area (Almijara II).
To the Nerja Markets ➜ by Bus
Buses leave hourly from Nerja to Calle Cisne (Nerja market location). Tickets can be purchased directly from the ticket booth at the Nerja Bus Station (Avenida Pescia) map here
From Nerja to Calle Cisne: Duration: 5m - 15m, Price: approx. €1.00.
To the Nerja Markets ➜ by Taxi
There are three taxi stations in Nerja or you can call Radio Taxi, the official taxi service (952 520 537). The price by taxi to the Nerja Market is about €7.00.
To the Nerja Markets ➜ by Foot
It is possible to walk to the Nerja Markets but we don't recommend it. It will take about 20-minutes, half of which is up hill. It's also not a very scenic walk. If you do decide to do it, follow these walking directions from the Nerja Bus Station. (1.3 km)
---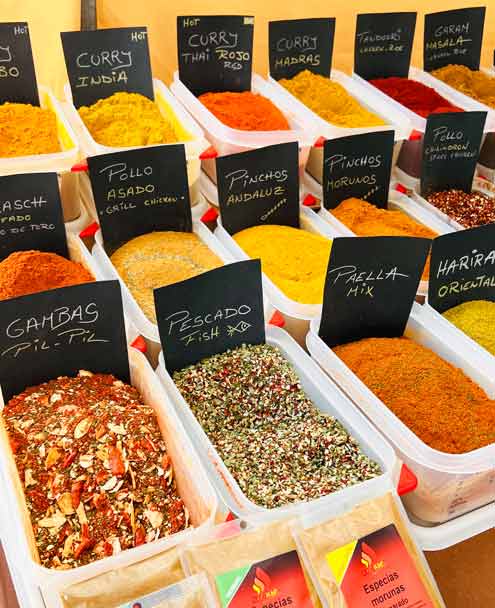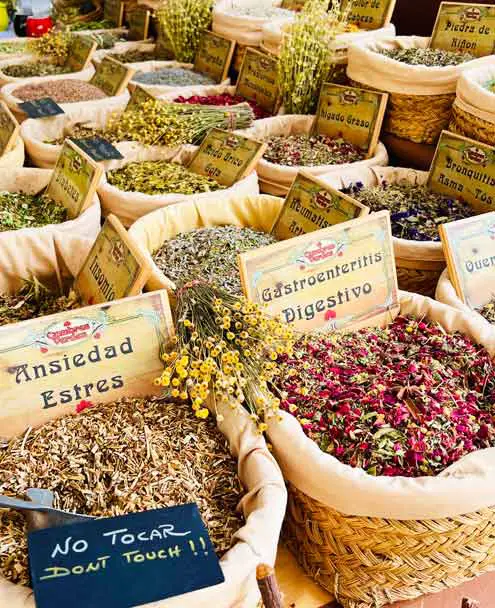 ** The Nerja Markets - Organic Spices & Teas
---
Nerja Markets ➜ Parking
Arrive early as parking will fill up fast during the summer! And it's best to avoid the mid-day summer heat which can be quite oppressive in August.
A limited amount of parking can be found just opposite the market. During the off-season you shouldn't have any problem finding a space. If the lot is full, drive further north into the Almijara neighborhood and park along the street.
---
Nerja Markets ➜ Services Available
Toilets are available, limited parking, and there is a restaurant called
'Food Karma'
just around the corner that is good.
---
Nerja Market Days & Other Nearby Markets
All Markets in the Costa del Sol and Costa Tropical:
| | |
| --- | --- |
| Monday | Torrox Pueblo – Torrox Costa – Marbella |
| Tuesday | Nerja – Motril – Salobreña – Fuengirola |
| Wednesday | Algarrobo Costa – Rincón de la Victoria – Estepona – Mijas Costa |
| Thursday | Frigiliana – Torre del Mar – Vélez Málaga – Torremolinos – San Pedro de Alcántara |
| Friday | Motril – Almuñécar – La Herradura – La Cala del Moral – Salobreña – Benalmádena |
| Saturday | La Caleta de Vélez – Cómpeta – Puerto Banús – Mijas Costa – Fuengirola |
| Sunday | Nerja – Benagalbón – Malaga (Rosaleda Stadium - Fairgrounds) |
---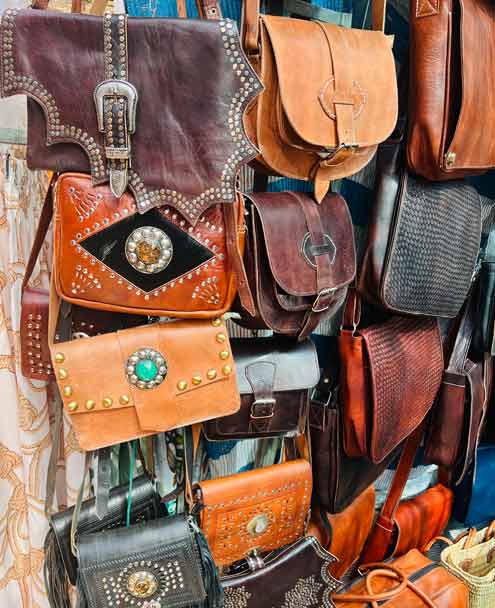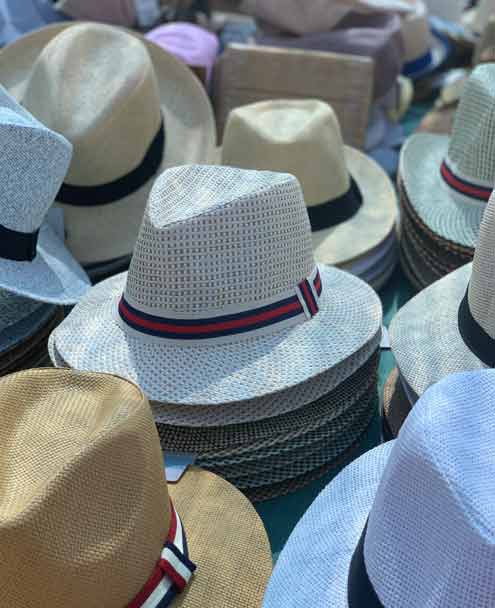 ** The Nerja Markets - Leather Goods & Hats
---
If you happen to miss the Nerja Markets while you're in town, the closest towns with similar markets are:
The Frigiliana Market:
The Frigiliana Market is held every Thursday morning from 8am until 2pm in the Plaza de las Tres Culturas in the center of town. It is a bit smaller than the Nerja market with about 50 open-air stalls selling clothes, hats, shoes, leather goods, handbags, fruit and vegetables, sweets, cakes, and more... We highly recommend a visit to Frigiliana while you're in town. It's an extremely pretty village with a nice selection of restaurants as well.
Nerja ➜ Frigiliana: 14 min (7 km)
---
The Almuñécar Market:
The Almuñécar Market is held every Friday morning from 8am until 2pm in the parking area behind the Blas Infante Arch (in front of McDonalds). It is about the same size as the Nerja Market with a huge assortment of fresh produce, organic products, and household items. Almuñécar also has a beautiful seaside promenade and a castle you can visit. Here are our favorite restaurants in Almuñécar.
Nerja ➜ Almuñécar: 20 min (21 km)
---
The La Herradura Market:
La Herradura is a smaller municipality of Almuñécar and its market is also held every Friday, but it is TINY compared to other nearby villages. It's not worth the trip over just to visit the market... but it's gorgeous blue bay and palm tree lined beaches are definitely worth a visit!
Nerja ➜ La Herradura: 15 min (18 km)
---
Nerja Markets ➜ The Book Exchange
This isn't a market but if you're interested in second-hand items then this Nerja bookstore is THE place for you! The
Nerja Book Centre
is located just north of the
Balcon de Europa
...
here
.
"Prices start from as little as €0.90 and you will also find first editions, rare and out of print books, copies signed by the author and other collectable items. There are books on almost every subject."
Bring your own used books to trade or add money to your account.
The Nerja Book Centre
Address:  Nerja Calle Granada Nº 32
Phone:  34 95 252 09 08
Web:  https://www.nerjabookcentre.com
Email: info@nerjabookcentre.com
---
Nerja Markets ➜ What to do Nearby...
If you're planning to visit the Nerja markets while you're in town, there is an excellent hike that starts nearby. You could make a day of it! The hike will lead you through the river, literally (about knee deep), winding its way through narrow gorges that soar to the skies all around you. It's an unforgettable experience.
The Chillar River Hike is a beautiful route that runs through the foothills of the Sierras of Tejeda, Almijara and Alhama Natural Park winding through a series of deep gorges that eventually ends at the "Vado de los Patos" (8 km each way).
Although the hike is long, it's linear so you can walk as far as you want... and turn back when you're ready. The Chillar River Walk starts in the parking area here.
Nerja Markets ➜ Rio Chillar Parking Area: 3 min (1 km)

Who are we?
An American expat with over 20 years of experience living and traveling in Spain, specifically in Malaga and Granada. Darsey is a seasoned explorer of Andalucia. Drawing from decades of immersive experience, she offers deep insights into this enchanting region of Spain, including off-the-beaten path destinations, the best places to stay, and the top bucket list activities to try!
More...
Want to Save on your Next Trip?
Save money on your next trip with our favorite travel websites!
Find the Cheapest Hotels:
The Largest Selection of Villas & Apartments:
Cheapest, Most Reliable Car Rentals:
Best Bus & Train Fares:
Huge Selection of the BEST Tours & Activities
Discount Tickets to Museums & Attractions

See our Full List of Travel Deals & Site Recommendations Here.