Aqua Tropic Water Park in Almuñecar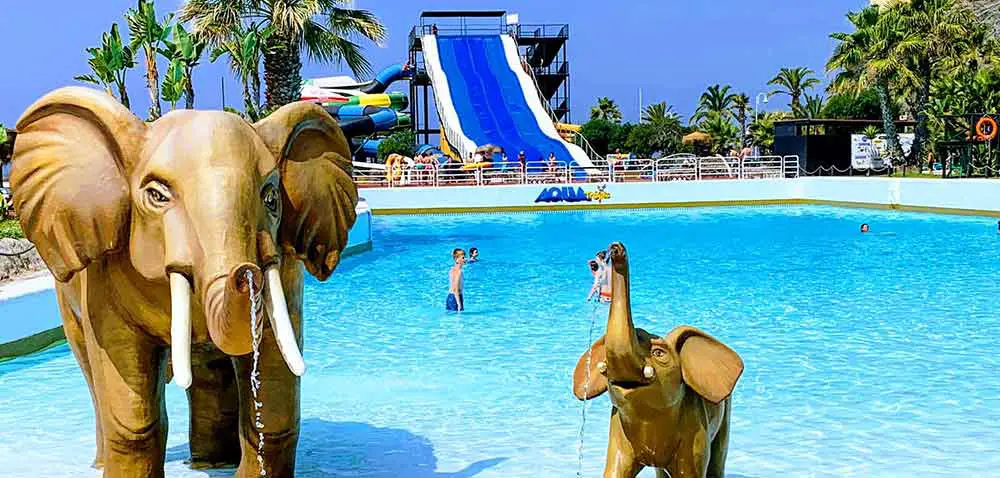 So, you are here for the summer and looking for a fun place to take the kids... THIS would be the place! It's the kind of park where you can let your kids run around safely on their own... while you kick back under a shaded olive tree with a good book...
But First, Buy Your Tickets Online & Skip the Lines!
If you are planning on spending the day at Aqua Tropic... buy tickets in advance! The lines are LONG and
VERY SLOW
!! We have spent many an hour waiting outside when we could have been inside enjoying the slides!
AQUA TROPIC WATER PARK - SKIP THE LINES!!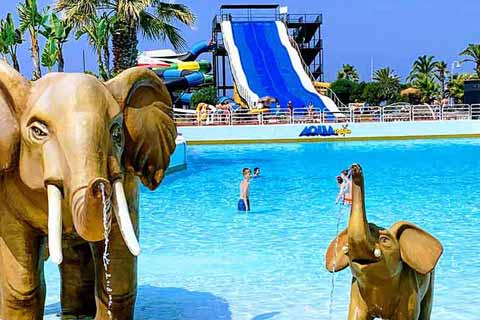 Where is the Aqua Tropic Park?
Aqua Tropic is a very popular water amusement park located on the seafront road running east from Almuñecar towards
Playa Velilla
. It is situated right between the beaches of Velilla and
Puerta del Mar
.
If you have a car you can park on the street in front of the park, which is free until July 1st.
Or, there is now a parking lot that is designated for Aqua Tropic customers only. It is on the right before your reach the park. The cost is 3€ + a 2€ deposit that they return upon leaving. Parking Hours are between 10:30 and 7:30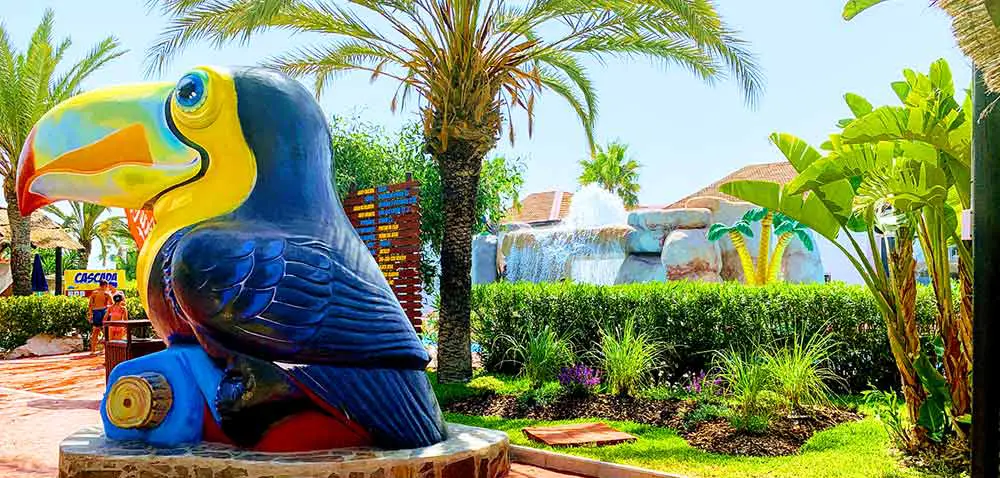 ---
Arriving by Bus
Another option is to take the local bus, Line 3 - to Velilla. From July 1st until Sept 15th it runs every 30 minutes during the week and Saturdays. On Sundays and Holidays, it runs every 60 min. The stop is La Puerta del Parque.
Bus Hours: mornings 8:30 - 2:00 | afternoons 5:00 - 12:30 (normal days and Saturdays)
mornings 10:00 - 2:00 | afternoons 6:00 - 9:00 (Sundays and Holidays)
---
What Can the Kids Do at the Park?
Go on slides, slides and more slides... Aqua Tropic now has over 8 giant, adrenalin inducing water slides, plus jacuzzis, wave pools for the older kids and splash pools for the little guys. There is literally something for everyone in the family.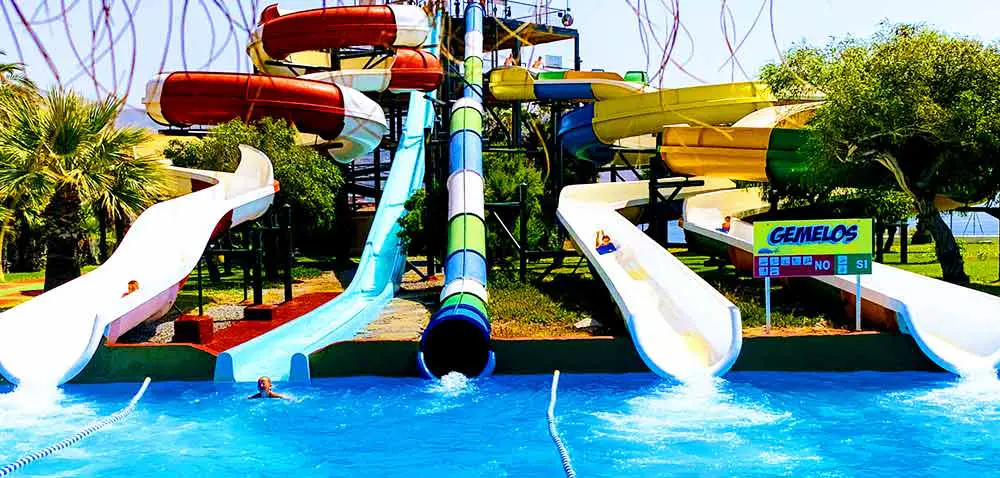 If the kids get tired of the water slides there are other activities to keep them busy as well. For the smaller kids you will find the "play zone" with a ball pit and jungle gym while the older kids have the arcade area equipped with billiards, air hockey and other various "sporty" games.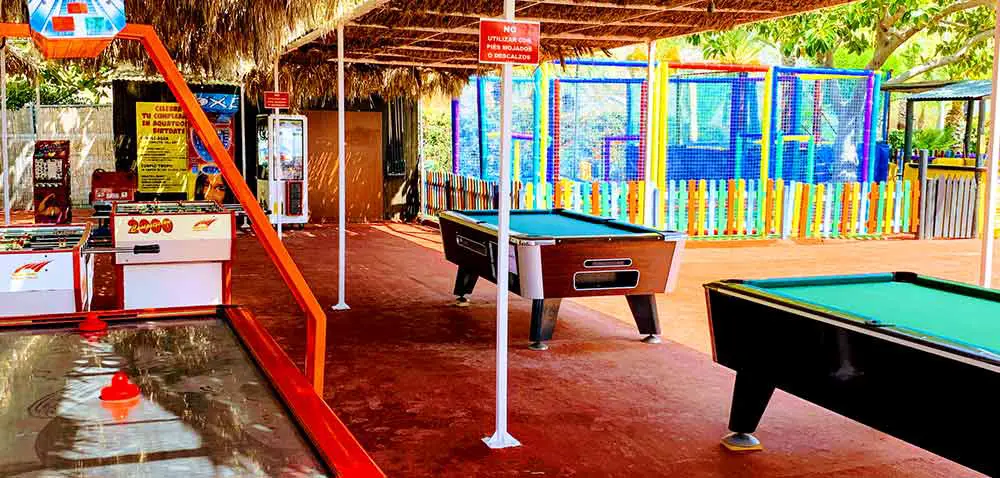 ---
What About the Wee Little Kids?
If your child is less than 1'10 meters he/she can't go on any of the larger slides but there is plenty to keep them entertained. There is a wonderful supersized play pool designed mainly for smaller children with tiny little slides, fun animals and fountains.
They are also allowed in the waterfall / lazy current area, the wave pool (if they are accompanied by an adult) and another smaller play area with a giant bucket that drops water on top of them every few minutes (this one is a favorite).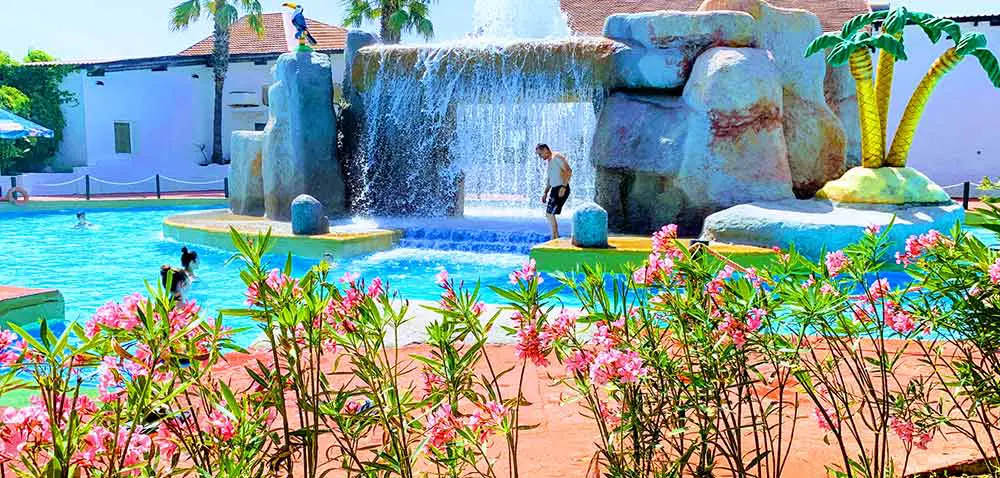 There are a few more options for kids between 1'10 and 1'20 meters. They can go to all the areas above plus 3 of the medium sized slides.
Additional activities start around 4:00. There are children's games in the "play zone" and afterwards, arts and crafts.
Is There Anything for the Adults to Enjoy?
Yes! You've come to this park so the kids can have a blast and you can... well... relax.... Both sides of the park have very nice grassy areas with old shady olive trees and sun beds covered by bamboo umbrellas. It's the perfect place to read a book or take a mid-day siesta.
Fulltime lifeguards are always on duty at every slide and pool (very strict ones at that) so that you can kick back and relax... worry free.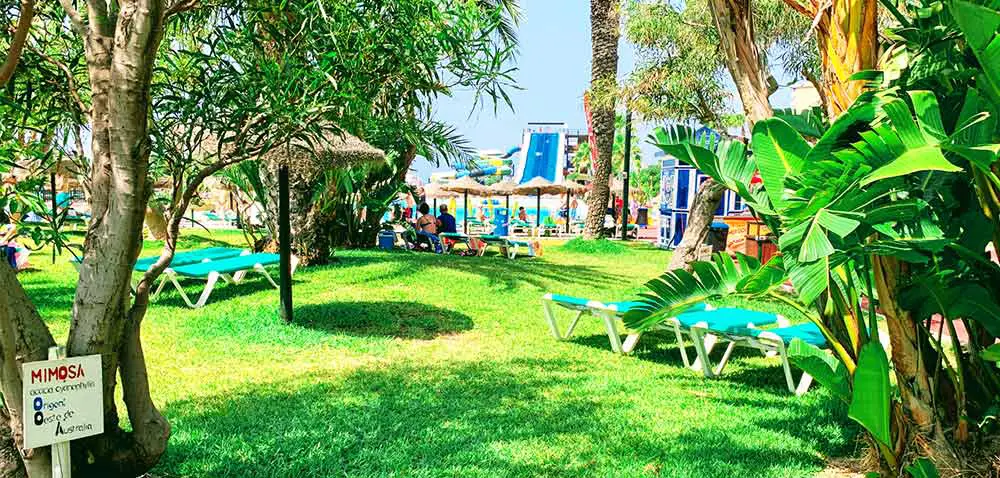 When you are ready you can also indulge yourself at the massage tables or take a dip in the wave pool. Aerobics classes are held daily in the pool as well if you need a little pick me up.
---
Where Can We Eat at Aqua Tropic?
You will not go hungry while at Aqua Tropic, there is food everywhere! There are two restaurants where you can order things like pizza, bocadillos, hot dogs, chicken fingers, etc. The larger of the two has a pretty extensive menu and the food is decent for amusement park fare.
Adult beverages are served at both restaurants.

When you are done with lunch and need something sweet you can enjoy one of the many flavors of ice creams at the Heladeria or grab yourself a gofre de chocolate (chocolate waffle) from the waffle house.
If you want to bring your own food, there is also a BBQ area available with picnic benches and grills.
NOTE: Outside food is allowed in all parts of the park BUT they are pretty strict about not bringing anything made of glass. There are kids running around barefoot everywhere so this is a real hazard for the park.
---
How much does Aqua Tropic cost?
The prices at Aqua Tropic vary depending on the size of the group and number of days you plan to attend. They have group prices, discounts for students, discounts for residents, two different family packs, season tickets and 3-day bundles. You can also pay for a half day (arrivals after 3:00 pm.)
Current Full Day Prices - Individual
| | |
| --- | --- |
| Adults: | 23.00 Euros |
| Children under 3: | FREE |
| Children (4 - 11 years): | 15.00 Euros |
| Junior (12 - 15 years): | 17.00 Euros |
| Seniors (over 65): | 17.00 Euros |
Remember! You Can Also Pay Online & Skip the Lines!
AQUA TROPIC WATER PARK - SKIP THE LINES!!
If you are planning on going to the water park for the day... buy tickets in advance! The lines are LONG and VERY SLOW!!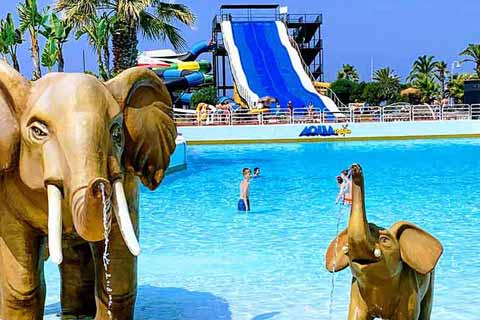 ---
Other Available Services...
Other amenities include: lockers, sun-beds and umbrellas, massage, hammocks, souvenir shop, picnic area and refreshments.
Important Tips to Know...
1. Get there early as parking is limited on the street.
2. Pay ahead online if you can because the lines are very long and VERY slow. You can print out your receipt or bring your receipt on your cell phone.
3. There are discount coupons everywhere. Every restaurant and store in town usually has stacks of them and you can get at least 4 euros off per person with these.
**Unfortunately, coupons can't be used on the website. If you are using the coupons, go early to avoid the lines!
---
Birthday Parties at Aqua Tropic
For children lucky enough to be born during the summer months, Aqua Tropic does Birthday Parties! Yay!! You must invite at least 10 friends and none over the age of 15. The price is 16.00 euros for each child, adults are 23.00 euros (if they are eating, 16.00 euros if not). The price includes access to all the slides (the ones they are permitted to go on), hot dogs, cake and games.
The Birthday Girl or Boy gets in FREE!
---
General Park Information
Address
Playa de Velilla
Paseo Reina Sofía
18690 Almuñécar, Spain
Contact Information
Phone: 958 632 081
E-mail: info@aqua-tropic.com
Web: www.aqua-tropic.com
Opening Hours
June 14 - September 9
Opened Daily (Mon - Sun)
11:00 am - 7:00 pm
---
Getting There
Aqua tropic can be found on the main coastal road going away from the Peñon de Cristobal. It is located just before Playa Velilla on your right. Your can't miss it!
---
---
Aqua Tropic Water Park