Fiestas in Almuñecar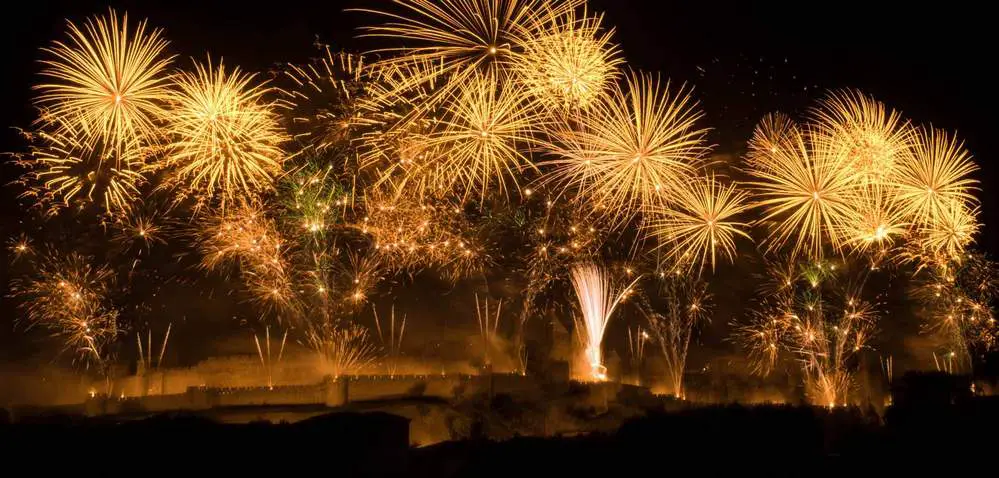 Spain has often been called the land of the fiesta. Well, the Costa Tropical is no exception and Almuñécar celebrates them all. Grocery stores and local schools are closed for most holidays, especially the national ones.

- National Holiday,     

- Andalucian Holiday,     

- Local Almuñecar Holiday
January
January 1st
New Years Day
January 6th
Epiphany - 3 King's Day
Día de Los Reyes (Epiphany or 3 Kings Day) – this is gift-giving day for the Spanish (the equivalent to Christmas Day elsewhere). On the evening of January 5th, the 3 Kings lead a procession through both towns of Almuñécar and La Herradura and toss thousands of sweets to the children who follow them.
---
February
February 3rd
San Blas
San Blas – patrón saint of this pueblo, lasts 3 days, with numerous sports activities, processions, exhibits, children's games, theatrical performances and fireworks display. San Blas (or Saint Blaise) is considered to be the patron of the throat, so it is not uncommon to see people hang his image around their necks to protect them from the illnesses of the winter season.
February 5th
Carnaval
Carnaval (Carnival or Shrove Tuesday) – specific dates vary based on Easter Sunday's date. Carnival is celebrated throughout the world and marks the beginning of the Lenten season. Locally, there are a myriad of costumes, masks, music and general festivities all over town and on the beaches that last until dawn.
February 28th
Día de Andalucia
Día de Andalucia (Andalucia Day) – this fiesta commemorates the anniversary of the autonomy of the Andalucia region that began in 1981. This fiesta is more a day off from work with minimal merry-making but some musical performances are often presented.
---
March
March 17th
San Patricio
Celebration of the town's patron saint together with the feast of San José
March 19th
San José
Día de San José (St. Joseph) – the patron saint of La Herradura is celebrated by a week filled with festivities, games, rides, processions and fireworks taking place along the expansive beachfront.
March 23rd
Los Homazos
Los Homazos - This fiesta is celebrated during the Sunday of Glory and the Monday of Semana Santa. The hornazo, a typical bread from Dúrcal, is made with olive oil dough with a hard boiled egg in its center. Families and friends partake of this bread during this holiest week in the religious calendar Holy Week itself is filled with traditional customs and still celebrated on the many cortijos that dot the hillsides.
April
April 14th - 23rd
Semana Santa
Semana Santa - The most solemn religious events occur this week with several processions daily Each day commemorates the passion of Christ, the Crucifixion and Resurrection, culminating with national holidays from Maundy Thursday to Easter Sunday.
April 18th & 19th
Maundy Thursday & Good Friday
April 21st
Easter
April 25th
San Marcos
Celebrates the patron saint protector of livestock
---
May
May 1st
Día del Trabajo
Día del Trabajo (May Day) - this fiesta is a relatively quiet one and more one that commemorates the worker. Families and friends get together for a long meal and a friendly get-together.
May 3rd
Día de las Cruces
Día de las Cruces (Day of the Cross) – although this fiesta is a holiday in Granada province, it is only celebrated in Dúrcal during the evening hours. Crosses are prepared by various groups, individuals and associations of the pueblo, and are decorated with flowers, paper, fruits and other objects – a truly creative endeavor. People wander from one cross to the next around the pueblo to see the different styles and the fiesta reaches late into the early morning hours.
May 5th
Mothers Day
May 15th
San Isidro
San Isidro - patron saint of the laborer – this fiesta should be celebrated in the fields (campo), but it begins the day before when the statue of San Isidro is brought out to the people in an elaborate procession. The fiesta itself is a collective one where everyone shares food and drink, where groups and individuals decorate their wagons in celebration of nature and its bounty for it is these days that everything is in bloom; this is a day to share and enjoy.
---
June
June 7th - 9th
Fería Gastronómica
Fería Gastronómica (Gastronomic Fair) – this is a multi-cultural fiesta normally held in the Parque Majuelo and consists of several restaurants presenting a sampling of their menus. All types of ethnic dishes can be tried and live music is added to the evening´s festivities.
June 24th
Día de San Juan
Día de San Juan (St. John) – this fiesta is one of the year´s most memorable ones as it celebrates the longest day of the year and the summer solstice. From the early hours, people set up "camp" all along the beaches of La Herradura and Almuñécar with tents, chairs, food, music and blankets. As tradition mandates, at midnight everyone moves to the shore to wash their faces, symbolizing the elimination of past troubles and their hopes for the year ahead. The festivities continue well into the next day when a weary lot of people head home.
July
July 12th - 16th
Día del Virgen del Carmen
Día del Virgen del Carmen (Virgin of the Carmen) – this is the fiesta that commemorates the patron saint of sailors. As an age-old fishing community, homage is paid to this Virgin whom mariners look to for their seagoing protection by a traditional maritime procession.
July 15th
Jazz en la Costa
Jazz en la Costa (Jazz Festival on the Coast) – this is not so much a fiesta but an international cultural event. Musicians come from around the world to perform during this 10-day event performed in the Parque Majuelo. The Castle that rises above the Park is ablaze with lights and the music can be heard all across the water – this is a truly wonderful summer event
---
August
August 15th
Virgen de la Antigua
Fiesta de la Virgen de la Antigua – this is a major celebration in Almuñécar as it commemorates her patron saint. The fiestas run for a week and culminate with a traditional procession of the Virgin onto a boat, a turn around the Peñon de San Cristóbal, and a tremendous music and fireworks display from the Castle and the beach. The traffic jams that occur at this time are testament to the popularity of this event. It has been celebrated consecutively since 1569.
August 15th
Assumption
Assumption - Assumption of the Blessed Virgin Mary. Huge fireworks show in Almunecar.
---
September
September 27th - 29th
Día del Virgen del Carmen
Fiesta de San Miguel (St. Michael) – this fiesta is a neighborhood or barrio celebration that consists of the traditional procession, fireworks and street parties that last well into the early morning hours.
---
October
October 5th - 6th
Festival del Mar
October 11th
Fiesta de la Chirimoya
Fiesta de la Chirimoya - The chirimoyo fruit is widely grown in this area, has created a strong economy in its production and has earned its legal Certification as the "real" source of the fruit. It is easy to see why the harvest season is a time for celebration – and what a fiesta it is! As is traditional, there is a procession, lots of local cuisine, music, competitions, and fireworks.
October 12th
Día de la Hispanidad
Día de la Hispanidad is also known as Columbus Day. This national holiday commemorates the discovery of the New World by the Spanish and major celebrations are held in most Hispanic cities around the world.
November
November 1st
Todos los Santos
Todos los Santos (All Saints Day) – this national religious fiesta is one of the most traditional ones and is centuries old.
---
December
December 6th
Día de la Constitución
Día de la Constitución (Day of the Constitution) - this national holiday commemorates the Spanish constitution which went into effect in 1978.
December 8th
Día de la Imaculada
Día de la Imaculada (the Immaculate Conception) – this national religious holiday celebrates the Virgin's immaculate conception
December 25th
Navidad
Navidad (Christmas Eve and Christmas Day) – these are international religious holidays which are celebrated quite differently here than in other countries; these are relatively quiet family and church-going days; nativity scenes are re-enacted in many cities
December 28th
Dia de los Santos Inocentes
Dia de los Santos Inocentes (Fools Day) - This day is like the April Fools Day in the US, it's just a day to play pratical jokes on friends and have fun.
December 31st
Noche Vieja
Noche Vieja (New Year's Eve) – this evening is a universally anticipated one filled with parties, revelry, fireworks and traditions. In Spain, the custom is to eat 12 grapes – one per peal of the clock's chimes – with the intention of consuming all 12 by midnight to ensure good fortune in the upcoming year.
---
Save on your Trip
Save money on your next trip with our favorite travel websites!
Find the Cheapest Hotels:
The Largest Selection of Villas & Apartments:
Cheapest, Most Reliable Car Rentals:
Best Bus & Train Fares:
Huge Selection of the BEST Tours & Guided Activities
Discount Tickets to Museums & Attractions

See our Full List of Travel Deals & Site Recommendations Here.
---