4-Star Hotels in Almuñécar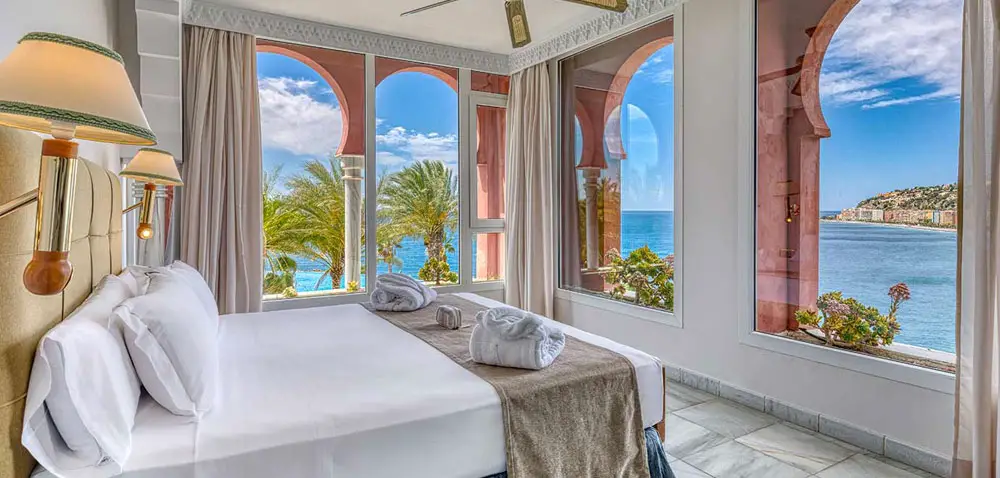 ** 4-Star Hotels in Almuñécar ➜ Playacálida Spa Hotel ****
---
Spend your next holiday at one of Almuñécar's beautiful 4-Star Hotels!
⭐ If you're coming to the area and prefer to stay in a premium hotel with all the luxury amenities, we have you covered. Many of Almuñécar's 4-star hotels boast spa facilities, fitness centers, oversized outdoor pools with bar access, magnificent Mediterranean Sea views from your private balcony, and much more...
Take a look at the eight 4-star hotels below, located in and around Almuñécar, one is sure to delight you...
The Six 4-Star Hotels in Almuñécar
Being a favored coastal destination during most of the year,
Almuñécar
can claim SIX exceptional 4-star hotels, plus two more in neighboring La Herradura. All are just mere minutes from one of its
10 most popular beaches
... We have noted, for your convenience, which of Almuñécar's beaches is nearest to each hotel.
---
Two more 4-Star Hotels in La Herradura:
La Herradura
, a gorgeous natural bay on the western side of Almuñécar and a municipality of the larger village, is lucky to have two of its own 4-star hotels. The Hotel Best Alcázar is located above the popular
Marina del Este
, while the smaller Sol Los Fenicios sits directly on
La Herradura beach
.
---
---
*Affiliate Disclosure: Some links on this site are affiliate links, this means we may receive a small commission for any booking (which we greatly appreciate). This will not affect the price you pay in any way!
---