Grazalema, Spain
Top 2023 Travel Guide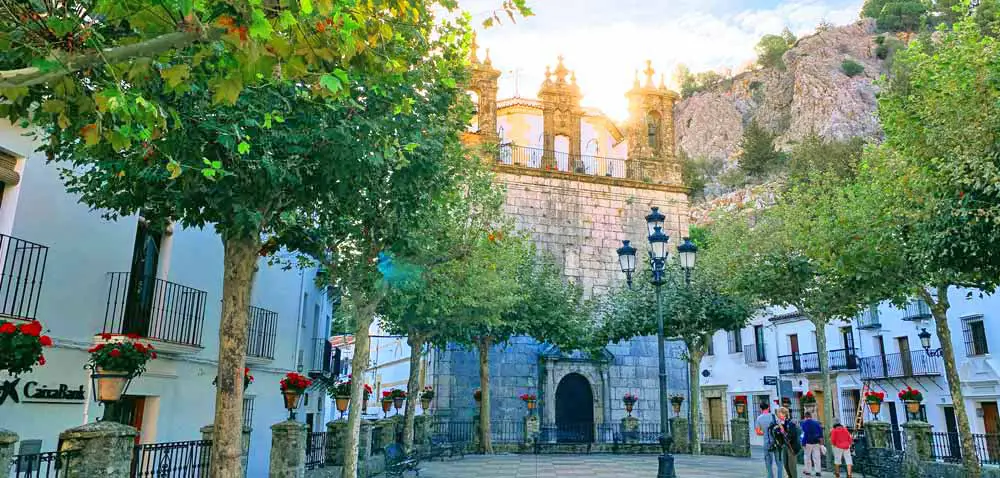 ** Iglesia de Aurora - Grazalema, Spain
💡
Affiliate Disclosure:
  Please be aware that some links on this site are affiliate links, which means that we might receive a small commission ☕ if you click a link and make a booking. This helps us to keep the site running and will NOT affect the price you pay in any way... ❤️ 🙏 🙏 ➜
How does this work?
---
Driving through the Sierra de Grazalema countryside is quite a treat. The landscape is blanketed in beautiful rural farms, soft hills and soaring mountains. Happy little critters dot the horizon, grazing and playing quite boisterously among themselves. We would say, if there was ever an idyllic area to spend the day... this would be it.
As you drive into the town of Grazalema, which is set right in the middle of this bucolic paradise, the first thing you will see is a sign that reads "Un Pueblo Mas Bonito de España" (meaning it's one of the chosen "Most Beautiful Villages in Spain"). And that it is!
Of all the white villages we visited along the "Pueblos Blancos Route", Grazalema was the prettiest...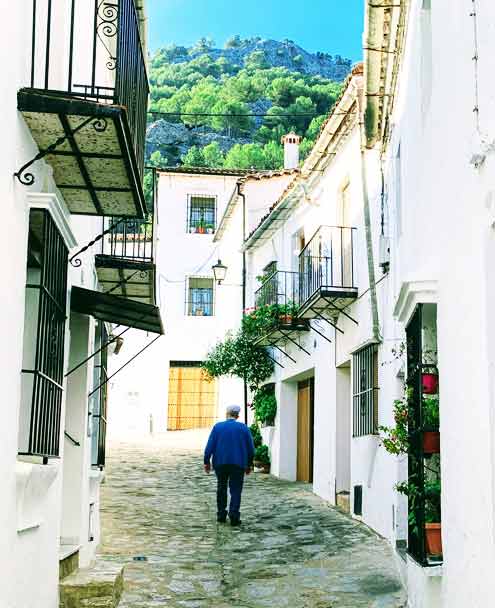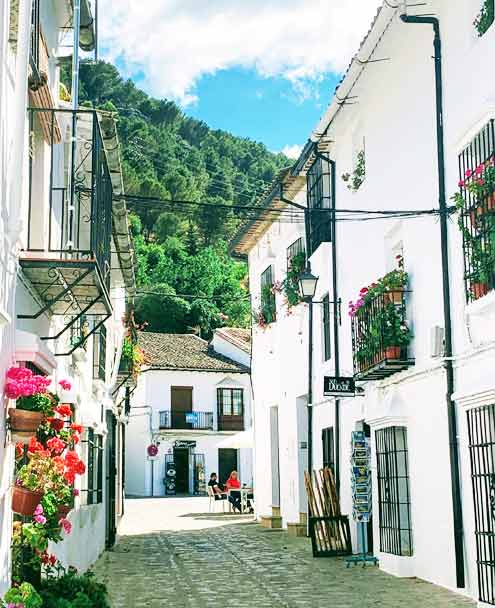 ** Beautiful Streets and Alleys - Grazalema, Spain
---
Check out the other famous "Pueblos Blancos":
Olvera
-
Setenil de las Bodegas
-
Zahara de la Sierra
Explore the Mountain-Side Village of Grazalema!
Where is Grazalema?
Grazalema sits in the northeastern part of the
province of Cádiz
, in Andalucía. It's about 40 minutes from the town of Ronda and lies in the middle of the Grazalema National Park surrounded by lush farmland and stunning natural scenery.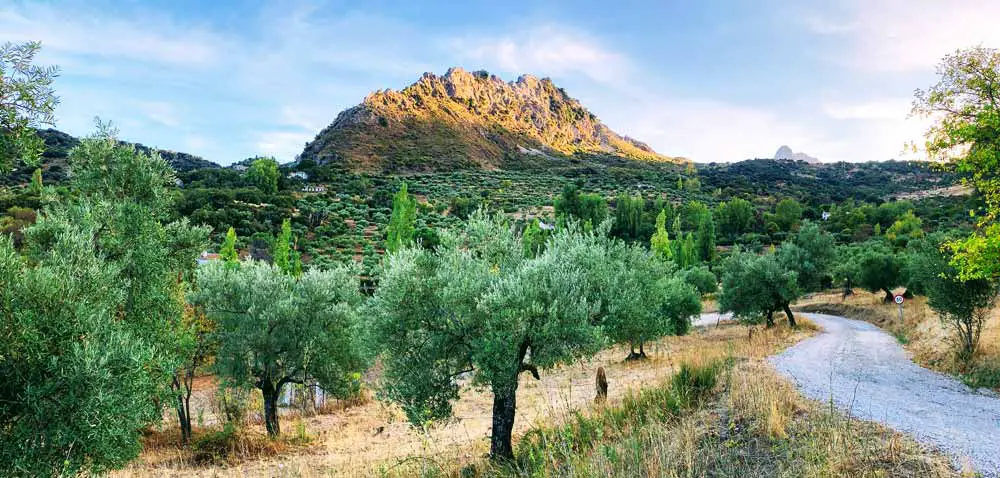 ** Sierra de Grazalema - Grazalema, Spain
The town itself sits right under a giant rock known as the "Peñon Grande" and spreads out into the valley below. It is surrounded by farms, roaming sheep, and even has an intact ancient Roman road leading into its center.
A visit to Grazalema will take you about half a day, but it's also a good place to station yourself if you're touring the other "Pueblos Blancos". We stayed in the Hotel Fuerte Grazalema, which sits just across the valley and enjoys spectacular views of the town and its incredible backdrop.
---
But First... A Little History
Grazalema shares its history with the other ancient Spanish villages in this area. It dates to prehistoric times but was occupied by the Romans, Moors and later taken over by the Christians.
In the 8th century the area was inhabited by the Berber Moors (who mostly had blond hair and blue eyes), they named the town "Raisa lami Suli" or "town of the Banu al-Salim". It relied primarily on local agriculture (as it still does today) due to the surrounding fertile lands.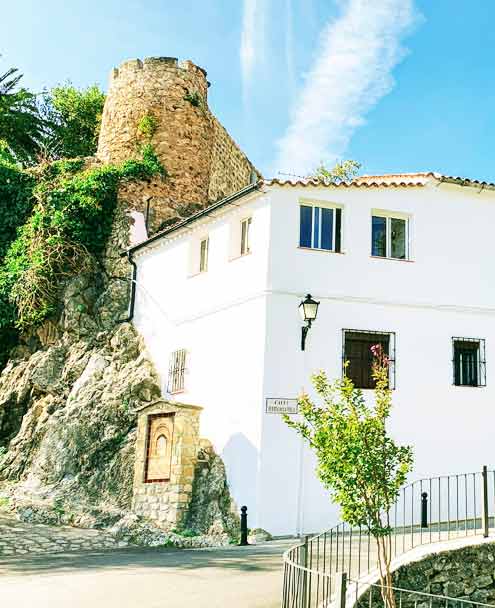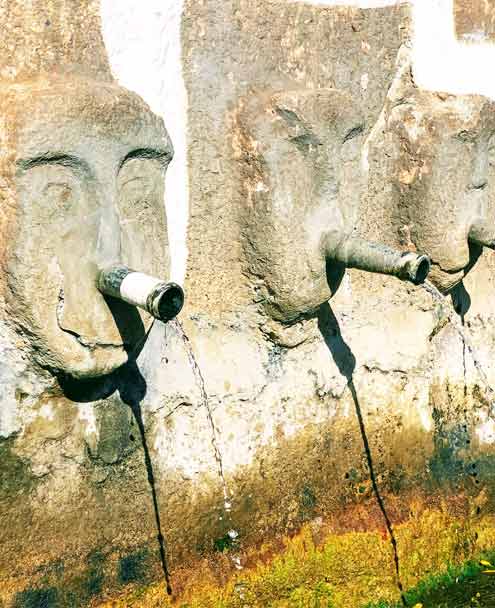 ** Ancient Moorish Towers & Fountains - Grazalema, Spain
In 1485, the Christians defeated the Arabs and moved in to control the village. At that time, textiles became more important (the wool came from the sheep that grazed locally in the valleys). Today, carpet and blanket making is still very popular and plays a major role in the local economy. A visit to the local blanket factory is a must-do while in Grazalema.
---
BEST Hotels in Grazalema
Because Grazalema is one of the largest of the "Pueblos Blancos", it also has some of the best hotel options.
You can either stay just outside of town and enjoy beautiful views of Grazalema, or you will find two hotels near the main plaza.
TOP HOTELS - GRAZALEMA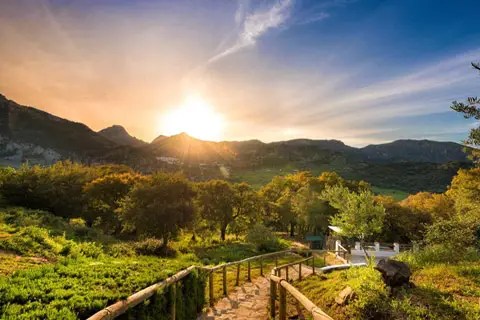 Two options near the main Grazalema plaza...
Puerta de la Villa - Best location in town, just outside of the main plaza. This four-star hotel has a swimming pool, jacuzzi, gym and beautiful mountain views.
Peñon Grande - Just opposite the Puerta de la Villa Hotel is a budget friendlier option, the two-star Peñon Grande.
---
Two Options Just Outside Town...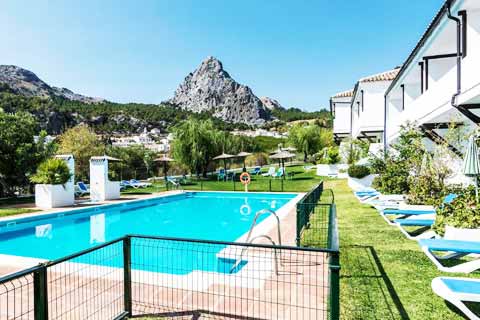 Camping Tajo Rodillo - The town´s campsite. It's on the C344 at Km 49 to El Bosque and great for hikers!
---
Or, Rent a Cottage...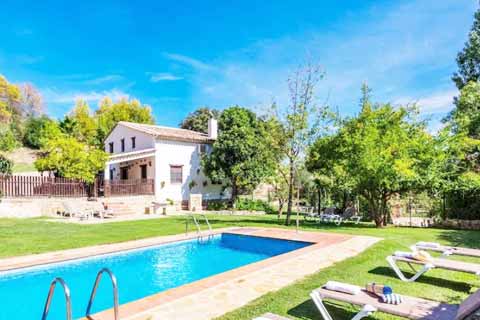 ---
BEST Restaurants in Grazalema
RECOMMENDED RESTAURANTS - GRAZALEMA
Mesón el Simancón - Our favorite restaurant in Grazalema. This one is located just across from the Tourist Office behind the main parking area. It has a great selection of local dishes and a cozy rural ambiance.
Casa Martin 1920 - Located right in the heart of Grazalema (Plaza de España) you will find this lovely Mediterranean style restaurant / wine bar.
Gastrobar la Maroma - Another Mediterranean style restaurant but slightly more rustic and good value for your money. They also have a variety of vegan / vegetarian options.
---
Ten Things You Should Know About Grazalema!
1
The Surrounding Countryside is Lovely
The town of Grazalema is surrounded by the magnificent Sierra de Grazalema National Park. It is completely undeveloped except for the beautiful white villages that are sprinkled throughout.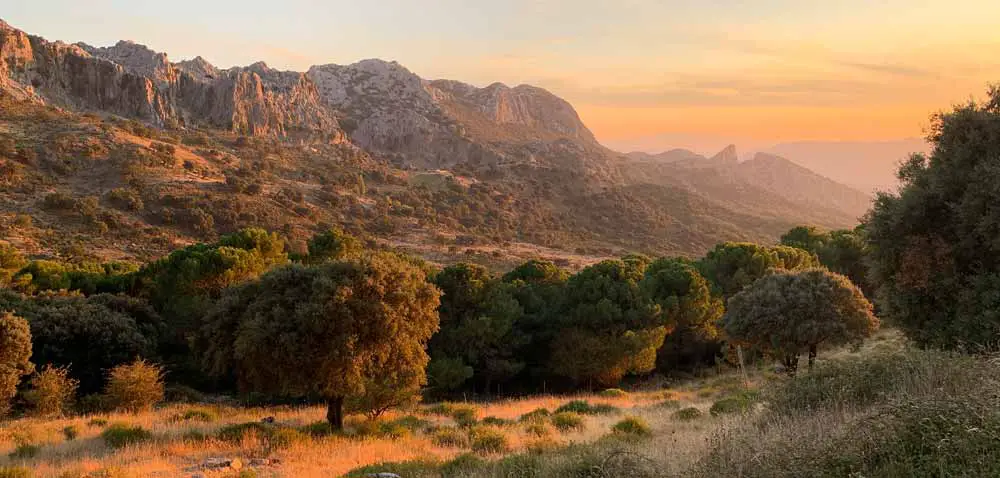 ** Rural Countryside - Grazalema, Spain
While driving through the park the landscape changes dramatically every few minutes, from soaring mountains to deep rich valleys to stunning, turquoise-colored lakes spreading out as far as the eye can see.
One of our favorite things about visiting this area was the beautiful drives between each of the villages...
... And the Animals are So Happy!
OK, this may seem like a funny comment to make, but it's true! Nowhere have we ever seen so many critters running around enjoying themselves quite so much, the fields are full of pigs and piglets, sheep, goats, cows, horses and more...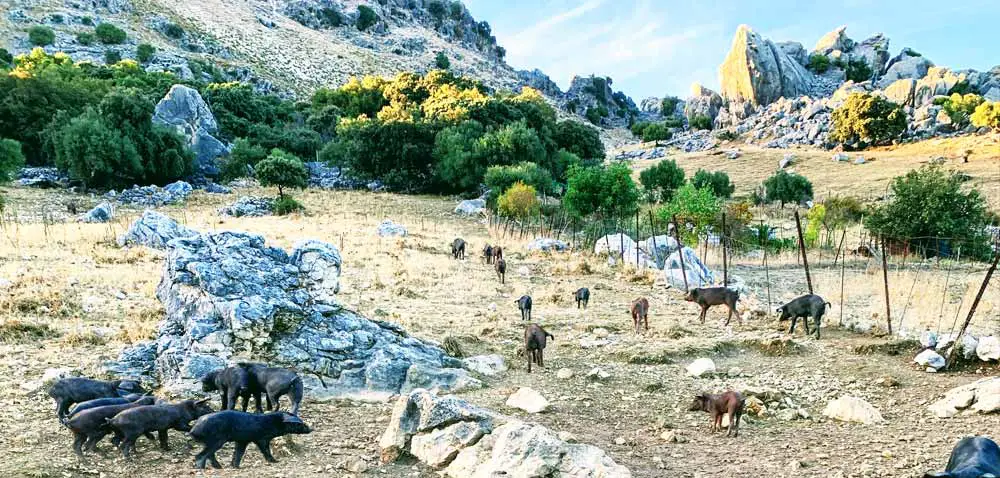 ** Grazing Piglets - Grazalema, Spain
When we first arrived in Grazalema, we stepped out of the car to take a photo. Suddenly we heard a high-pitched squealing noise behind us. We turned around just in time to see a whole gaggle (is that what you call a group of piglets) running towards us, wagging their little corkscrew tails and squealing happily. We walked over to the gate and watched as they ran up and down the hill, playing, rolling, jumping, and generally making quite the ruckus.
Ahhhh, the life of a free-range piglet...
---
GRAZALEMA TOURIST INFORMATION
Oficina de Información Turística
3, Plaza Asomaderas
Grazalema, Spain
Telephone: +34 956 132 052
October to May:
Tuesday to Sunday: 10 am - 2 pm, and 3 pm - 5.30 pm
June to September:
Tuesday to Sunday: 9 am - 3 pm
Email address: turismograzalema@gmail.com
---
2
Grazalema's Plaza de España is a "Site of Historical Importance"
And, it's very pretty as well!
The Old Town square in Grazalema, the "Plaza de España", was the prettiest one that we saw on our tour of the "pueblos blancos". Most of the old town centers are beautiful, but Grazalema has done an excellent job in keeping it well maintained, clean, and decorated from one end to the other in bright red and pink Geraniums.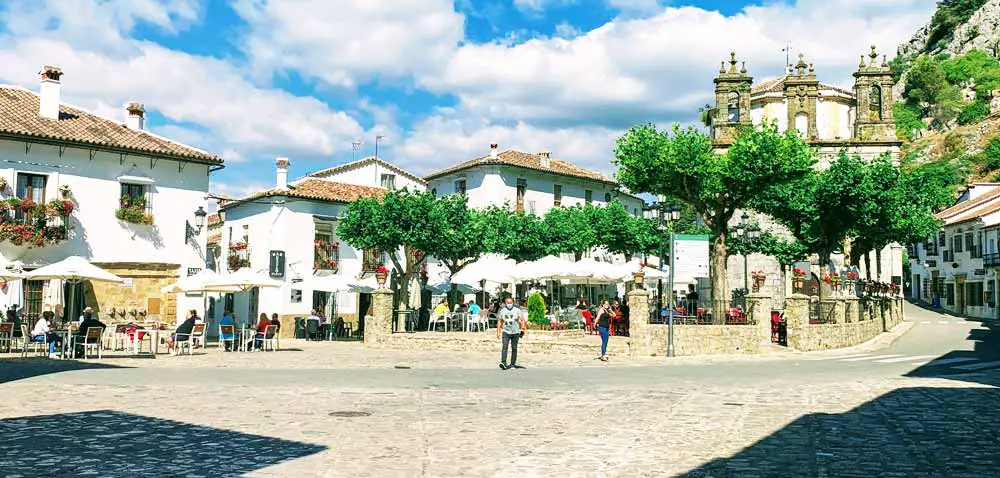 ** Plaza de España - Grazalema, Spain
There are several quaint cafes and bars in the plaza too, so it's a nice place to stop for a rest. Most of the "sights" are close by as well.
The Plaza de España has been designated as a "Site of Historical Importance" by the Spanish government.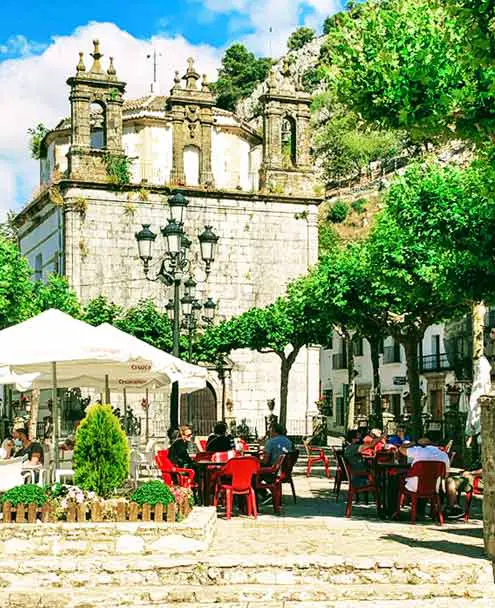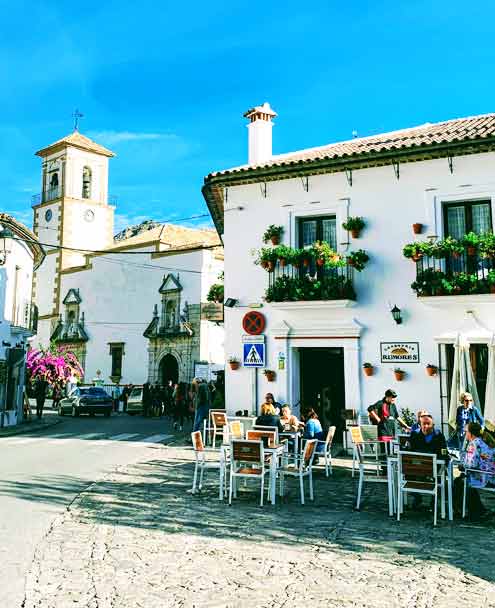 ** Plaza de España - Grazalema, Spain
---
3
The Streets of Old Town Grazalema are Beautiful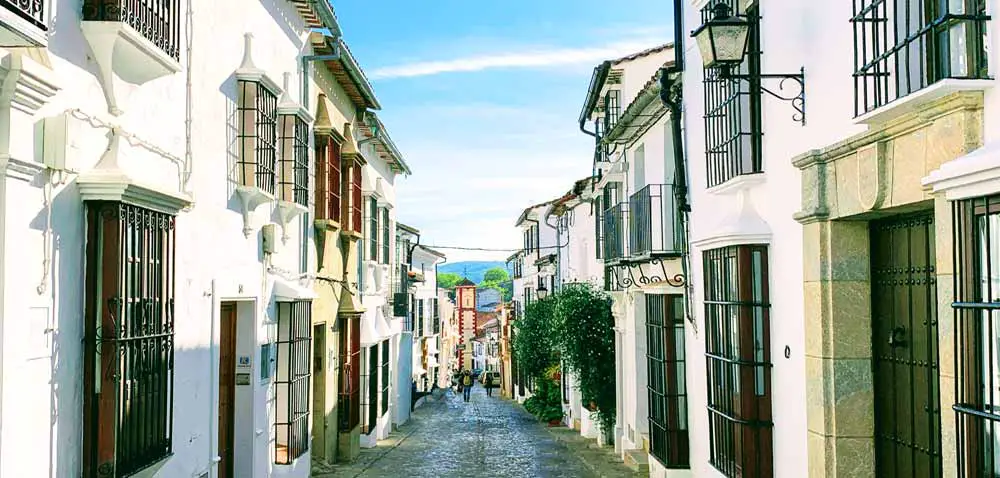 ** Old Town Streets - Grazalema, Spain
In Grazalema you can see a real effort has been made in renovating the houses and public areas. Everything has a consistent look; white-washed village homes, black wrought iron window bars, bright red Geraniums spilling out of pots, and black and white storefront signs... It looks gorgeous!
For the most part, this is an easy town to walk around in. There are a few steep streets (like the main street going to the Iglesia de San José) but generally you can stroll through its maze of flower filled streets without a problem.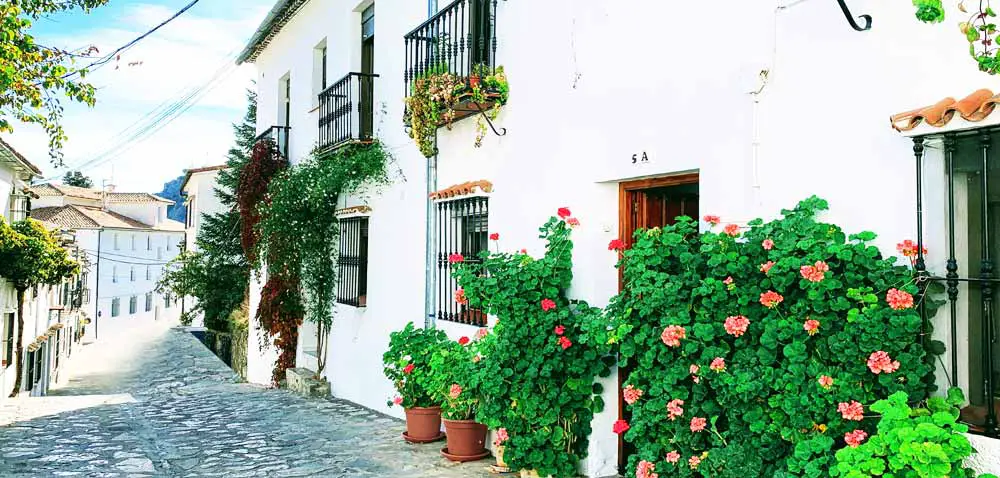 ** More Pretty Streets - Grazalema, Spain
---
4
Grazalema has 4 Churches and 2 Ermitas
For such a small village, this seems like a lot of churches. Two of the churches are in the Plaza de España, the 18th century Iglesia de la Aurora and the newer (but still very old) Iglesia de la Encarnacion.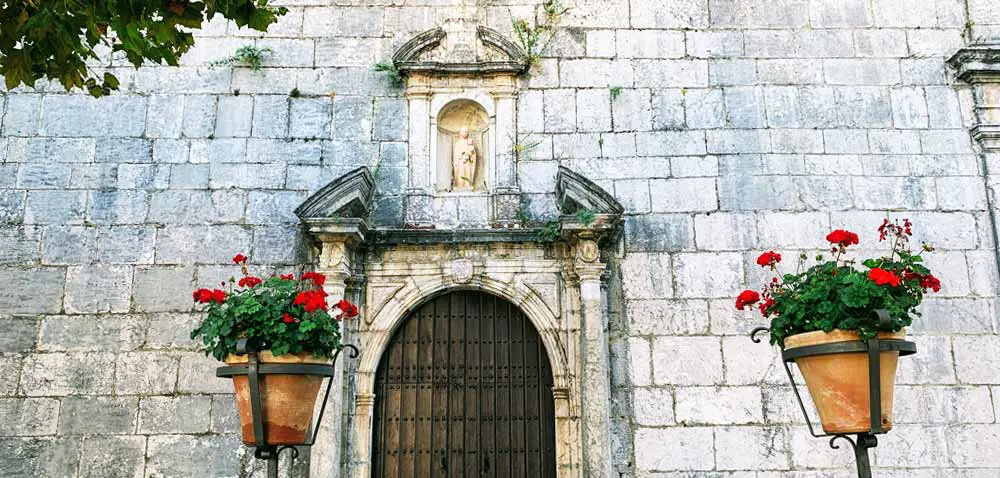 ** Iglesia Aurora - Grazalema, Spain
A third church, Iglesia de San Juan, is right off the main square and built on the site of an ancient mosque (also 18th century). It is no longer open.
The final church, La Iglesia de San José, is located in the upper most part of Grazalema. It was once a monastery and has a beautiful garden with fountains along one side.
All of these are worth a visit.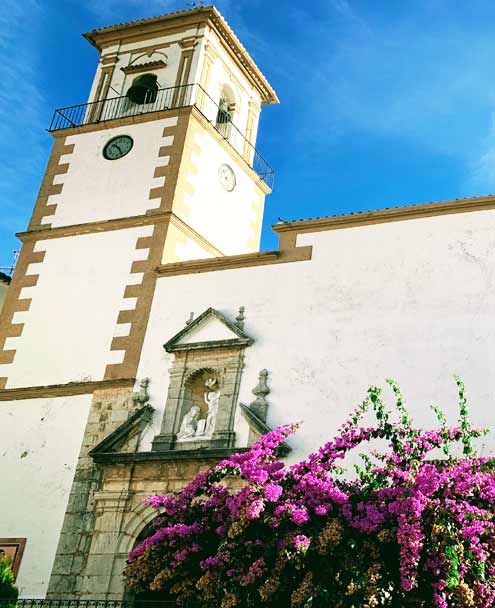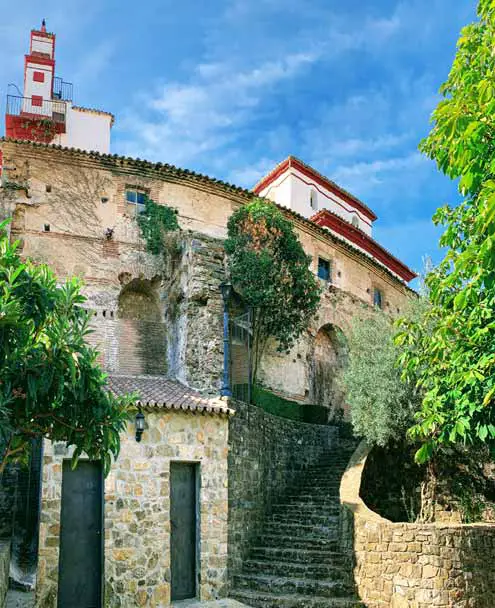 ** Iglesia Encarnation & San José - Grazalema, Spain
---
5
Grazalema is a City of Fountains - There Are 11
See if you can find them all! Grazalema dates to Roman times when water was scarce. But being the highest village in the Sierra de Grazalema mountains AND having the highest rainfall in the region, water in the ancient town was abundant.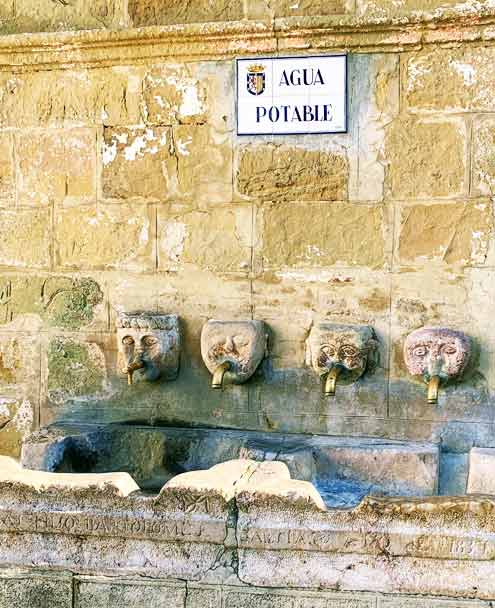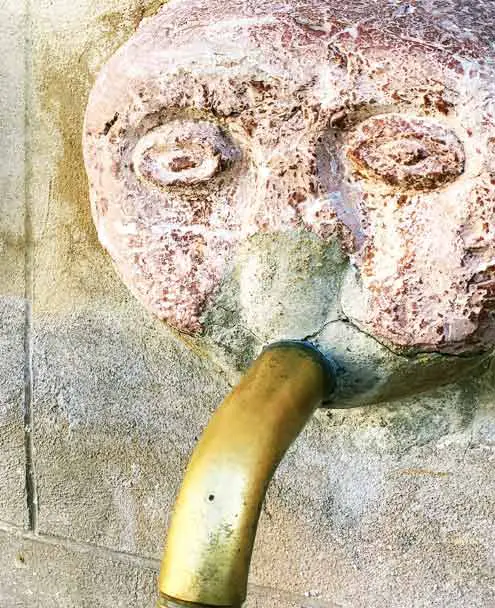 ** Ancient Fountains - Grazalema, Spain
Several fountains were built around town that date to medieval times, like the one in the Plaza de España in the town's center.
There is another ancient fountain, possibly of Visigoth origin, in the lower part of town next to the Guadalete river and the 'lavadero publico' (ancient public washing area). It is also worth seeing.
6
Grazalema has 6 lovely Miradors ... With Even Lovelier Views
Grazalema sits high up in the mountains overlooking the beautiful valley below so there are several miradors around town that have fantastic views! "El Tajo" (in the photo above) is one of the larger miradors and is even equipped with a restaurant and swimming pool.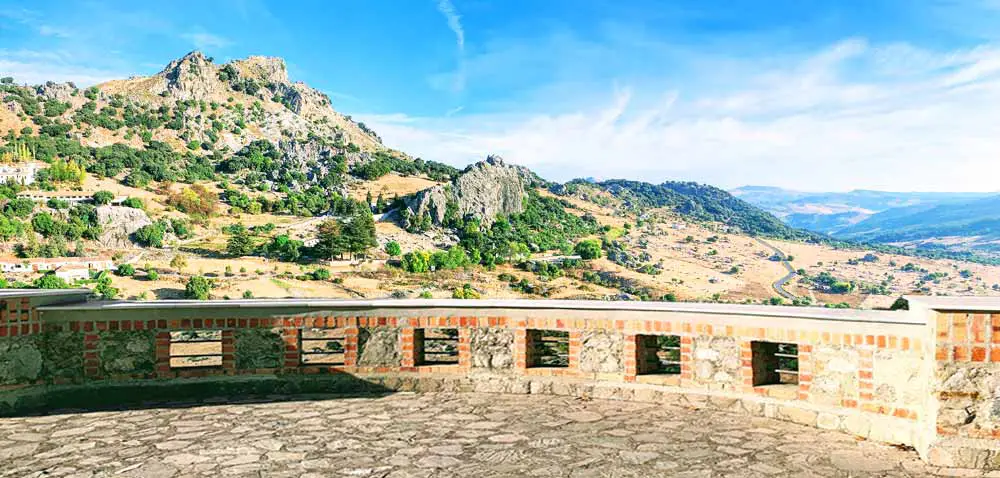 ** Mirador with Views - Grazalema, Spain
There is a parking area just across the street that's an easy walk into town.
Another well-known lookout is the Mirador de Grazalema located near Plaza Asomadero, it's a great spot for a picnic.
---
7
Visit the Grazalema Blanket Factory
Like I said above, textiles are one of the most important commodities in Grazalema. They use the wool from local sheep to make beautiful, multi-colored blankets and rugs.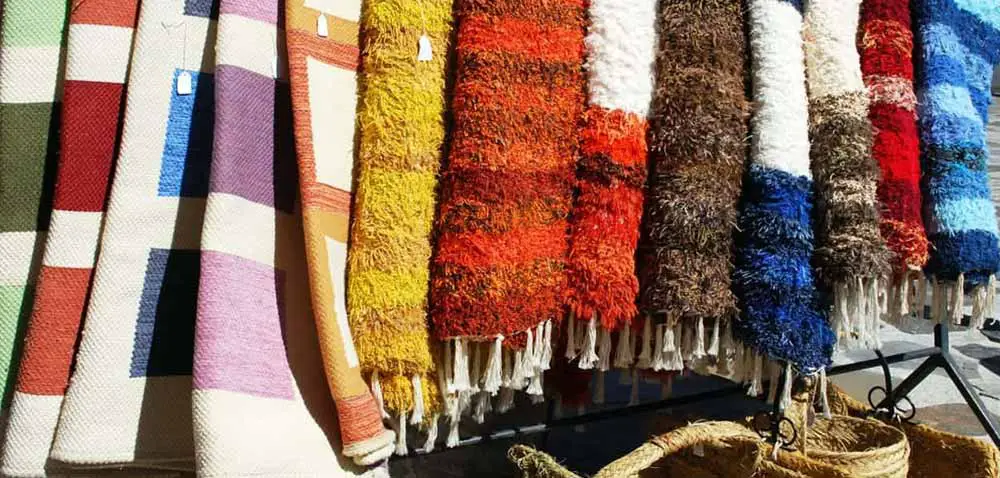 ** Locally Made Blankets - Grazalema, Spain
Don't miss the opportunity to tour the local factory where these items are produced. You can take a FREE 15-minute tour of the facility and they will show you the ancient process of how these blankets are made.
You can even purchase a few if you'd like, they make great gifts!
Read what other travelers have to say about the Blanket Factory
Grazalema Textile Factory
Opening hours
Monday to Thursday: 8 am - 2 pm, and 3 pm - 6.30 pm
Friday: 8 am - 2 pm
Saturday, Sunday and Bank holidays: closed
---
8
Walk Grazalema's Old Roman Highway
Another fun thing to do while in Grazalema is to take yourself back to Roman times and walk the ancient Roman highway (Calzada Medieval ) that still runs into the center of town.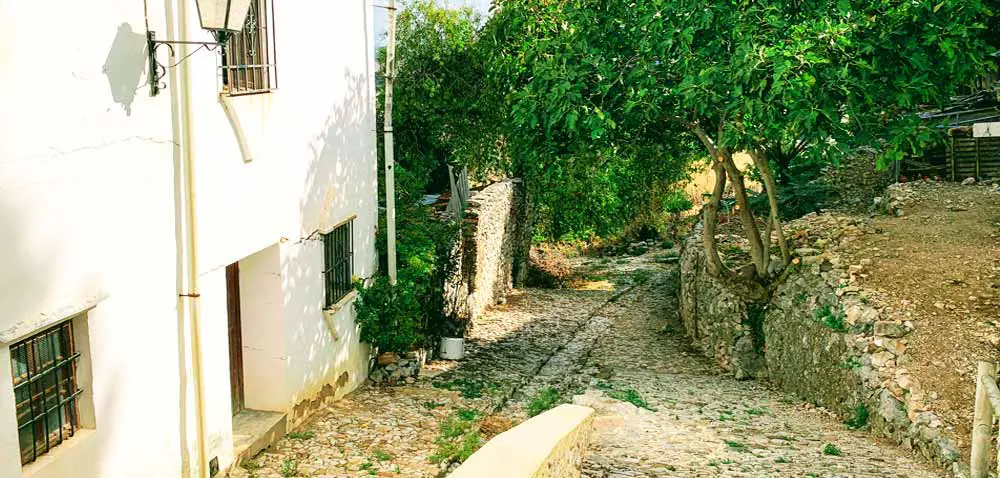 ** Roman Road - Grazalema, Spain
This road used to be the only way in and out of town, as well as being the road that connected all the other white villages in the area. From behind the tourist office there is a spot where you can clearly see the road running across the plains below and into the distance...
Grazalema has refurbished the old highway a bit over the years, but it still looks the same way it did thousands of years ago.
---
9
Visit The Muslim Quarter in Grazalema
Walking from the main plaza to the Barrio Bajo, or lower neighborhood, is a must. This is the oldest area in town and where you will find ancient Nasrid Towers, Walls, and Fountains, as well as the old Moorish laundry that was built by the first Muslim families that inhabited Grazalema.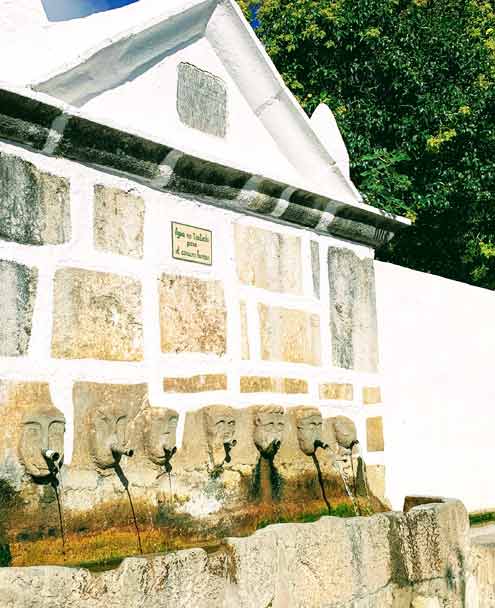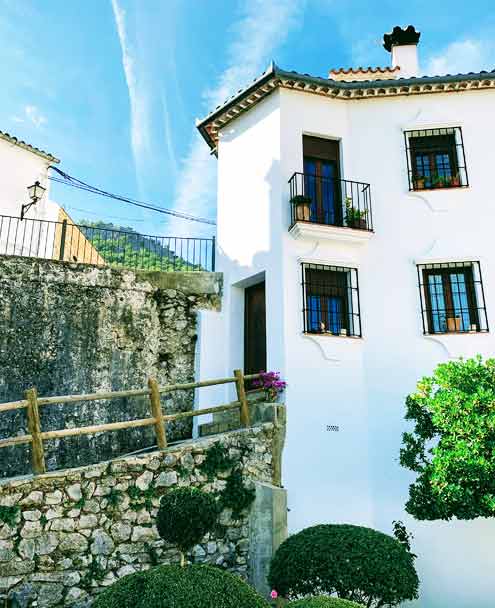 ** Muslim Built Walls and Fountains - Grazalema, Spain
---
10
The Hiking around Grazalema is Fantastic!
The area is well-known for its hiking trails. Because Grazalema is the rainiest town on the Spanish peninsula its forests are thick and lush and full of incredible evergreen fir trees.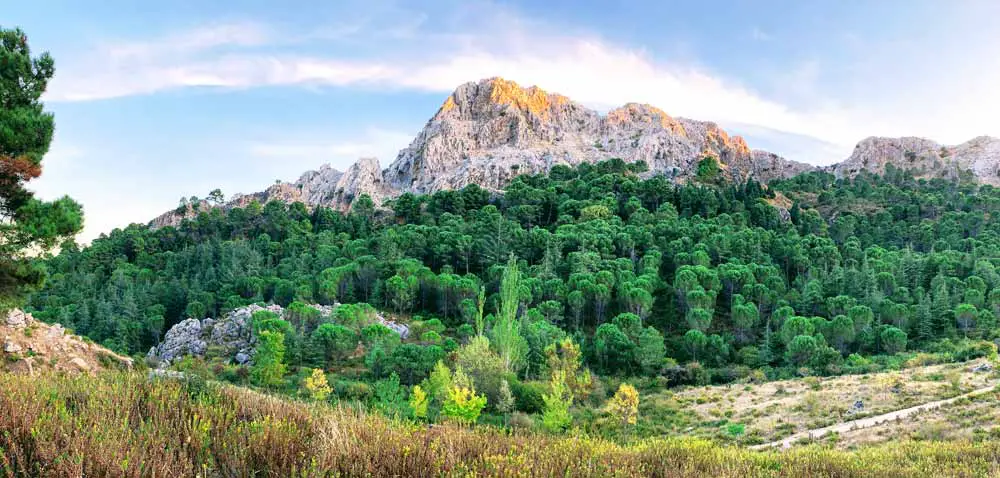 ** Hiking - Grazalema, Spain
Views from the highest mountain peaks are spellbinding and the terrain is ever changing and wonderfully interesting. A hike in the Sierra de Grazalema would be an adventure not soon to be forgotten.
If you are in town for a short time and are interested in a small hike with wonderful views of the village of Grazalema below, head to the reservoir behind town. It's just a quick 5-minute drive going north and you will see signs leading to the trail.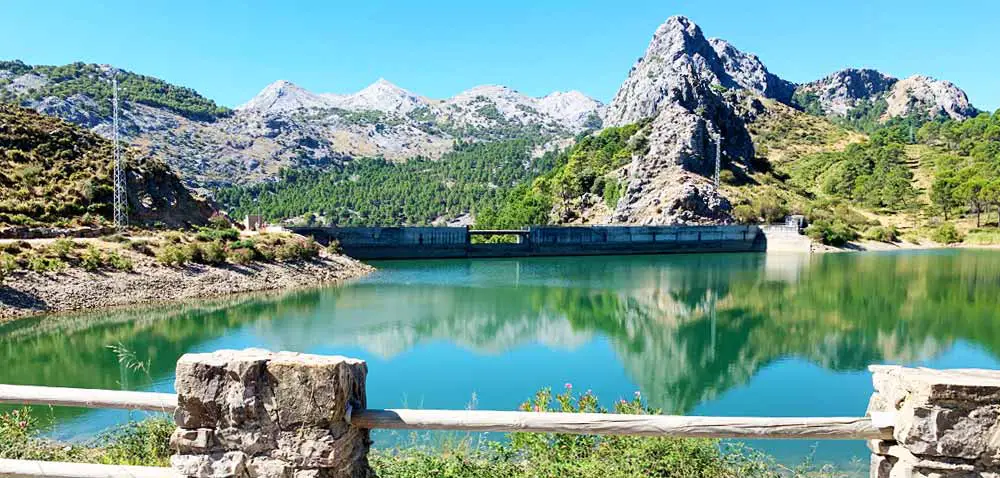 ** Reservoir - Grazalema, Spain
Special Note: The trails are very well maintained in the area and for that reason protected as well. Several of the local hikes require permission from the town hall in El Bosque (a village 30 min / 19 km to the west).
---
BEST Recommended Tours to the "White Villages" including Grazalema
If you have a car, the best way to see these villages is to drive. The road is windy but well-maintained and the landscape is so stunning the drive is worth it!
If you don't have a car and want to see these charming villages, there are many tours that leave from Ronda. They stop in Grazalema and two or three other "Pueblos Blancos"... You could easily see three in a day.
RECOMMENDED TOURS - GRAZALEMA & PUEBLOS BLANCOS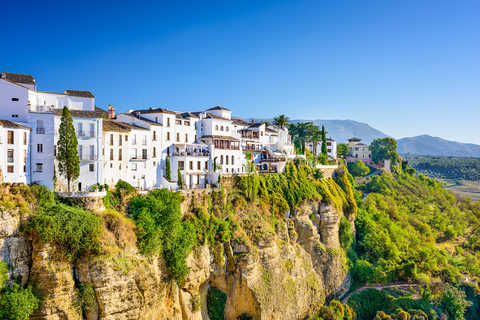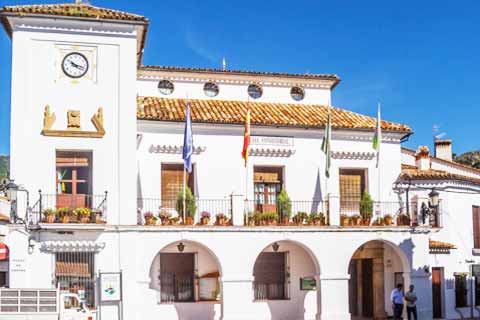 Try these other unique tours and experiences near Grazalema and Ronda!
---
Other Important Information You Should Know About Grazalema
1. Grazalema has been Chosen as One of the "Prettiest Villages in Spain":
Grazalema has been chosen by the Association of The Most Beautiful Villages in Spain as one of the most beautiful villages in the Cádiz province.
The three other "most beautiful villages" nearby in Cádiz are Vejer de la Frontera, Zahara de la Sierra (33 min / 20 km), and Setenil de las Bodegas (47 min / 32 km).
We highly recommend visiting these amazing villages while you're in the area.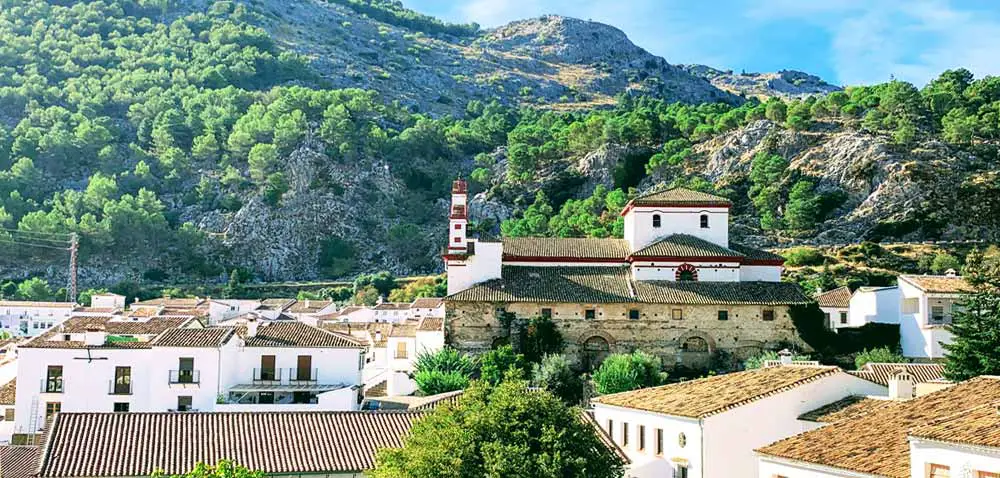 ** Views of Grazalema, Spain
---
2. Grazalema is One of the Famous Villages on the "Ruta de los Pueblos Blancos"
The White Towns of Andalusia, or Pueblos Blancos, are a series of towns and large villages in the northern part of the provinces of Cádiz and Málaga in southern Spain, mostly within the Sierra de Grazalema Natural Park.
Other villages on this route are: Casares, Zahara de la Sierra, Mijas Pueblo, Villaluenga del Rosario, Benaocaz, Ubrique, Benamahoma, El Bosque, Prado del Rey, Puerto Serrano, Algodonales, El Gastor, Setenil de las Bodegas, Alcalá del Valle, Torre Alhaquime, Olvera, Arcos de la Frontera, Algar, Espera, Bornos and Villamartín, Vejer de la Frontera and Frigiliana.
---
3. Distances to Other Important Towns from Grazalema:
Larger Cities / Towns
Malaga: 134 km / 2 hours
Cádiz: 112 km / 1 h 34 min
Sevilla: 116 km / 1h 45 min
Ronda: 33 km / 41 min
Other Smaller White Villages
Jerez de la Frontera: 81 km / 1 h 19 min
Villamartín: 37 km / 47 min
Zahara de la Sierra: 20 km / 33 min
Olvera: 40 km / 45 min
Algodonales: 26 km / 34 min
---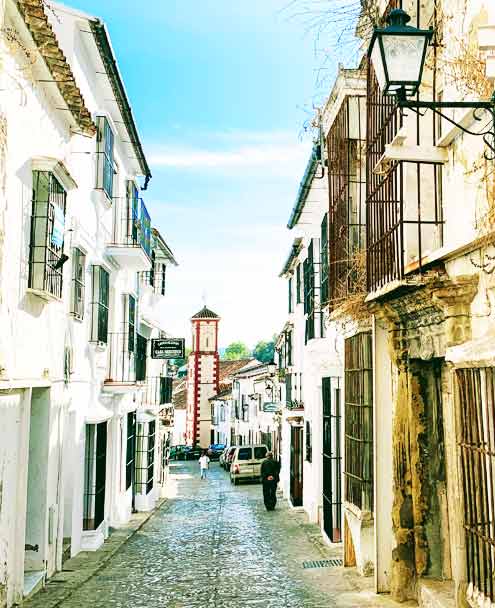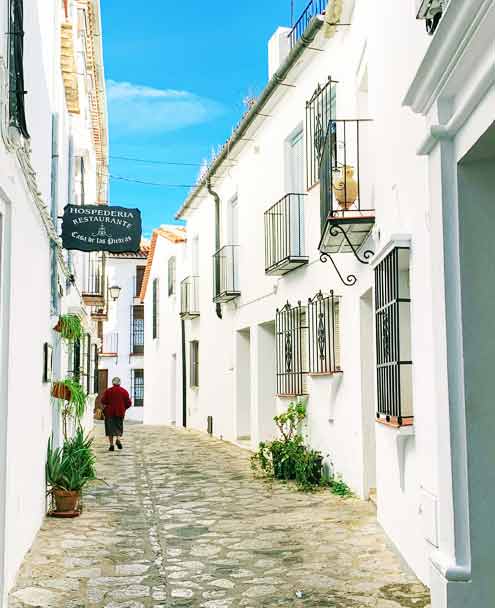 ** More Beautiful Streets and Alleys - Grazalema, Spain
---
4. When is the Best Time to Visit Grazalema?
During the months of April, May and October you are most likely to experience good weather with pleasant average temperatures that fall between 20 degrees Celsius (68°F) and 25 degrees Celsius (77°F).
On average, the warmest month(s) are July and August, with July being the hottest.
The months of January, February, March, April, August, September and October have a high chance of precipitation, with November being the wettest (average of over 800 mm - the highest in Spain).
On average, the coolest month is January.
June is the driest month.
---
5. Grazalema's Gastronomy
Grazalema's gastronomy is closely connected to its history, it was the Romans that began raising cattle and other bovine animals. Olive production and honeys were also discovered during Roman times.
The Arabs introduced many spices to the area like saffron, nutmeg and clove which are still used today in the traditional stews. Typical dishes include chorizo soups, baked lamb and lamb stew and trout dishes.
The cheeses made in Grazalema are made with local goat and sheep's milk and are considered to be the best in Spain.
---
6. Grazalema's Fiestas
Grazalema's top celebrated fiestas are:
Romería de San Isidro - (last Sunday in May) This includes a procession from town to the Ribera de Gaidóvar valley below.
The Carmens (Virgen del Carmen) - (third week of July) A celebration with flamenco music, fireworks, a procession through town and on Monday, the "Lunes de Toro de Cuerda" where the entire village runs behind a bull charging through town.
Fiestas Mayores - The yearly Grazalema fair with music, dancing, and carnival rides.
---
7. How to Arrive
From Malaga, there is 134 km-route. Take the A-357 and then the A-367 towards Ronda. Take the A-374 and then follow the A-372. This will lead you to Grazalema.
From Cádiz, the 113 km that separate the city from Grazalema. Take the AP-4 and exit at A-382 (exit n. 80). After 27 km, take the exit 27 towards Arcos de la Frontera, and you will reach A-372. Follow the highway until you reach Grazalema.
---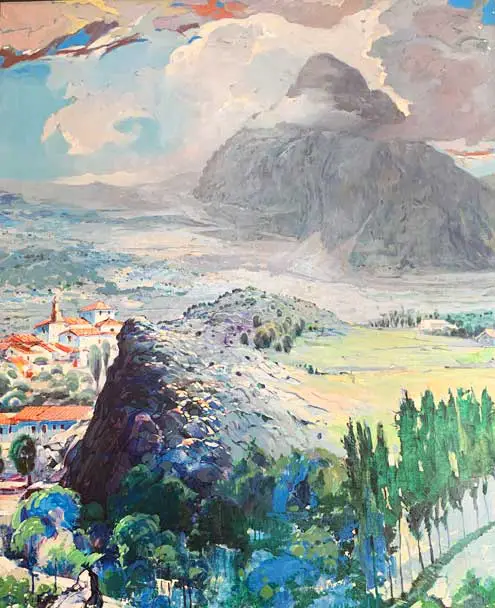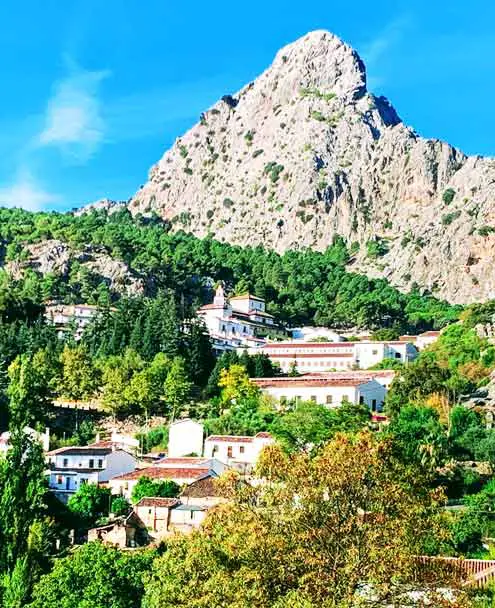 ** The Great Peñon & Village Below - Grazalema, Spain
---
---
8. Parking in Grazalema
There are two decent parking areas in Grazalema. The first is on the left right before you get to the main Plaza de España. You will see a blue sign with a "P", take a left and you will arrive in a large parking area overlooking the valley below. The tourist office is also located in this area.
The second parking area, which is a bit smaller, is on the opposite side of the village. Continue through the Plaza de España and veer to your right. The road continues up a hill towards the "El Tajo" mirador. Parking is on your right.
---
That's all you need for an amazing visit to Grazalema! We hope that you have as good a time as we had exploring this pretty village! Have a safe trip!! ;-)