Playa la Caleta de Maro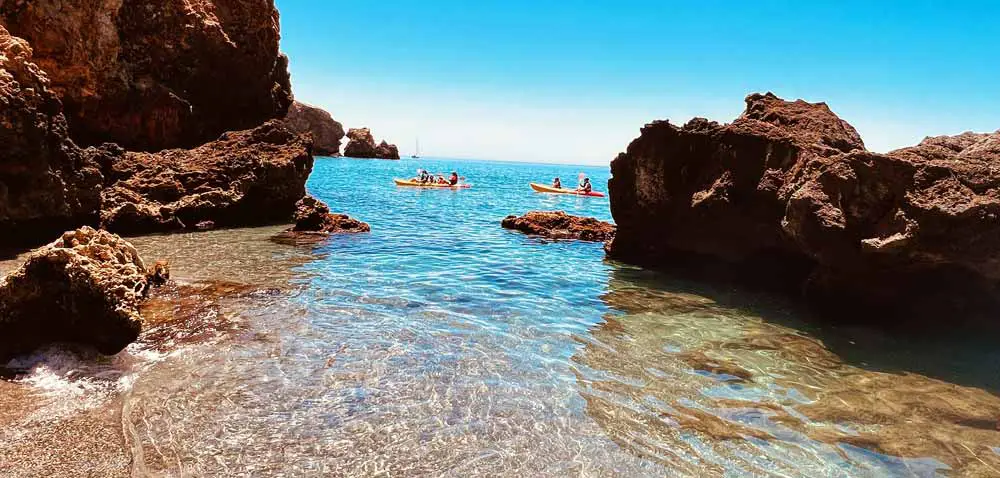 ** Playa la Caleta de Maro - Maro, Spain
💡
Affiliate Disclosure:
  Please be aware that some links on this site are affiliate links, which means that we might receive a small commission ☕ if you click a link and make a booking. This helps us to keep the site running and will NOT affect the price you pay in any way... ❤️ 🙏 🙏 ➜
How does this work?
---
Discover the beach that once inspired the backdrop of one of Spain's most famous television series, 'Verano Azul'.
Playa de la Caleta de Maro
, or
'Calachica'
to the locals, is located just 1 km outside the village of Maro, in the municipality of
Nerja
, and is surrounded by sugar cane fields and rocky cliffs.
This beautiful 400-meter stretch of virgin Mediterranean coastline is the perfect place to spend a lazy afternoon sunbathing. The area is naturally shielded from strong winds and breaking waves due to the coastal cliffs and large rock formations that have formed a natural breakwater, which also provides this Maro beach with more privacy for nude sunbathers.
---
Playa la Caleta de Maro ➜ Verano Azul
The most interesting thing about this beach is that a popular Spanish television series, Verano Azul (Blue Summer), was filmed here.
The series, directed by Antonio Mercero, was broadcast from October 11, 1981, to February 14, 1982. The show recounted the adventures of a group of kids between the ages of 9 and 17, while on summer vacation in a small town along the Costa del Sol.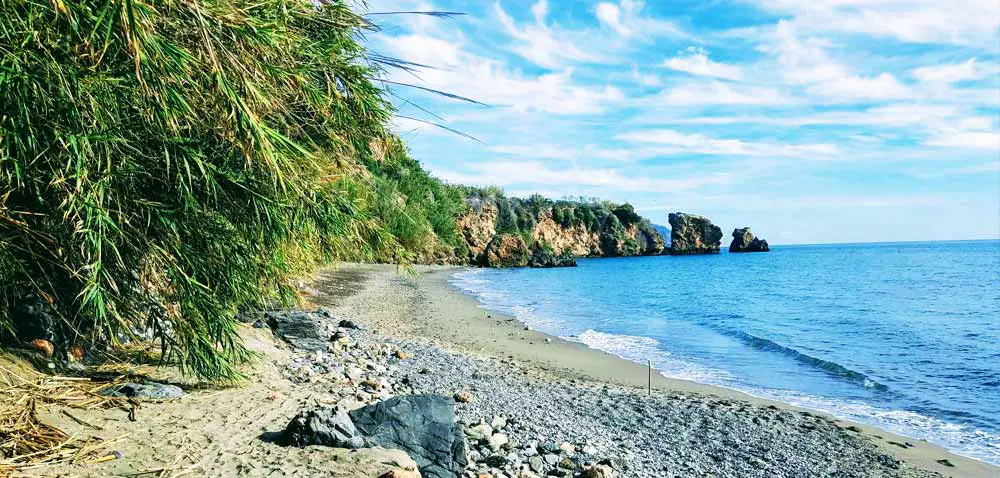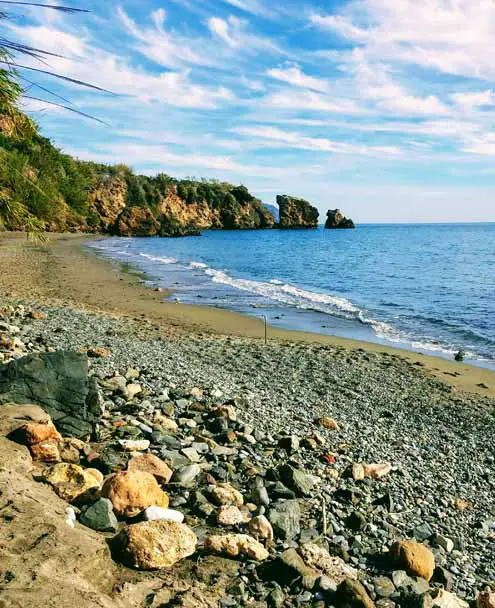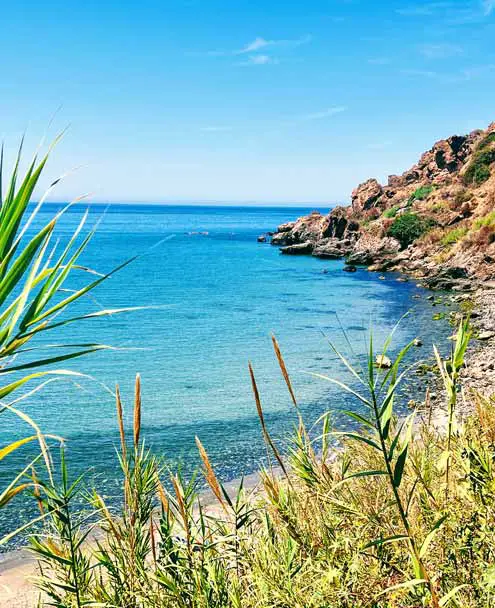 ** Views of Playa la Caleta de Maro - Maro, Spain
Verano Azul drew up to 20 million viewers in Spain and was also broadcast in Latin America, Portugal, France, Yugoslavia, Bulgaria, Poland, and Czechoslovakia. One of the main characters on the show 'Chanquete' lived on an old fishing boat... a replica of this boat can be found in the 'Parque Verano Azul' on the western end of Nerja!
---
Why Visit Playa la Caleta de Maro?
Visit
Playa la Caleta de Maro
if you are curious to see where the young group of "Verano Azul" actors spent their days... and you want to spend your day relaxing and enjoying one of the lesser crowded beaches of Maro!
---
How to Arrive ➜ Playa la Caleta de Maro
From Granada
- Drive south on A-44. Take exit 183 to merge onto E-15 / A-7 towards
Salobreña
/ Málaga. Take exit 295 (Nerja) from the A-7.
➜ Continue to the roundabout and take the N-340 (second exit) towards Maro. At the next roundabout take the second exit onto the N-340 towards La Herradura. You will come to a smaller roundabout, take a sharp right turn and start driving towards the coast. There will be a small gravel road on your right-hand side marked 'La Caleta de Maro' just before you reach the end, where you will also find Playa de Maro.
From Malaga - Follow A-7 going east. Take exit 295 (Nerja) from A-7. Then follow directions above.
From Nerja - Drive along Carretera de Almería / N-340 going east towards Almeria. Then follow directions above.
Parking & How to Access Playa la Caleta de Maro
Parking is free
along the road but there is limited space. From there, this charming 'wild' beach can be accessed by a gravel road and then a winding wooden staircase that descends through the overgrown sugarcane onto the sand.
Park at the top of the road. No cars are allowed on the gravel road.
Take a right at the first signpost.
Continue straight at the second signpost.
At the end of the road you will find a staircase on your right.
The walk takes 10-15 minutes.
Enjoy this beach!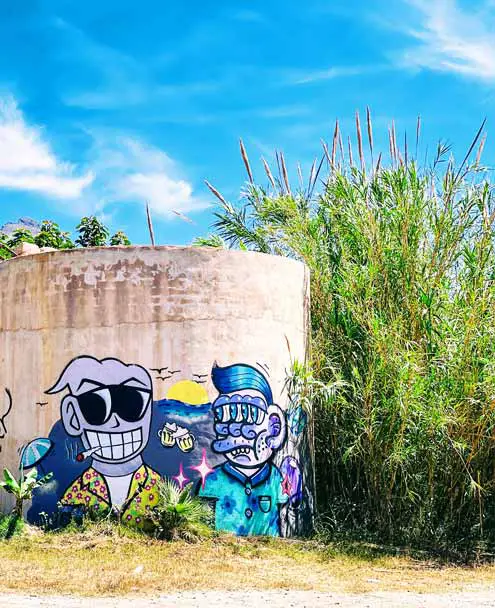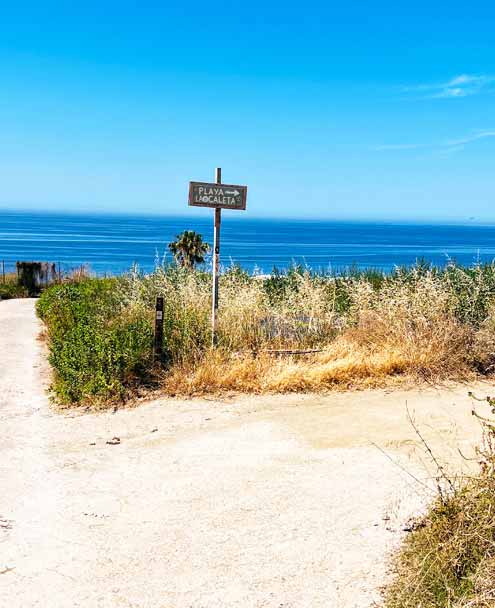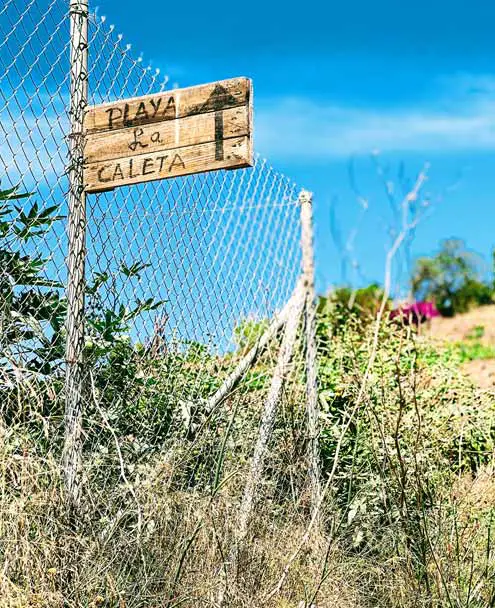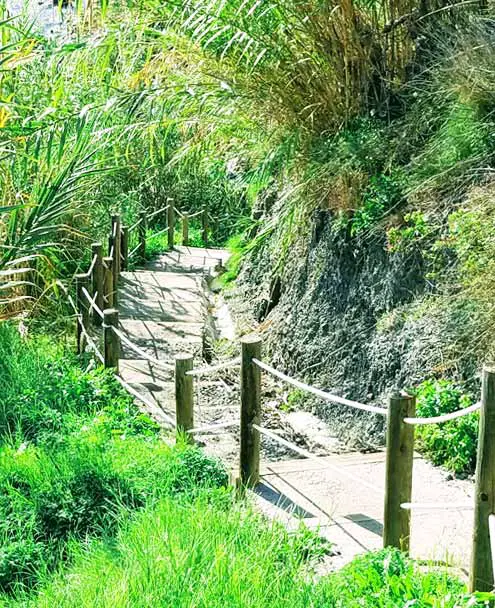 ** Playa la Caleta de Maro - How to Arrive - Wooden Staircase
---
Facilities on Playa la Caleta de Maro:
Only the sand and the surf, and a few kayaks to rent.
---
Beach Info ➜ Playa la Caleta de Maro
| | |
| --- | --- |
| Type: | Isolated Natural Beach |
| Length: | 400 meters |
| Width: | 15 meters |
| Level of occupancy: | Low |
| Sand Type: | Dark Sand and Some Small Rocks |
| Facilities: | None |
| Nudist beach | No |
| Access | Gravel Road & Wooden Staircase |
| Ease of Access | Easy |
---
Other Beaches in the Maro Reserve:
---
Where to Stay Near Playa la Caleta de Maro
If you want to experience the beauty of the Maro / Cerro Gordo coastline there are several areas where you can stay. All offering a little something different. Here is what we recommend.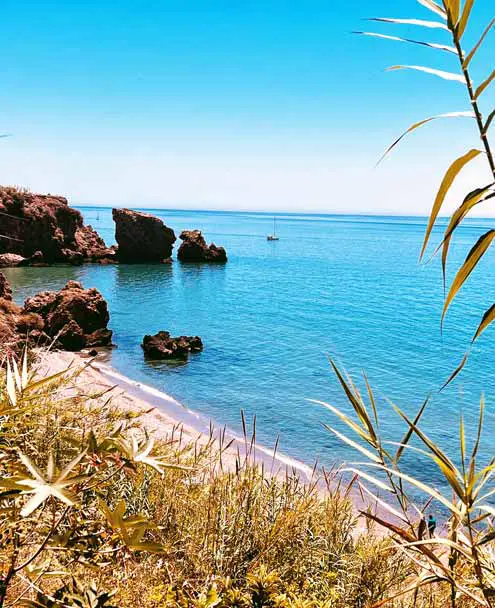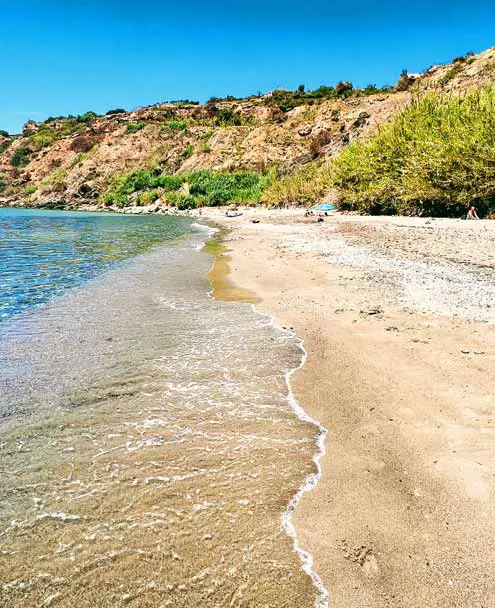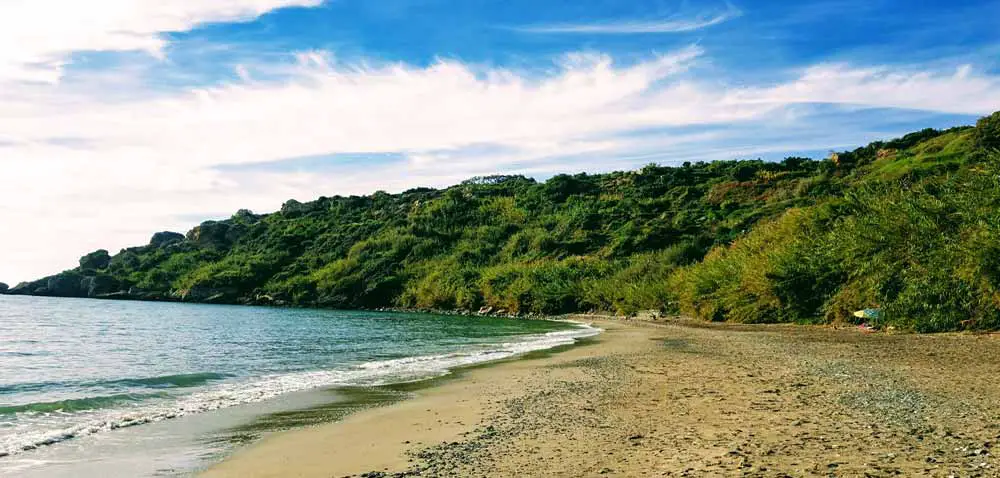 ** Playa la Caleta de Maro - Natural Beach with Sand & Pebbles
---
Kayaking & Scuba Tours from Playa la Caleta de Maro?
There are kayak rentals on
Playa la Caleta de Maro
, but they are limited (4-5 kayaks are available). No tours leave from this beach but many groups pass by here from neighboring Playa Burriana.
If you're interested in joining a kayaking excursion, read: Kayaking in Nerja. Tours leave daily from both Playa Burriana in Nerja and La Herradura. These tours visit the caves, hidden coves, and waterfalls of the Maro Nature Reserve.
Scuba diving is also a popular activity in the reserve as Maro is one of the top diving destinations in Spain. Most of the diving companies are located in La Herradura or Nerja. Read: Scuba Diving in La Herradura / Maro.
KAYAKING TO MARO WATERFALL! ➜ BOOK SECURELY ONLINE!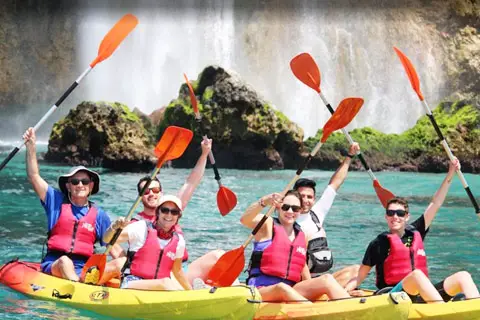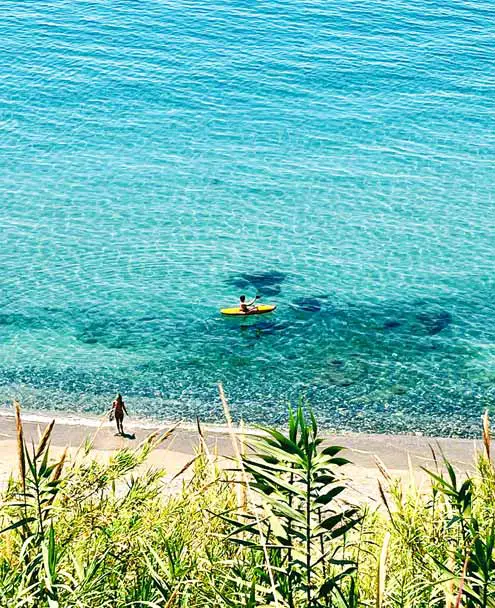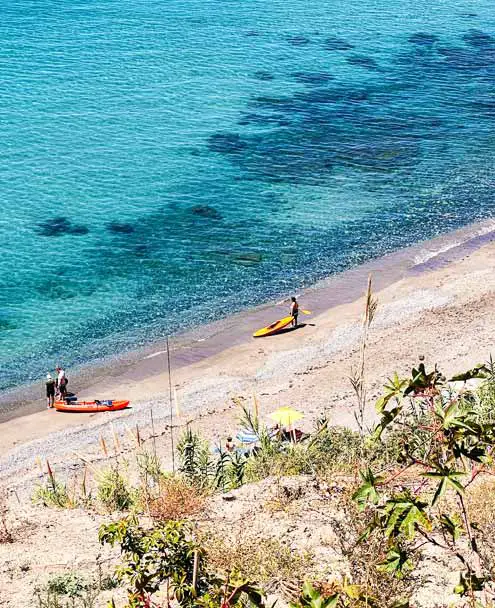 ** Playa la Caleta de Maro - Kayak Rentals
Restaurants ➜ Playa la Caleta de Maro
There are currently no restaurants on
Playa la Caleta de Maro
. If you are in the area and looking for a good place to eat, we suggest: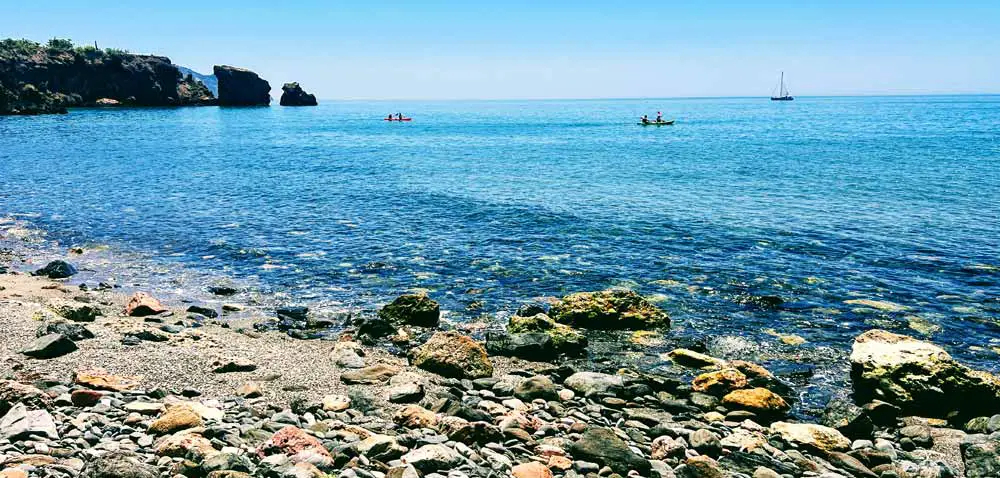 ** Playa la Caleta de Maro - Boats
---
---
Playa la Caleta de Maro ➜ Map
EXPLORE MARO
---
Villages Near the Reserve:
---