Cala de Maro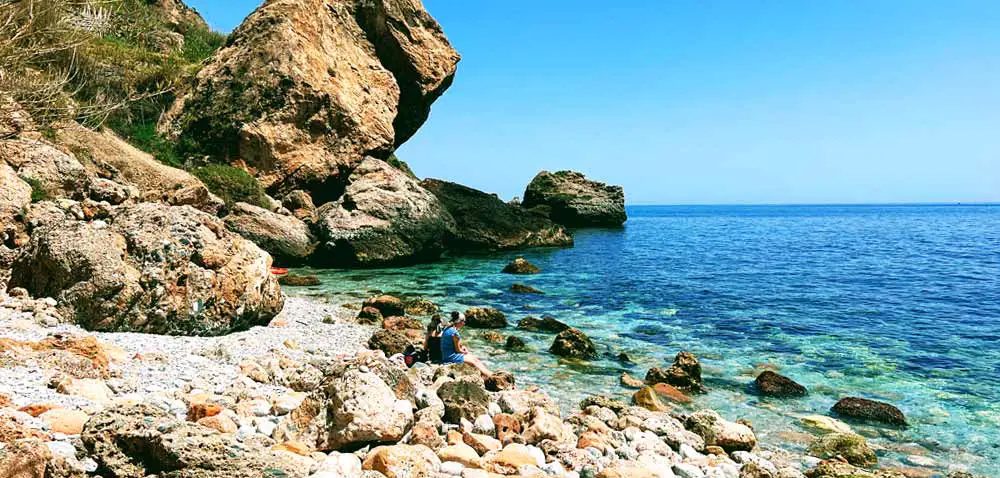 ** Cala de Maro - Maro, Spain
💡
Affiliate Disclosure:
  Please be aware that some links on this site are affiliate links, which means that we might receive a small commission ☕ if you click a link and make a booking. This helps us to keep the site running and will NOT affect the price you pay in any way... ❤️ 🙏 🙏 ➜
How does this work?
---
The most hidden
Maro
beach is the
Cala de Maro
, also known as the
Cala Barranco de Maro
, yet it's known and visited often by the locals.
This small cove of just 20 meters, hidden between the sugar cane plantations, will leave you breathless. Most people pass by without even knowing it's there.
The beach itself is small and rocky, yet it has more privacy thanks to the thick vegetation that makes this place so special: deserted, pristine, and beautiful... and far from the tourist masses... is how we would describe Cala de Maro.
While enjoying the warmth of the summer sun the only noise you are likely to hear on this Maro beach is the crashing waves and seagulls calling.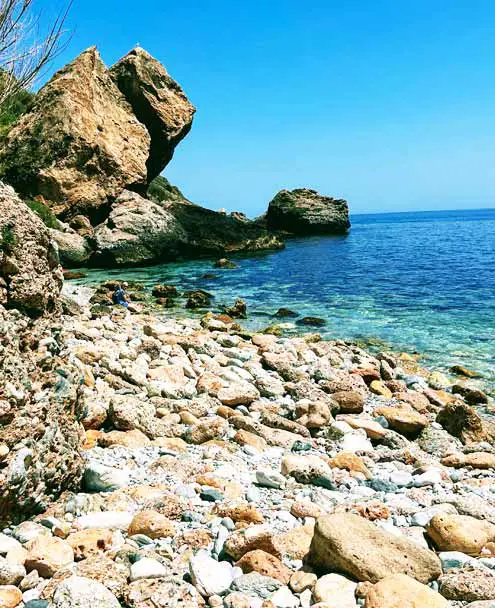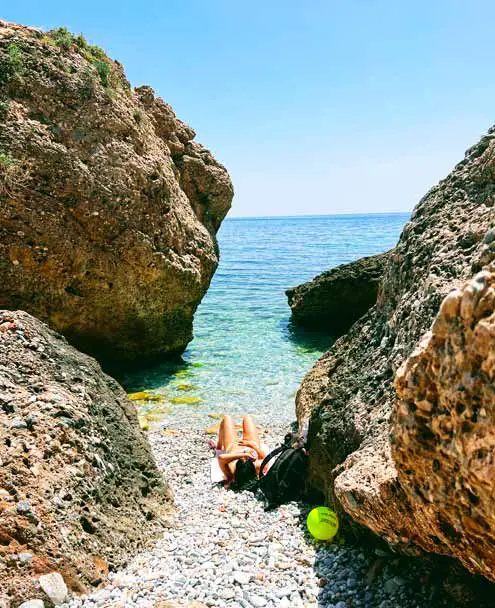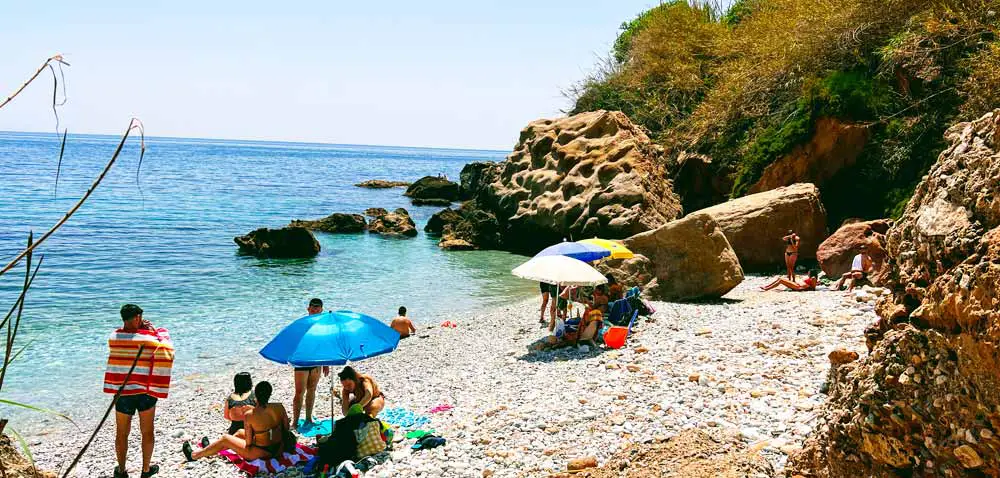 ** Enjoying Cala de Maro - Maro, Spain
---
Why Visit Cala de Maro?
If you are looking for a getaway from the crowds and enjoy nature, the 'Cala de Maro' is a great spot. Few tourists arrive at this stretch of beach. It is surrounded by sugarcane and is accessible only through a sandy trail along the barranco.
---
How to Arrive ➜ Cala de Maro
From Granada
- Drive south on A-44. Take exit 183 to merge onto E-15 / A-7 towards
Salobreña
/ Málaga. Take exit 295 (Nerja) from the A-7.
➜ Continue to the roundabout and take the N-340 (first exit) towards Nerja. Immediately take a left onto a small gravel road. There is a sign marked 'Cala de Barranco de Maro'. Continue to the end past the greenhouses and park your car at the top. From the parking area you will continue on foot.
From Malaga - Follow A-7 going east. Take exit 295 (Nerja) from A-7. Then follow directions above.
From Nerja - Drive along Carretera de Almería / N-340 going east towards Almeria, just before the large roundabout heading to the highway turn right onto a small gravel road marked 'Cala de Maro'.
Parking & How to Access Cala de Maro
Parking is free
along the road but there is limited space. Once parked at the top, walk towards the bridge. Behind the bridge the gravel road continues down to the bottom of the barranco. Take a right and follow the dirt path all the way to the end.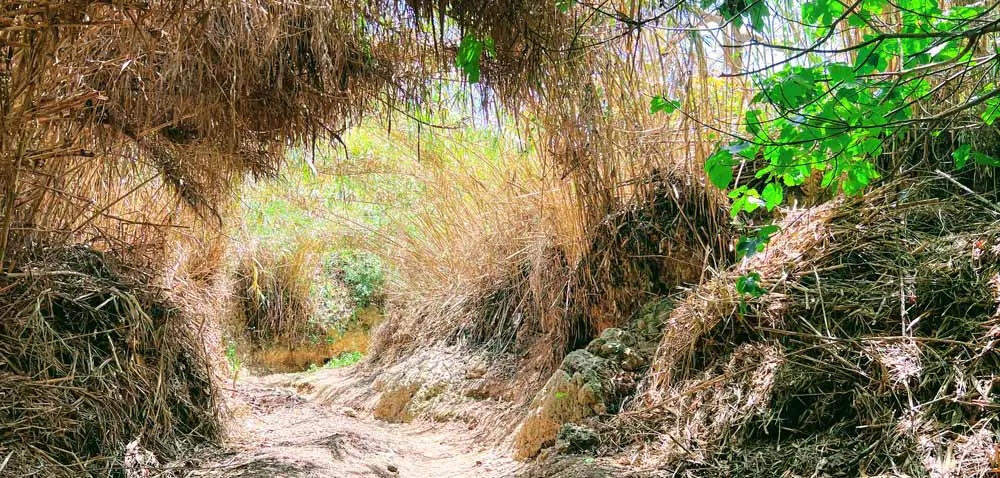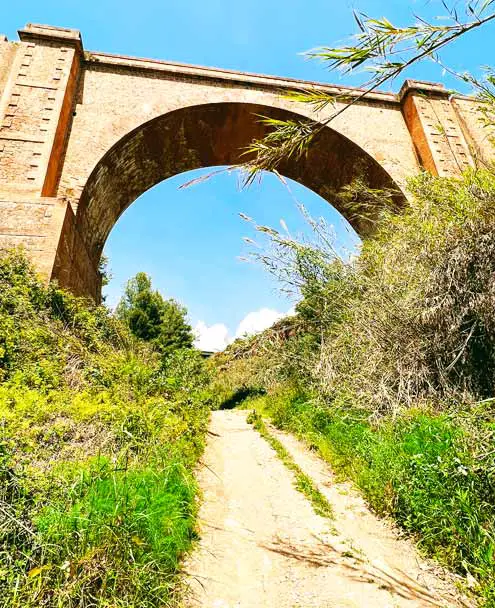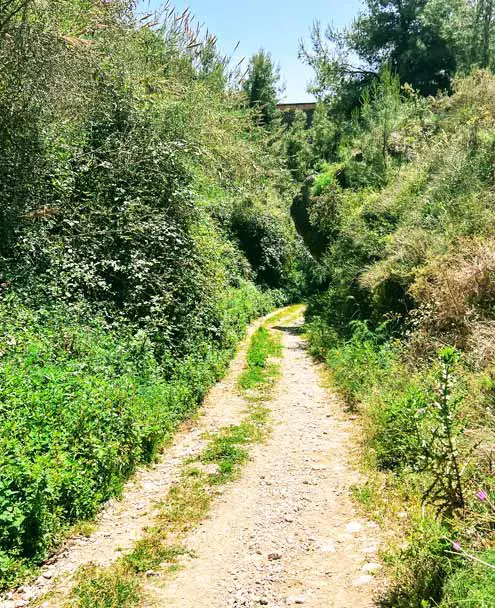 ** Path to Cala de Maro, Under the Bridge - Maro, Spain
The trail is in good condition, mostly flat, and very pleasant. You will pass through tunnels of bamboo lined with bright orange flowers and past small shanty houses along the way. As you get closer to the sea, however, the path becomes more difficult. The bamboo is a bit overgrown so you will have to duck down a little to get through it...
The walk to the end should take you about 20-minutes.
---
Facilities on Cala de Maro:
Absolutely none...
---
Beach Info ➜ Cala de Maro
| | |
| --- | --- |
| Type: | Isolated Natural Beach |
| Length: | 20 meters |
| Width: | 20 meters |
| Level of occupancy: | Low |
| Sand Type: | Large Rocks and Pebbles, Some Sand |
| Facilities: | None |
| Nudist beach | No |
| Access | Gravel Road & Dirt Path |
| Ease of Access | Moderate |
---
Other Beaches in the Maro Reserve:
---
Where to Stay Near Cala de Maro
If you want to experience the beauty of the Maro / Cerro Gordo coastline there are several areas where you can stay. All offering a little something different. Here is what we recommend.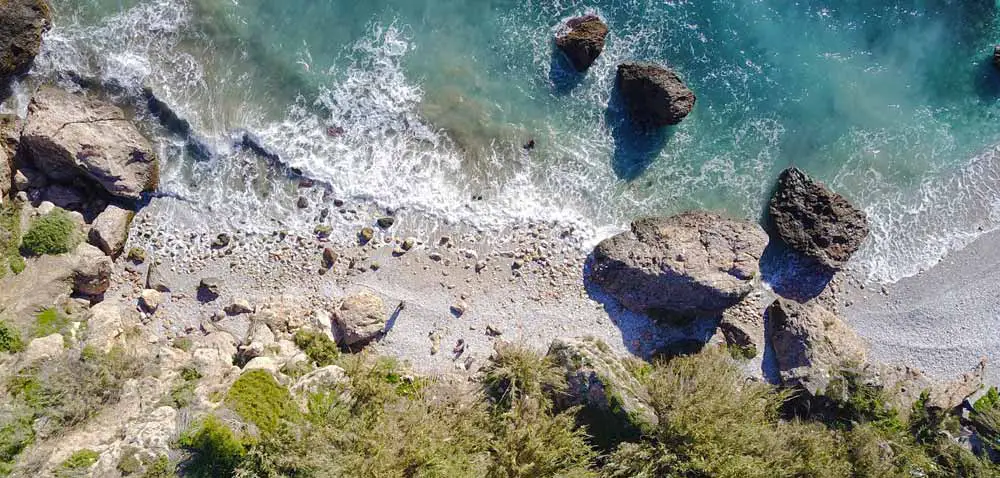 ** Cala de Maro from Above - Maro, Spain
---
Kayaking & Scuba Tours from Cala de Maro?
There are no kayak rentals or scuba excursions from
Cala de Maro
but if you're interested in joining an excursion while visiting the area read:
kayaking in Nerja
. There are excursions that leave daily from both
Nerja
and
La Herradura
that pass by this beach. They visit the caves, hidden coves, and waterfalls of the Nature Reserve.
Scuba diving is also a popular activity in the reserve as Maro is one of the top diving destinations in Spain. Most of the diving companies are located in La Herradura or Nerja. Read: Scuba Diving in La Herradura / Maro.
KAYAKING TO MARO WATERFALL! ➜ BOOK SECURELY ONLINE!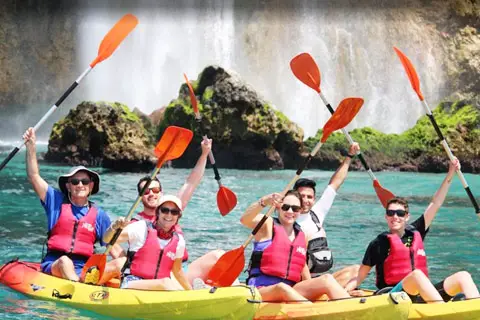 Restaurants ➜ Cala de Maro
There are currently no restaurants on
Cala de Maro
. If you are in the area and looking for a good place to eat, we suggest: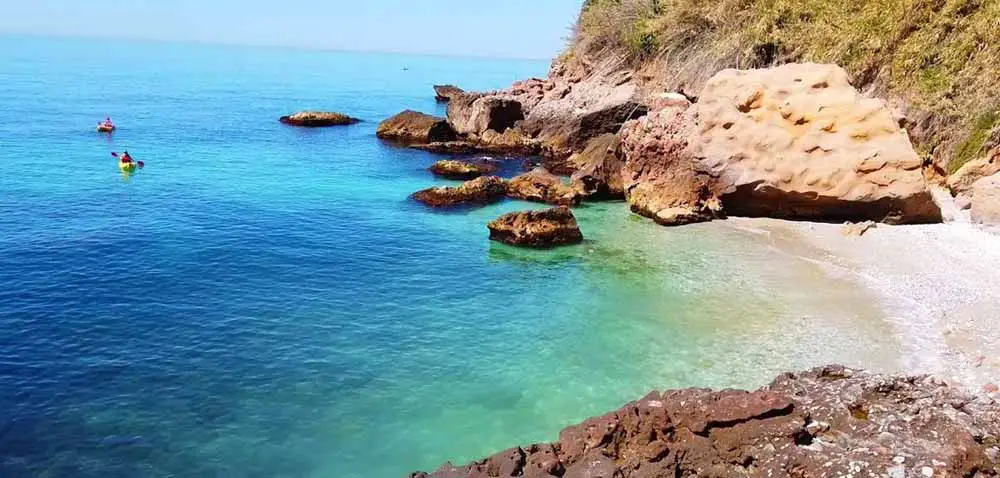 ** Kayaking near Cala de Maro - Maro, Spain

Who are we?
An American expat with over 20 years of experience living and traveling in Spain, specifically in Malaga and Granada. Darsey is a seasoned explorer of Andalucia. Drawing from decades of immersive experience, she offers deep insights into this enchanting region of Spain, including off-the-beaten path destinations, the best places to stay, and the top bucket list activities to try!
More...
Want to Save on your Next Trip?
Save money on your next trip with our favorite travel websites!
Find the Cheapest Hotels:
The Largest Selection of Villas & Apartments:
Cheapest, Most Reliable Car Rentals:
Best Bus & Train Fares:
Huge Selection of the BEST Tours & Activities
Discount Tickets to Museums & Attractions

See our Full List of Travel Deals & Site Recommendations Here.
Cala de Maro ➜ Map
EXPLORE MARO
---
Villages Near the Reserve:
---