Calas del Pino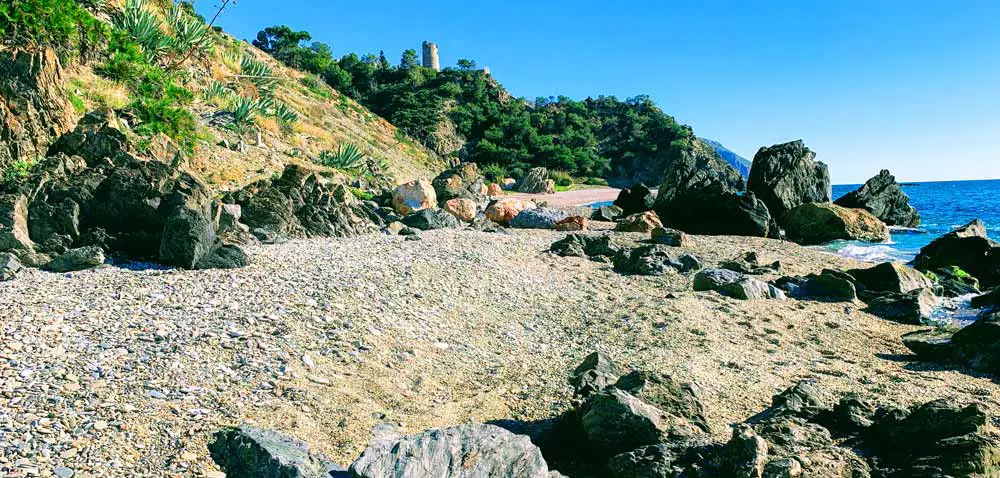 ** Calas del Pino, Maro Spain
💡
Affiliate Disclosure:
  Please be aware that some links on this site are affiliate links, which means that we might receive a small commission ☕ if you click a link and make a booking. This helps us to keep the site running and will NOT affect the price you pay in any way... ❤️ 🙏 🙏 ➜
How does this work?
---
The next beach in the Maro Reserve consists of two separate coves that are connected by a scattering of small boulders and interesting rock formations. These coves are known as the
'Calas del Pino'
or
'Pine Coves'
.
Why pine coves you ask? This precious untouched patch of paradise is wrapped in a Pine Forest and hidden deep in the hills of Andalucia. Accessing it is a bit of an adventure as the path down is steep and covered in wild, sweet-smelling herbs and flowers.
An impressive Roman tower, the 'Torre del Pino', stands proudly and protectively amongst the pines overlooking the Calas del Pino and gives this beach a romantic sense of history and time.
Located about 10-minutes east of Nerja this cove opens to a long sandy beach that has few visitors, even in summer. The high hills and rocky cliffs protect it from strong waves and wind making it a relaxing place to spend the day.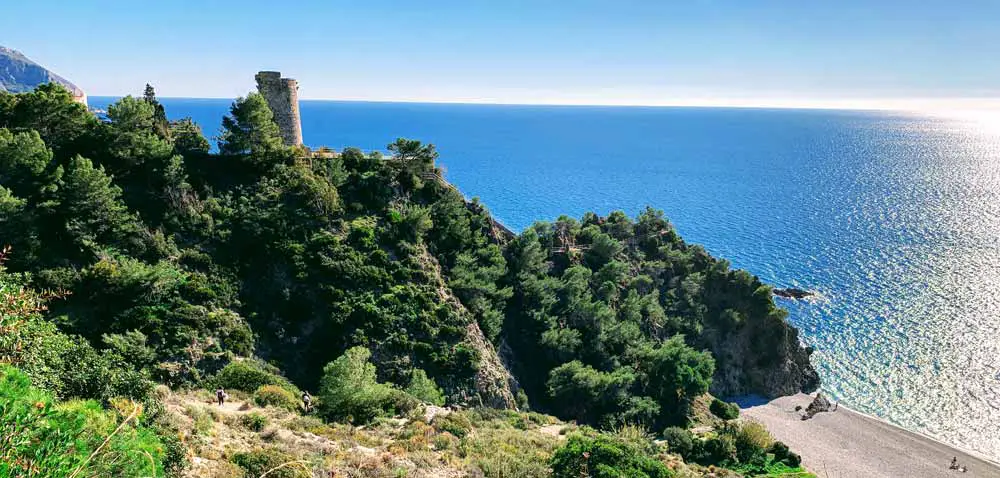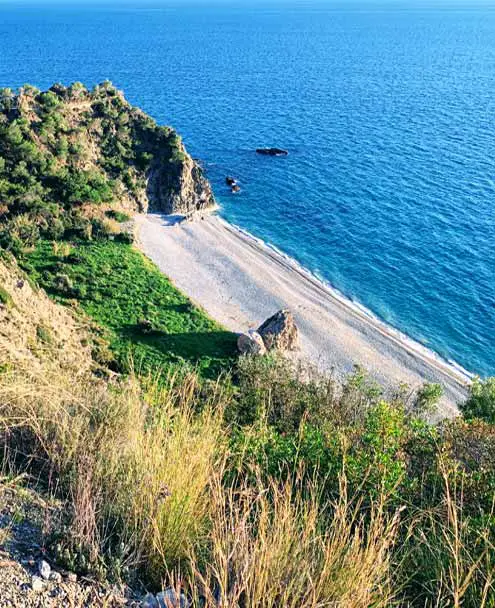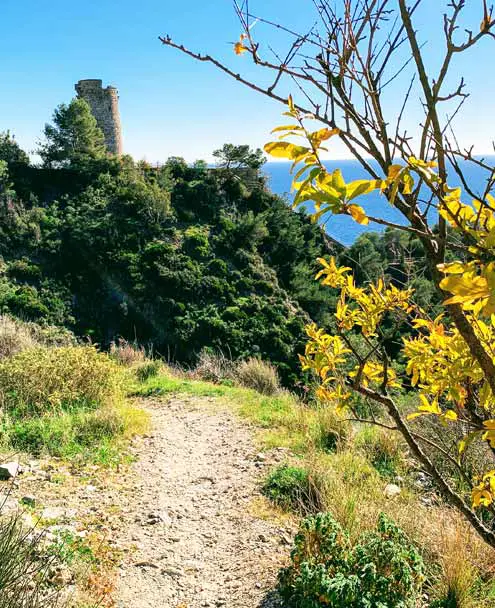 ** Calas del Pino - Torre de la Miel - Maro
Rock-formed pools found at the far end of the beach are perfect for curious children, with each rock and pebble comes a new discovery. From rare flowers to interesting sea life and colorful fish, if you spend enough time on the 'Calas del Pino' expect to discover something new with every visit.
---
Why Visit Calas del Pino?
Visit
Calas del Pino
if you want to spend a day in a remote cove with spectacular views and beauty... and you are physically fit enough to make the trek down to the beach.
---
How to Arrive ➜ Calas del Pino
From Granada
- Drive south on A-44. Take exit 183 to merge onto E-15 / A-7 towards
Salobreña
/ Málaga. Take exit 305 towards N-340 /
La Herradura
.
➜ Continue to the roundabout and take the N-340 towards Maro, then through a tunnel. Drive for about 5-minutes, you will pass Playa Cantarriján and then Playa el Cañuelo. After signpost #301 keep driving around the curve and then slowly pull off the highway on the left-hand side. As you pull off you will see signpost #300 across the street. Drive slowly as the entrance is easy to miss.
From Malaga - Follow A-7 going east. Take exit 295 (Nerja) from A-7.
➜ Continue to the roundabout and take the N-340 towards Almeria to Maro. At the Nerja Caves roundabout take the second exit and pass Maro. Continue on the N-340 for about 5-minutes until you pass Playa de las Alberquillas and reach marker #300, pull off the road and there will be a small parking area along the cliffs.
From Nerja - Drive along Carretera de Almería / N-340 going east towards Almeria. Then follow directions above.
Parking & How to Access Calas del Pino
To access this Maro beach take the N-340 away from Nerja, after the kilometer 299 signpost you will see signs for Natural Park of Calas del Pino. Leave your car at the top in the small gravel parking area.
From there you will need to make your way down a very steep gravel path. Only those who are physically fit should take this path. There is risk of falling and loose rock.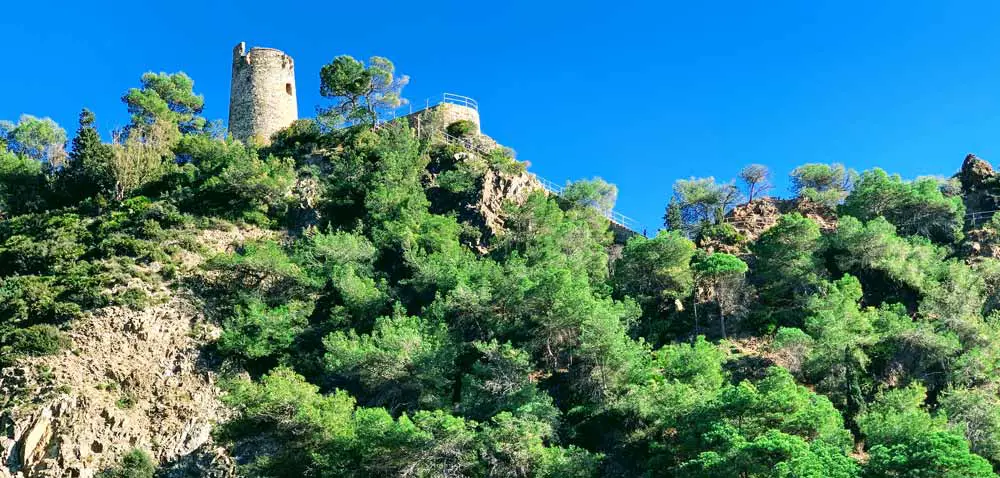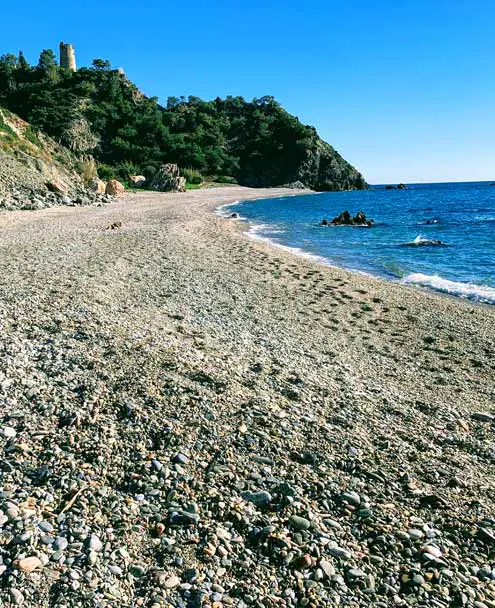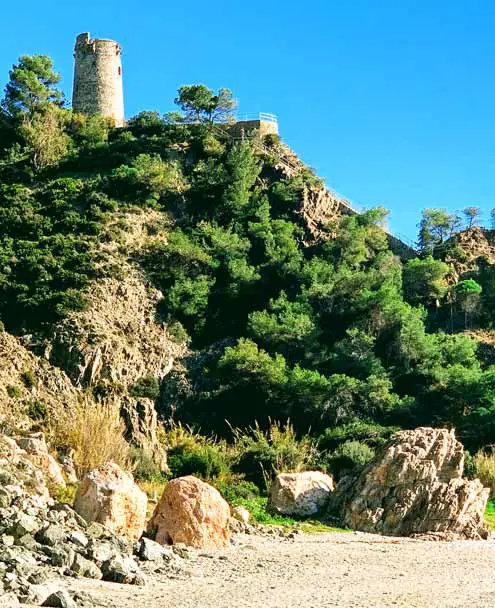 ** Calas del Pino - Tower & Pebble Beach - Maro, Spain
---
Facilities on Calas del Pino:
ZIP!
---
Beach Info ➜ Calas del Pino
| | |
| --- | --- |
| Type: | Family / Natural Beach |
| Length: | 115 meters |
| Width: | 10 meters |
| Level of occupancy: | Low |
| Sand Type: | Pebbles |
| Facilities: | None |
| Nudist beach | No |
| Access | N-340 Highway & Steep Trail |
| Ease of Access | Difficult |
---
Other Beaches in the Maro Reserve:
---
Where to Stay Near Calas del Pino
If you want to experience the beauty of the Maro / Cerro Gordo coastline there are several areas where you can stay. All offering a little something different. Here is what we recommend.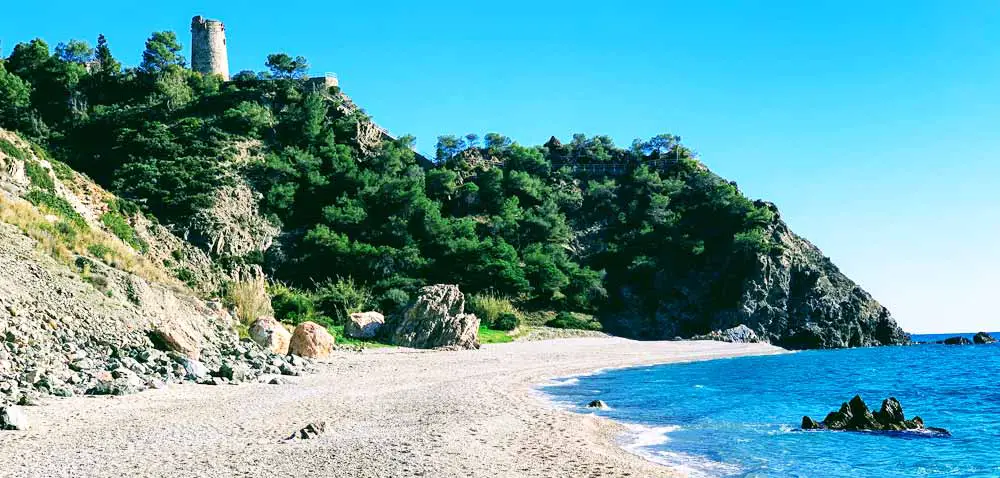 ** Calas del Pino - Pine Cove, Maro Spain
---
Kayaking & Scuba Tours from Calas del Pino?
There are no kayak rentals or scuba excursions from
Calas del Pino
but if you're interested in joining an excursion while visiting the area read:
kayaking in Nerja
. There are excursions that leave daily from both
Nerja
and
La Herradura
that pass by this beach. They visit the caves, hidden coves, and waterfalls of the Nature Reserve.
Scuba diving is also a popular activity in the reserve as Maro is one of the top diving destinations in Spain. Most of the diving companies are located in La Herradura or Nerja. Read: Scuba Diving in La Herradura / Maro.
KAYAKING TO MARO WATERFALL! ➜ BOOK SECURELY ONLINE!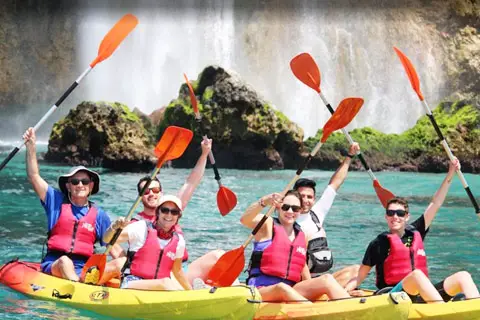 Restaurants ➜ Calas del Pino
There are currently no restaurants on
Calas del Pino
. If you are in the area and looking for a good place to eat, we suggest:
---
Calas del Pino ➜ More Photos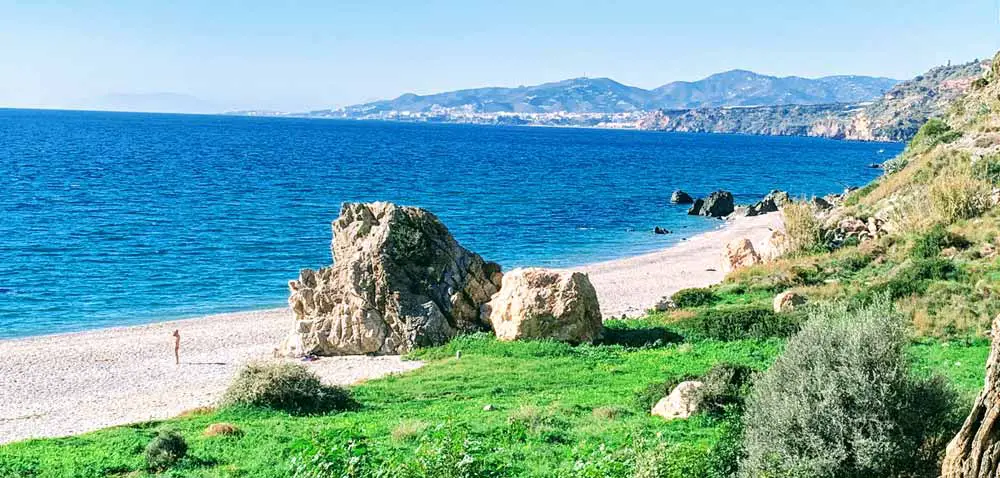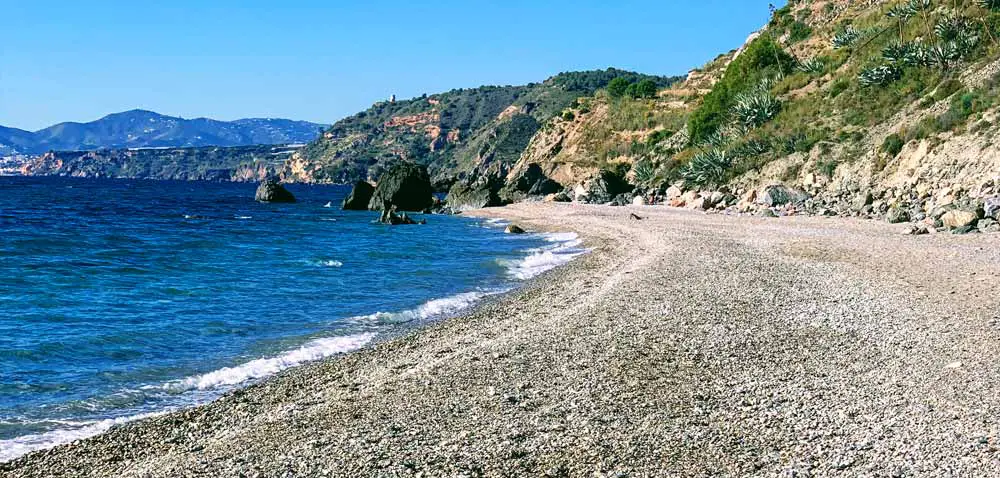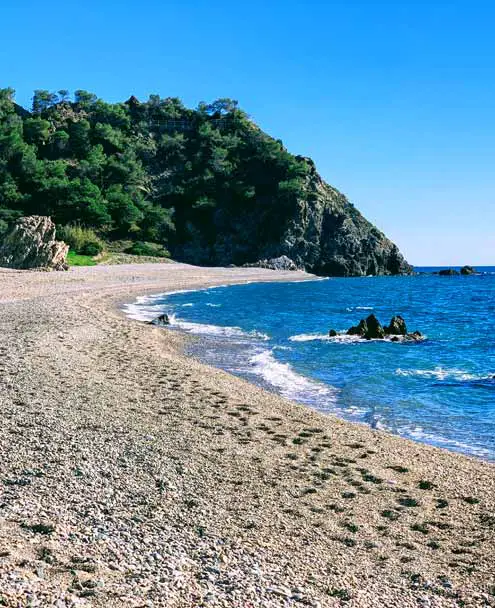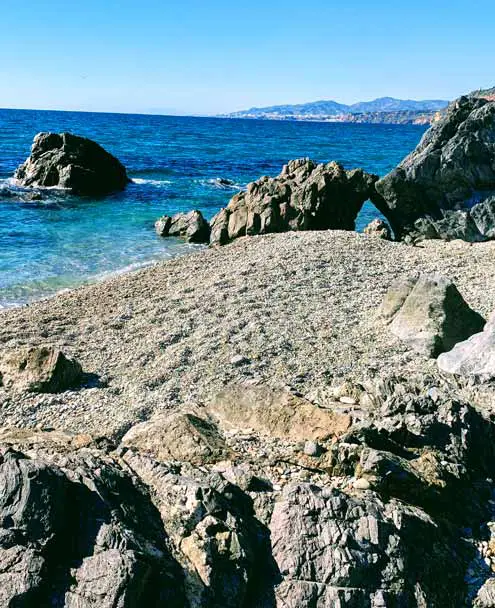 ** Views of Calas del Pino - Maro, Spain
---
---
Calas del Pino ➜ Map
EXPLORE MARO
---
Villages Near the Reserve:
---