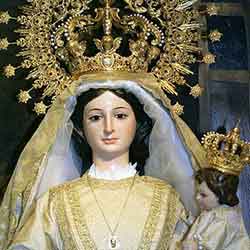 Virgen del Rosario
The patron saint of Cambil (Granada) has been honored on these dates since 1599 and this fiesta attracts visitors from all the surrounding areas.
Cambril - Granada
Cambil is geographically located between the capital cities of Granada and Jaén and whose inhabitants number approximately 3500. The main economic activitiy here is agricultural and includes olive growing and production, pork and poultry farming. The proximity of the river Arbuniel has led to the area being a water recreational area as well as a source of fresh agricultural water.
During the course of this fiesta, there are 2 to 3 bullfights, musical presentations, sports activities, dance and typical culinary dishes to be enjoyed.
Puente Genil - Cordoba
Oct 6th-7th
Virgen del Rosario
Celebrated: in Andalucia, Puente Genil (Córdoba)
Midway and northeast/north between Sevilla and Malaga lies the town of Puente Genil (Córdoba), named for the river on which it is located. The area's colorful history has left its mark on several architectural works, such as the Puente de Genil (bridge over the Genil river) and evidence of a baroque past can be seen in its church. This fiesta is a solemn one, paying homage to the Virgen del Rosario and includes a procession through the town.
Mancha Real - Jaén
Oct 4th-7th
Virgen del Rosario
Celebrated: in Andalucia, Mancha Real (Jaén)
The town of Mancha Real (Jaén) is situated 19 km. east of the province's capital city, Jaén where it borders on the entry to a natural park.
This is one of the few communities that has shown an appreciable growth largely due to employment possibilities and agreeable living conditions. Its economic life is based on olive growth and production, the wood industry and general supporting businesses. With its vibrant entrepreneurial spirit, Mancha Real received the prize as the Most Dynamic Municipality of Andalucia in 2003.
These fiestas patronales are filled with a celebratory spirit, honoring the town's patron saint and as one would expect, a week filled with music, dance, sport, competitions, and a wealth of dishes to enjoy.
El Cuervo and La Lantejuela - Sevilla
Oct 3rd-7th
Virgen del Rosario
Celebrated: in Andalucia, of El Cuervo and La Lantejuela (Sevilla)
The towns of El Cuervo and La Lantejuela (Sevilla) celebrate their fiestas patronales on approximately the same dates, although they are kilometers apart: El Cuervo is situated near Jerez de la Frontera (south of Sevilla the capital), while Lantejuela 76 km. lies to the east of the capital.
El Cuervo is a dynamic town in constant transformation and with an ongoing entrepreneurial spirit. The agricultural economy has lessened of late, overtaken by the construction industry but all the service sectors and commercial businesses are on the rise, particularly in the hospitality field. On the other hand, La Lantejuela with a population of about 4000 people has a history of its people being employed in the agricultural trade where cotton, wheat and olives are the main products
Statistically, La Lantejuela is the 11th community in the country the majority of whose population is below the age of 26. So although the predominant industry is still largely agricultural, there are signs of a new and evolving community.
Fiestas patronales in both these towns is all about fun, fanfare and celebration where the air is filled with music, laughter.
Brenes - Sevilla
Oct 10th-14th
Virgen del Rosario
Celebrated: in Andalucia, Brenes (Sevilla)
Brenes (Sevilla) lies just north of the capital city of Sevilla and celebrates its fiestas patronales in early October, honoring la Virgen del Rosario.
This is an area of relatively flat agricultural land whose main products are tropical fruits (citrus, peach, pear, watermelon, orange and mandarin), potatoes, asparagus, sunflower, cotton, olives; there is also a number of large vineyards here. Other major industries are pork farming as well as dried fruits production and olive oil refining.
Fiestas patronales here are typical of any pueblo filled with processions, music, dance, special events and a celebration of traditional foods and dishes unique to the area.
January Fiestas
---
February Fiestas
---
March Fiestas
---
April Fiestas
---
May Fiestas
---
June Fiestas
---
July Fiestas
---
August Fiestas
---
September Fiestas
---
October Fiestas
---
November Fiestas
---
December Fiestas
COSTA TROPICAL FIESTAS
January Fiestas
February Fiestas
March Fiestas
April Fiestas
May Fiestas
June Fiestas
July Fiestas
August Fiestas
September Fiestas
October Fiestas
November Fiestas
December Fiestas