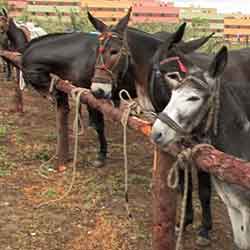 Feria De Ganado
Villanueva Mesía (Granada), located 40 km. from the capital city of Granada and within the vega of Granada, has approximately 2000 inhabitants.
This is largely an agricultural and animal farming community whose principal products are in wheat, asparagus, and olives. In reality, this fiesta, hundreds of years old, was originally in honor of the patron saint San Sebastian. But in the mid-1950s it began to be celebrated as the Feria de Ganado (Cattle Fair) and continues today in this manner.
The fresh ambiance here lends itself to outdoor sports, hiking, mountain cycling, and is a delight for lovers of nature. The Cacín river set against whitewashed houses is typical of Andalucian villages and can still be appreciated in its original beauty.
The cuisine of this area is especially rich in olive-based dishes and sausages of all kinds, which of course are available to try during the Feria.
Festival Dates
| | | |
| --- | --- | --- |
| | Oct 16th-19th | Feria De Ganado |
All Costa Tropical Fiestas
January Fiestas
---
February Fiestas
---
March Fiestas
---
April Fiestas
---
May Fiestas
---
June Fiestas
---
July Fiestas
---
August Fiestas
---
September Fiestas
---
October Fiestas
---
November Fiestas
---
December Fiestas
COSTA TROPICAL FIESTAS
January Fiestas
February Fiestas
March Fiestas
April Fiestas
May Fiestas
June Fiestas
July Fiestas
August Fiestas
September Fiestas
October Fiestas
November Fiestas
December Fiestas