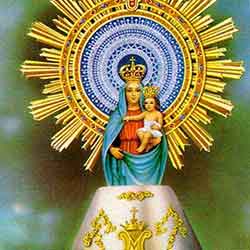 Fiesta de la Virgen Del Pilar
The village of Huétor de Santillán (Granada) has a population of approximately 2000 inhabitants, yet its geographical proximity to the capital city of Granada (12 km.) has rendered it to be almost a suburb of the busy city.
As such, some of its inhabitants work in Granada but many are still the mainstay for the local agricultural industry. But of great interest is that this town lies within the natural park of Sierra de Huétor whose maximum altitude is at 1900 mtrs. Thus, rural tourism has started to become popular in this area - its varied landscape, dense pines and abundance of wildlife to be enjoyed by hikers, birdwatchers and nature lovers.
This fiesta although not one of its largest ones is important nonetheless for its pilgrimage to the ermita (church or sanctuary) at the heart of town. The cultural influence of the Catholic church is evident in many of these romerías (pilgrimages) that are still observed in both pueblos and larger cities.
Festival Dates
| | | |
| --- | --- | --- |
| | Oct 12th | Fiesta de la Virgen Del Pilar |
All Costa Tropical Fiestas
January Fiestas
---
February Fiestas
---
March Fiestas
---
April Fiestas
---
May Fiestas
---
June Fiestas
---
July Fiestas
---
August Fiestas
---
September Fiestas
---
October Fiestas
---
November Fiestas
---
December Fiestas
COSTA TROPICAL FIESTAS
January Fiestas
February Fiestas
March Fiestas
April Fiestas
May Fiestas
June Fiestas
July Fiestas
August Fiestas
September Fiestas
October Fiestas
November Fiestas
December Fiestas