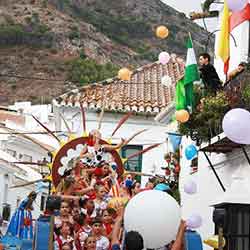 Fiesta De Mijas
Mijas (Málaga) is located inland from the sea, away from the hustle and bustle of Malaga, but it is no longer remote or unkown as many have chosen this village to live.
The fiestas and feria that honor their patron saint, Nuestra Señora de la Virgen de la Peña, take place in early September. These days are filled with sporting, musical and cultural activities, dance, music and some of the most traditional foods of the area. Special programs are designed for the children and a King and Queen of the Feria are selected and honored.
This is an event that is replete with fun and where the true Andalucian spirit is most evident.
Festival Dates
| | | |
| --- | --- | --- |
| | Sept 6th-11th | Fiesta De Mijas |
All Costa Tropical Fiestas
January Fiestas
---
February Fiestas
---
March Fiestas
---
April Fiestas
---
May Fiestas
---
June Fiestas
---
July Fiestas
---
August Fiestas
---
September Fiestas
---
October Fiestas
---
November Fiestas
---
December Fiestas
COSTA TROPICAL FIESTAS
January Fiestas
February Fiestas
March Fiestas
April Fiestas
May Fiestas
June Fiestas
July Fiestas
August Fiestas
September Fiestas
October Fiestas
November Fiestas
December Fiestas