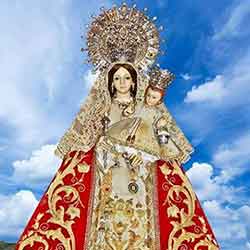 Virgen De La Cabeza
The town of Andújar (Jaén) located northeast of Córdoba and north of the capital city of Jaén celebrates a tradition that began in the 13th century.
The Fiesta in honor of the Virgen de la Cabeza is the oldest pilgrimage (romería) in Spain and has been declared of national touristic interest. It falls yearly on the last Sunday in April.
The Virgin's shrine was placed on a cliff high above the Sierra Morena where, according to popular belief, in 1227 the Virgin appeared to a goatherder named Juan Alonso de Rivas and miraculously healed his injured arm. On this site, he promised to build a sanctuary in the Virgin's honor.
Festival Dates
| | | |
| --- | --- | --- |
| | Last Sunday in April | Virgen De La Cabeza |
All Costa Tropical Fiestas
January Fiestas
---
February Fiestas
---
March Fiestas
---
April Fiestas
---
May Fiestas
---
June Fiestas
---
July Fiestas
---
August Fiestas
---
September Fiestas
---
October Fiestas
---
November Fiestas
---
December Fiestas
COSTA TROPICAL FIESTAS
January Fiestas
February Fiestas
March Fiestas
April Fiestas
May Fiestas
June Fiestas
July Fiestas
August Fiestas
September Fiestas
October Fiestas
November Fiestas
December Fiestas