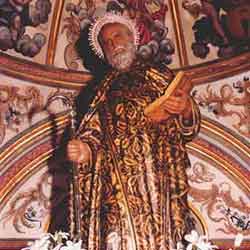 San Ginés De La Jara
These fiestas in Sabiote (Jaén) are joyful, healthy and tranquil compared to many others. After August 15th, the townspeople settle down for a well-earned rest by way of a simple town fair. This means booths, food of all types, rides, competitions and general good fun.
The first day of the fair is begun by the traditional procession through town of the oversized papiérmâched figures and heads (Gigantes y Cabezudos). August 25th is the patron saint´s day during which a solemn and religious fiesta is celebrated. The procession headed by the image of San Ginés from the town church traverses through town.
The fiesta continues with a traditional auction of roscas and culminates with a huge fireworks display, a farewell to the Gigantes y Cabezudos, and a spectacular sound and fireworks show in the Plaza del Castillo.
Festival Dates
| | | |
| --- | --- | --- |
| | August 21st-26th | San Ginés De La Jara |
All Costa Tropical Fiestas
January Fiestas
---
February Fiestas
---
March Fiestas
---
April Fiestas
---
May Fiestas
---
June Fiestas
---
July Fiestas
---
August Fiestas
---
September Fiestas
---
October Fiestas
---
November Fiestas
---
December Fiestas
COSTA TROPICAL FIESTAS
January Fiestas
February Fiestas
March Fiestas
April Fiestas
May Fiestas
June Fiestas
July Fiestas
August Fiestas
September Fiestas
October Fiestas
November Fiestas
December Fiestas