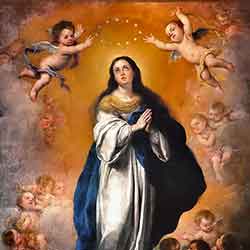 Día de la Imaculada Conception
Día de la Imaculada (the Immaculate Conception) - this national religious holiday celebrates the Virgin's immaculate conception.
This fiesta has been observed since the 7th century in the Orient, since the 9th century in Ireland and in Spain since the 11th century. Of the country's many religious observances, this particular one is of key importance for its relevance in the Christian faith. Pious people attend a celebratory mass and generally spend it as they would a Sunday.
Festival Dates
| | | |
| --- | --- | --- |
| | Dec 8th | Día de la Imaculada Conception |
All Costa Tropical Fiestas
January Fiestas
---
February Fiestas
---
March Fiestas
---
April Fiestas
---
May Fiestas
---
June Fiestas
---
July Fiestas
---
August Fiestas
---
September Fiestas
---
October Fiestas
---
November Fiestas
---
December Fiestas
COSTA TROPICAL FIESTAS
January Fiestas
February Fiestas
March Fiestas
April Fiestas
May Fiestas
June Fiestas
July Fiestas
August Fiestas
September Fiestas
October Fiestas
November Fiestas
December Fiestas