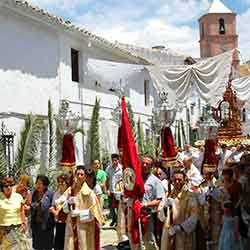 Feria De Casabermeja
Heading 20 km. directly north from Málaga is the pueblo of Casabermeja (Málaga).
As the more famous Feria de Málaga approaches in mid-August, this town holds its own "run-up" fiesta and as a result, many visitors from the larger feria come to partake of its festivities. And if one were to come in late July, you would be privy to one of the oldest Flamenco singing competitions in Andalucia . Casabermeja is considered "la puerta de Málaga" (the gate to Málaga) and forms part of the natural park Montes. Its geographical location amid mountain ranges and an ancient history dating back to prehistoric times make this a charming and interesting pueblo to visit.
Fascinatingly enough, its most important site to see is its cemetery which was declared a historically artistic monument in 1980. This honor was bestowed because of the cemetary's unique architecture which must be seen to be appreciated.
Festival Dates
| | | |
| --- | --- | --- |
| | August 2nd - 5th | Feria De Casabermeja |
All Costa Tropical Fiestas
January Fiestas
---
February Fiestas
---
March Fiestas
---
April Fiestas
---
May Fiestas
---
June Fiestas
---
July Fiestas
---
August Fiestas
---
September Fiestas
---
October Fiestas
---
November Fiestas
---
December Fiestas
COSTA TROPICAL FIESTAS
January Fiestas
February Fiestas
March Fiestas
April Fiestas
May Fiestas
June Fiestas
July Fiestas
August Fiestas
September Fiestas
October Fiestas
November Fiestas
December Fiestas