The Phoenician Tribute in Almuñecar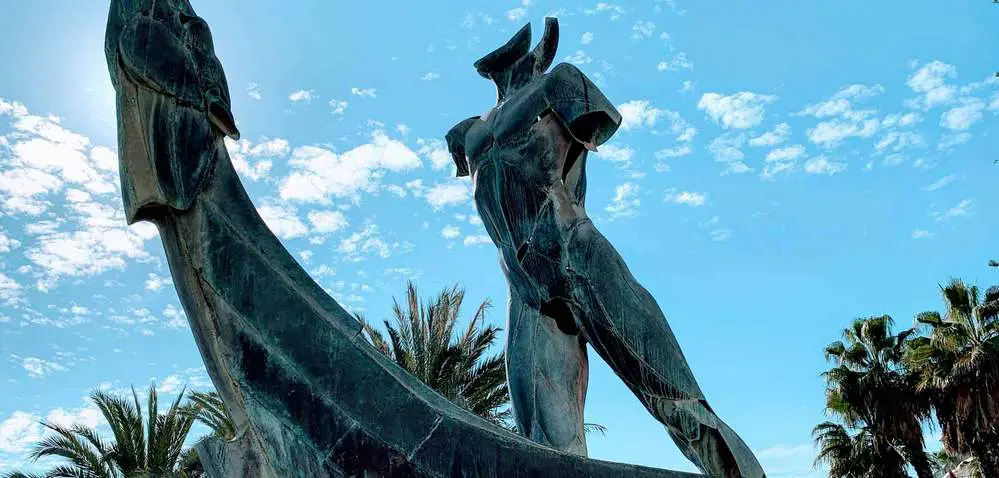 This statue is a modern monument to commemorate the impact of past civilizations on the area, namely the Phoenicians. Constructed in Bronze by the contemporary artist Miguel Moreno Romera, it signifies the huge impact that the ancient Phoenician traders had on the history of Almunecar.
The Phoenicians not only founded the town, but were also the first to develop the Fish Salting Factory which later led to Almunecar's widespread success.
The Phoenician Tribute was built after the Laurita Necropolis and the Puente de Noy were unearthed nearby and their ancient mysteries discovered.
Some Phoenician Monuments in Almuñecar are:
Laurita Necropolis
Bridge of Noy
Fish Curing / Salting Factory
Getting There
The Monument to the Phoenicians (torso of a man, in a boat) is located at the far end of the Almunecar promenade near the Peñon San Cristobal (Paseo del Altillo).

Who are we?
An American expat with over 20 years of experience living and traveling in Spain, specifically in Malaga and Granada. Darsey is a seasoned explorer of Andalucia. Drawing from decades of immersive experience, she offers deep insights into this enchanting region of Spain, including off-the-beaten path destinations, the best places to stay, and the top bucket list activities to try!
More...
Want to Save on your Next Trip?
Save money on your next trip with our favorite travel websites!
Find the Cheapest Hotels:
The Largest Selection of Villas & Apartments:
Cheapest, Most Reliable Car Rentals:
Best Bus & Train Fares:
Huge Selection of the BEST Tours & Activities
Discount Tickets to Museums & Attractions

See our Full List of Travel Deals & Site Recommendations Here.
Where to find the Phoenician Tribute