Polopos, Spain
Top 2023 Guide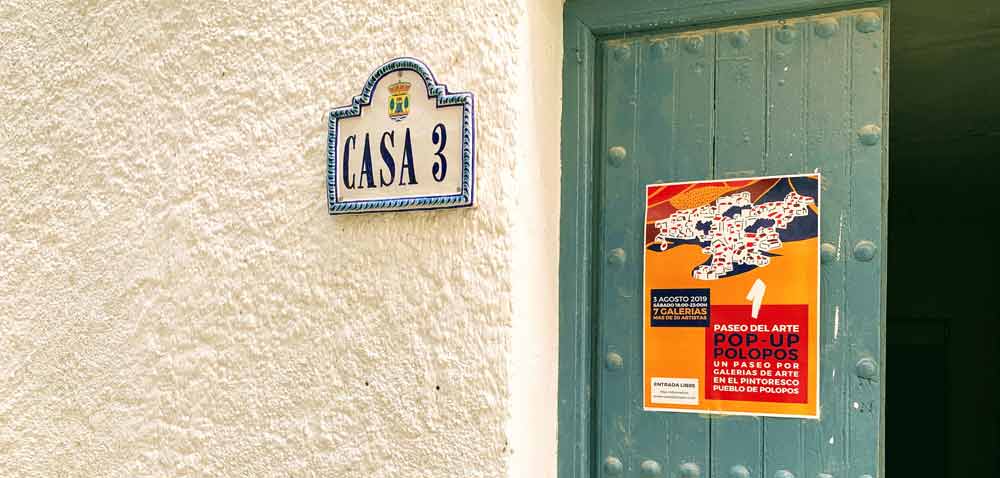 💡
Affiliate Disclosure:
  Please be aware that some links on this site are affiliate links, which means that we might receive a small commission ☕ if you click a link and make a booking. This helps us to keep the site running and will NOT affect the price you pay in any way... ❤️ 🙏 🙏 ➜
How does this work?
---
Note:
The little village of
Polopos
has become quite famous over the last two years...
Keep reading to find out why...
ALSO: Read "The BEST 5 Things to Do in Polopos"
---
The Rural Village of Polopos - 5 Things You Should Do!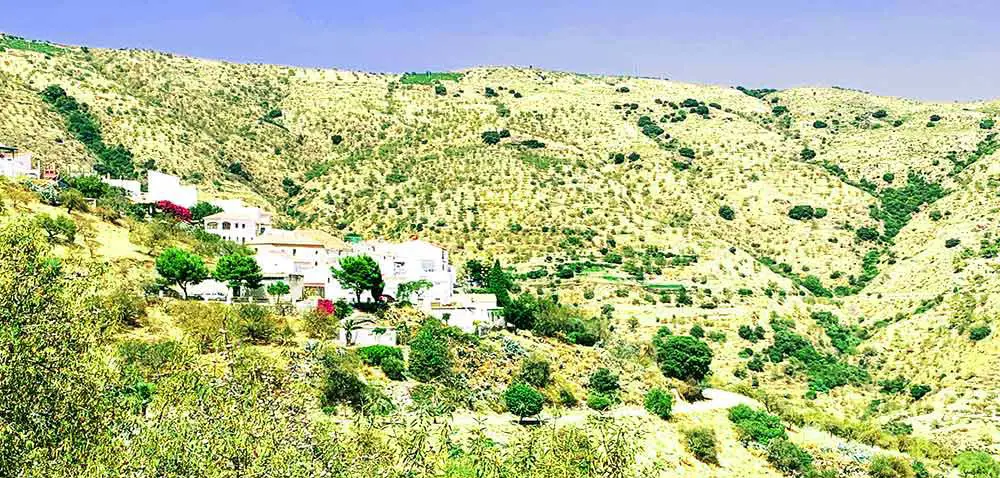 Polopos!
The traditional small mountain village of
Polopos
is 10 km behind the coastal town of La Mamola (in the
Granada Province
). It's high in the mountains -- elevation 750 m -- along a winding county road with SPECTACULAR views of the Mediterranean coastline... and surrounding countryside.
Polopos is just east of the cities of Motril and Almuñécar along the N-340 highway and about a one-hour drive from the cities of Granada and Almeria... a little further still from Malaga.
Polopos is easily accessible by the main highway as well as smaller rural roads. In the winter months the drive is gorgeous with the mountains blanketed in blossoming olive and almond trees.
Polopos also borders on the Almería Province, a desert-like area that offers incredible attractions of its own...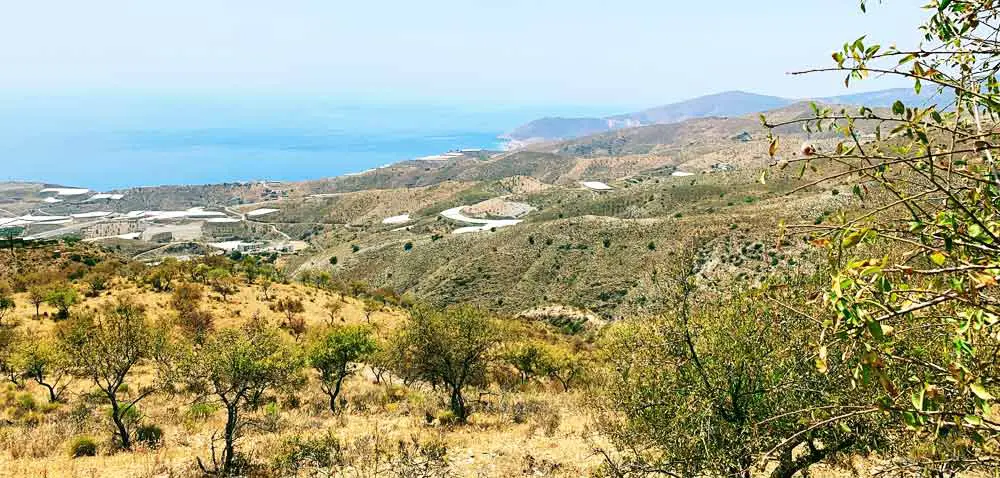 ---
The Municipality of Polopos
Polopos is also the name of the entire municipality in the eastern most part of the Costa Tropical that encompasses several different towns. Two of its towns are located right on the Mediterranean Sea... Castillo de Baños and La Mamola.
Haza del Lino, Haza del Trigo, La Guapa and the village of Polopos are further inland.
---
How To Arrive
Getting to Polopos by Car:
Because of the winding roads and the fact that Polopos is off the beaten track, the fastest and easiest way to get there is by car.
If you need to rent a car, you will find the BEST and LOWEST PRICE car rentals on: CarRentals.com
They are owned by Booking.com and are very reliable in Spain.
From Granada, take the major N-323 highway to the coast. Once at the Costa Tropical town of Salobreña, take a left on the principal Costa Tropical highway N-340 heading east towards Motril and Almería. In 30 minutes and close to the town of La Mamola, there will be exit signs for Polopos.
From Malaga, take the N-340 highway going east towards Almuñécar, Motril, and Almería. 30 minutes after passing Motril (located to the east of Almuñécar and Salobreña) and close to the town of La Mamola, look for the exit signs for the town of Polopos.
---
---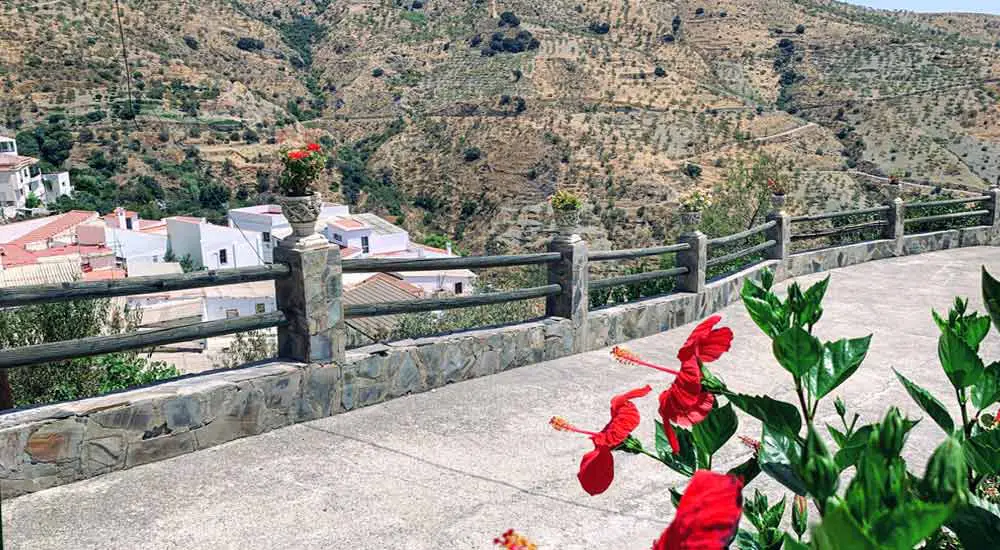 Getting to Polopos by Train or Bus:
Granada and Malaga both have great train stations and are accessible from anywhere within Spain.
In general, the railway system in Spain is great and runs very smoothly. You can travel all over the country easily and quickly and usually at a low cost to you.
REMEMBER: The BEST site for finding the cheapest bus and train fares in Europe is OMIO! From each of the train stations (Malaga & Granada) you can get a bus to La Mamola (closest coastal town) and from their take a local bus to Polopos.
The entire journey will take you 3-4 hours.
Look for rates and times for BUSES in Spain.
---
---
Polopos - A Typical Andalusian Village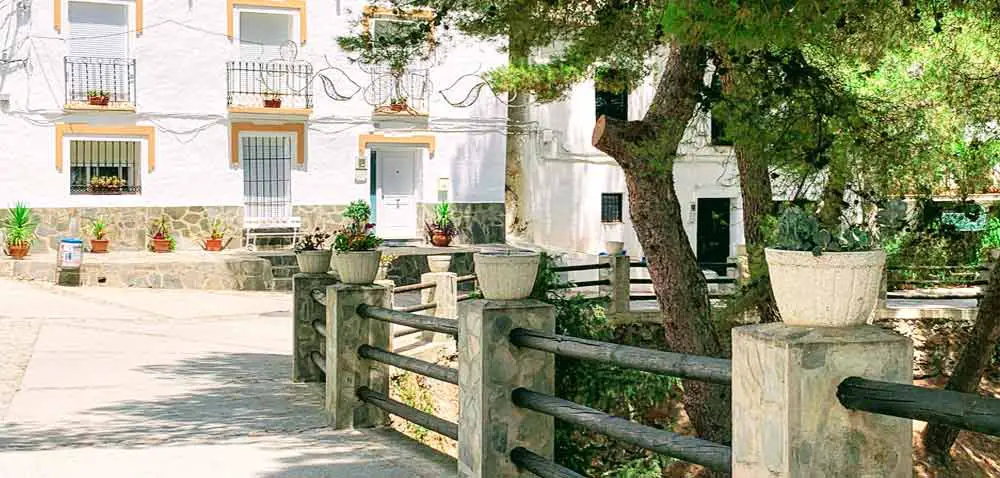 The town itself is a very typical rural Andalusian village. It has the characteristic white-washed homes, small town square and an historic old church. Some of the streets are lined with walls that look like they date back to Roman times.
The main area of town is very small. A tree-lined winding road runs from the Sonrisa cafe, at the top of town, down to the main square.
There is another small cafe in the main square next to the church where you can stop and have a drink with the locals.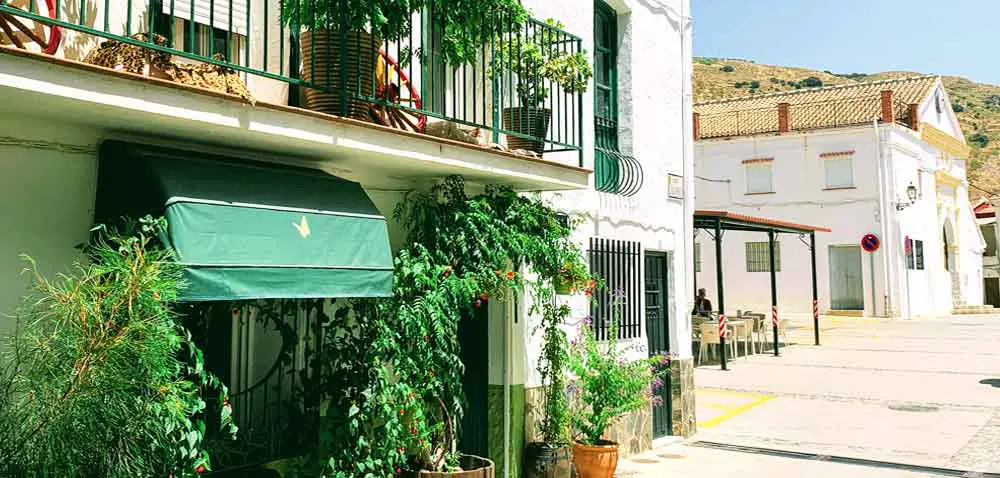 BUT... one thing you will notice upon visiting this out of the way little Spanish village... is that everyone seems to be speaking… English…. and, is that… DUTCH?
---
Polopos is on the Map!
Over the last few months the little village of Polopos has become quite famous in the Netherlands. There is currently a very popular reality show being filmed there called "Het Spaanse Dorp: Polopos" on the RTL network. It is running 5 days a week with 40-minute episodes.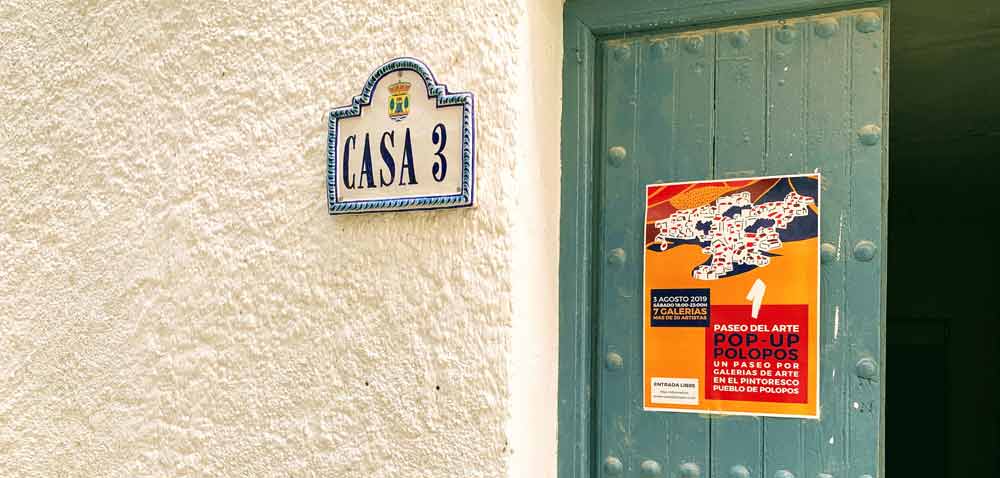 The show follows several Dutch couples who settle in town and begin construction work on their new homes. They are expected to immerse themselves into town life by starting small businesses and organizing events for the locals.
One of these events took place on Saturday August 3rd. One of the couples hosted "Pop-up Polopos" which was an art walk taking place within the small streets and ruined houses of the town. They collected artwork from artists residing all over the Alpujarras and creatively displayed the pieces throughout the village. There was also live music and poetry in the wine museum.
The groups hope to have similar events in the future.
More information on the artists and the Pop-Up Polopos event here.
---
If you are visiting the Costa Tropical: Don't miss Almuñécar and La Herradura!
BEST 5 Things to Do in Polopos...
1. Take a Walk behind Polopos on the Country Road
Walking past the church and town square into the more residential area you will see an old ruined pink house. Take a right, and then an immediate left. This road will take you out of town along a nice stone walkway that leads to the town's water supply. From there you can continue down the country road that wraps around the mountain side and enjoy stunning views of the little village.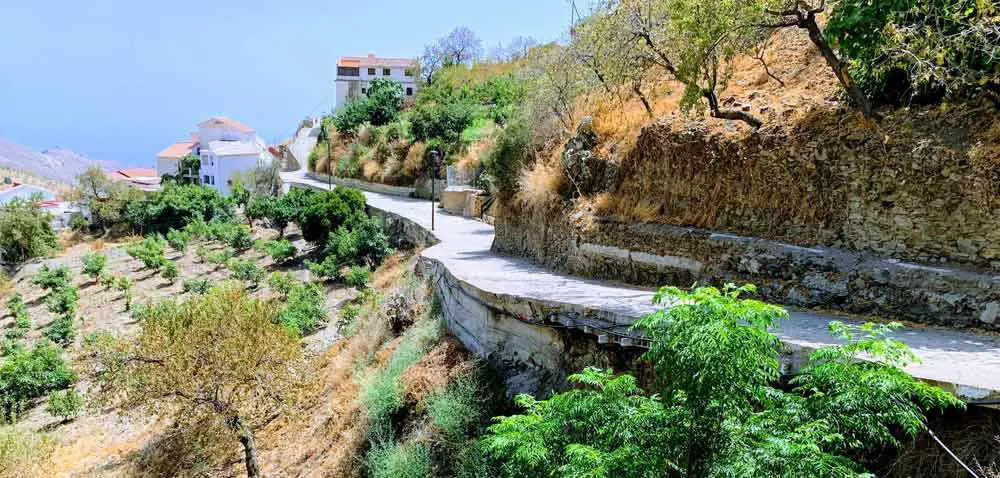 ---
TOP RURAL HOTELS NEAR POLOPOS
If you are interested in a rural stay in the mountains above Polopos, these hotels are an excellent choice for exploring the area...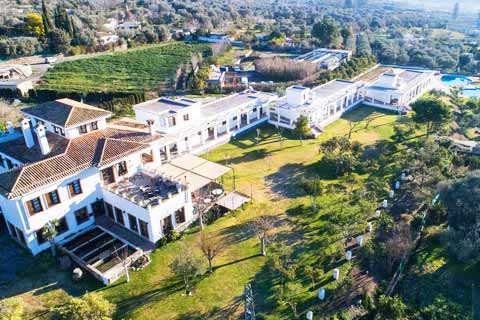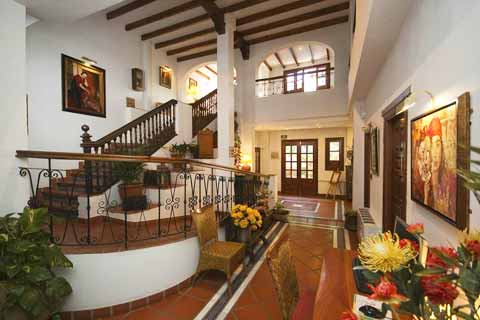 RECOMMENDED RESTAURANTS - POLOPOS
La Primera Sonrisa - A simple but delicious menu right in the heart of Polopos. It's also the nicest boutique hotel in town.
---
2. Visit the Church of Nuestra Señora del Rosario
Located right in the middle of the town square is the Nuestra Señora del Rosario Church. It was built in the 18th century on what was once Polopos' only mosque. Currently it is only open for Mass.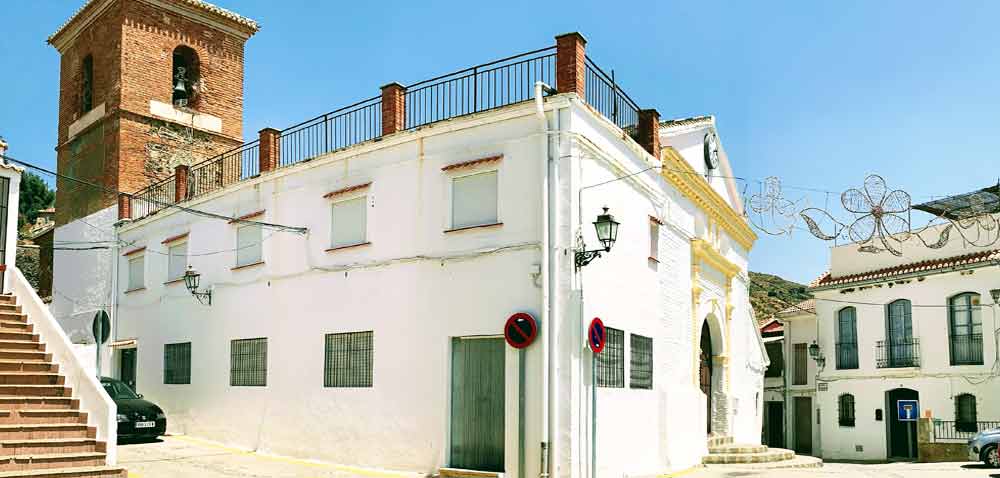 ---
RECOMMENDED TOURS - NEAR POLOPOS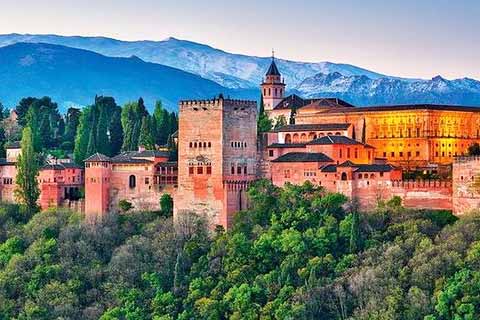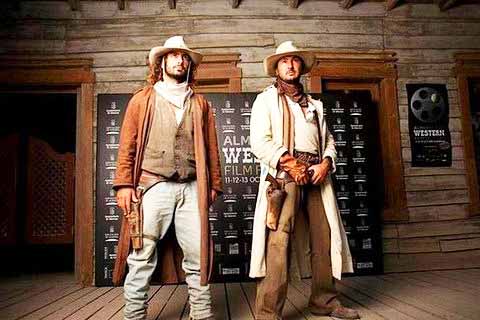 ---
3. Visit the Wine Museum
Driving through the mountains around Polopos you will see many vineyards. Due to the dry, arid climate in this area wine production is very successful and popular. Here visitors can enjoy the local wines in "El lagar del Cehelí" (the Wine Museum) located in the lower part of town.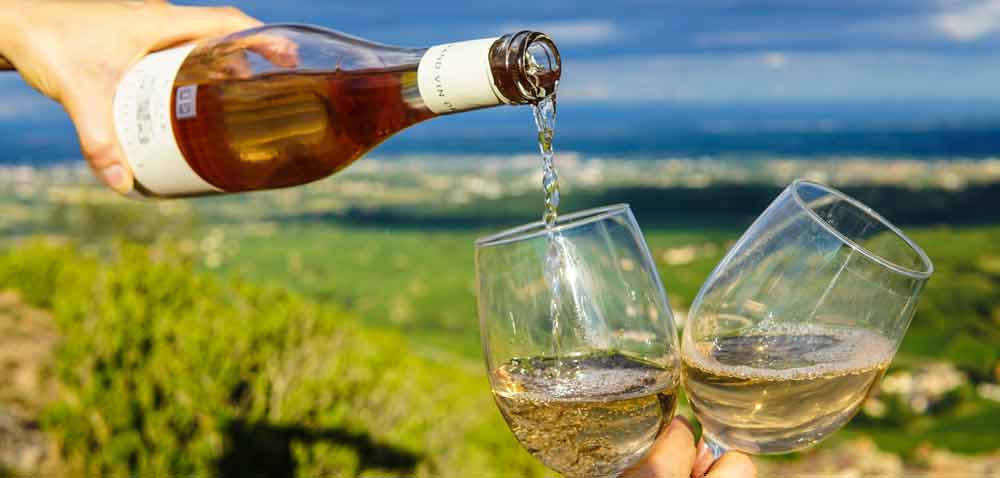 ---
4. Stop for a Drink or Bite to Eat at the Sonrisa Cafe
Owned and run by two brothers from Portugal, the Sonrisa cafe is a delight. The menu is simple but delicious. If you call ahead, they will also prepare for you a traditional Portuguese dish, Bacalao, which is a wonderful freshly salted Atlantic Cod.
Several vegetarian dishes are available as well.
This is a great spot to stop and enjoy the mountain and sea views after a walk through the little village of Polopos.
Address: Calle Calvario, 15, 18710 Polopos, Granada
Phone: 603 60 12 52
La Primera Sonrisa - Reviews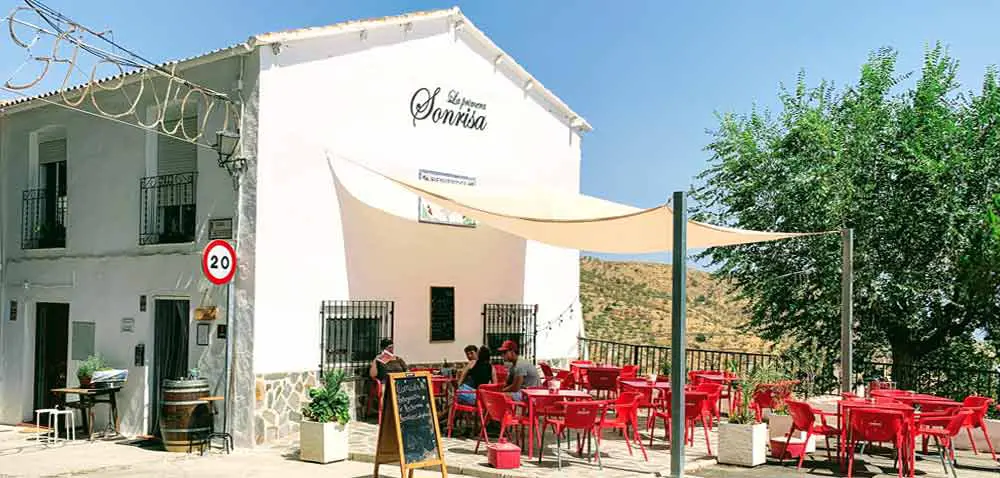 ---
5. Visit the Coastal Sites of Polopos
The Moorish-era
Tower of Cautor
and the cathedral of Asuncion in
La Mamola
stand out as must-sees for visitors to Polopos.
Also nearby Polopos, and worth a visit, is the Hornabeque de Baños or Castillo de Baños (dating from the 18th century) located in the small village by the same name.
Visitors to Castillo de Baños should also visit the Centro de Interpretación de las Defensas de la Costa Granadina (Center for the Interpretation of Granada's Coastal Defenses).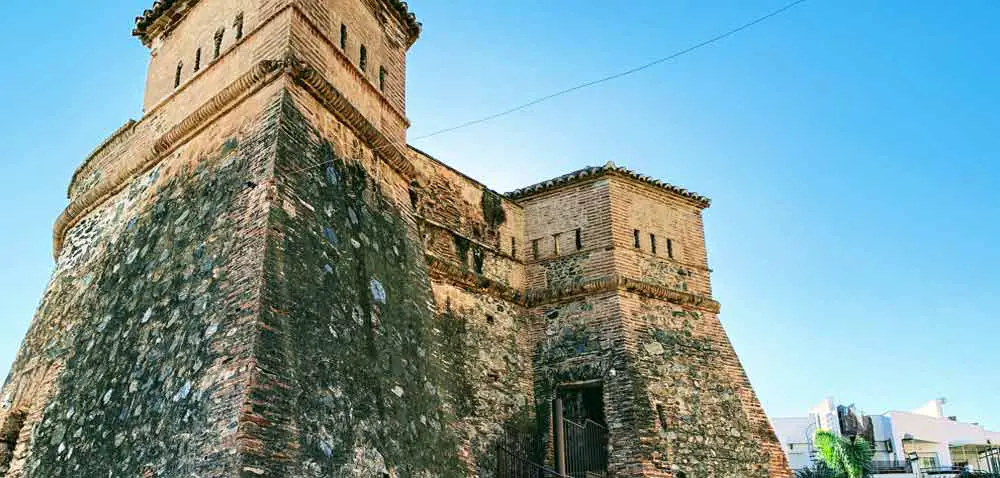 Polopos Village Information
| | |
| --- | --- |
| Region: | Costa Tropical |
| Post Code: | 18750 |
| # of inhabitants: | ~ 1825 |
| inhabitants: | Poloperos |
| Distance to Granada: | 87 km |
---
Other Important Information You Should Know About Polopos
1. Where to Stay in the Village - Polopos
La Primera Sonrisa: La Primera Sonrisa in Polopos features a bar and a terrace. They have room service and luggage storage space, along with free WiFi. It is the main hotel in town with a great little restaurant.
Casa Pimienta: A small rustic apartment with a garden, barbecue facilities, and a terrace, it has free WiFi and sea views.
Booking.com: We recommend Booking.com to find the lowest price and largest choice for hotels, hostels and apartments in the Costa Tropical area.
---
2. Distances to Other Important Towns from Polopos:
Larger Cities / Towns
Malaga: 130 km / 1 hr 35 min
Granada: 96 km / 1 hr 14 min
Almeria: 94 km / 1 hr 9 min
Other Smaller White Villages
Motril: 36 km / 38 min
Lanjarón: 65 km / 1 hr
Orgiva: 30 km / 45 min
La Mamola: 12 km / 20 min

---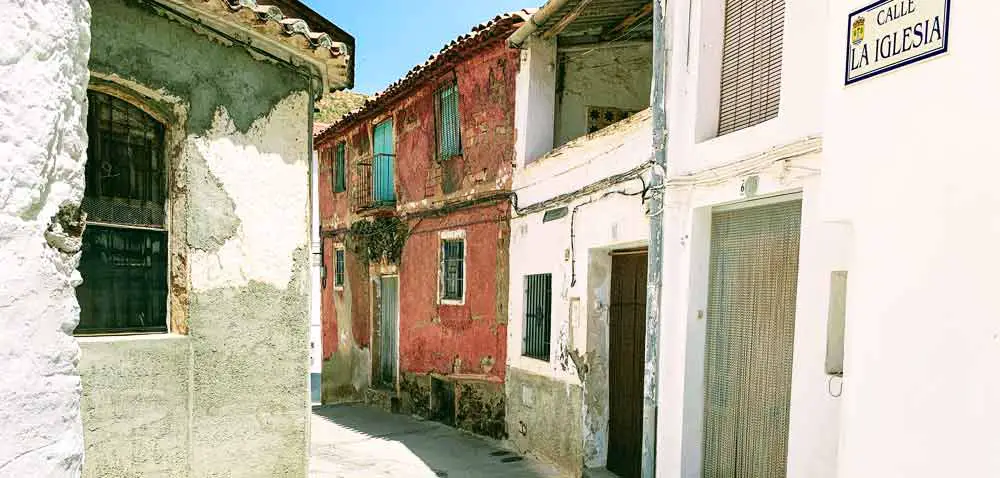 3. When is the Best Time to Visit Polopos
During the month of May and October you are most likely to experience good weather with pleasant average temperatures that fall between 20 degrees Celsius (68°F) and 25 degrees Celsius (77°F).
The hottest season / summer is in June, July, August and September. The warmest month is July.
Motril has dry periods in June, July, August and September (NO RAIN).
November is the wettest month.
On average, the coolest month is January.
July is the driest month.
4. Polopos's Gastronomy
Being centered between the mountains and the sea, Polopo's gastronomy is influenced by both...
Typical coastal dishes include: pescado frito (fried fish) and guiso de pescado (fish stew)
Popular dishes with a more alpujarran influence are: morcilla (black pudding), pancetta, lomos en adobo (steak in a marinade) and choto (veal).
Sweet dishes are also favored in Polopos, local favorites are: pan de higo (fig bread) and buñuelos (doughnuts).
---
5. Polopos Fiestas
The summer months bring a load of parties to these little villages, all in honor of their Patron Saints.
The top celebrated fiestas in the Polopos area are:
San Juan Bautista - (June) In honor of the Patron Saint, San Juan Bautista, a fiesta takes place in nearby Castillo de Baños and La Guapa.
Santa Ana - (July) A celebration in Haza del Trigo, honouring their Patron Saint, Santa Ana.
La Virgen del Rosario - (August) Celebration honoring the Patron Saint of Polopos.
La Virgen del Carmen - (August) Celebration honoring the Patron Saint of La Mamola.
---
6. Parking in Polopos
There is one decent size parking area at the bottom of town. From there it's a quick walk up to the main street and the plaza near the church. Because this is a small village, you can also just find a place on the street and that is usually good enough.
---
Explore More Villages in the Province of Granada
---
I think that's all you need to know for an amazing day in Polopos! Have a safe trip!! ;-)
Polopos on the Map