The Village of Polopos
Polopos, a small Costa Tropical village of over 1,500 inhabitants, is located in the mountains overlooking the Mediterranean seashore. An attraction of Polopos is its historical-artistic patrimony. The Moorish-era Tower of Cautor, the Hornabeque of Castillo de Baños (described further below), the parochial cathedral of Nuestra Señora del Rosario in Polopos and the cathedral of Asuncion in La Mamola stand out as must-sees for visitors to Polopos. Here visitors can discover its traditions and enjoy the local wine in "El lagar del Cehelí" (the Wine Museum).
Nearby Polopos, and worth a visit, is the Castillo de Baños (or the Castle Of Baths, dating from the XVIII century) located in the small village of the same name. Visitors to Castillo de Baños should visit the Centro de Interpretación de las Defensas de la Costa Granadina (or the Center for the Interpretation of Granada's Coastal Defenses).
Polopos is on the easternmost edge of the Costa Tropical and borders on the Almería province, a desert area that offers incredible attractions of its own. Access information on the Almería province for more recommended tourist destinations.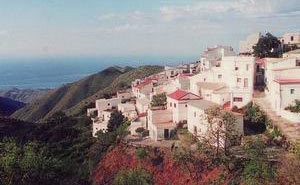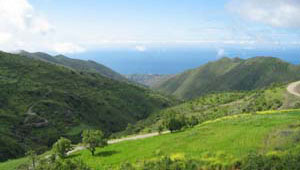 ---
Village Information
| | |
| --- | --- |
| Region: | Costa Tropical |
| Post Code: | 18750 |
| # of inhabitants: | ~ 1625 |
| inhabitants: | Poloperos |
| Distance to Granada: | 87 km |
Where is Polopos located?
Polopos of the Costa Tropical in the Granada province is a traditional small mountain village overlooking the Mediterranean coast of Spain in the Andalucia (Andalus) region, east of the cities of Motril and Almuñécar along the N-340 highway and about a one-hour drive from the cities of Granada and a little further from Malaga. Polopos is easily accessible by main highway as well as smaller roads stemming from the main highway.
Getting There
From Granada, take the major N-323 highway to the coast. Once at the Costa Tropical town of Salobreña, take a left on the principal Costa Tropical highway N-340 heading east towards Motril and Almería. In over 30 minutes and close to the town of La Mamola, there will be exit signs for Polopos.
From Malaga, take the N-340 highway going east towards Almuñécar, Motril, and Almería. About 30 minutes after passing Motril (located to the east of Almuñécar and Salobreña) and close to the town of La Mamola, look for the exit signs for the town of Polopos.
---