The Village of Sorvilán
The Sorvilán region descends towards the Mediterranean from a thousand meters of altitude in La Contraviesa Mountain range. The Sorvilán offers vibrant landscapes of deep ravines and gorges, mountains, boulevards, and beaches. The lost cortijadas and villages that form a panorama of stark white brilliance between the blue of the sea, the green of the fertile plains and the ochre of the mountain ranges are a must-see. The Sorvilán region is dotted by groves of ancient oaks and strong cork oaks, which are the remains of an extensive forest that once covered the area. A thick cork oak grove remains in the surroundings of Alfornón.
Sorvilán is on the easternmost edge of the Granada province to the east of the Costa Tropical and borders on the Almería province, a desert area that offers incredible attractions of its own. Access information on the Almería province for more recommended tourist destinations.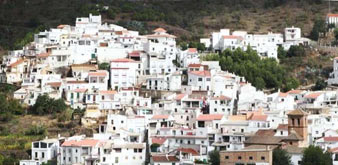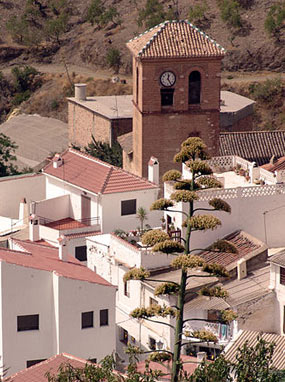 ---
Village Information
| | |
| --- | --- |
| Region: | Costa Tropical |
| Post Code: | 18713 |
| # of inhabitants: | ~ 701 |
| inhabitants: | Sorvilaneros |
| Distance to Granada: | 92 km |
Where is Sorvilán located?
Sorvilán near the Costa Tropical in the Granada province is a region of traditional small mountain villages overlooking the Mediterranean coast of Spain in the Andalucia (Andalus) region, east of the cities of Motril and Almuñécar along the N-340 highway and about a one-hour drive from the cities of Granada and Malaga. Sorvilán is easily accessible by main highway. The three principal towns of the Sorvilán are Mecilena, Los Yesos, and Alfornón.
Getting There
From Granada, take the major N-323 highway to the coast. Once at the Costa Tropical town of Salobreña, take a left on the principal Costa Tropical highway N-340 heading east towards Motril and Almeria. In about 30to 45 minutes, there will be exit signs for towns of the Sorvilán: Mecilena, Los Yesos, and Alfornón.
From Malaga, take the N-340 highway going east towards Almuñécar, Motril, and Almeria. About 30 to 45 minutes after passing the Motril (located east of Almuñécar and Salobreña), look for the exit signs for the towns of Sorvilán.
---
---
Sorvilán on the Map