The Village of Albondón
Albondón has over 1,000 inhabitants. Its township covers 34 km. of land, and is situated 895 meters above sea level. This combination of geographical location and altitude are ideal for the ubiquitous almond crops and grape vineyards where the renowned wines of Albondón are produced. Albondón derives its name from the Arabic era when it was at its peak. It thrived under the Arabs largely due to their ability to work the soil in a dry climate.
When the Moors (Spanish Arabs) were expelled, the area around Albondón was left virtually unpopulated until the 17th century. In the 19th century Albondón re-flourished (along with the Costa Tropical) and its population grew to almost 4,000 inhabitants, thanks to its wine and raisin production. Today, with the help of its wine production, new life is coming to Albondón through tourism.
The traditional foods of Albondón are based on products produced locally and in the Alpujarra area, such as plato alpujarreño (eggs, sausage, potatoes, black pudding), puchero matancero (potatoes, bacon and garbanzos), salchichón, longaniza, morcilla (cured sausages from local pigs), sweets from local grapes, almonds, and figs such as soplillos (honey, sugar cane, egg whites and toasted almonds), and buñuelos (sweet fried fritters).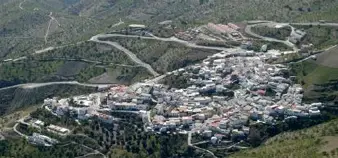 ---
Village Information
| | |
| --- | --- |
| Region: | La Alpujarra |
| Post Code: | 18708 |
| # of inhabitants: | ~ 1000 |
| Inhabitants: | Albondoneros |
| Distance to Granada: | 110 km |
Where is Albondon located?
Albondón, in the Granada province, is a traditional small white mountain village located near the Mediterranean coast of southern Spain in the Andalucia (Andalus) region, east of the Costa Tropical. Albondón is located at the eastern end of the Granada province, between the majestic Sierra Nevada mountains and the Mediterranean, at the base of the Las Alpujarras region. It is reasonably accessible through a mountain road connecting it to the principal Costa Tropical highway of N-340.
Getting There
Albondón is near Malaga, Granada, and Almeria, and is readily accessible from the heart of the Costa Tropical, Almuñécar:
If coming from the west ( Malaga, Almuñécar, or Granada), Albondón is best accessed by driving east of Motril via the coastal highway N-340. After about 30 minutes, near the town of La Rábita, look for the sign marking the road to the towns of La Marradura and Albuñol heading north into the mountains. When in Albuñol look for the signs marking the road to Albondón. Total travel time from La Rábita to Albondón should be about 30 minutes.
If coming from the east (Almeria), take the N-340 highway towards Motril, Almuñécar, and Malaga and once you cross into the Granada province, look for the town of La Rábita. From La Rábita, follow the directions above.
---
---
Albondon on the Map