The Village of Castillo de Baños
Between Motril and Almería lie a string of villages along the shores of the Mediterranean, one of which is Castillo de Baños (Haza del Lino, Haza del Trigo, La Guapa, La Mamola and Polopos are some of the other towns located nearby) and is located on a plain called Puerta de Baños.
Because of its proximity to the sea, it is largely a fishing village even though rural tourism has started to encroach, giving way to camping sites and new developments. It has approximately 2.5 km. of beach so relaxed living by the sea is still possible here.
Castillo de Baños has developed with a similar history to the rest of the coast: occupation by the Phoenicians, Greeks, Romans and Moors. The reconquest of the area by the Catholic Kings led to a new epoch in their history. In the 19th century, the area became known for its production of raisins, wines as well as its mills.
Its cuisine is rich and varied, such as a variety of fried fish, sausages, pork loin cooked in olive oil, goat, stews and desserts unique to the area. The influence of international cooking has not gained importance here so one can truly savor real, local dishes whose origins date back to the Moorish times.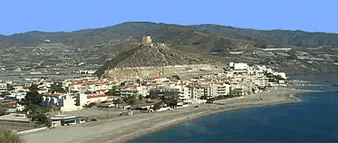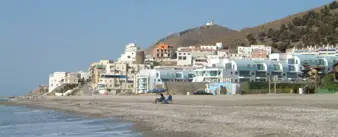 ---
Village Information
| | |
| --- | --- |
| Municipality of: | Motril |
| Region: | Costa Tropical |
| Post Code: | 18750 |
| Distance to Granada: | 85 km |
Where is Castillo de Baños located?
Castillo de Baños is located on the Mediterranean coast of the Granada province of southern Spain, in an area called Costa Tropical because of its temperate climate and lush vegetation. Nearby to the northwest and in the shadows of the Sierra Nevada mountains is the large port town of Motril.
Getting There
From Motril take the A-7 going east towards Almeria for about 26 minutes.
---