The Village of La Caleta
La Caleta is situated on a fertile coastal plain bordering the Mediterranean Sea used primarily for growing sugar cane. La Caleta has one of the region's last remaining commercial sugar mills. The views of the snowcapped Sierra Nevada mountains to the north and the dramatic Salobreña seaside cliff capped by the ancient Moorish castle are stunning. La Caleta also has a charming, traditional fishing port at the foot of the village.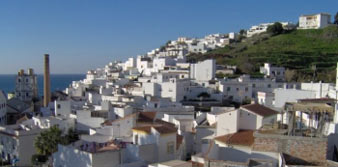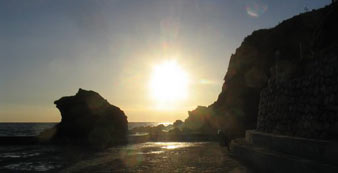 ---
Village Information
| | |
| --- | --- |
| Region: | Costa Tropical |
| Post Code: | 18680 |
| Distance to Granada: | 65 km |
Where is La Caleta located?
La Caleta of the Costa Tropical in the Granada province is a traditional small fishing village located on the Mediterranean coast of Spain in the Andalucia (Andalus) region, just a few minutes west of Salobreña and east of the cities of Motril and Almuñécar along the N-340 highway and about a one-hour drive from the cities of Granada and Malaga. La Caleta is easily accessible by main highway. La Caleta is very close to the town of Salobreña and is part of the municipality of Salobreña.
Getting There
La Caleta is near Malaga, Granada, and Almeria, and is readily accessible from the heart of the Costa Tropical, Almuñécar:
From Granada, take the major N-323 highway to the coast. Once at the Costa Tropical town of Salobreña, take a right on the principal Costa Tropical highway N-340 heading west. In about 5 minutes after driving up a hill, there will be exit signs for La Caleta.
From Malaga, take the N-340 highway going east towards Almuñécar, Motril, and Almeria. After passing Almuñécar and right before the well-marked town of Salobreña, look for the exit signs for La Caleta on the right.
---