Salobreña Restaurants
Top 2023 Guide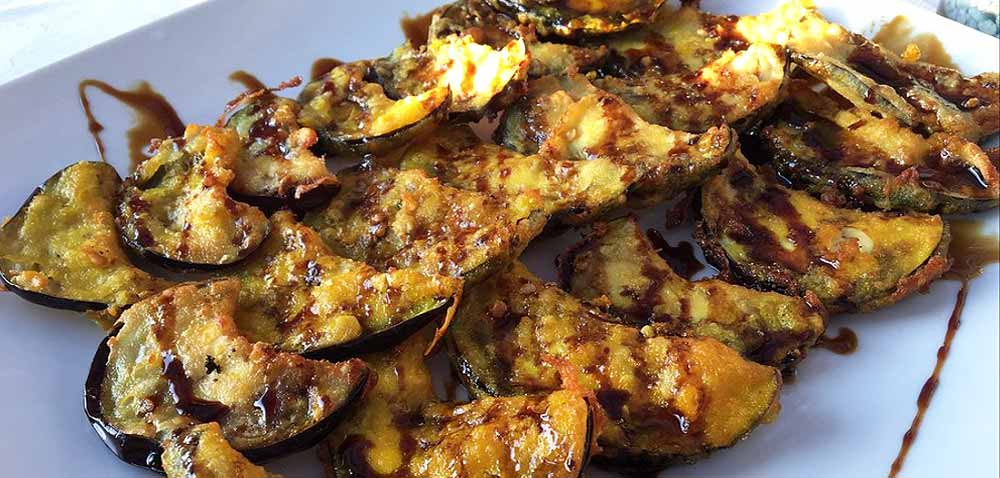 💡
Affiliate Disclosure:
  Please be aware that some links on this site are affiliate links, which means that we might receive a small commission ☕ if you click a link and make a booking. This helps us to keep the site running and will NOT affect the price you pay in any way... ❤️ 🙏 🙏 ➜
How does this work?
---
The BEST Eight Salobreña Restaurants...
-- Plus, the Top Chiringuitos, Steakhouse and Barbeque!
Welcome to our guide on the Best Restaurants in Salobreña... The town of Salobreña is not as large as some of its neighbors along the Costa Tropical. However, this quaint little town does have some good eateries.
There are three to four high-end, gourmet spots to eat now and Salobreña's more local beachside chiringuitos have always been well-liked by many.
If you are planning a visit to this pretty little village, definitely give these restaurants a go...
The photo above shows a favorite dish in Salobreña, "Fried Aubergine Drizzled with Locally Made Molassis" at the El Peñon restaurant...
---
Also:
Check out our restaurant selections in these near-by Costa Tropical towns...
Salobreña Restaurants - The Top FOUR (4)
1. SALOBREÑA RESTAURANTS - ARAIS

2. SALOBREÑA RESTAURANTS - HOTEL MIBA

3. SALOBREÑA RESTAURANTS - LA TRAVIESA

4. SALOBREÑA RESTAURANTS - LA BIZNAGA

---
The Best Salobreña Chiringuitos
Chiringuito:
a small restaurant or bar, selling mainly drinks and tapas, and sometimes larger meals, in a more or less provisional or no-frills building, often on a beach...
SALOBREÑA RESTAURANTS - EL PENON

SALOBREÑA RESTAURANTS - CASA EMILIANO

The Best Barbeque Meats
SALOBREÑA RESTAURANTS - THIS IS BBQ

---
The Best Salobreña Steaks
SALOBREÑA RESTAURANTS - CARNE A LA PIEDRA

Car Rentals & Getting Around
Costa Tropical Restaurants