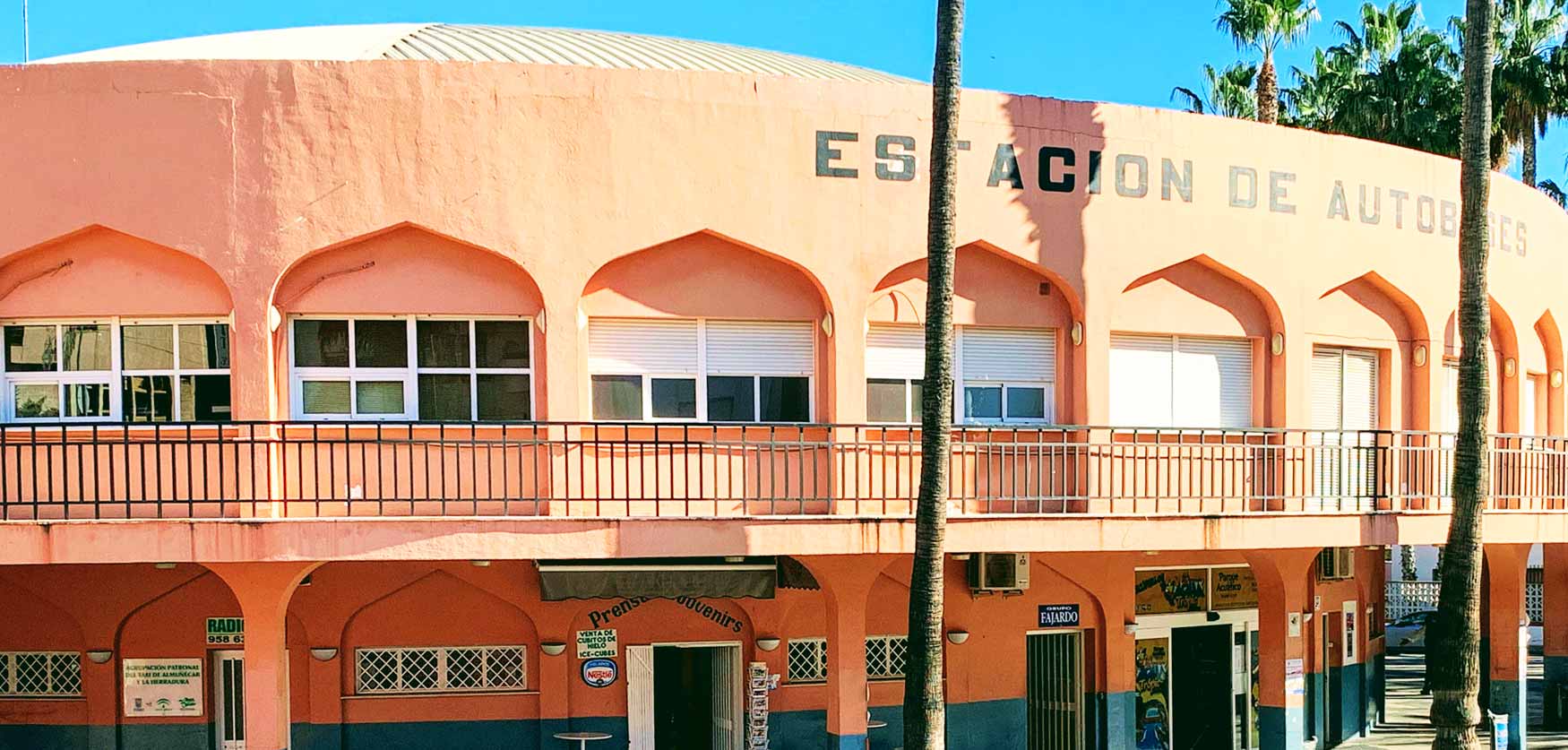 Almunecar Bus Station
Getting Around by Bus in Almuñécar
Almuñécar Local Service
There is an urban bus service that runs daily throughout Almunecar and between Almunecar and La Herradura. This bus line also services Taramay and Torrecuevas, in all there are 5 different routes available. The bus company is called Grupo Fajardo and all lines start and finish in the Plaza La Carrera in Almunecar. The stop is located just across the street from the Carbonell tiling Store in town, just around the corner from the McDonalds.
Click here for a complete listing and printable version of all of the Almunecar Bus Routes
. The frequency of service changes depending on the season with the high season from June through September being the busiest. Make sure to check the schedules in advance at the link below. *Tickets usually cost one euro per trip and are paid dirctly to the driver.
Local Service Details:
| | |
| --- | --- |
| Local Service: | Running in Almunecar and to La Herradura |
| Company Name: | Grupo Fajardo |
| Main Stop: | Plaza La Carrera, 18690 Almuñécar |
| Contact Info: | Phone: 902 106 286 |
| Running Times | Monday - Friday: 7:00 am - 2:00 pm / 5:00 pm - 8:00 pm |
| Website: | www.grupofajardo.es/almunecar/ |
Almuñécar Bus Station Location & Address
There are also many other bus companies that run daily between all of the Costa Tropical towns as well as the Costa del Sol and larger cities and towns within Spain. All of these buses can be found coming and going from the Almunecar Bus Station on Calle Juan Carlos. Almuñécar's bus station can't be missed. It's the large, salmon-colored, circular shaped building with large arched windows right behind the McDonald's parking lot.
Tickets:
Tickets can be purchased at the station at all times by using one of the available ticket machines or by purchasing directly at the kiosk. You can also purchase ahead of time online.
Book Tickets Online Now!
Facilities:
The station itself is fairly bare-bones with few amenities but they do have bathroom facilites. There are no food services available but snacks can be bought at any of the 3 grocery stores (Dia, Lidel, Mercadona) directly opposite or the McDonald's restaurant behind it.
Upon Arrival:
If you are arriving at the Almuñécar bus station, there is a taxi stand right in front or you can jump on a local bus by walking across the street to the Plaza La Carrera bus stop. The local bus schedules can be found above.
Almuñécar Bus Station:
Alsina Graells Sur
Avda Juan Carlos I, 1
18690 Almuñécar, Spain
Contact Information
Phone: 958 630 140 /
958 880 704
Booking Tickets Online
The best way to travel, is to plan ahead. Booking your tickets online for buses in Spain is quick and easy. Avoid the hassel and the lines and book your tickets at the website below. Just put in a destination and where you are leaving from and the most current schedules can be found.
Book Tickets Online Now!
<< Back to the Costa Tropical