The Village of Melicena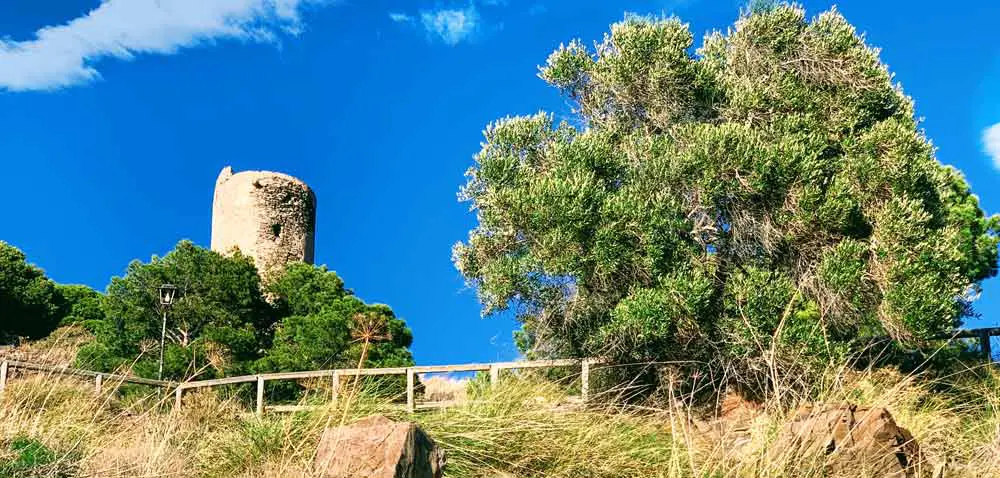 💡
Affiliate Disclosure:
  Please be aware that some links on this site are affiliate links, which means that we might receive a small commission ☕ if you click a link and make a booking. This helps us to keep the site running and will NOT affect the price you pay in any way... ❤️ 🙏 🙏 ➜
How does this work?
---
The Coastal Village of Melicena in Granada...
Melicena is a town and Spanish hamlet belonging to the municipality of Sorvilán , in the province of Granada . It is located in the eastern part of the region of the Costa Granadina . Near this town are the nuclei of Los Yesos , La Mamola and La Rábita .
Melicena is a coastal fishing village located on the Mediterranean Sea , it is located at the foot of the rock of San Patricio and next to the mouth of the ravine of Santa Catalina.
Castillejo del Madroño en Melicena
The castle, nestled in a very steep environment, is difficult to access. It was built in all probability in the high Middle Ages, since some ceramic fragments made by hand have been found. Most evident is its use from the 10th and 11th centuries, when most of the ceramic remains belong to it, until the Nasrid period. Its purpose was to guard the Sorvilan coast against possible attacks by sea. It is a masonry work, with a circular plan, which reaches a height of nine meters. It maintains its exterior plaster quite well. Its door-window is a semicircular arch made with stonework. The upper third is hollow while the remaining two thirds are solid. Its roof is protected by a parapet.
Playa de Melicena
Quiet beach in the urban core of Melicena. It has equipment. Its length is 500 meters by 40 meters wide. Formed by sand and gravel.
Festivals
Its most popular festival is celebrated every year on the third weekend of August in honor of the patron saint of the town, the Virgen del Carmen. Another important local fiesta is the festival of St. Patrick that takes place every year beside the great rocks that jet out into the sea, and whose name was given in honor of this saint.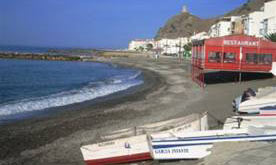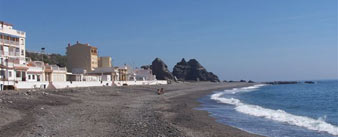 ---
Village Information
| | |
| --- | --- |
| Municipality of: | Sorvilán |
| Region: | Costa Tropical |
| Post Code: | 18713 |
| # of inhabitants: | ~ 169 |
| inhabitants: | meliceneros |
| Distance to Granada: | 93 km |
Where is Melicena?
Melicena of the Costa Tropical in the Granada province is a traditional small fishing village located on the Mediterranean coast of southern Spain in the Andalucia (Andalus) region. Melicena is easily accessible via the principal Costa Tropical highway of N-340.
Getting There
Melicena is just a few minutes east of the cities of Motril and Almuñécar along the N-340 highway. Melicena is about a one-hour drive from the city of Granada via the N-323 highway and then upon arriving at the coastal town of Salobreña, heading east towards Motril and Almería on the N-340 highway. Melicena is easily accessible by main highway.
---
---
Melicena on the Map
The Costa Tropical Villages